It's one of the easiest sauces you can make but it's full of so much flavor! Our Homemade Chimichurri recipe is packed full of fresh herbs, garlic, and has just the right amount of vinegar tang.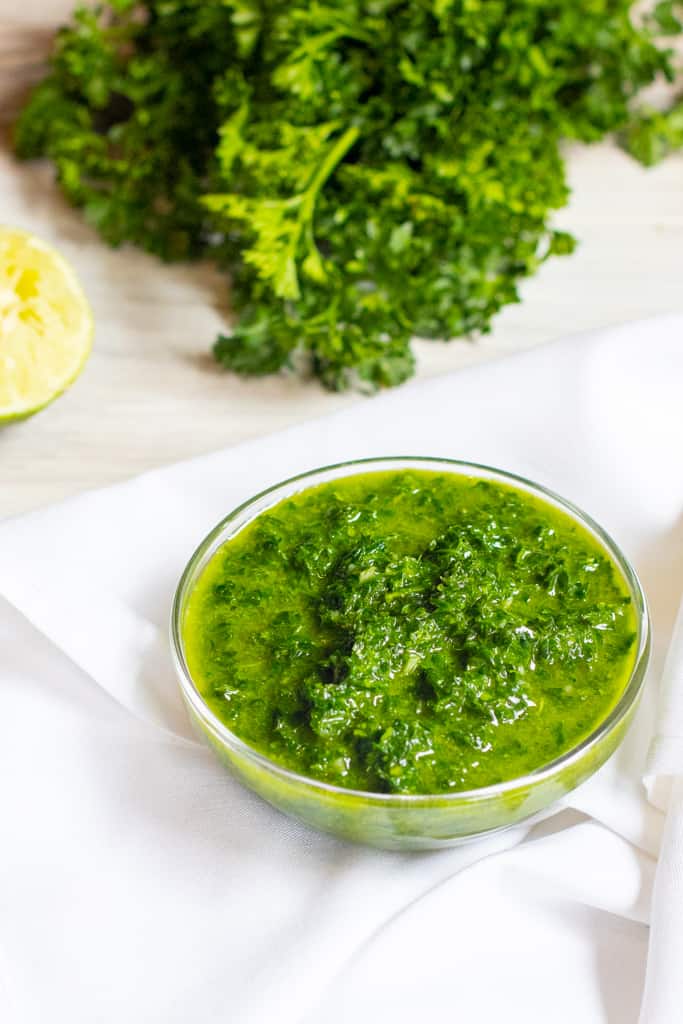 Now this is the fresh sauce to end all fresh sauces. If you haven't had Homemade Chimichurri Sauce yet, then please, let me introduce you to your new favorite, herbaceous, garlicky, tangy condiment!
Ready in just minutes, this chimichurri sauce recipe is one that is not only an amazing way to use an abundance of fresh parsley (or just some that's about to go bad in your fridge), it's customizable to your taste, can be frozen, and can elevate so many different dishes!
What Is Chimichurri Sauce?
Chimichurri is an Argentinian sauce of fresh, uncooked herbs fresh parsley, and fresh aIt's most commonly used as a condiment for grilled meats or vegetables. It makes an amazing marinade or dipping sauce.
While it's a lot like a parsley pesto, the biggest difference between an authentic chimichurri and a pesto is the addition of vinegar, which adds the signature chimichurri tang.
Truly, if you want a sauce that adds some unparalleled freshness coupled with the kick of vinegar, this Homemade Chimichurri Sauce is the condiment you need in your life.
Ingredients Needed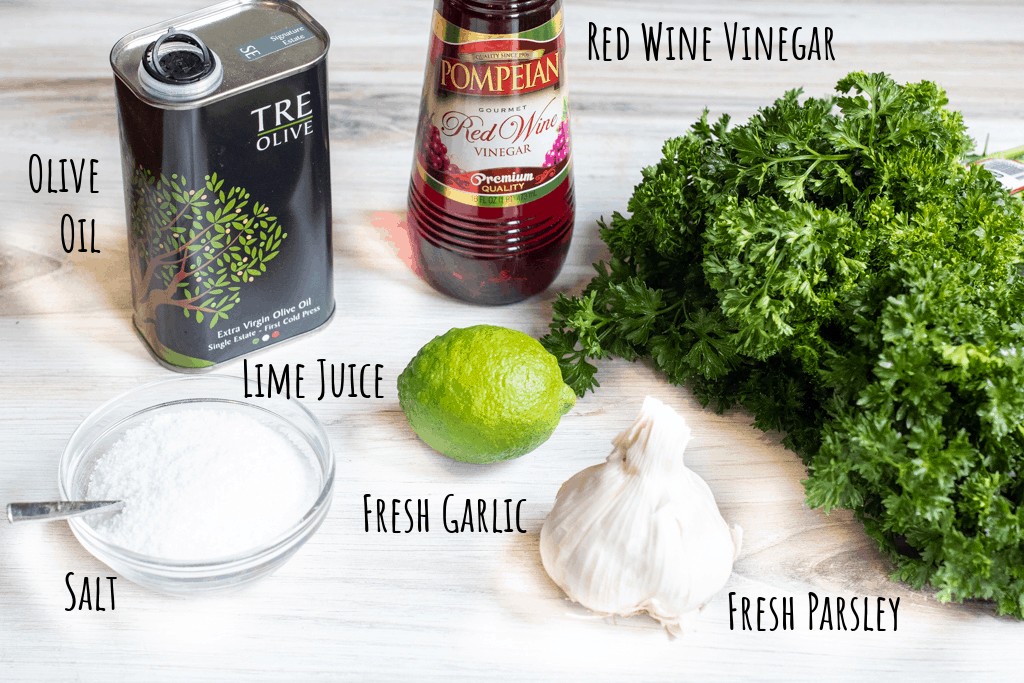 Fresh Parsley - Have a bunch in your garden? Great! Have a bunch in your fridge you haven't used, but need to? Perfect. Any kind of parsley works great!
Fresh Garlic - While powdered or minced will work, nothing matches fresh garlic.
Red Wine Vinegar - This is our preferred because of its distinctively tangy flavor over milder vinegars like distilled white vinegar or rice vinegar. A great substitute for red wine vinegar is white wine vinegar (best if mixe with just a splash of red wine), or sherry vinegar.
Fresh Lime Juice - Also best, but bottled is also totally fine. Lemon juice is a great substitue, too.
Extra Virgin Olive Oil - This is one of those occasions where you use that really good olive oil because (like with a vinaigrette) it really does make a difference.
Salt
Ready in Minutes
Just as fast as a pesto, this Homemade Chimichurri Sauce just requires 2 steps.
Step 1: Add it all to a blender or food processor.
Step 2: Blend.
And done!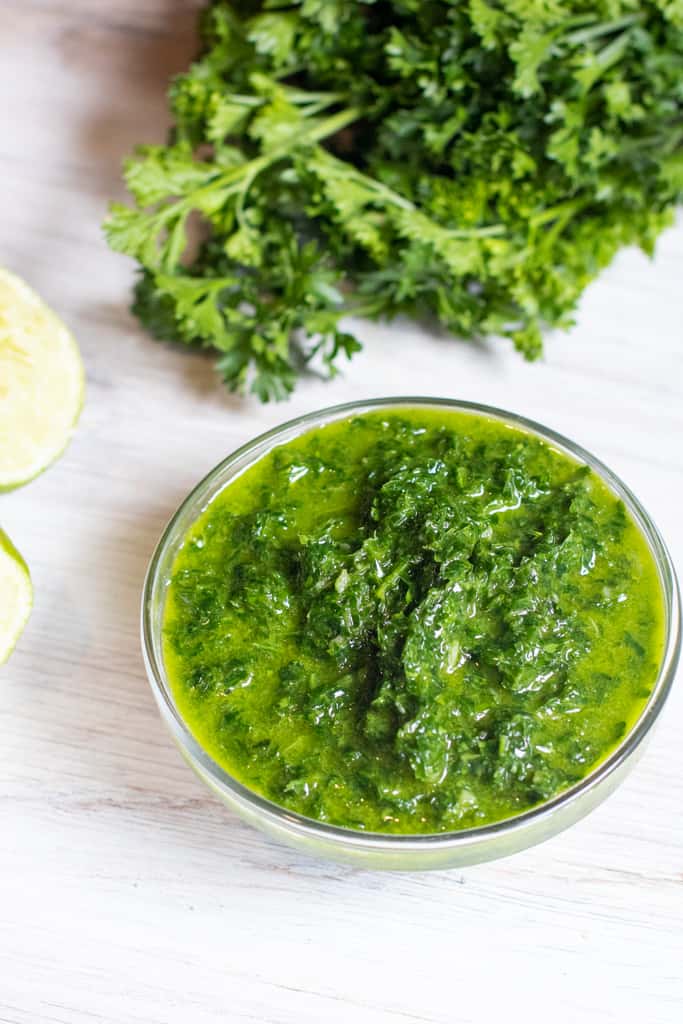 Does it get much fresher? Or greener? Nope. That's the answer. Nope.
Put this fresh Homemade Chimichurri Sauce on your favorite grilled steak. Or marinate your favorite cut of chicken. Use it as a dipping sauce! The possibilities are endless for this super versatile condiment!
Other Favorite Condiments
Enjoy! As always, if you make this recipe or any of my others, I love to hear what you think! Leave a comment below, email me, or you can find me on Facebook, Instagram, and Pinterest!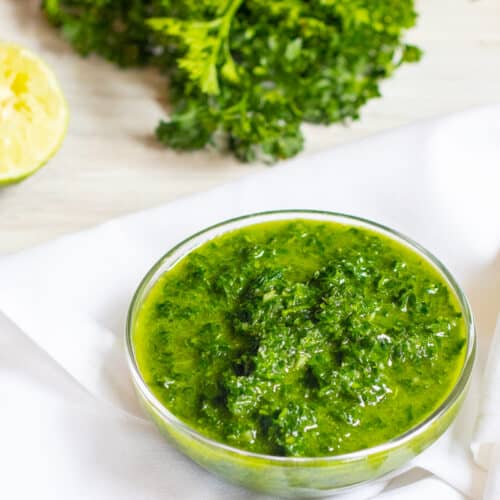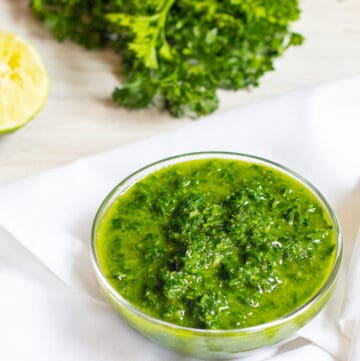 Ingredients
2

cups

fresh parsley

packed

6

cloves

garlic

3/4

cup

extra virgin olive oil

2

tablespoons

red wine vinegar

1

teaspoon

kosher salt

2

teaspoons

fresh lime juice
Instructions
Add everything to a blender or Vitamix and blend until everything is well combined.

Use immediately or store in fridge for up to 2-3 weeks, which will help develop it's flavors.

Freeze for up to 3 months.
Notes
Yield: 1 cup. The serving size is for a single 1/4 cup.
Make without a blender/Vitamix: You can absolutely make this without a blender or Vitamix by just chopping parsley and garlic finely together on a cutting board. Mix in a bowl with the rest of the ingredients.
Nutrition
Calories:
378
kcal
|
Carbohydrates:
4
g
|
Protein:
1
g
|
Fat:
41
g
|
Saturated Fat:
6
g
|
Polyunsaturated Fat:
4
g
|
Monounsaturated Fat:
30
g
|
Sodium:
600
mg
|
Potassium:
191
mg
|
Fiber:
1
g
|
Sugar:
1
g
|
Vitamin A:
2529
IU
|
Vitamin C:
42
mg
|
Calcium:
51
mg
|
Iron:
2
mg