Skip the store-bought and make your own, Homemade Lemon Pepper Seasoning with just a little time and a couple of incredibly simple ingredients! You'll be amazed at how easy it is and how much better it is to be able to control exactly what goes into your own spice blends.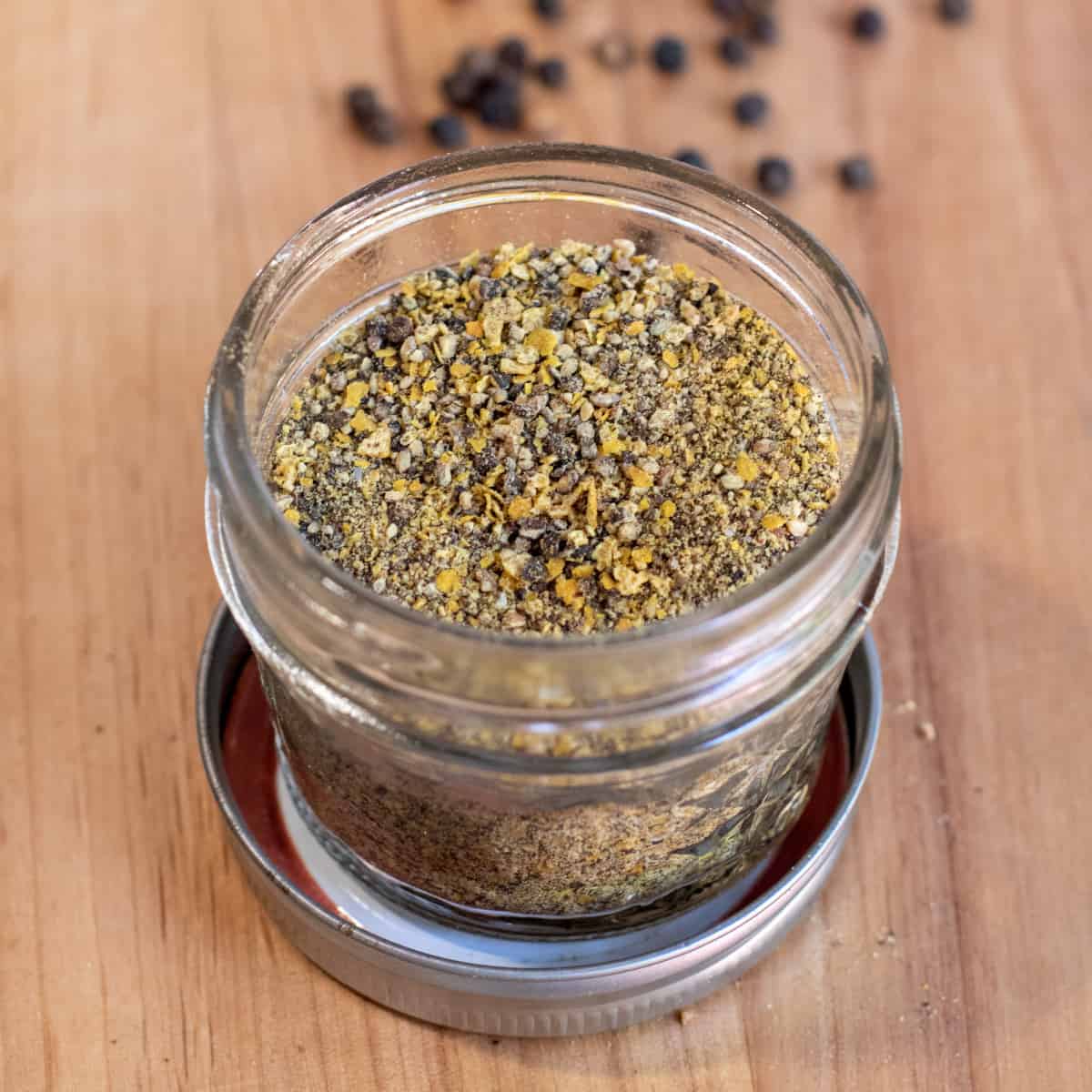 One of the fundamental reasons why we created this blog in 2013 was to learn how to cut out the store-bought and make whatever we could at home and from scratch. Homemade seasonings and condiments have been fundamental in that journey, and I cannot believe it's taken so long for us to finally create our own Homemade Lemon Pepper Seasoning!
Ingredients Needed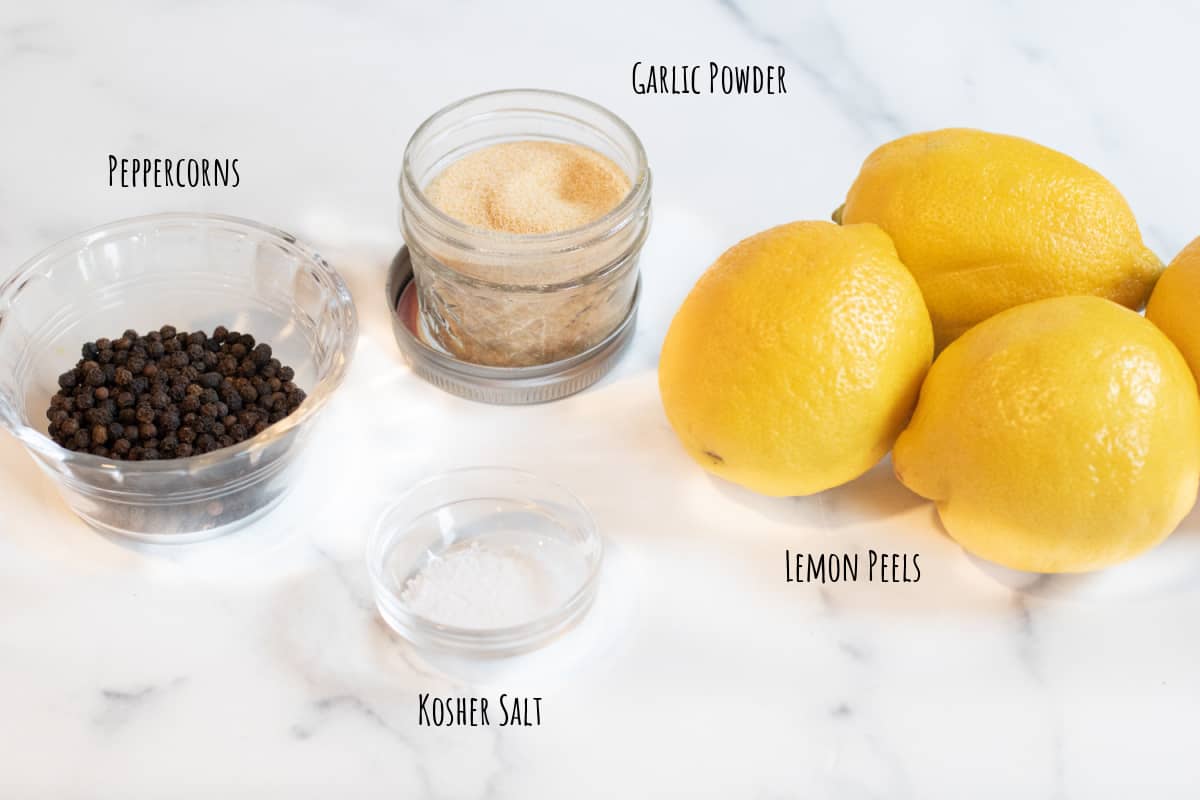 Lemon - Key to Lemon Pepper Seasoning, right? We use the peel from fresh lemons.
Peppercorns - Whole peppercorns are best so that it all can grind up together.
Kosher Salt - This is our go-to salt to use because it's the purest form of salt.
Garlic Powder - Just a lil touch to add a garlic essence.
Easy to Make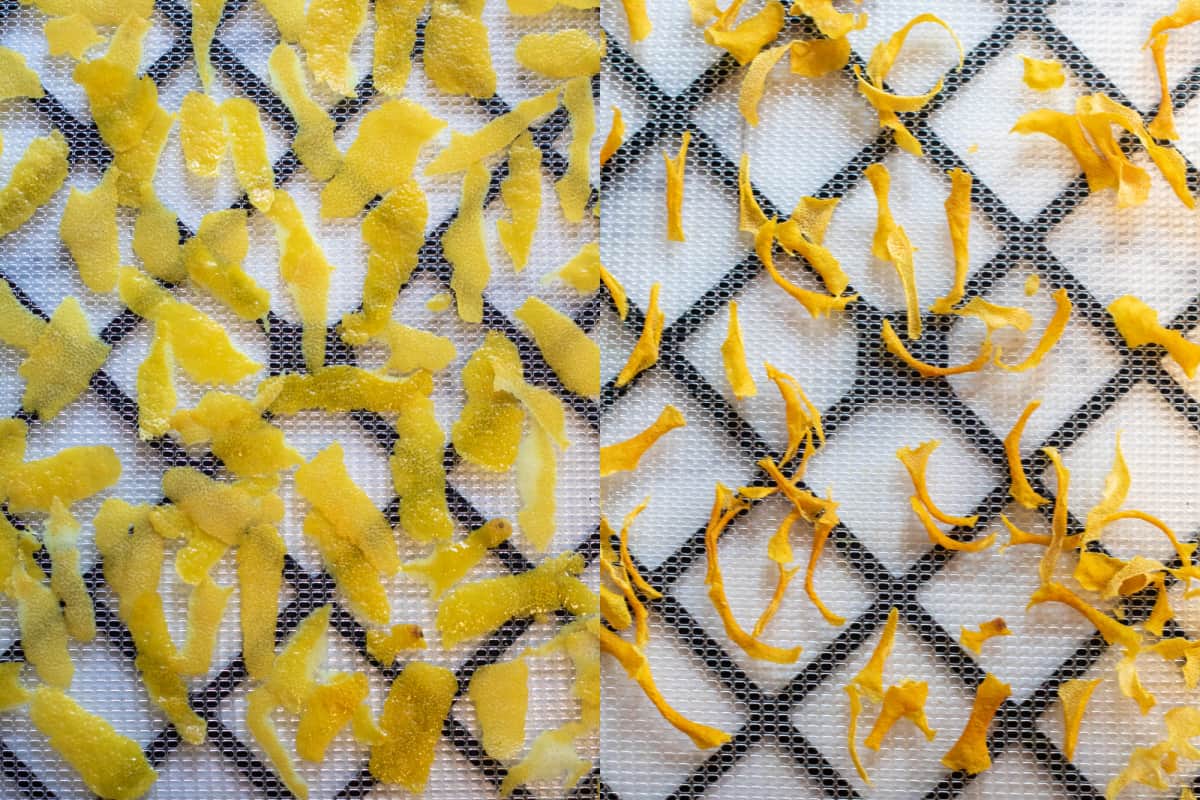 Dehydrate / Dry Lemon Peels
Key to a homemade lemon pepper seasoning, of course, the lemon! We love to use our food dehydrator for this because it doesn't heat up the whole kitchen and it's just so easy. But of course, you can use your oven on a low setting too - see the recipe notes for those instructions.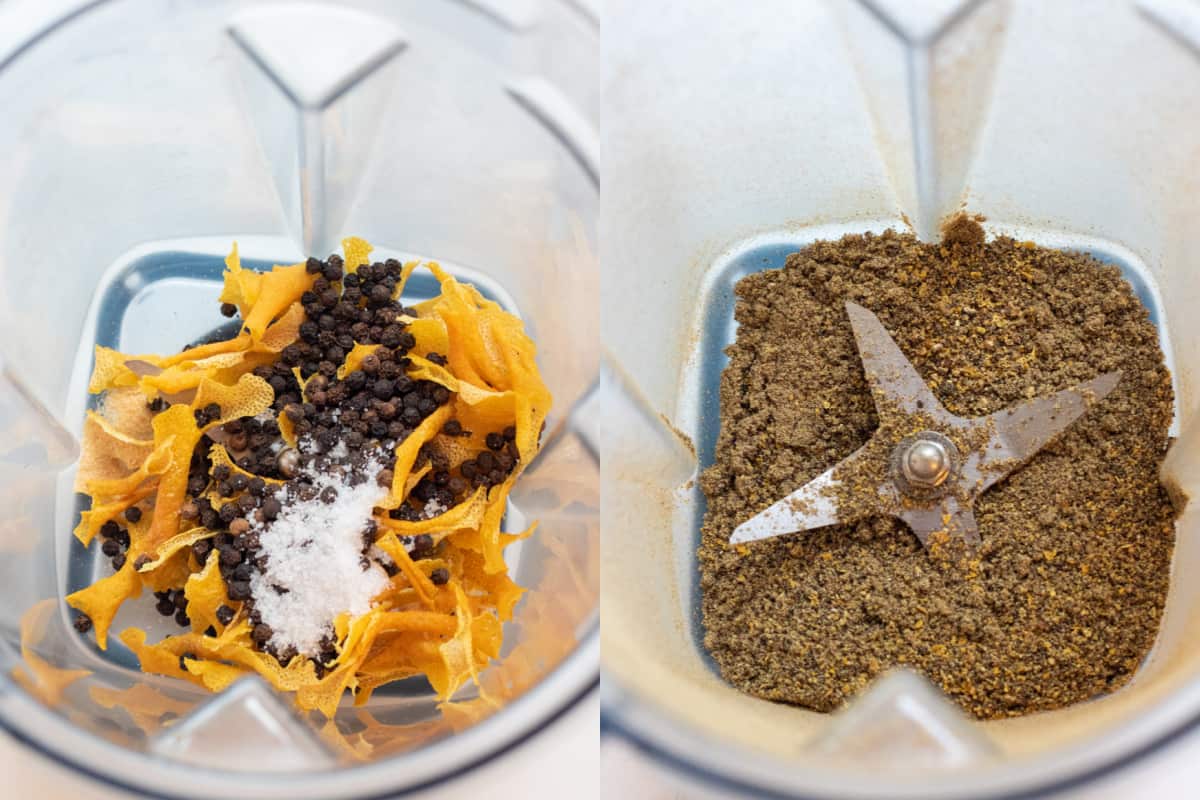 Blend!
Once your lemon peels are ready, then the final step for this lemon pepper seasoning is adding the second most important ingredient, peppercorns, and a little salt and just a touch of garlic powder.
We love our Vitamix for this, but you can use whatever high-powered blender you have or a spice blender if you have one.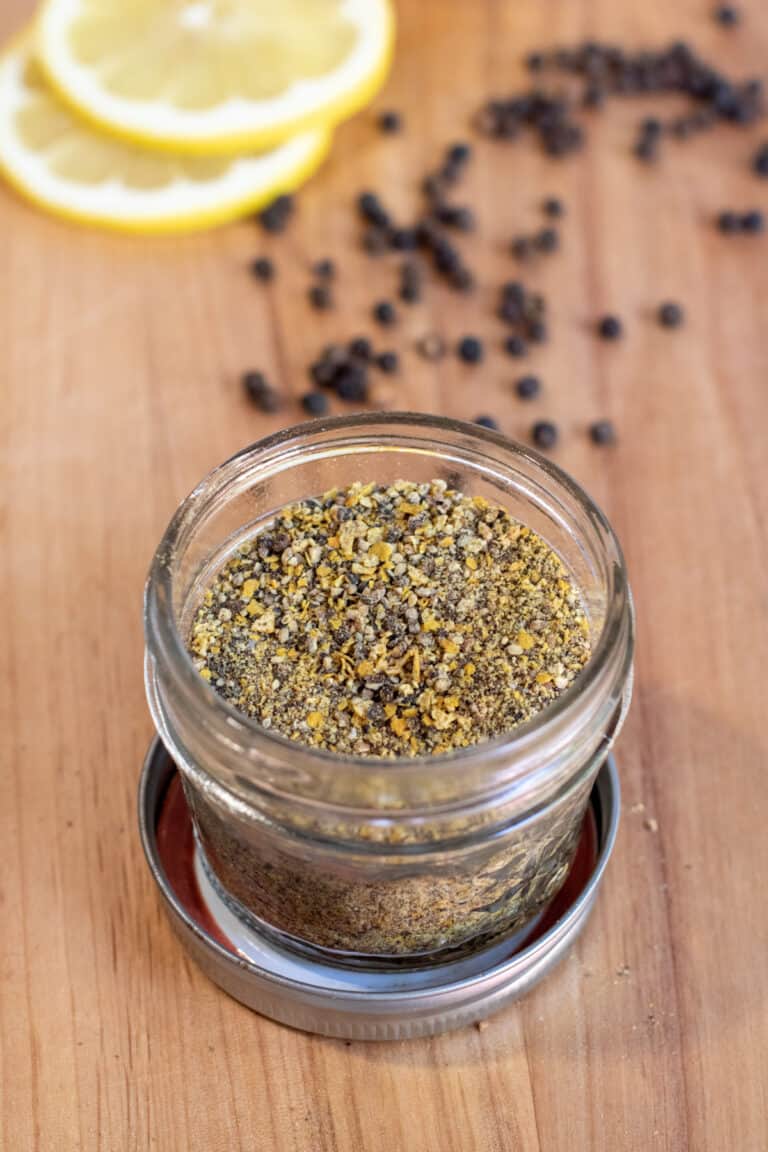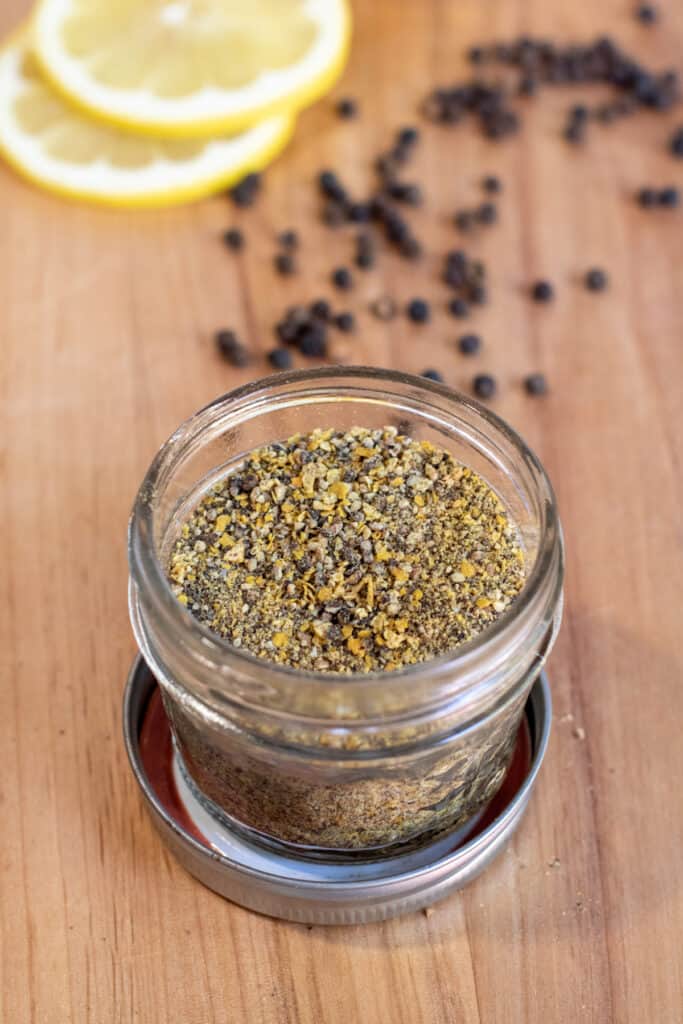 Blend to the grind that you want, and then you're done! Could a Homemade Lemon Pepper Seasoning get any easier?
This recipe makes the perfect amount for our little 2 oz mason jars, which is how we store our spices in our spice drawer in our kitchen. See our drawer here!
FAQs
Can I zest the lemon instead?
Of course! Get that lemon peel off of the lemon however you want, I just find that peeling is so much easier, and faster.
Can I use an oven instead of a dehydrator?
Of course, but it will take longer, about 2-3 hours in the oven. Also if you like to make your own seasonings, then I can't recommend a good dehydrator, more. (Hint: You'll love our Onion Soup Mix From Scratch)
Can I add other spices?
Sure can. You can up the salt level, add some onion powder, or even add a little savory element with some oregano, basil, or cilantro!
How much does this recipe make?
1.65 oz, which is just a little less than what you get when you buy it jarred from the store.
How long does it last?
Fresh spices can technically last up to two years, however, over time they start to lose flavor. The best time frame for this lemon pepper is usually about 3-6 months. But you could also store it in the freezer for even longer!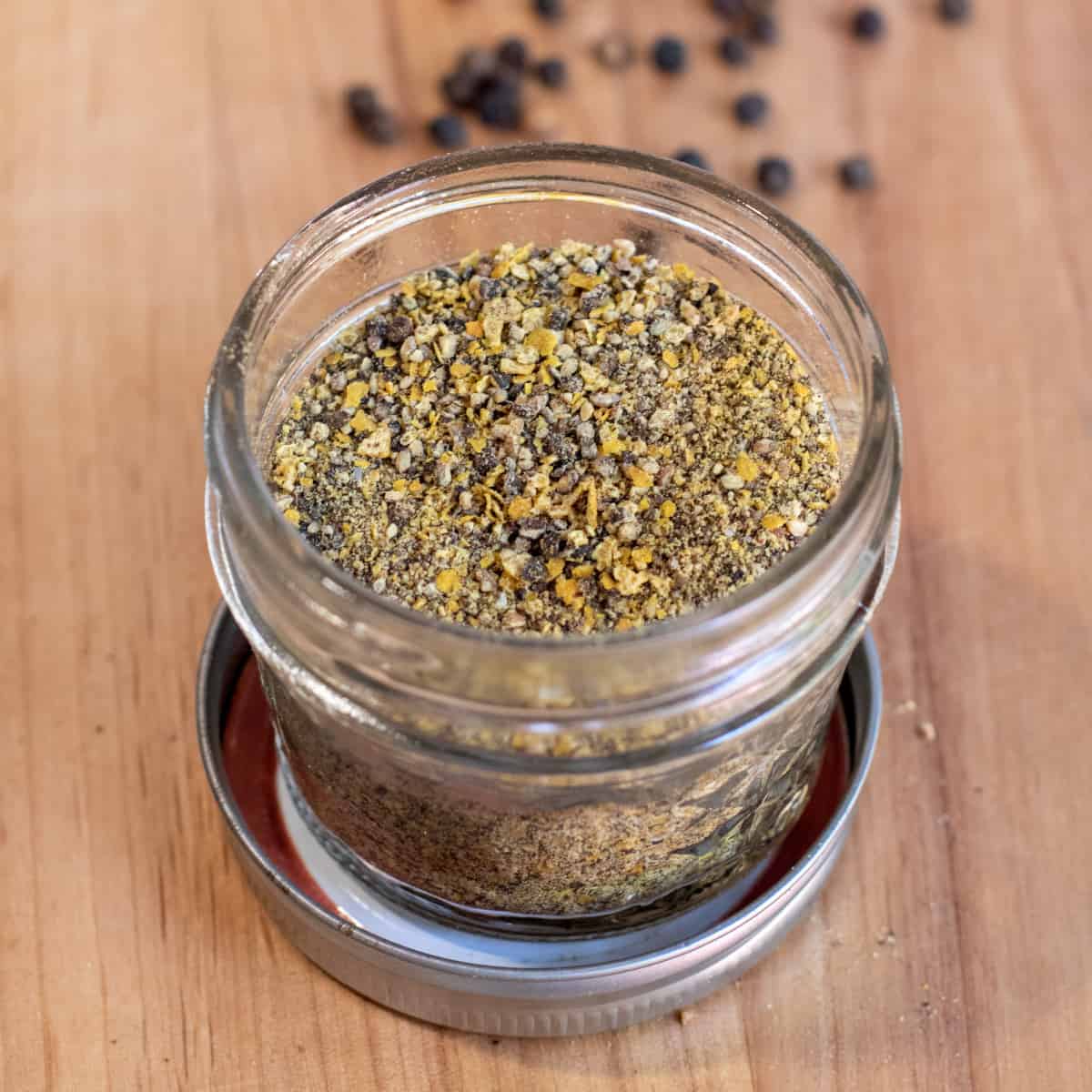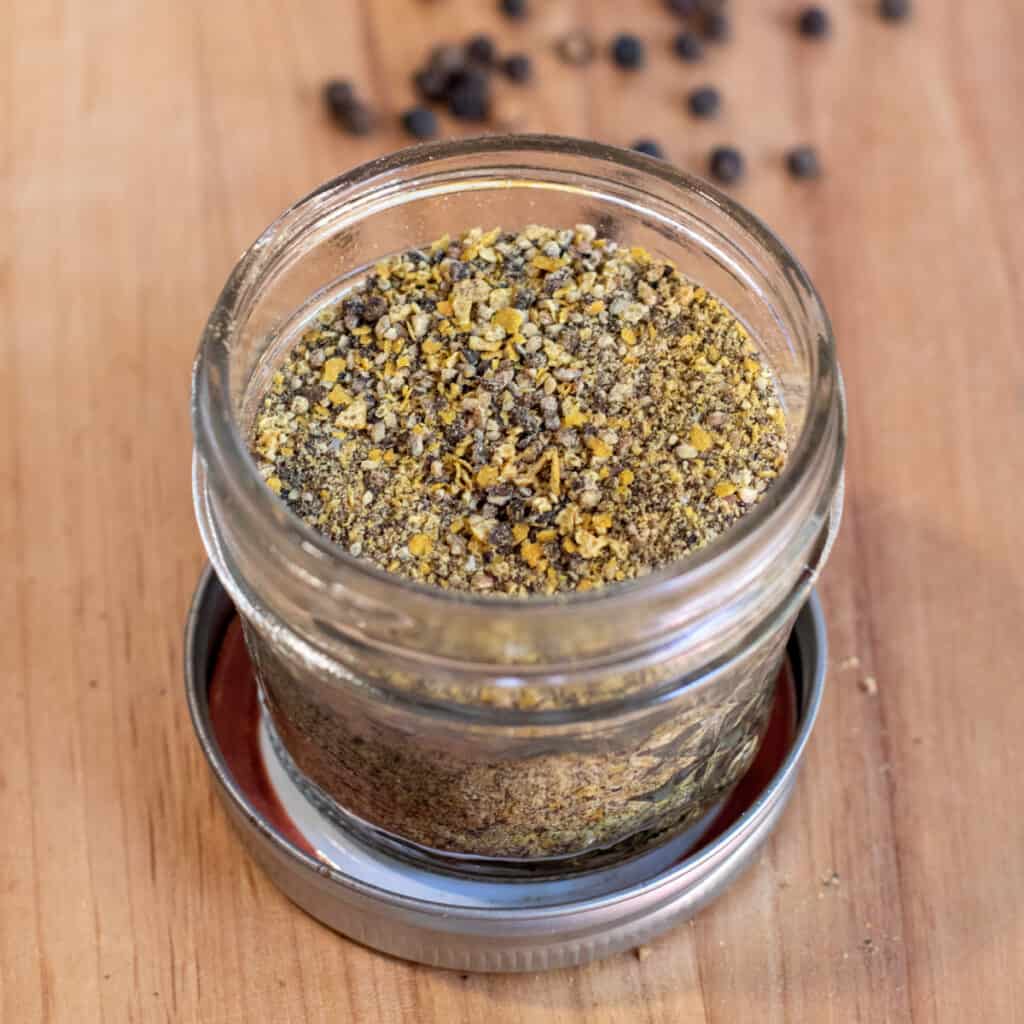 Now, what recipe will you make first with this new, from-scratch, ingredient-controlled new spice in your spice drawer?
May I suggest our Lemon Pepper Chicken? Or perhaps by buddy the Cozy Cook's Lemon Chicken Pasta? Stay tuned for more ways we put this vibrant spice to work in our future recipes!
Enjoy! As always, if you make this recipe or any of my others, I love to hear what you think! Leave a comment below, email me, or you can find me on Facebook, Instagram, and Pinterest!
If you want to see more, be sure to sign up for my 5 Easy Ways to Start Cooking From Scratch!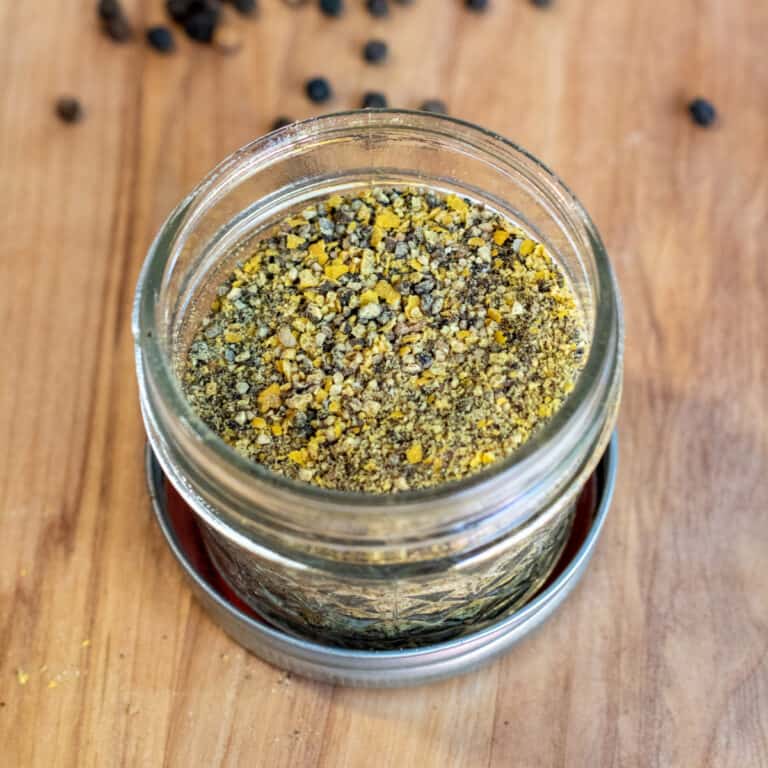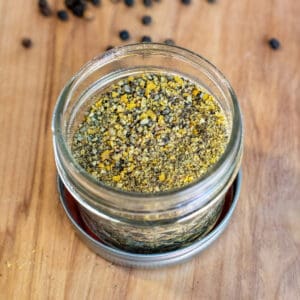 Homemade Lemon Pepper Seasoning
Skip the premade and make your own Lemon Pepper Seasoning from scratch!
Print
Pin
Rate
Equipment
Vitamix

or another high powered blender or spice blender
Ingredients
1.25

oz

black peppercorns

1/4 cup

.4

oz

dried lemon peels

peels from approximately 4 lemons

.55

oz

kosher salt

2 teaspoons

1/8

teaspoon

garlic powder
Instructions
With a paring knife or a good peeler, peel lemons, being sure to leave as much of the white part on the lemon as possible.

Line peels on a food dehydrator tray, set dehydrator for 135 degrees and dehydrate for 1 hour until lemon peels are dried.

Add lemon peels, peppercorns, kosher salt, and garlic powder to Vitamix or another high powered blender or spice blender. Blend until it's a preferred grind.

Store in an airtight container in spice drawer or add to a freezer for extended storage.
Notes
Storage
Store in an airtight container with your other spices for up to 2 years, although potency and freshness will start to deteriorate after 3-6 months.
Freeze to retain the spice freshness for even longer!
Substitutions
Kosher Salt - Use table salt, instead. In this case, just add the table salt after everything is blended.
Peppercorns - No whole peppercorns and only ground pepper? No problem, you can substitute ground pepper 1:1.
Garlic Powder - Use onion powder or make it savory with some dried basil, oregano, parsley, or cilantro.
Dry in an Oven
No need to use a dehydrator if you don't have one. You can use your oven, too. Just set it to its lowest setting (if you have a dehydrate setting great!). Line a baking sheet with parchment paper and bake for 2-3 hours or until peels are dried.
Nutrition
Calories:
94
kcal
|
Carbohydrates:
24
g
|
Protein:
4
g
|
Fat:
1
g
|
Saturated Fat:
0.5
g
|
Polyunsaturated Fat:
0.4
g
|
Monounsaturated Fat:
0.3
g
|
Sodium:
8
mg
|
Potassium:
489
mg
|
Fiber:
10
g
|
Sugar:
1
g
|
Vitamin A:
200
IU
|
Vitamin C:
15
mg
|
Calcium:
172
mg
|
Iron:
4
mg