They're your favorite super soft, cinnamon, and sugar-coated cookie, but taken to the next level with chai! Our Chai Spiced Snickerdoodles elevates these classic snickerdoodle cookies with warming spices that are perfect for Fall!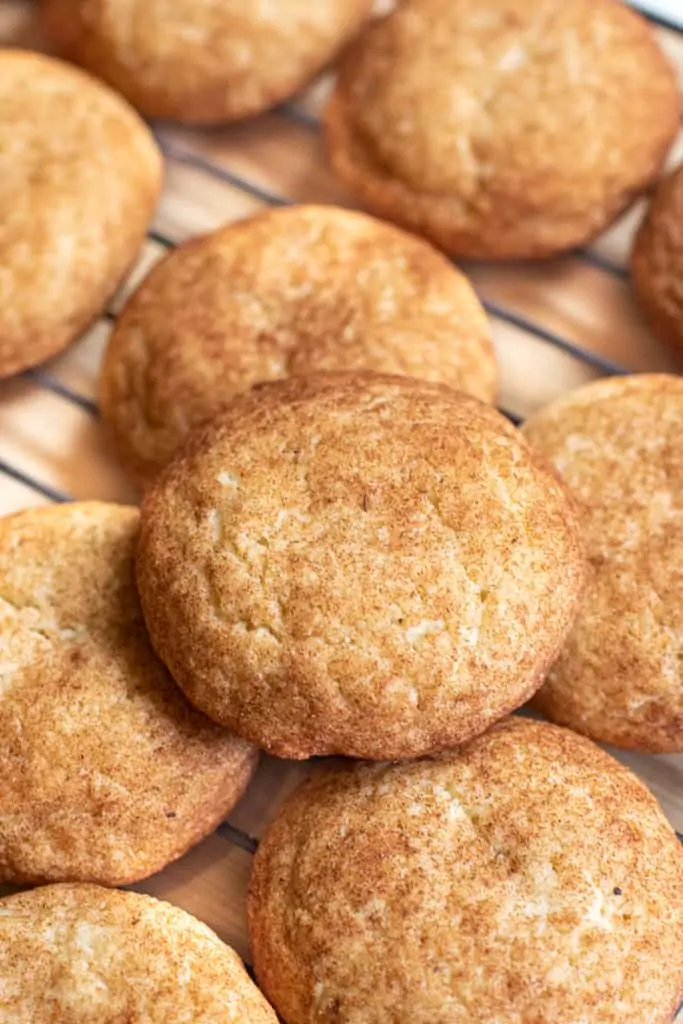 Move over regular ol' snickerdoodles, there's a new favorite in our house! These Chai Spiced Snickerdoodles are everything you want in classic snickerdoodle cookies. They're big, super soft, and cinnamon and sugar-coated, but with the oh so undeniable chai spice! As my husband describes them, they're like his favorite chai latte in cookie form!
Seriously, no flat, hard cookies with these! Adapted from a tried and true family recipe, these snickerdoodle cookies are thick and oh OH so soft. They're soft when they're first baked. They're soft the next day. They're even soft five days after they've been baked. Which if you're giving them out for the holidays, that means they're the perfect make-ahead cookie!
What is Chai Spice?
While in the US we may know chai as being a particular flavor, "Chai" in Hindi actually translates to "tea." What we know as the Chai Tea flavor is actually referred to in India as Masala Chai, a tea brewed with milk and water and an assortment of aromatic spices.
This chai spice is made up of cinnamon, fennel, cardamom, nutmeg, cloves, ginger, and black pepper. So aromatic. SO warming. And the perfect complement to this classic sweet cinnamon cookie.
Ingredients Needed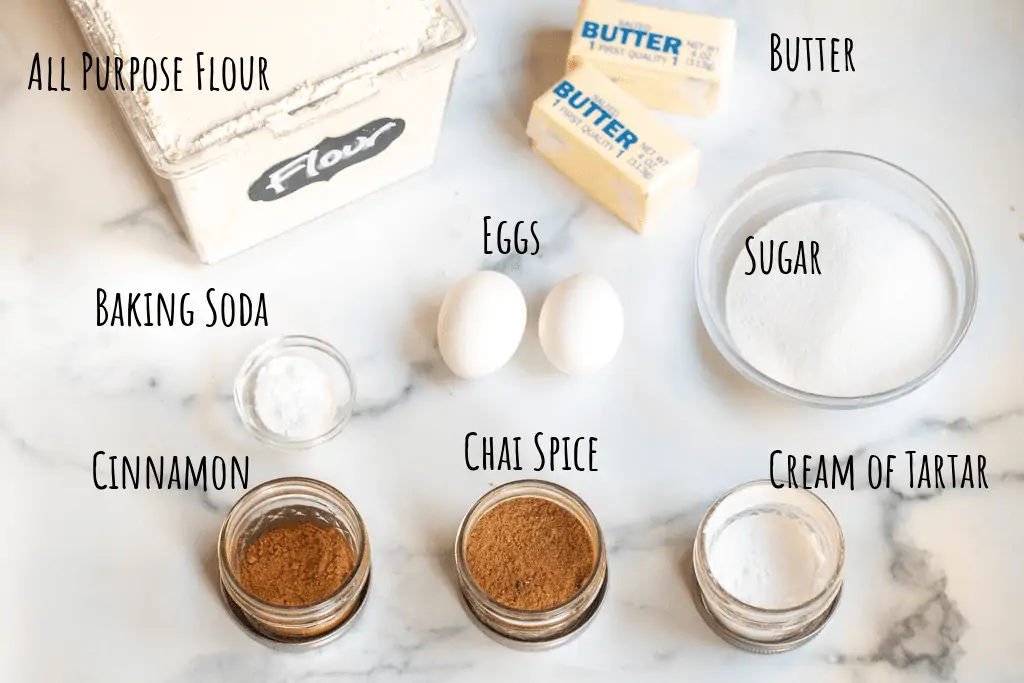 Now normally, our recipes here at SFS are pretty healthy and pretty low in processed sugar. With that said, we also believe in balance, moderation, and that everything has its place. And when it comes to Snickerdoodle cookies, that place is BUTTER. Lots and lots of butter and sugar! No added nutrition or snuck in veggies in this one. This is just a pure, butter and sugar-packed, delightful, family cookie recipe!
Flour - All-purpose flour is best for this recipe. For a gluten-free option, you can do a straight substitution with this gluten-free flour.
Eggs - Take them out with the butter to bring them to room temp, too. Room temperature eggs room-temperature eggs just mix better in a batter and will rise more easily.
Butter - Salted or Unsalted can be used for this recipe. If using unsalted, then just add 1/4 teaspoon of fine ground salt to the flour mixture.
Sugar - Good ol' white granulated sugar is the best! You'll need some for your cookie batter and then another tablespoon for your coating.
Baking Soda - This is your leavening agent for the cookies.
Cream of Tartar - This is absolutely essential for snickerdoodle cookies. Not only for the leavening it provides with the baking soda, but also that slight tangy cream of tartar taste!
Cinnamon - Because there is no snickerdoodle without the cinnamon!
Chai Spice - This spice is so simple and easy to make yourself (see recipe below), but of course, you can also buy your own favorite blend.
Quickly Bring Eggs to Room Temp: Have butter that's ready but totally forgot to take out some eggs? No problem. Add some warm water (about 100 - 110 degree water which is about lukewarm) to a bowl and add the eggs. Let them sit for about 10 minutes to help warm them up!
Quickly Soften Butter: The best method is to just take your butter out of the fridge about an hour before cooking. But if you forgot and you want to make your cookies now, you can also use this great tip, which is to take slice the butter and place it on a plate. Then heat a glass cup or bowl of water in a microwave for 2 minutes. Once done, remove the glass cup/bowl and immediately add the plate with the butter, and shut the door. Let it sit, and soften, in the microwave for 10 minutes. The heat in the microwave after heating the water will soften the butter!
Snickerdoodle Making Tips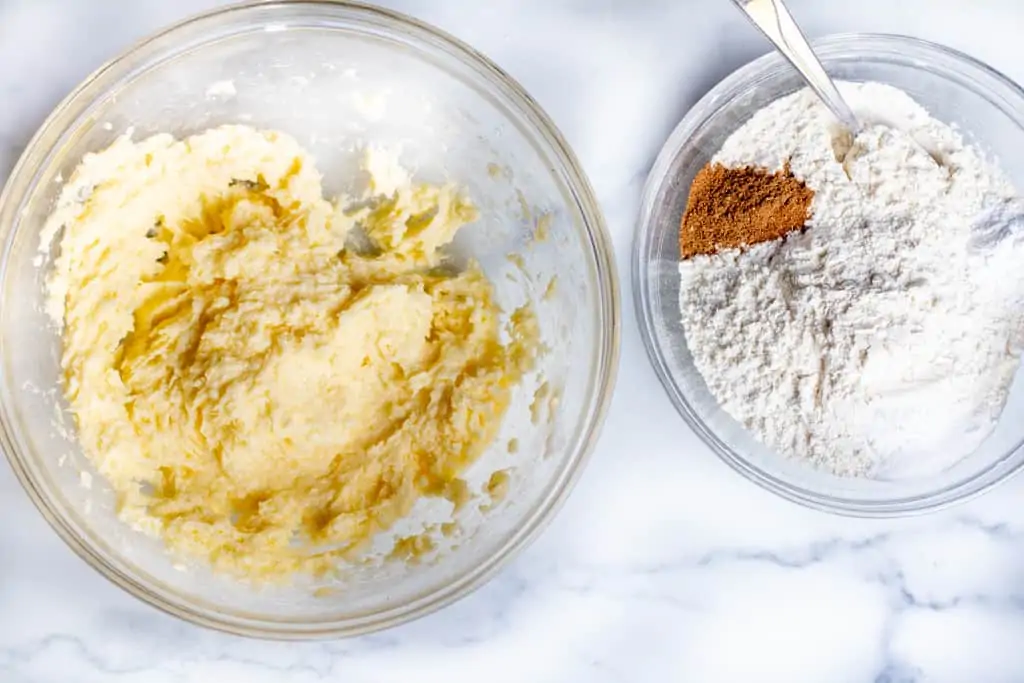 Use SOFT Butter: Key to easy mixing of your butter and sugar. If your butter is too cold, it's not going to mix well. If your butter is way too soft and almost melty, your mixture will be oily and greasy. No soft butter and low on time? No problem, see the tip above!
Use Room Temperature Eggs: Room temperature eggs allow for better mixing because the yolk break more easily. See my tip above for warming them up quickly.
Don't Over Mix! While creaming butter and sugar is key for soft cakes, when it comes to cookies, you don't want to overmix and aerate your dough. This is because, without the sides of a pan to hold up your dough, your cookies will rise, but then fall. To get those tall thick cookies, you want to mix just enough to blend it all, but not add too much air.
Mix all the Dry Ingredients: Mix your dry ingredients together in a separate bowl so that it's all well incorporated together before you mix it all to the butter, sugar, and eggs.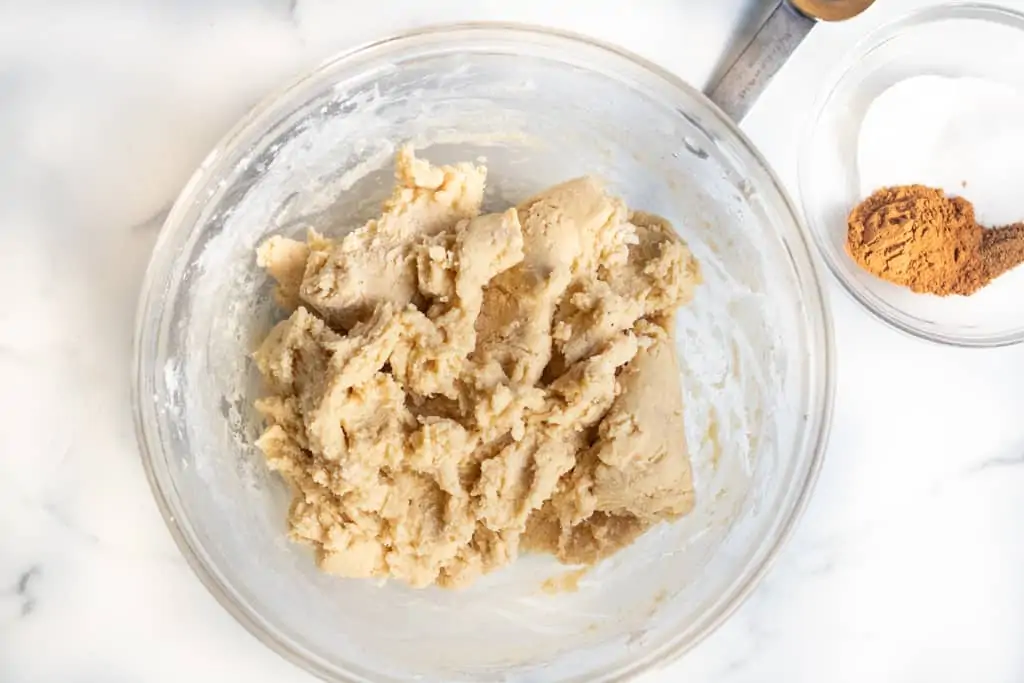 Add the Dry Ingredients Slowly: We add about 1/3 of the flour mixture at a time and then mix. Use a spatula for that first mix to scrape the edges of the bowl and mix all of that buttery sugar goodness into your dough, then finish mixing with a large spoon.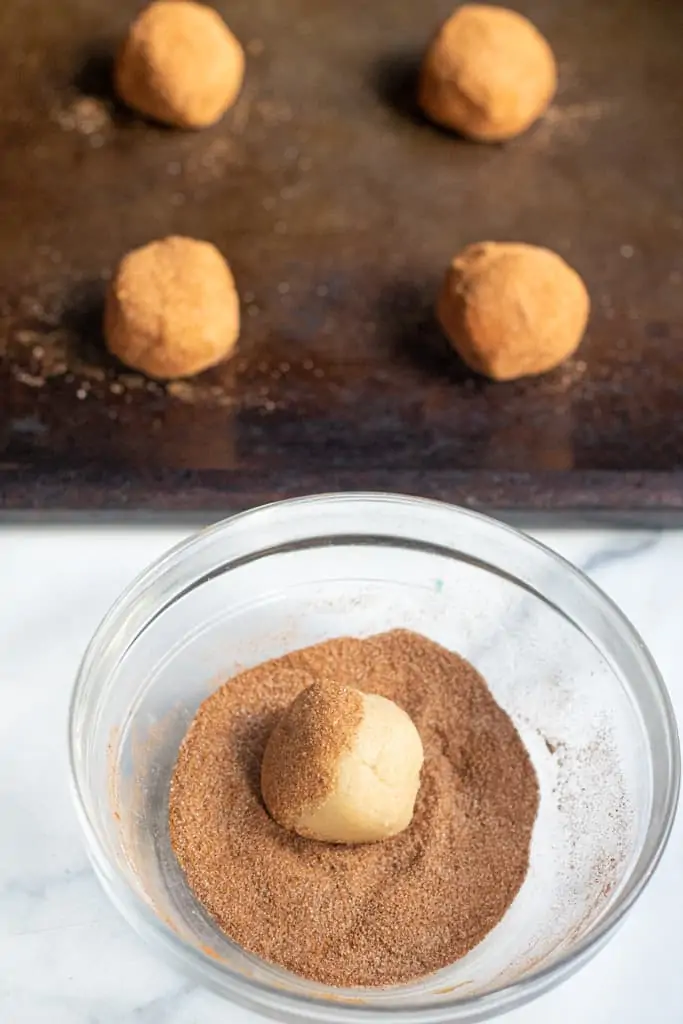 Evenly Coat: The key to a classic snickerdoodle is that signature cinnamon sugar coating, and the magic with these Chai Spiced Snickerdoodles - the added chai spice to the cinnamon and sugar!
Cookie Baking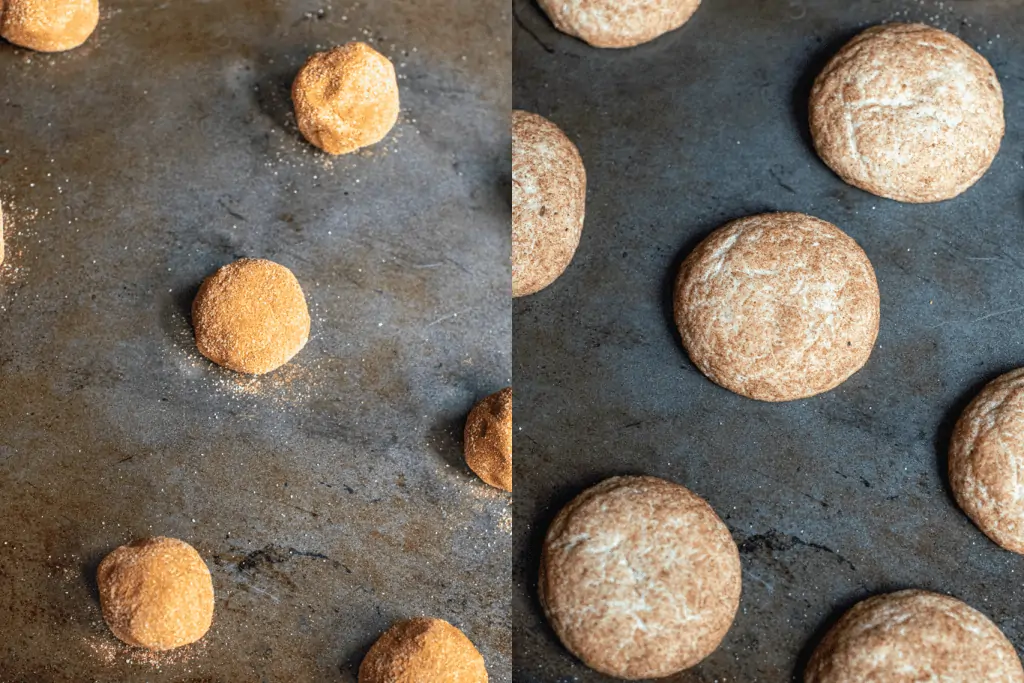 No Need to Grease: Thanks to the amount of butter in these babies, there's no need to grease your baking sheet.
Allow Space: They will spread so be sure to give them at least a couple of inches of space.
A Quick Bake: Another reason we love these snickerdoodle cookies are that they are fast to bake! Just 9 minutes in the oven and done!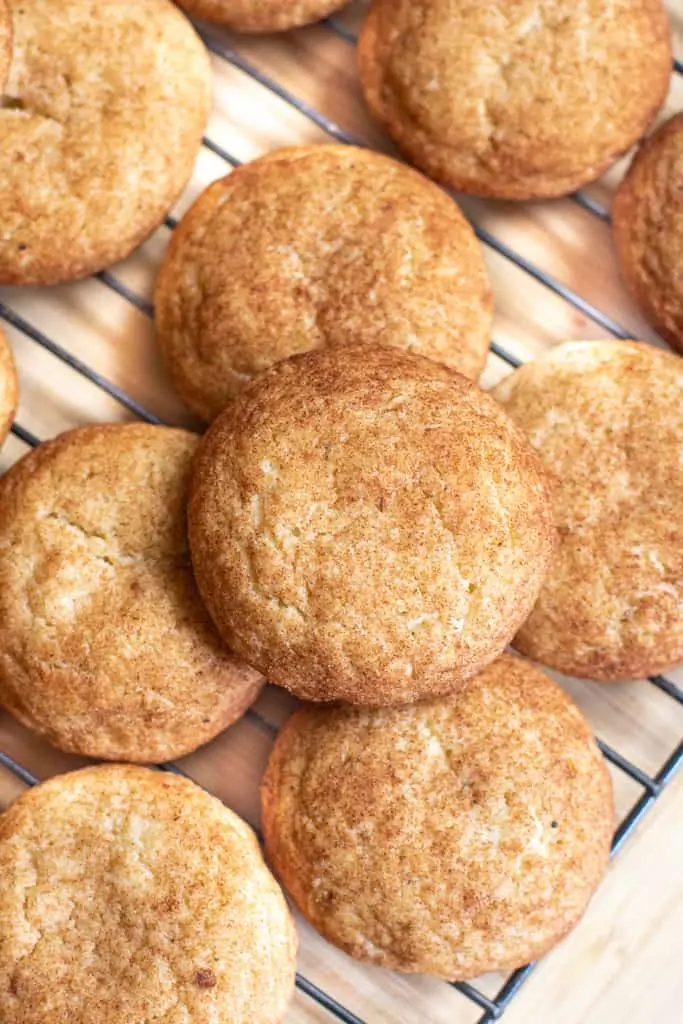 How perfect do these Chai Spiced Snickerdoodles look?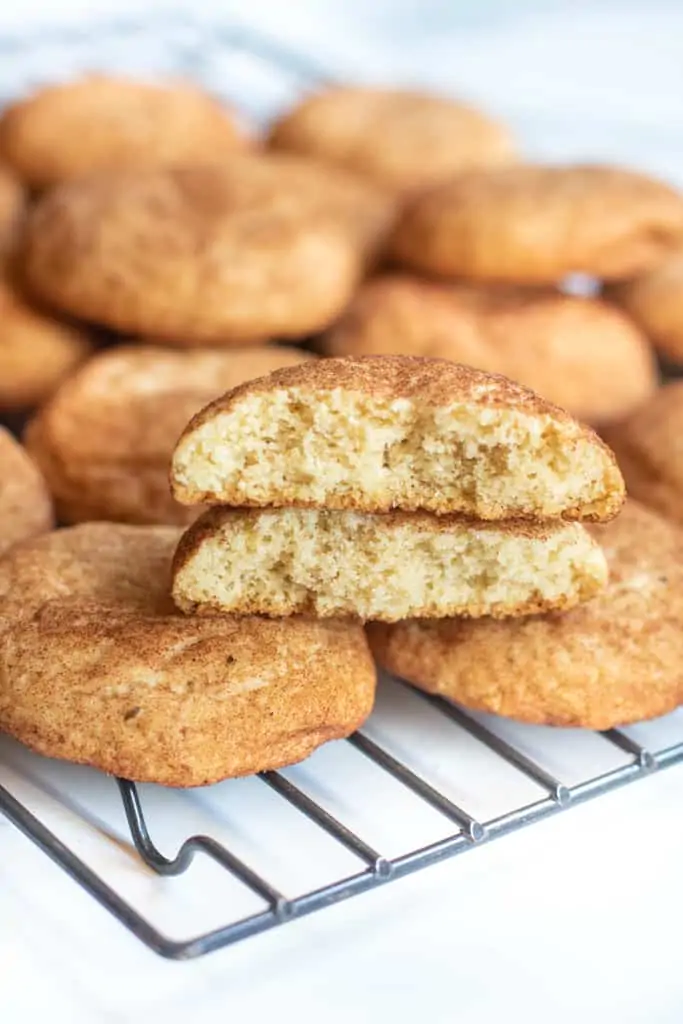 They're thick. They're soft. They're packed full of warming chai spices. Oh, and did I mention how perfectly soft these snickerdoodle cookies are? In case I forgot, these Chai Spiced Snickerdoodles are so so soft!
FAQs
Can I mix it all by hand?
Totally. It may take a little extra elbow grease to mix that butter and sugar, but you also don't run the risk of overmixing!
Can I use a stand mixer?
Absolutely! Just pop that paddle attachment on and let it do the work. But remember, don't overmix!
What happens if I overmix the butter, sugar, and eggs?
You will still have super soft cookies, they just won't be as thick as they will come out of the oven nice and plump, but then fall a little flat. Still delicious, just not the same thickness.
How strong is the chai flavor?
It's very similar to drinking chai tea, strong. Undeniable that it's there, but totally adjustable. See the recipe notes for our adjustments for the chai spice level.
What if I don't have cream of tartar?
You can substitute baking powder, but really, you don't want to. It will still be a delicious cookie, but it won't be a snickerdoodle cookie.
Can I make these just regular Snickerdoodles?
Of COURSE. Just omit the chai spice from the dough and adjust the cinnamon and sugar coating to 2 tablespoons of sugar and 1 tablespoon of cinnamon and you have a perfect classic snickerdoodle cookie recipe.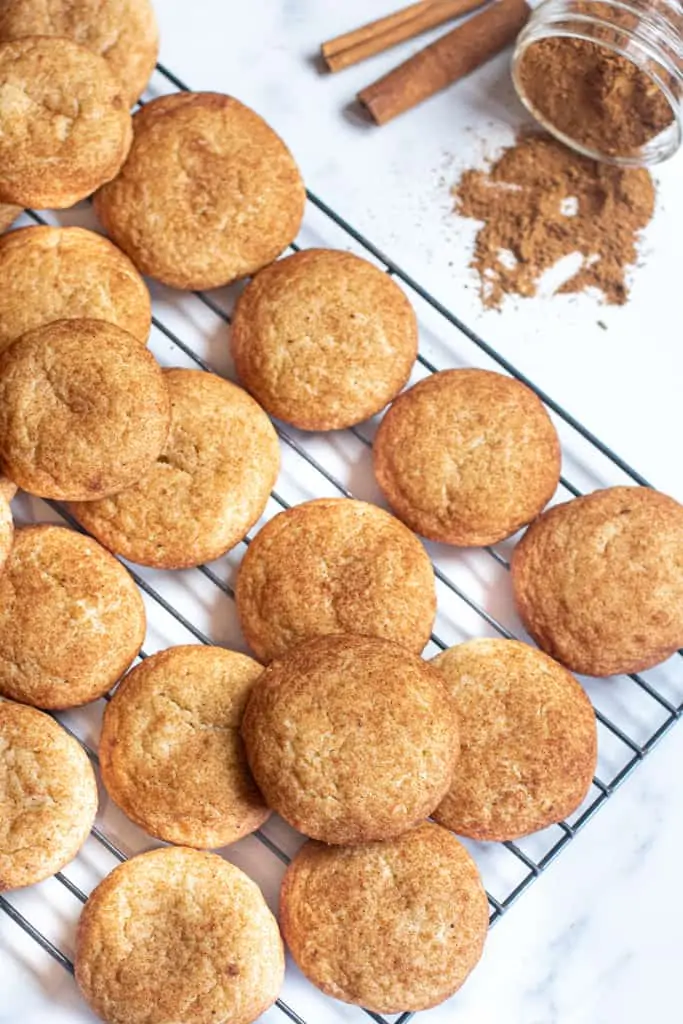 This was a FUN one, friends. A lot, I mean a LOT of recipe testing for different levels of chai spices and for ultimate texture and thickness. I hope that you all love these Chai Spice Snickerdoodles as much as we do!
Enjoy! As always, if you make this recipe or any of my others, I love to hear what you think! Leave a comment below, email me, or you can find me on Facebook, Instagram, and Pinterest!
If you want to see more, be sure to sign up for my 5 Easy Ways to Start Cooking From Scratch!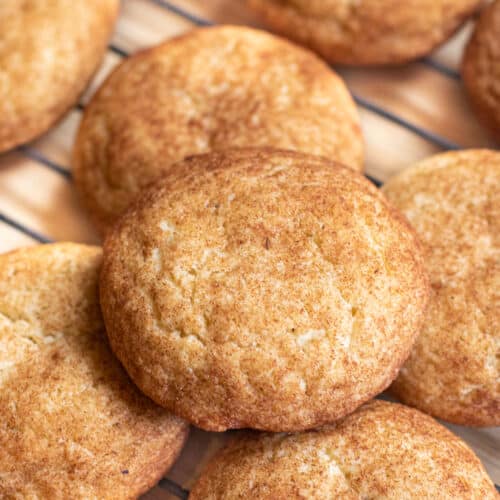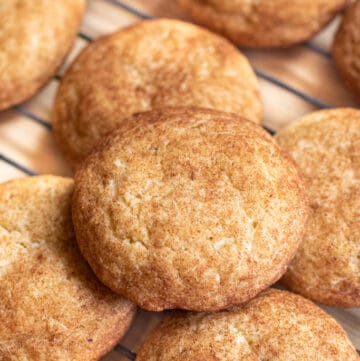 Chai Spiced Snickerdoodles
Super soft snickerdoodle cookies with warming chai spices!
Print
Pin
Rate
Ingredients
1

cup

butter, softened

salted or unsalted, see recipe notes

1 1/4

cup

sugar

2

eggs

room temperature

2 3/4

cup

all purpose flour

2

teaspoons

cream of tartar

1

teaspoon

baking soda

2 1/2

teaspoons

chai spice

1/4

teaspoon

salt (only if using unsalted butter)
Sugar Coating
1

tablespoon

sugar

2

teaspoons

ground cinnamon

2

teaspoons

chai spice
Chai Spice
1 1/2

teaspoons

ground cinnamon

5/8

teaspoon

ground black pepper

3/4

teaspoon

fennel seeds

ground as fine as possible

3/4

teaspoon

ground cardamon

1/2

teaspoon

ground nutmeg

1/2

teaspoon

ground ginger

1/4

teaspoon

ground cloves
Instructions
Take butter and eggs out of the fridge at least 60 minutes before you're ready to bake to soften butter and bring eggs to room temperature (or, see recipe notes).

Pre-heat oven to 400 degrees.

In a medium sized bowl, mix flour with cream of tartar, baking soda, chai spice, (and salt if using unsalted butter), and whisk so that it is all well combined.

In a small bowl, mix the sugar coating and set aside.

In a large bowl, add softened butter and sugar. Use a hand mixer (or a stand mixer with the paddle attachment) on low speed and mix butter and sugar together until just combined, about 1-2 minutes.

Add one egg at a time, mix in with butter and sugar until just combined, then add second egg. Beat/mix until eggs are just incorporated, do not overbeat. Only about 15-30 seconds for each egg.

Slowly add flour mixture to creamed butter, sugar, and eggs, about 1/3 of the mixture at a time. Use a spatula to scrape the butter and sugar off of the edges of the bowl and fold down into flour mixture and mix. Then use a large spoon to mix it all together before adding next 1/3 amount of the flour mixture until all flour is mixed into a dough.

Roll out 1-2 inch balls in the palm of your hand, or use a cookie scoop. Roll the ball in the sugar coating, ensuring it's all well coated.

Place coated cookie dough balls on an ungreased baking sheet 2 inches apart.

Bake in middle rack for 9 minutes.

Let cool on baking sheet for 5 minutes before transferring to a wire rack.

Store in an airtight container for up to a week.
Notes
Storing:
On Counter: Let cookies cool completely and then you can store in an airtight container for up to a week.
Freeze: Store in a freezer safe bag/container for up to 3 months.
Make Ahead:
Dough: You can prepare the dough ahead of time and store in fridge for up to 2 days.
Dough Balls: You can roll out the cookie dough balls and store in the freezer for up to 3 months. Store uncoated and then let cookie dough balls come back up to room temp before coating and baking.
Substitutions:
Butter: Use salted or unsalted. If using unsalted add 1/4 salt. If using salted butter, do not add any additional salt.
Flour: You can use a gluten free flour like Bob's Red Mill 1:1 Gluten Free Flour.
Chai Spice: Make your own with this recipe, or buy a pre-made chai spice blend. We do not use a chai spice

tea

blend because these contain black tea.
Ground Cinnamon: We actually love this coating with a fresh grated cinnamon, too! For that, increase the cinnamon to 1 tablespoon and reduce the chai spice to 1 teaspoon as the fresh ground cinnamon isn't as prominent a flavor and will really let the chai spice blend shine.
Cream of Tartar: Don't. 🙂
Chai Spice Level:
This recipe is for a strong flavored chai cookie. The quickest way to adjust the flavor is to reduce it in the cinnamon sugar coating. See below for our spice level notes.
Medium Chai: Add only 2 teaspoons to the dough and for the cinnamon and sugar coating, up the cinnamon to 2 teaspoons with 1 teaspoon chai.
Hint of Chai: Add only 1 teaspoon of chai spice to the dough and then 2 teaspoons of cinnamon and 1/2 teaspoon of the cinnamon and sugar coating.
Nutrition
Calories:
136
kcal
|
Carbohydrates:
18
g
|
Protein:
2
g
|
Fat:
7
g
|
Saturated Fat:
4
g
|
Polyunsaturated Fat:
1
g
|
Monounsaturated Fat:
2
g
|
Trans Fat:
1
g
|
Cholesterol:
27
mg
|
Sodium:
95
mg
|
Potassium:
54
mg
|
Fiber:
1
g
|
Sugar:
9
g
|
Vitamin A:
206
IU
|
Vitamin C:
1
mg
|
Calcium:
9
mg
|
Iron:
1
mg