It's a classic Vietnamese sandwich but made at home with a homemade baguette, from scratch sriracha mayo, homemade pickled veggies, and an incredibly flavorful marinade! This Grilled Chicken Banh Mi recipe is one of our favorite sandwiches full of from scratch flair!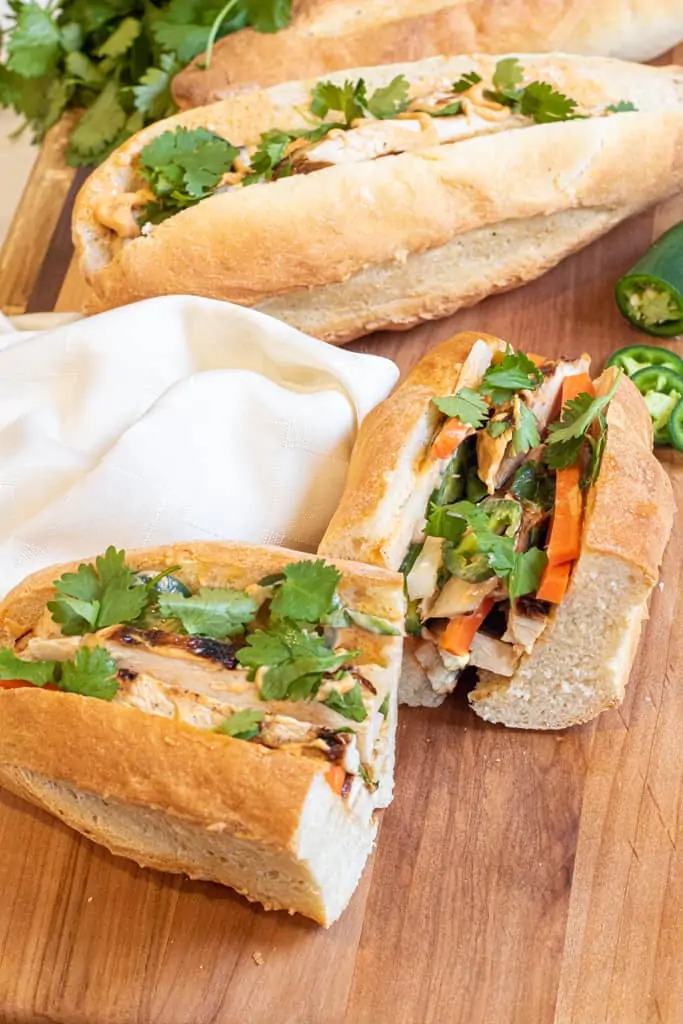 We love this sandwich. This Grilled Chicken Banh Mi has been a part of our lives for many years and I had posted it back in 2014, and then accidentally deleted it. Oops. But finally, it's back! And trust me, this is a sandwich you want in your repertoire!
While this Vietnamese sandwich itself is pretty simple, some pickled veggies, grilled chicken, and spicy mayo, on a baguette, what makes this banh mi recipe so special (and stinkin' delicious) is that all of these components can be made from scratch - but of course, as with all of our recipes, you can choose to make as much from scratch as you'd like, but the options are all there for you.
What is a Banh Mi?
Bánh Mì actually translates to "bread" in Vietnamese, but it is also a term for (in my opinion) one of the most delicious sandwiches in the world! It is made up of pork/chicken (or a pate of either), mayo, pickled veggies, and fresh herbs, like coriander or cilantro, served on a short baguette.
What makes it so delicious? Between the crusty soft chewy centered baguette, to the spicy kick of the mayo, salty Asian flavored meat, pickled crunchy veggies, and fresh herbs, it's a sandwich that hits all the right flavor and textures.
Components of a Banh Mi
We'll break this banh mi sandwich into each of their components that you can make it from scratch. Again, you can of course choose how much from scratch flair to add or not!
Vietnamese Baguette - Find the recipe here!
Grilled Chicken - With one of our absolute favorite chicken marinades!
Sriracha Mayo - With homemade mayonnaise!
Pickled Veggies - SO fast and easy to make!
Garnishes - Fresh cilantro and sliced jalapenos.
Once you have all of these in place, then you're ready to assemble!
Grilled Chicken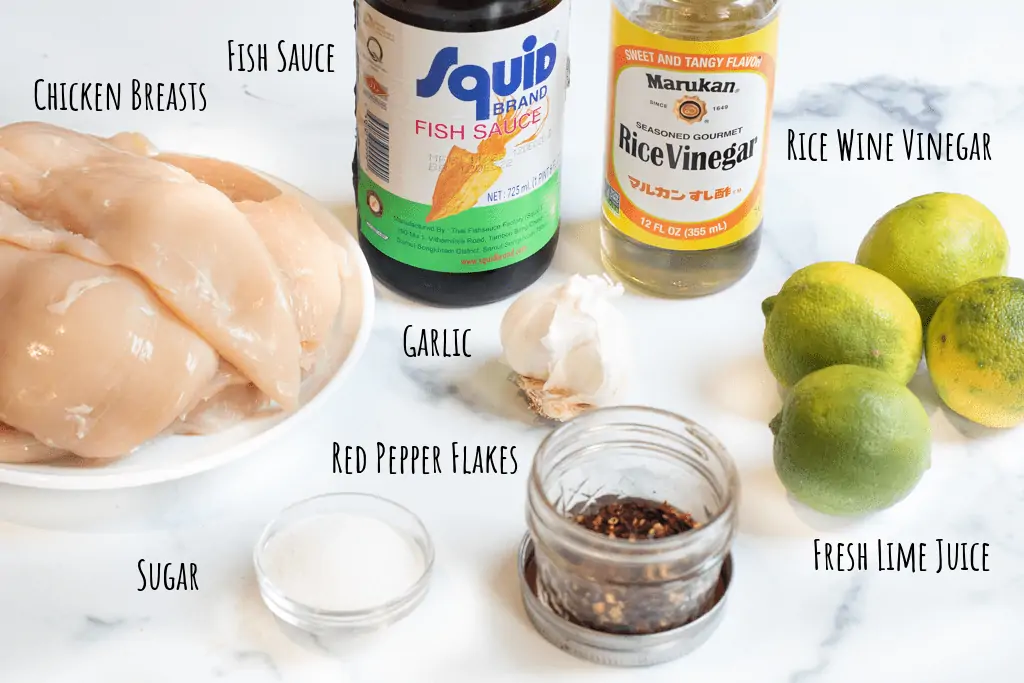 The key to this grilled chicken banh mi recipe is, well, the grilled chicken! The star of the sandwich, all thanks to this star of a marinade.
Ingredients
Chicken Breasts - Boneless are best, but you could also use a boneless chicken thigh, or even a pork tenderloin.
Fish Sauce - This adds the salty umami flavor that really makes this marinade.
Lime Juice - Key acidity to the cutting into the chicken to let the marinade really impart some flavor.
Garlic - Fresh is our preferred, but a jarred minced or powder would also work.
Sugar - Just a touch to balance all of the flavors out.
Red Pepper Flakes - Optional, to add a little heat.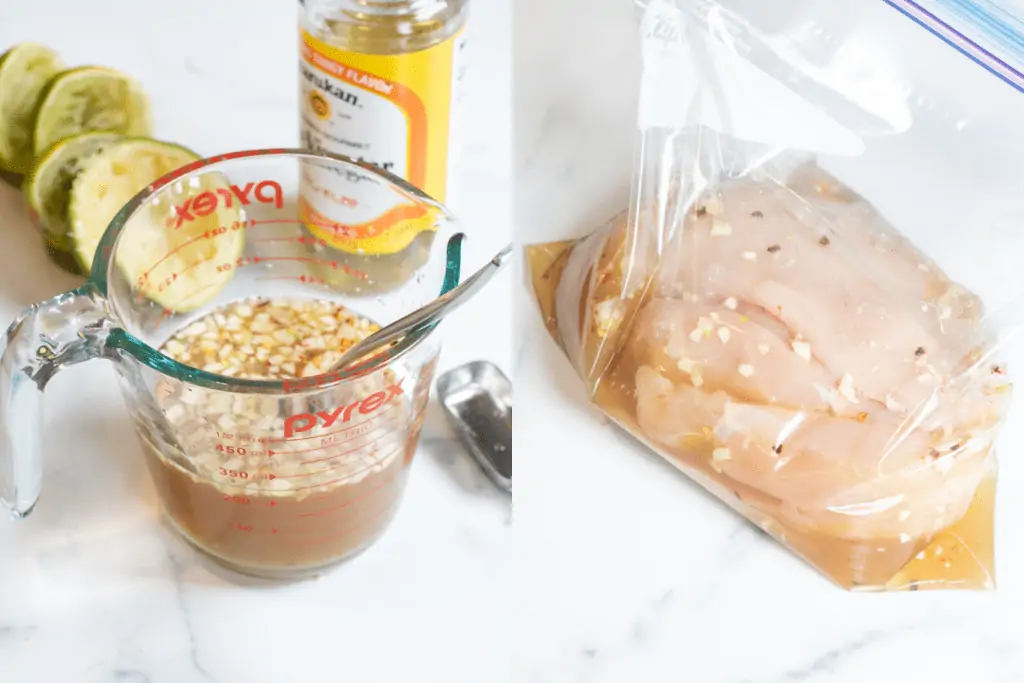 Marinate
For real, this marinade is so so SO flavorful! The combination of the acidic lime juice and the salty fish sauce is just downright delightful. Mix it all together, and let the chicken marinate. As with most marinades, the longer the better. We find that after 2 hrs it's delicious, but overnight in the fridge is the best!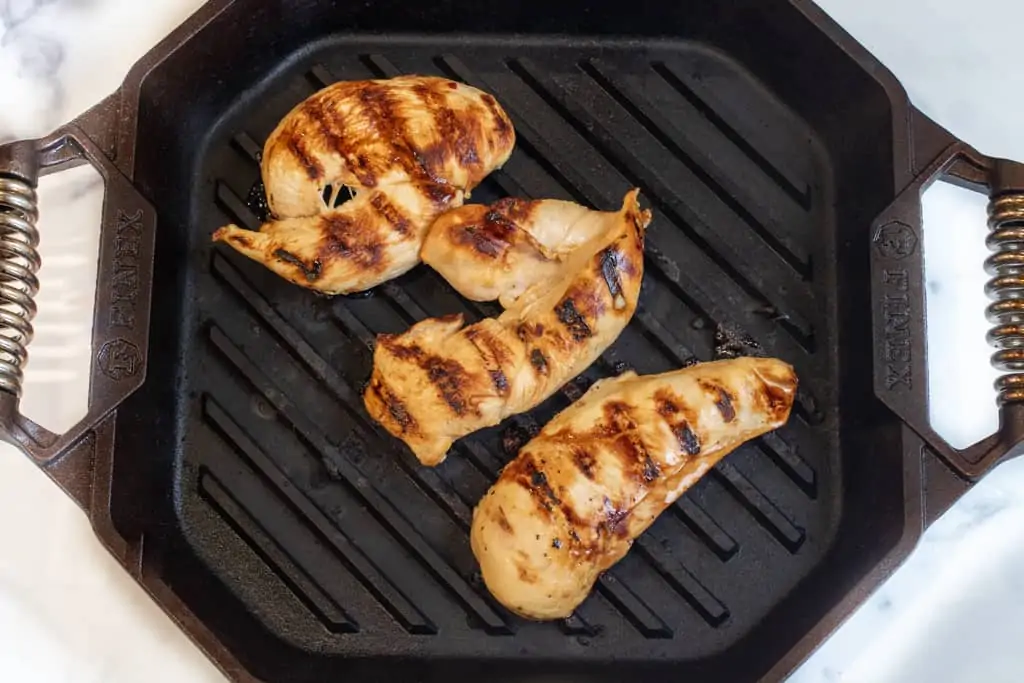 Grill
Use your favorite grill pan for the stovetop or your outdoor grill. For all indoor grilling, we absolutely love this beast of a cast iron grill pan that our friends over at Finex sent us.
Pickled Carrots and Daikon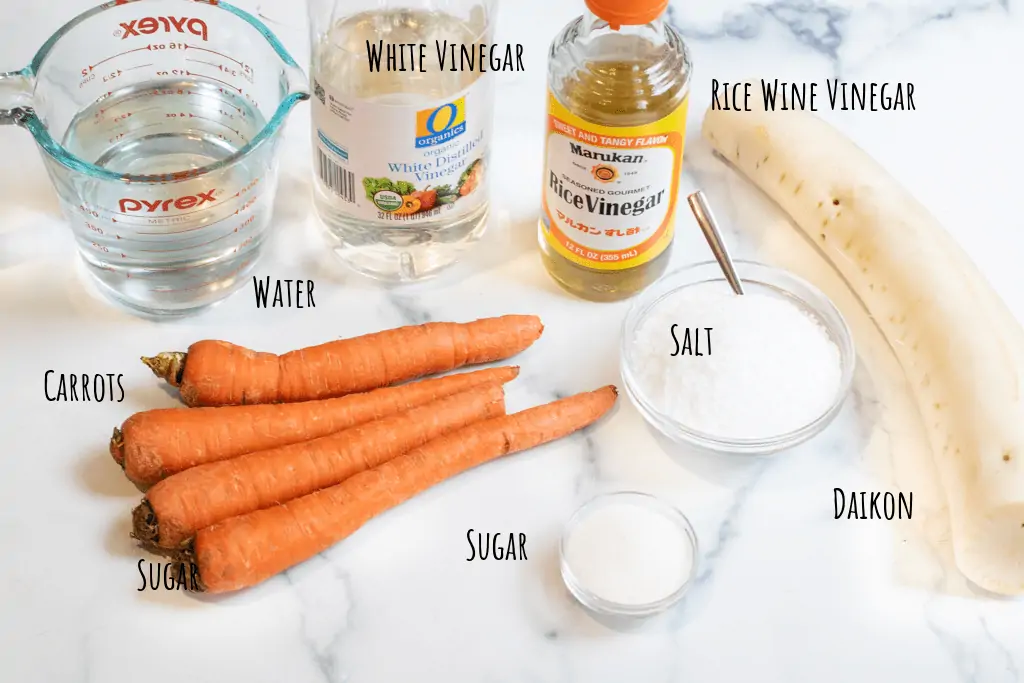 The pickled carrots and daikon add a wonderful acidic crunch to this Vietnamese sandwich. And you can make them in a snap and way ahead to keep stored in your fridge for whenever you need them.
Carrots - Some nice large orange carrots
Daikon - This large white radish you should be able to find in your local grocery store, but if for some reason you can't find it there, you should be able to find it in your local Asian market.
Vinegars - I like to use a combination of white vinegar and seasoned rice vinegar. But you could also use just white vinegar, although then I would suggest increasing the sugar a little. See recipe notes.
Sugar - Just a little. More if you use all white vinegar.
Salt and Water - To complete the brine!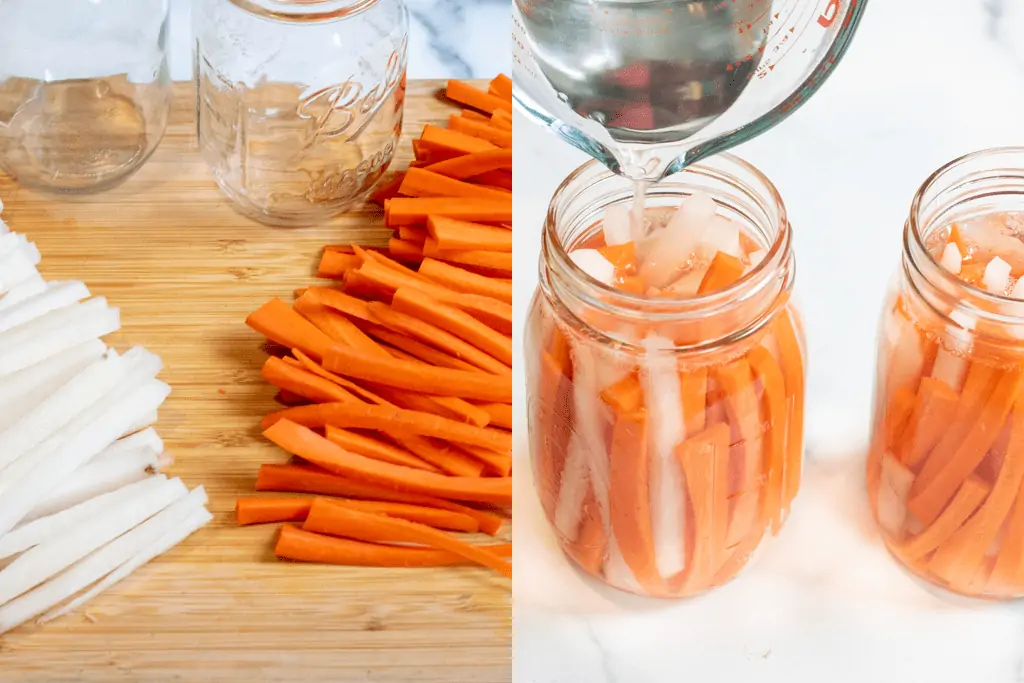 Easy to make
Slice your daikon and your carrots into sticks or julienne them. We prefer a thicker stick that's about as long as the height of a standard 12 oz mason jar.
Pickle by massaging in the salt and sugar to the veggies, pack them in jars and then add the water and vinegar.
Store in the fridge until you're ready to use. It's best if they're stored at least overnight but then they will last up to 4 weeks in the fridge.
Sriracha Mayo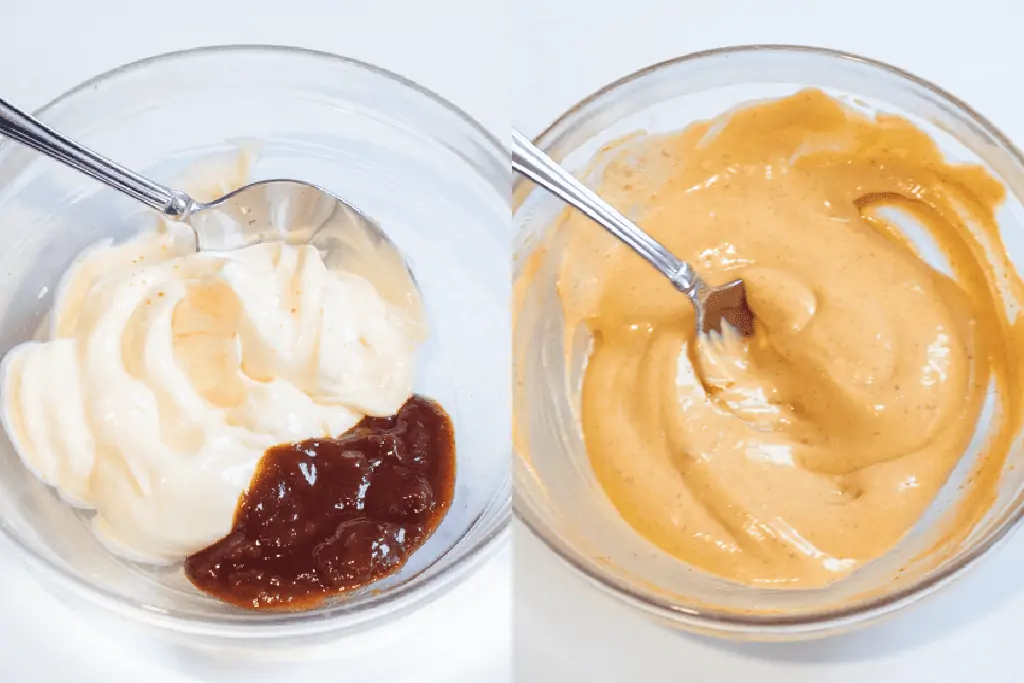 Every good sandwich needs a little mayo, but you know it's a delicious banh mi when you kick that mayo up with some sriracha!
Mayonnaise - For full from scratch by making your own!
Sriracha - If this classic hot sauce isn't already in your pantry, it should be!
Add both to a bowl and mix. Done! This will keep in your fridge for a long time - if using homemade mayo then about 2 weeks. If using store-bought, then much much longer.
Assemble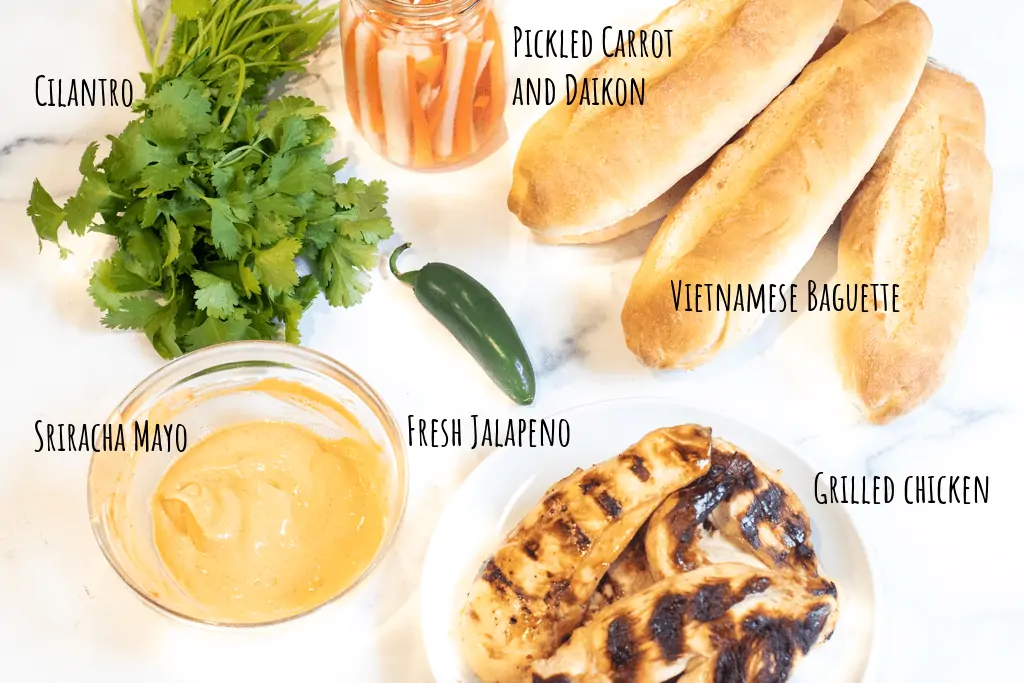 Now that you have everything you need for this Grilled Chicken Banh Mi recipe, it's time to assemble!
Vietnamese Baguette - If you don't make your own, you can use your favorite baguette. You also may find the perfect short soft baguette for banh mis in your local Asian market.
Grilled Chicken
Sriracha Mayo
Pickled Carrot and Daikon
Fresh jalapeno
Fresh cilantro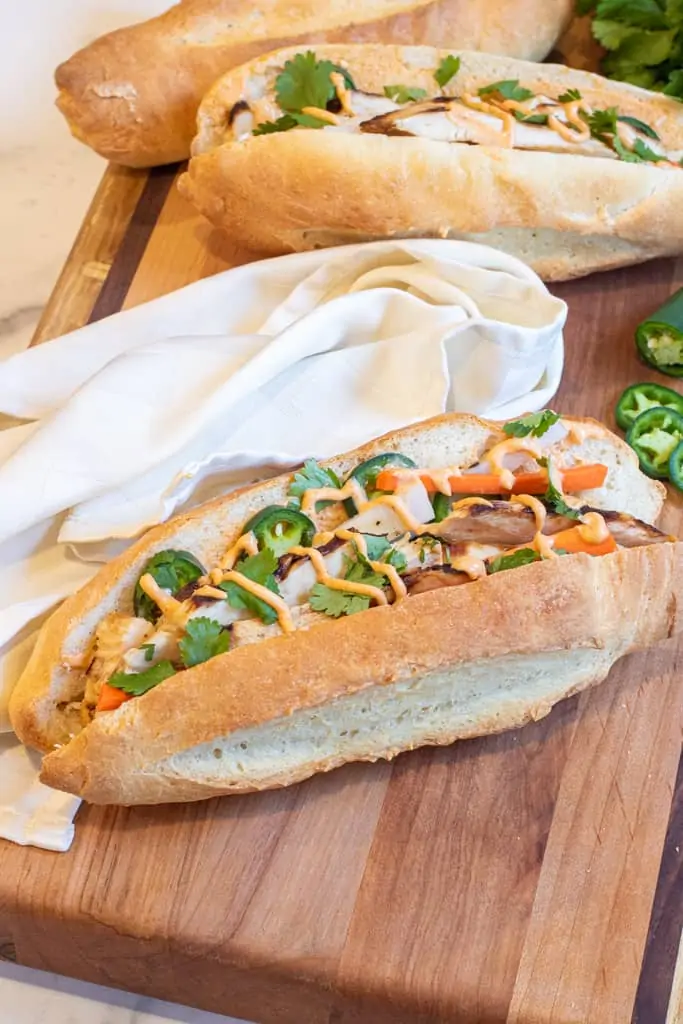 Slice your Vietnamese Baguette in half.
Spread on your Sriracha mayo.
Add a layer of sliced jalapenos, sliced chicken, pickled carrot, and daikon.
Drizzle more Sriracha mayo (because why not?).
Top with fresh cilantro!
And Boom! Fresh, packed full of from scratch flair, Grilled Chicken Banh Mi!
Give this delightful banh mi a slice in half (or don't), and you're ready to go!
When I say this sandwich has it all, I mean it.
It has crunch - from the pickled veggies to the crispy baguette crust.
It has heat - from the Sriracha mayo to the sliced jalapenos.
It has umami - from the delicious grilled chicken marinade.
It has herbal freshness - from the fresh cilantro!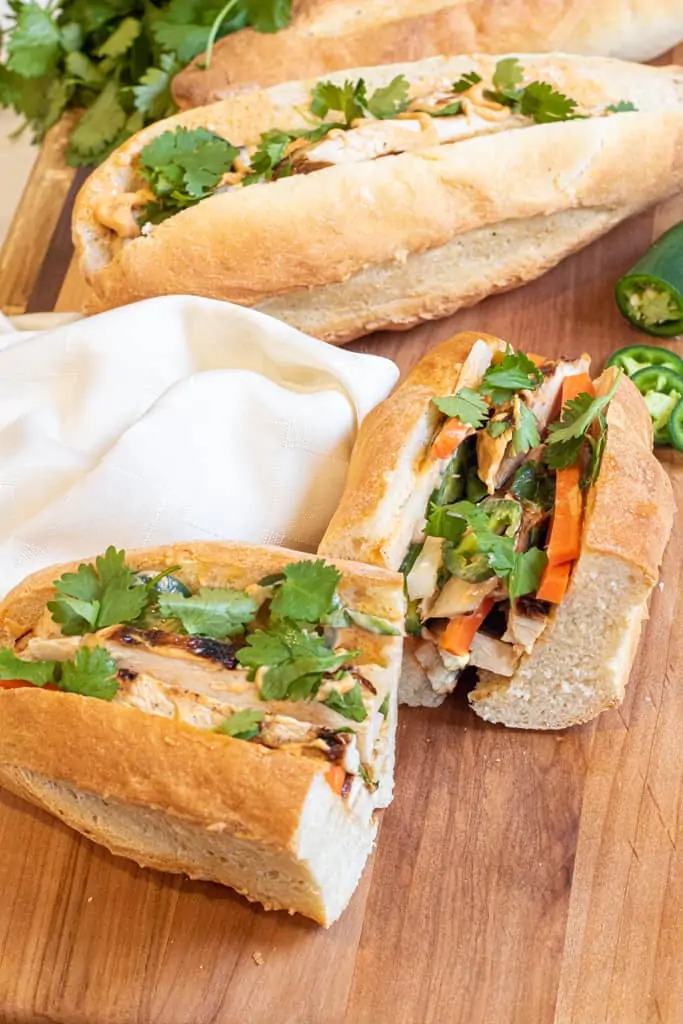 Grilled Chicken Banh Mi! Back after a very unfortunate "delete." Ha.
Some of our Other Favorite Sandwiches
FAQs
Can I use another grilled chicken?
Of course. However, for a more authentic tasting banh mi, you'll want a chicken cooked with Asian flavors. Would also be great with our Sweet and Spicy Sriracha Chicken Thighs, although it does make for a sweeter sandwich.
Can anything be made in advance?
Absolutely! Prep your baguettes up to a couple of days in advance (although they are of course best with a fresh out of the oven baguette!), the veggies up to a few weeks in advance, the mayo a week in advance, and then the chicken is best if it's left to marinate overnight. So really, everything is prepped in advance and then just the chicken cooked and sandwiches assembled when you're ready to eat.
What can I use instead of cilantro?
If you're not a fan of cilantro, you could use fresh coriander leaves or fresh parsley.
Is this sandwich spicy?
It can be, or it could not be - totally up to you! The Sriracha mayo you can adjust the heat by adding more mayo. For the fresh jalapenos, remove the seeds from the slices before adding to the sandwich, or only add a couple.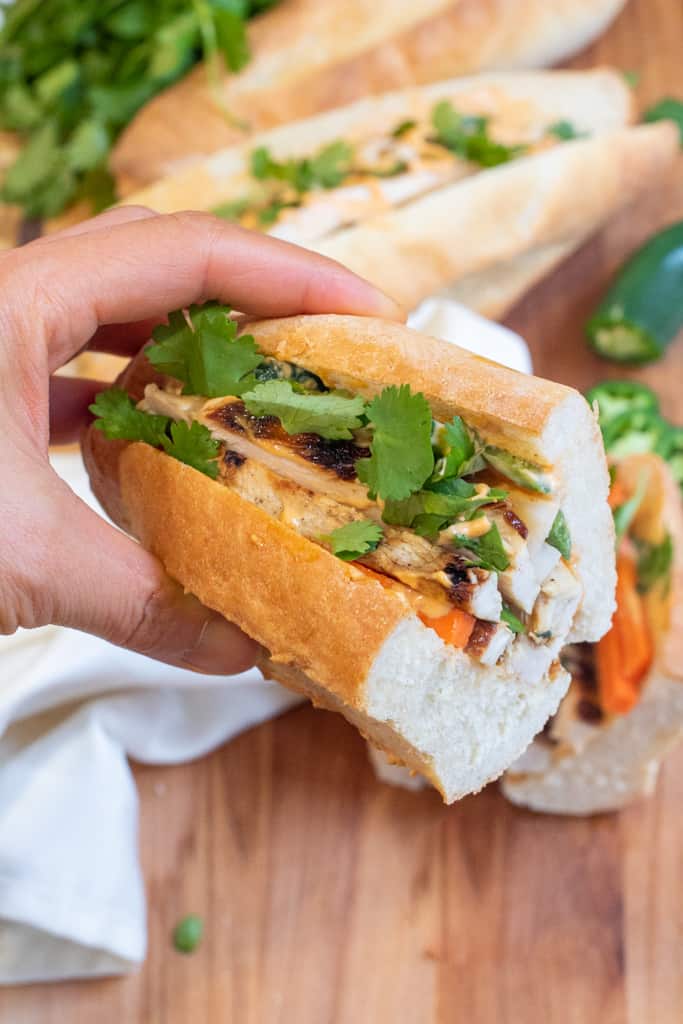 Enjoy! As always, if you make this recipe or any of my others, I love to hear what you think! Leave a comment below, email me, or you can find me on Facebook, Instagram, and Pinterest!
If you want to see more, be sure to sign up for my 5 Easy Ways to Start Cooking From Scratch!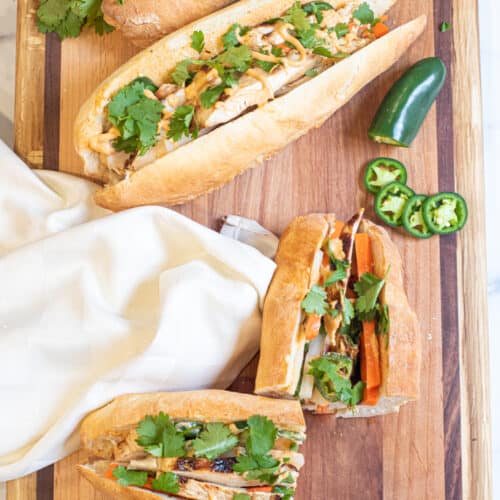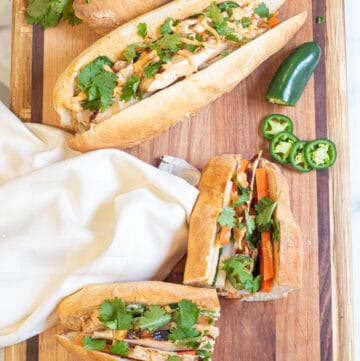 Ingredients
Grilled Chicken
2

lbs

boneless chicken breasts

3-4 breasts

1/2

cup

fish sauce

1/2

cup

lime juice

4-5

cloves

garlic

minced

2

tablespoons

sugar

1

tablespoon

rice wine vinegar

zest

from lime

about 1 teaspoon

1/8

tsp

red pepper flakes

optional
Pickled Daikon and Carrots
2

cups

carrots, peeled and cut into sticks

2

cups

daikon, peeled and cut into sticks

1

tablespoon

white granulated sugar

2

teaspoons

granulated salt

1/2

cup

white vinegar

1 1/2

cups

water

1

tablespoon

seasoned rice vinegar
Banh Mi
Grilled Chicken

sliced into long strips

Pickled carrots and daikon

jalapeno

sliced

Sriracha Mayo

fresh cilantro
Instructions
Make Grilled Chicken
Make marinade by adding fish sauce, lime juice, garlic, rice wine vinegar, sugar, lime zest, and red pepper flakes to a pour spout measuring cup.

Add chicken breasts to a ziplock bag, and pour in the marinade and seal the bag. Use your hands to mix chicken and marinade in the ziplock bag. Let marinate in fridge for at least 2 hrs and up to overnight.

Grill by heating grill pan to high heat for 2-3 minutes. Bring down to medium and add some olive oil to pan - make sure that it's all well coated.

Add chicken to grill pan and cook on each side for 5-6 minutes or until internal temperature reaches at least 165 degrees.

Remove from heat and let rest for at least 5 minutes before slicing.
Make Pickled Daikon and Carrots
Slice carrots and daikon into thin sticks about 3-4 inches and add to a medium sized bowl.

Sprinkle with sugar and salt and use your hands to coat and gently rub it into the vegetables.

In a 2 cup pour spout measuring cup or another small bowl, mix the vinegars.

Add carrots and daikon to 12 oz mason jars, packing them in. Add the vinegars to each jar and seal. Store in fridge for at least 1 hr and up to 3 weeks.
Sriracha Mayo
Add mayo and Sriracha to a small bowl and mix until well combined.

Cover and store in fridge until ready to use, or add to a small food grade squeeze bottle.
Assemble
Slice each baguette lengthwise, but not all the way through.

Open baguette and add Sriracha mayo to each side of bread. Add some fresh sliced jalapenos to one side, if desired.

Add a layer of the sliced grilled chicken, daikon and the carrots.

Top with loosely chopped/ripped cilantro and more drizzled Sriracha mayo if desired.

Slice baguette in half (if desired) and enjoy!
Notes
Substitutions: Chicken: You can also use boneless chicken thighs or pork tenderloin. Jalapeno: Go the other route and add some slices of cooling cucumber - or do both! Storage/Make-Ahead: Mayo: Storage/making this ahead is dependent upon whether you use homemade mayo or store-bought. But this Sriracha mayo will last covered in your fridge for as long as the mayo. Pickled Daikon and Carrots: These will last up to 4 weeks in the fridge. Marinade: Make the marinade up to 2 days in advance. Marinate: Marinate the chicken for up to 24 hrs. Grill Chicken: Grill the chicken up to 2 days in advance. Baguettes: These baguettes are best within the first day, but you can make them 2--3 days in advance and store them in a bread bag on the counter or freeze for up to 2 months.
Nutrition
Calories:
1047
kcal
|
Carbohydrates:
110
g
|
Protein:
64
g
|
Fat:
37
g
|
Saturated Fat:
9
g
|
Polyunsaturated Fat:
14
g
|
Monounsaturated Fat:
13
g
|
Trans Fat:
1
g
|
Cholesterol:
153
mg
|
Sodium:
2322
mg
|
Potassium:
1081
mg
|
Fiber:
8
g
|
Sugar:
19
g
|
Vitamin A:
10946
IU
|
Vitamin C:
21
mg
|
Calcium:
131
mg
|
Iron:
7
mg