They're a favorite you know and love, except these are made from scratch and are so much healthier with some hidden added nutrition! These Healthy Baked Chicken Nuggets are everything you want in a homemade chicken nugget but oh so much more! They're flavorful, they're crunchy, but they're also not deep-fried, and are still great to store in the freezer!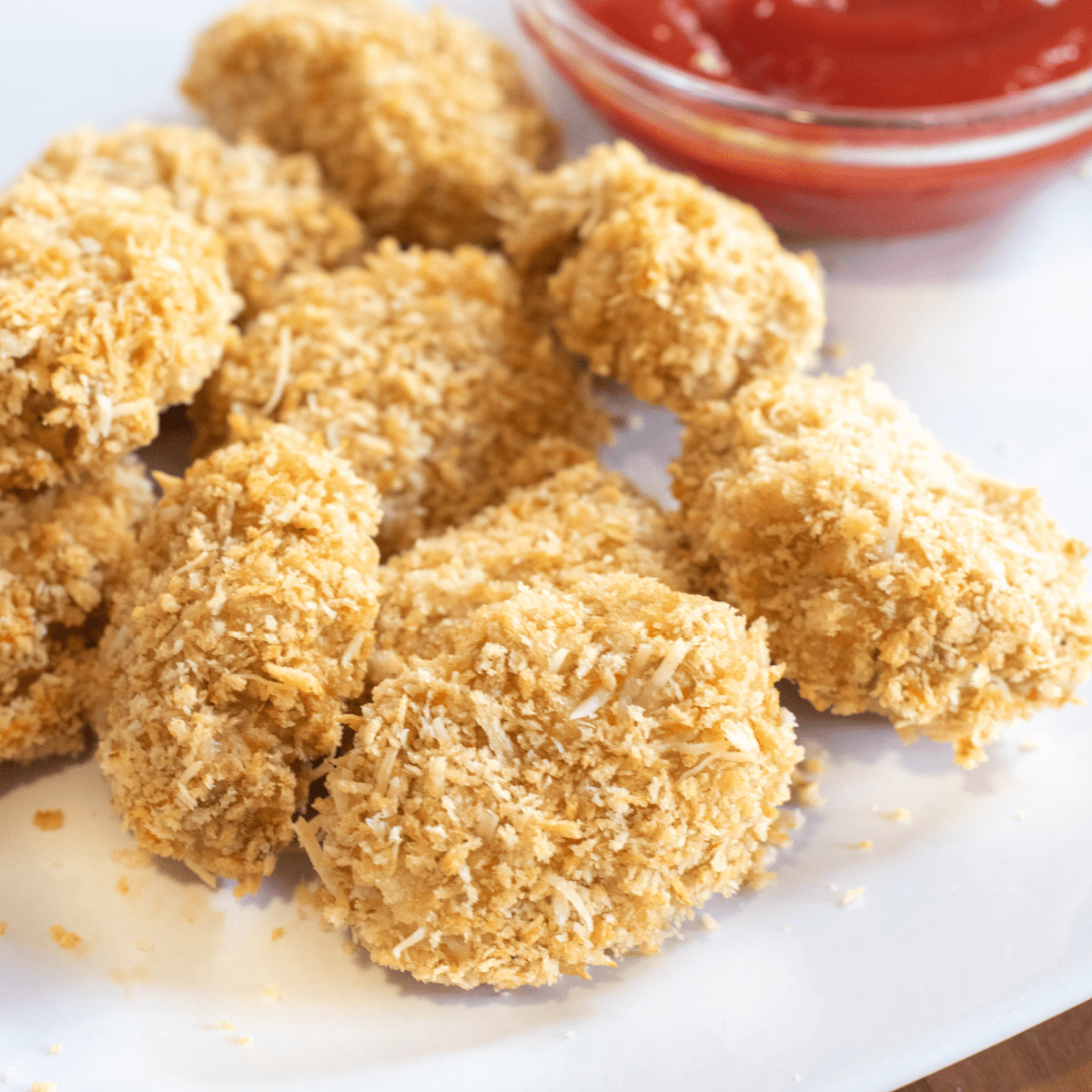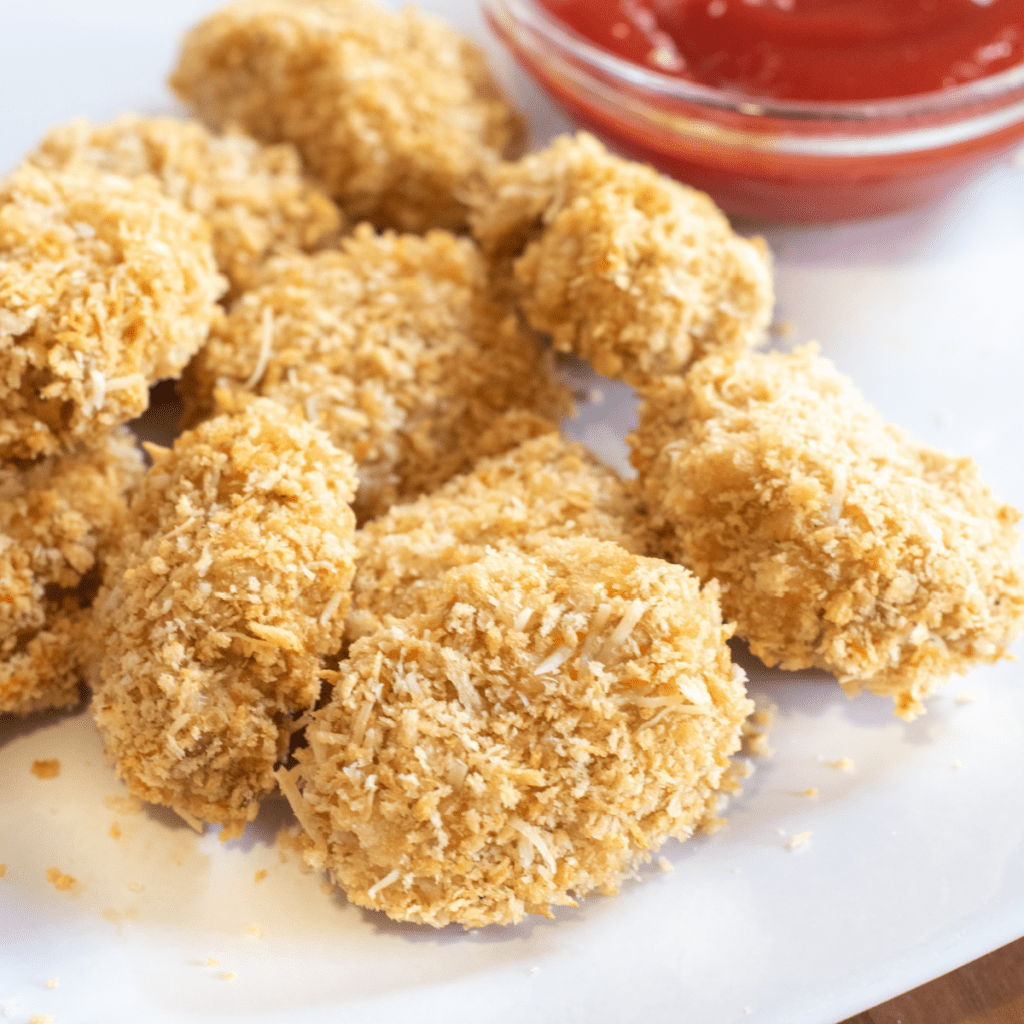 This one has been on my list for a very long time and they're finally here! Our Healthy Baked Chicken Nuggets are everything you want from a chicken nugget, but also exactly what you'd expect from a SFS recipe - a healthy twist while still being delicious!
While obviously deep frying, well anything, makes it delicious. But for a healthier homemade chicken nugget, we find that toasting panko bread crumbs gives these healthy chicken nuggets a great crispy crust, without all of that deep-fried oil. Plus, our secret ingredient ensures that your chicken isn't dry, and it sneaks in some added nutrition and flavor!
Ingredients Needed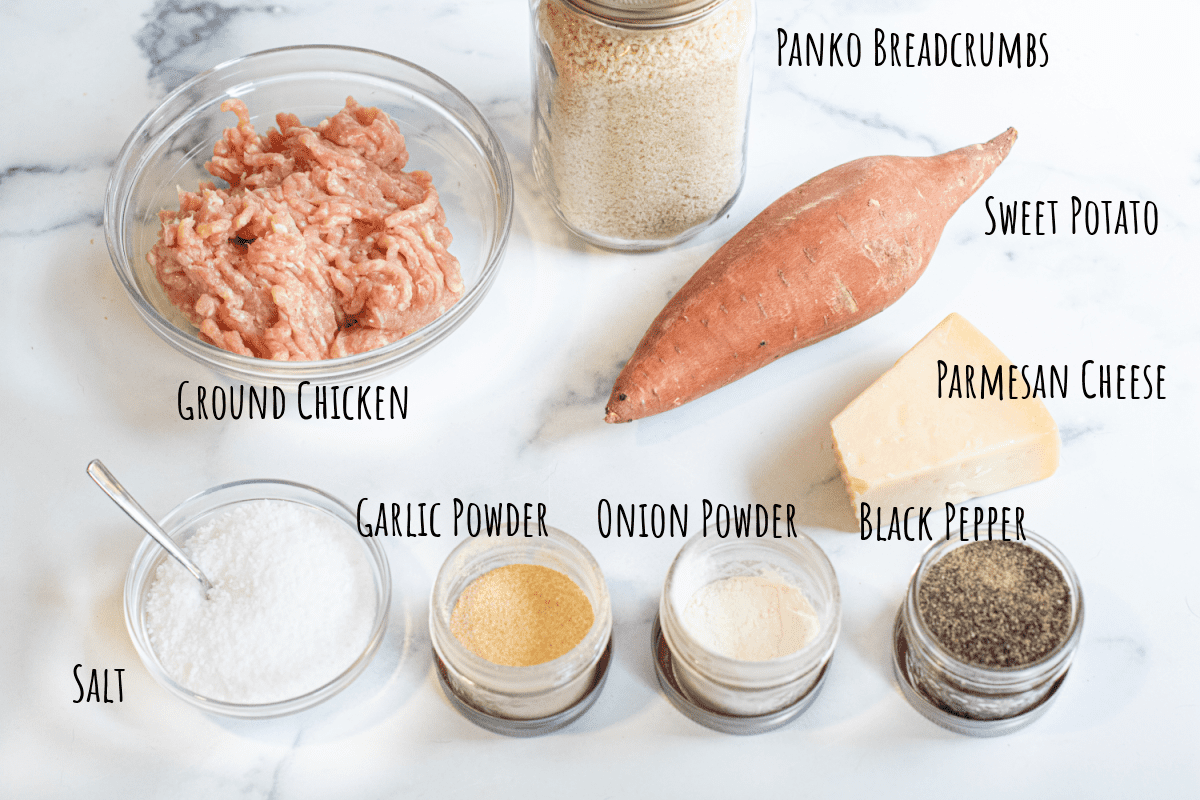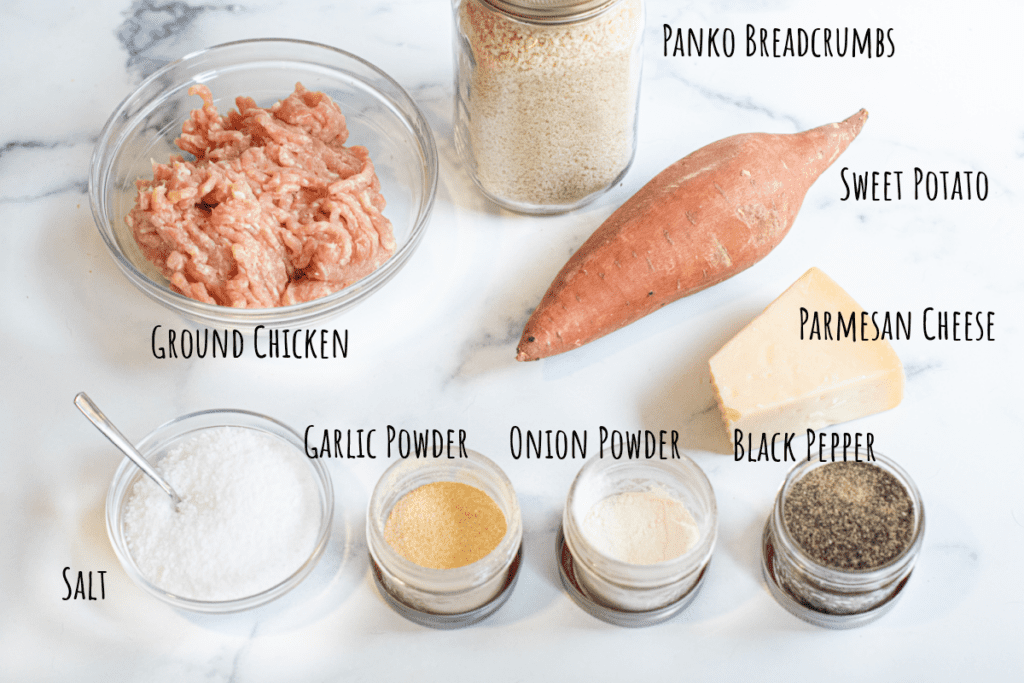 Ground Chicken - We prefer using ground chicken for our homemade nuggets because we find that it allows you to add more flavor and of course our secret ingredient. If you can't find ground chicken in your grocery store, often at the meat counter if you ask, they will grind it for you.
Sweet Potato - No need for an egg in this one to bind it all together, using some mashed sweet potato works even better, adds a delightful subtle sweet flavor, and added vitamin A, vitamin B, vitamin C, potassium, and fiber!
Panko Bread Crumbs - You can of course use your favorite breadcrumbs, but we love to use these Japanese-style bread crumbs because they're made from bread without crumbs that produce a dryer, airier, and flakier breadcrumb. They're what we also use for our baked chicken tenders.
Parmesan Cheese - We add them to the ground chicken and to the bread crumbs for some added cheesy, salty flavor. You can also use another hard cheese like Romano or asiago, or omit it entirely if you want to keep these homemade healthy chicken nuggets dairy-free.
Spices - Salt, pepper, garlic powder, and onion powder are what we use, but you could also add a little kick with some chili powder or cayenne, or a touch of mustard powder, or add some savory oregano.
Easy to Make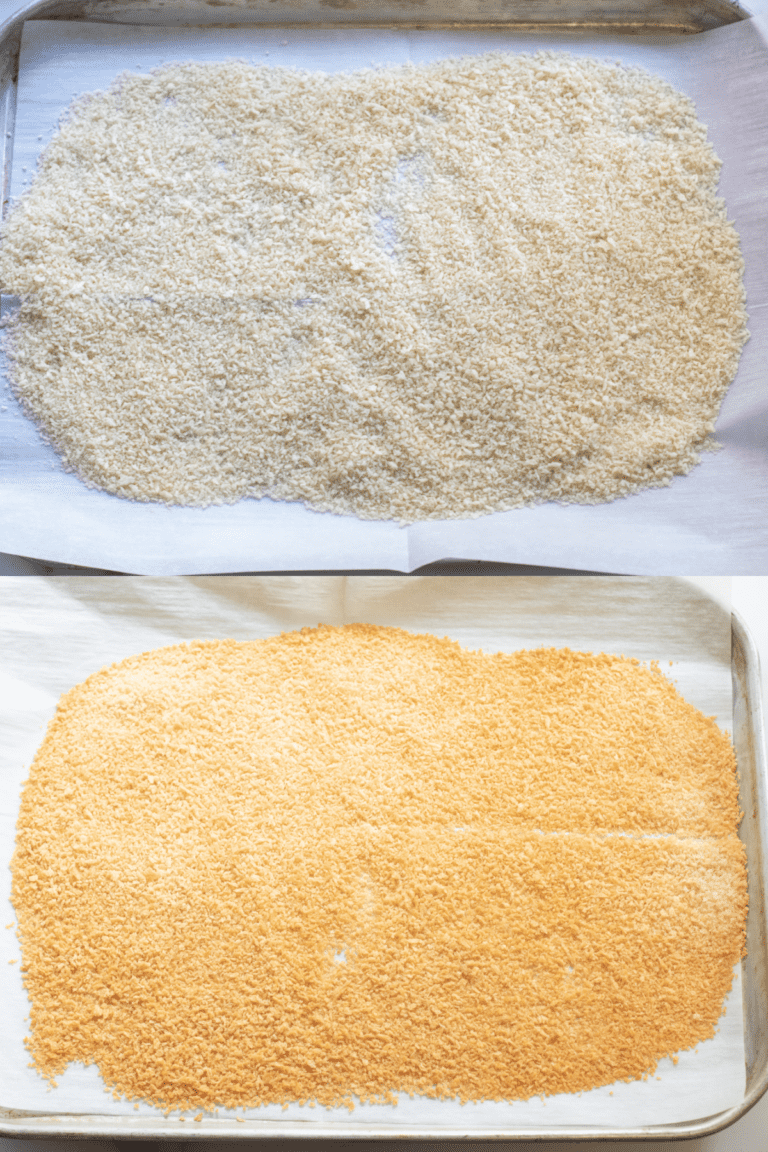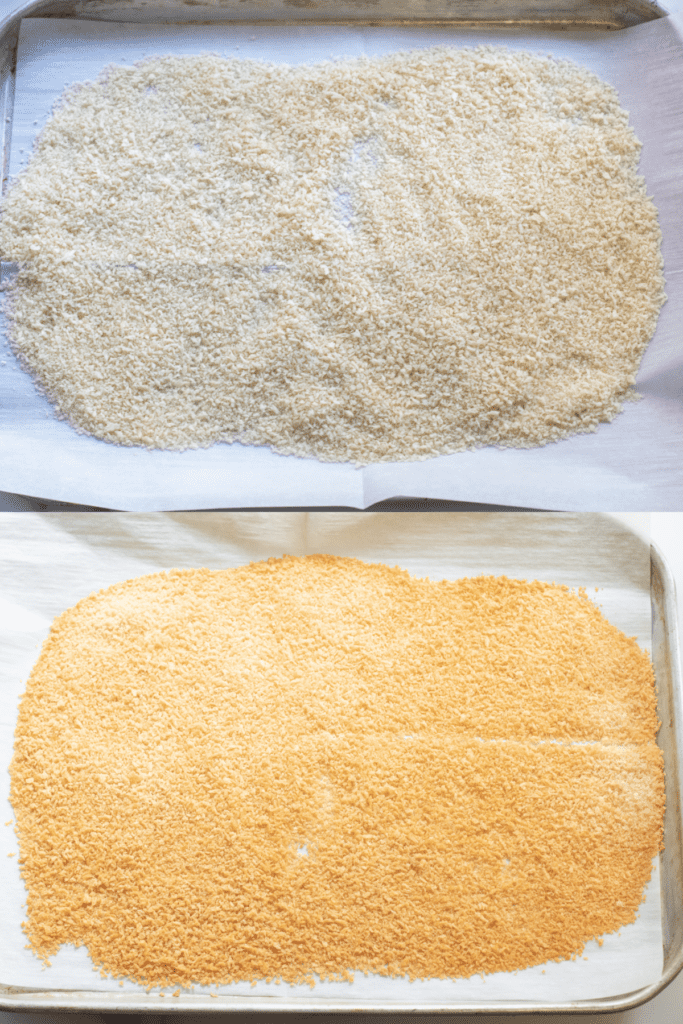 Toast the bread crumbs
This first step is what ensures super crispy little nuggets without having to deep fry them. We do this for our ranch chicken tenders, too, and truly, it makes a difference and a step you won't want to ski, but if you do, you will still have some tasty homemade chicken nuggets, they just won't have as crispy of a crust.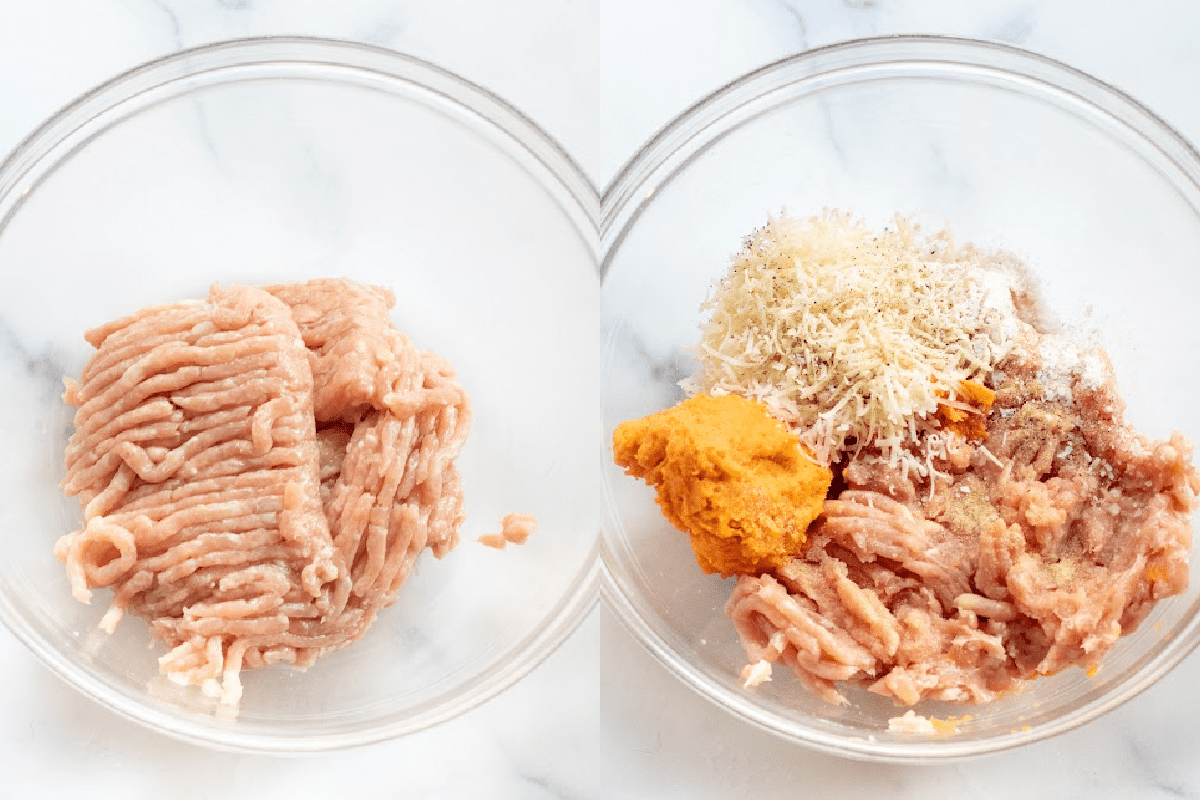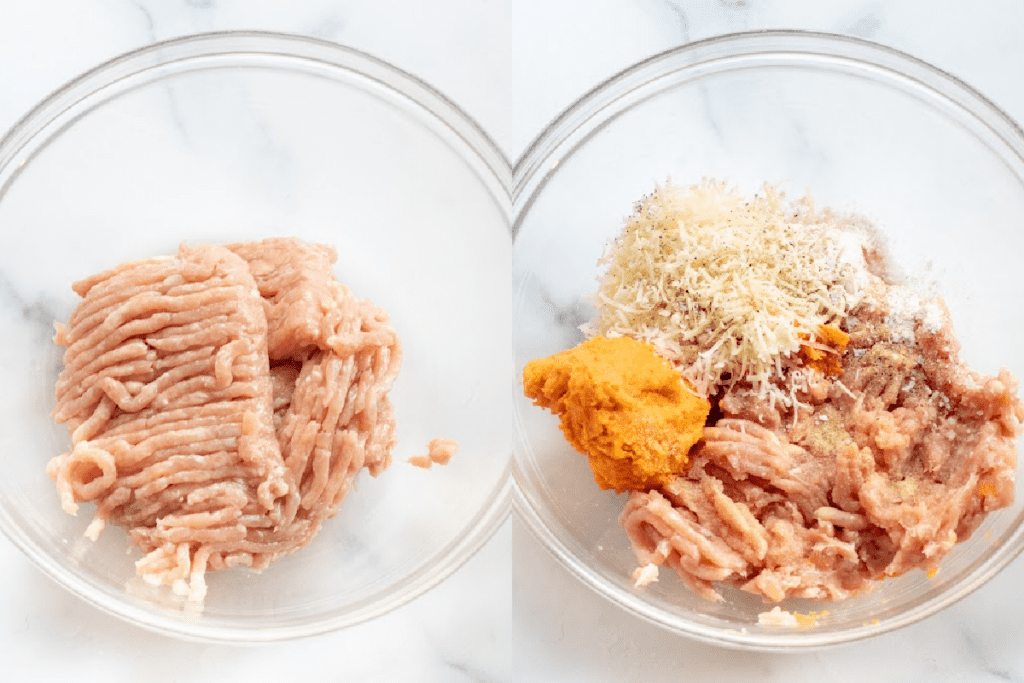 Mix Chicken
This is just a matter of mixing your chicken, spices, cheese, and mashed sweet potato all together.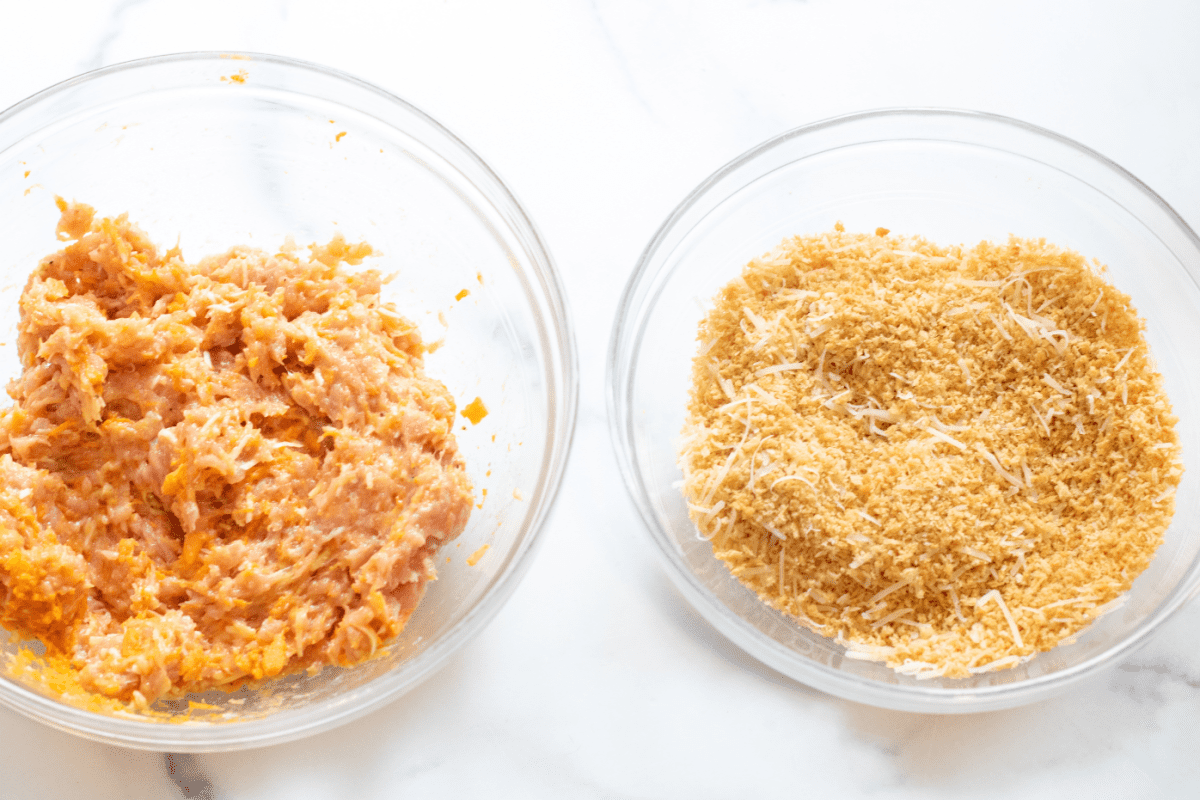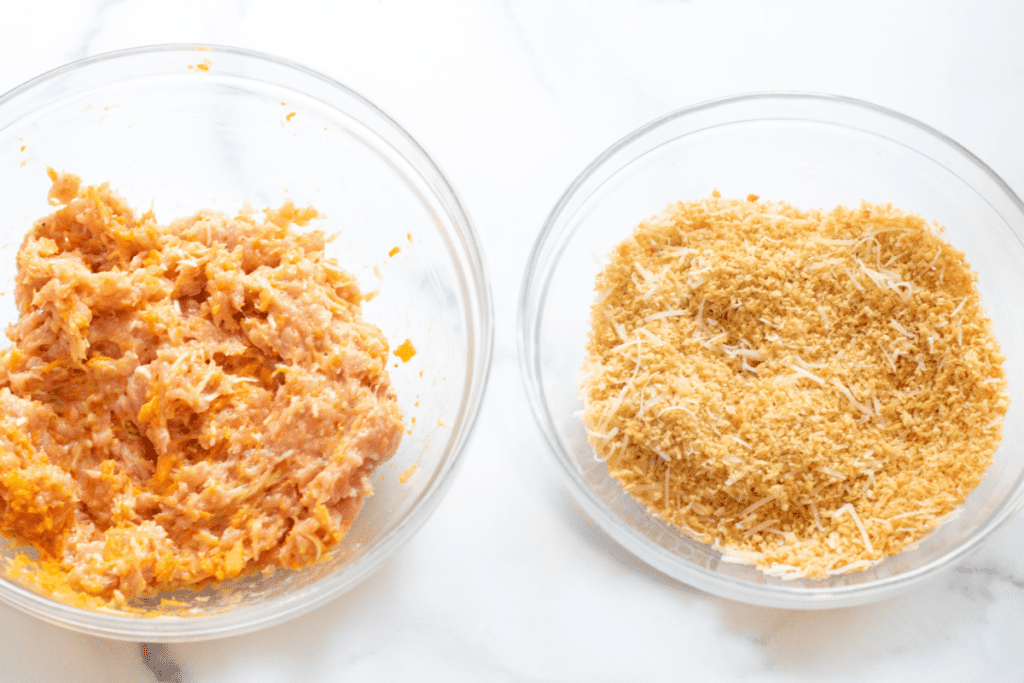 Prep Bread Crumbs
Once you have your mixed ground chicken, your bread crumbs should be done and you can add a little more cheese and some salt to add even more flavor to that crunchy coating.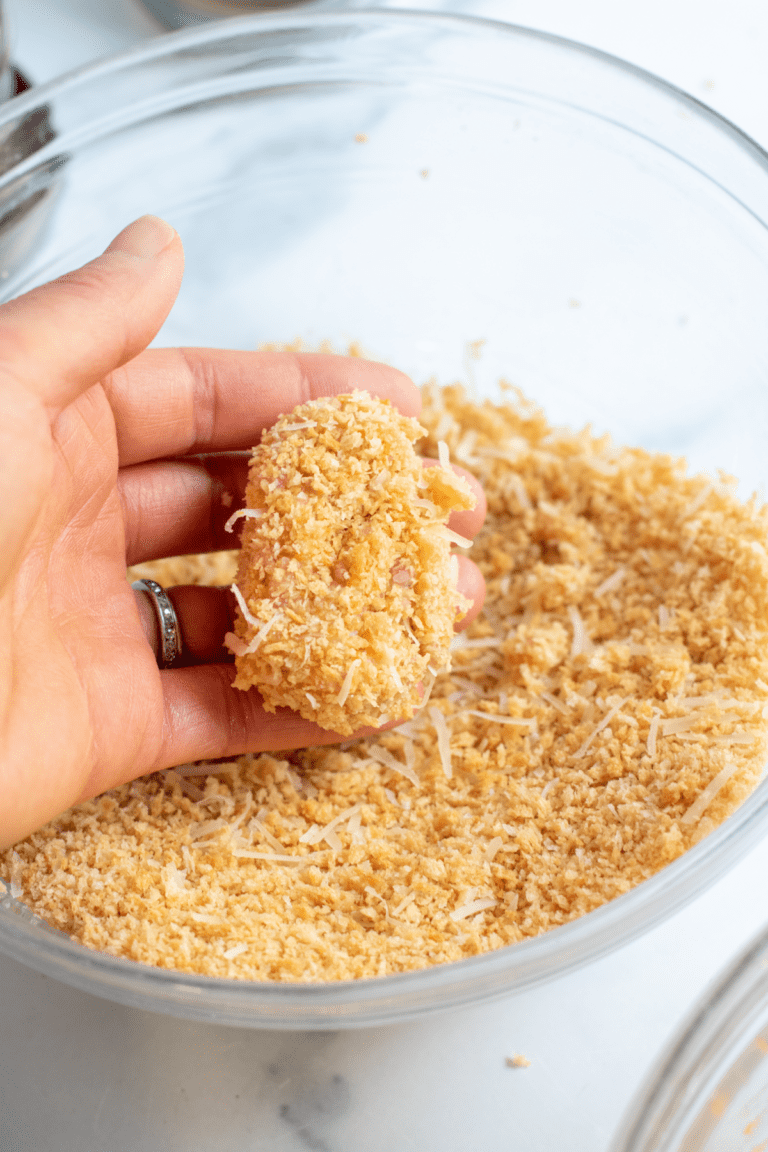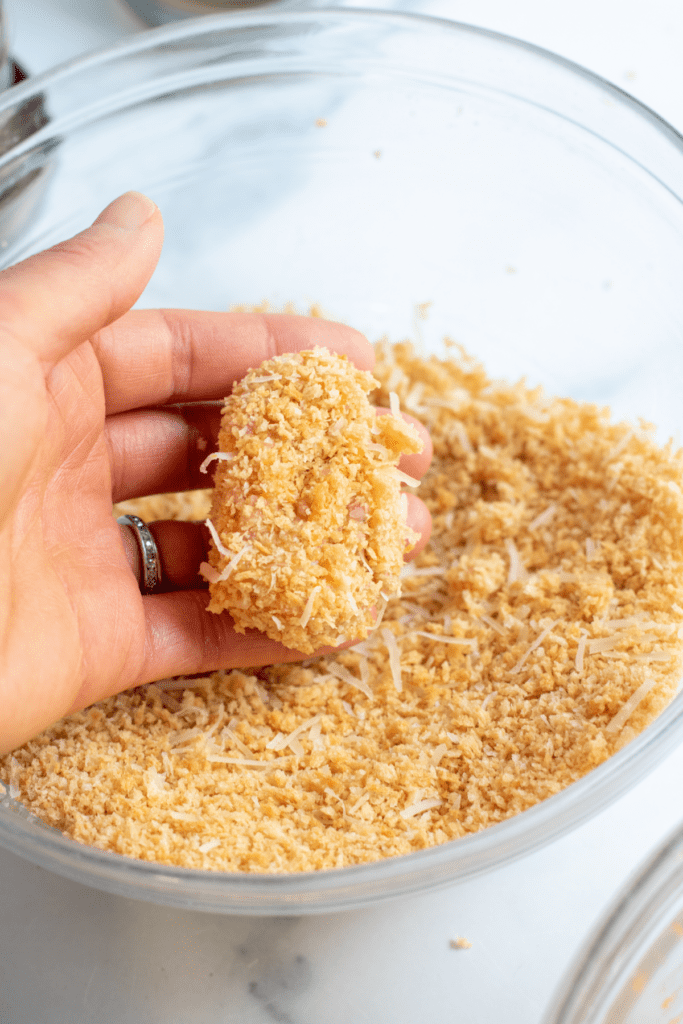 Shape
Here's the fun part, shaping! Because this recipe calls for ground chicken, you can shape these little homemade nuggets into whatever shape you'd like. Go crazy and bust out your favorite cookie cutters to help shape them, even! My kids love when I make them with these!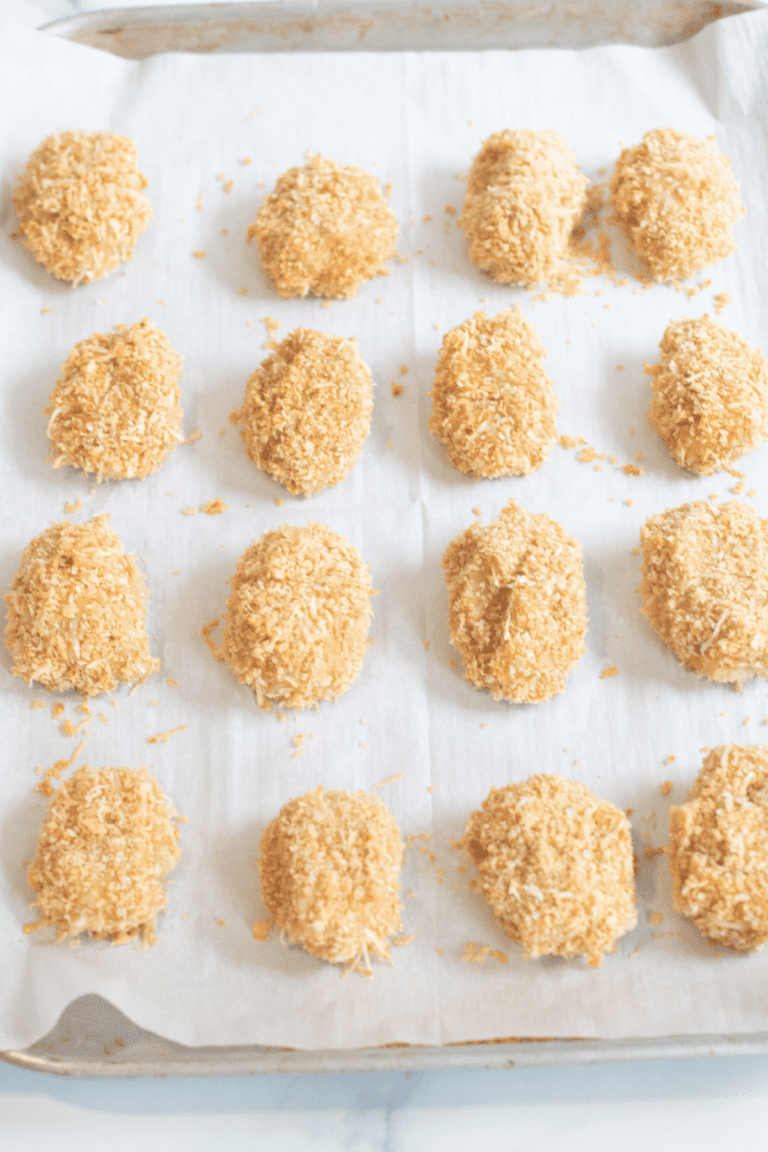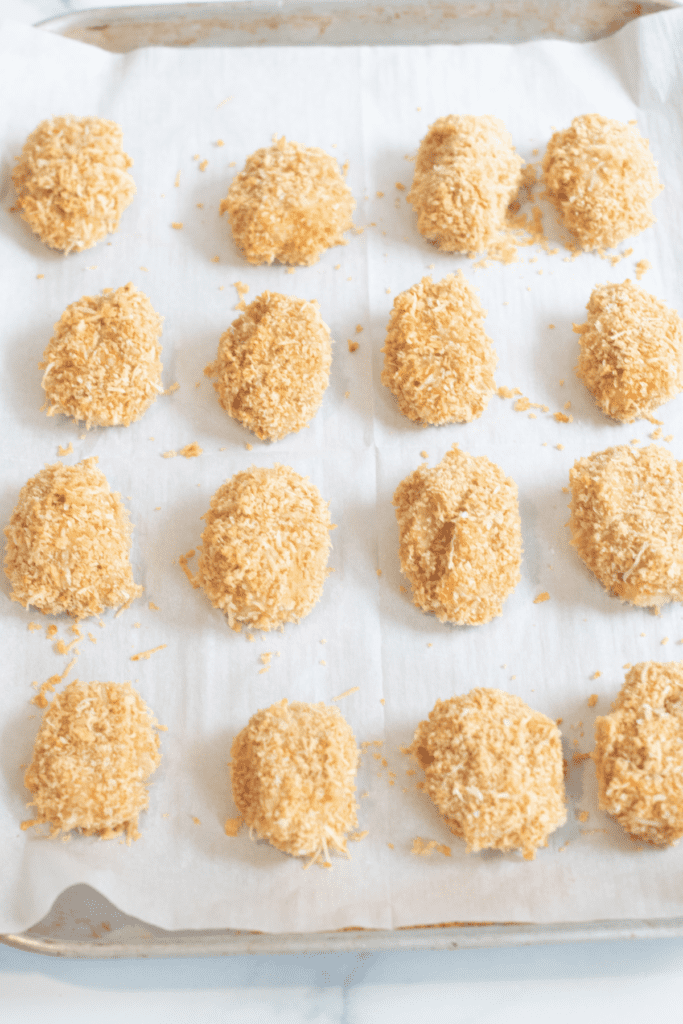 Bake!
It'll only take about 25 minutes for these homemade chicken nuggets to cook, but if you're ever at all worried about doneness when it comes to (any) meat, we absolutely love our instant-read thermometer to be able to make sure that the internal temperature is 165 degrees.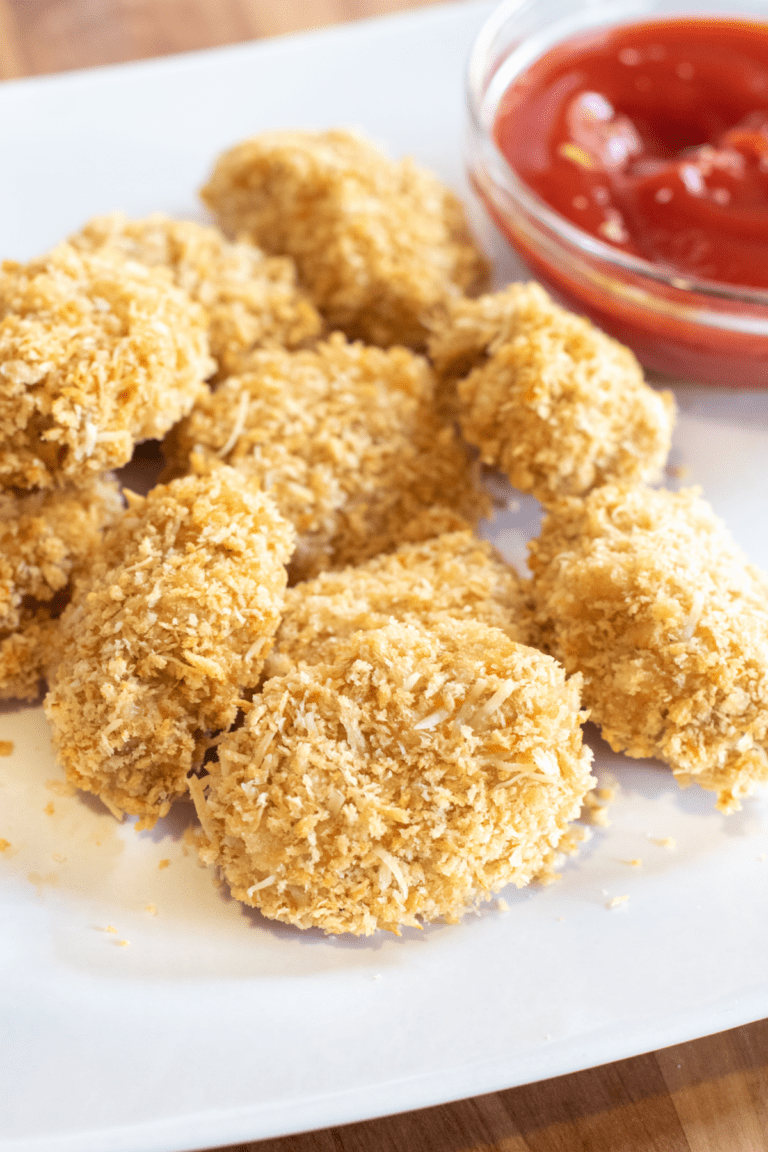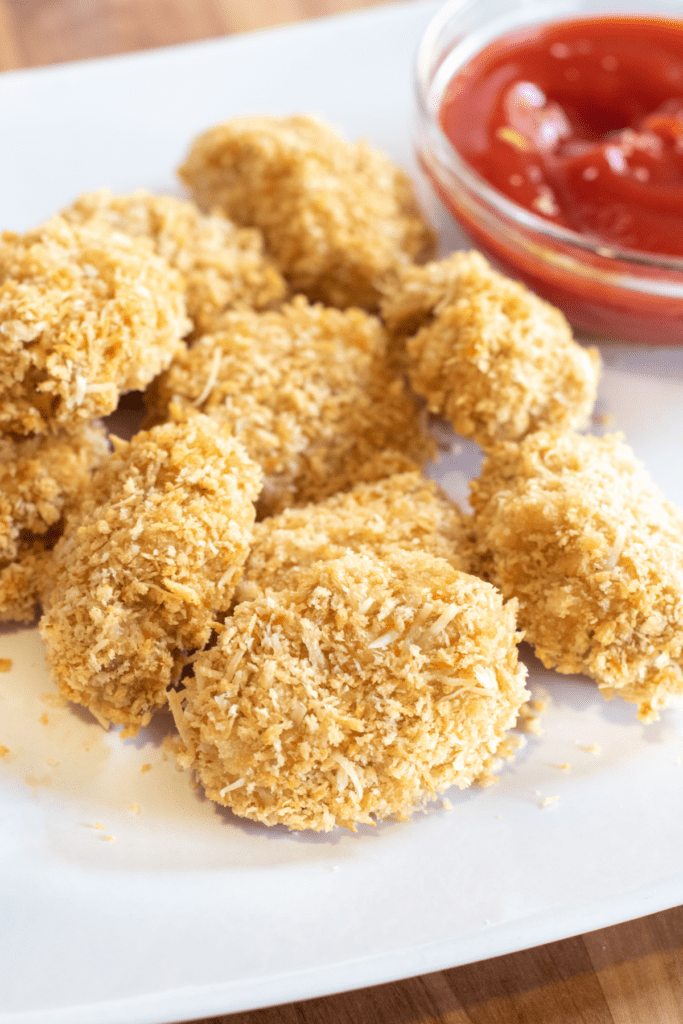 Healthy Baked Chicken Nuggets! So easy to make, SO much better for you, and just as fun to eat for the kiddos!
Serve with your favorite chicken nugget dipping sauce, and you will win dinner with your kids, while secretly knowing how healthy these nuggets are!
Dipping Sauce Favorites
Tips and Tricks
Use any other bread crumbs, even gluten-free
You can even get gluten-free panko bread crumbs! Or your other favorite bread crumbs, although we do suggest toasting them first, just to ensure maximum crispiness!
Use cookie cutters to shape
While the oval shapes are the shapes we're all familiar with, you can also use your favorite cookie cutters to make them into fun shapes! Just give the cookie cutters a little spray with oil (we love our misto for this) and fill your cookie cutter with the chicken before gently coating them with the bread crumbs.
Add your own spices
Cheese, garlic, and onion are pretty standard in our recipes, but we've also made these a little more savory with some ground mustard and oregano, and also some paprika and a pinch of cayenne, too!
Make a big batch and freeze
These homemade chicken nuggets freeze beautifully! You can make a big batch, let them cool, and then freeze them for up to 3 months! See recipe notes for freezing instructions.
How do I reheat?
Just like you cook them, but if straight from the freezer on a single layer on a wire rack and bake for 20-25 minutes until internal temp reaches 165 degrees.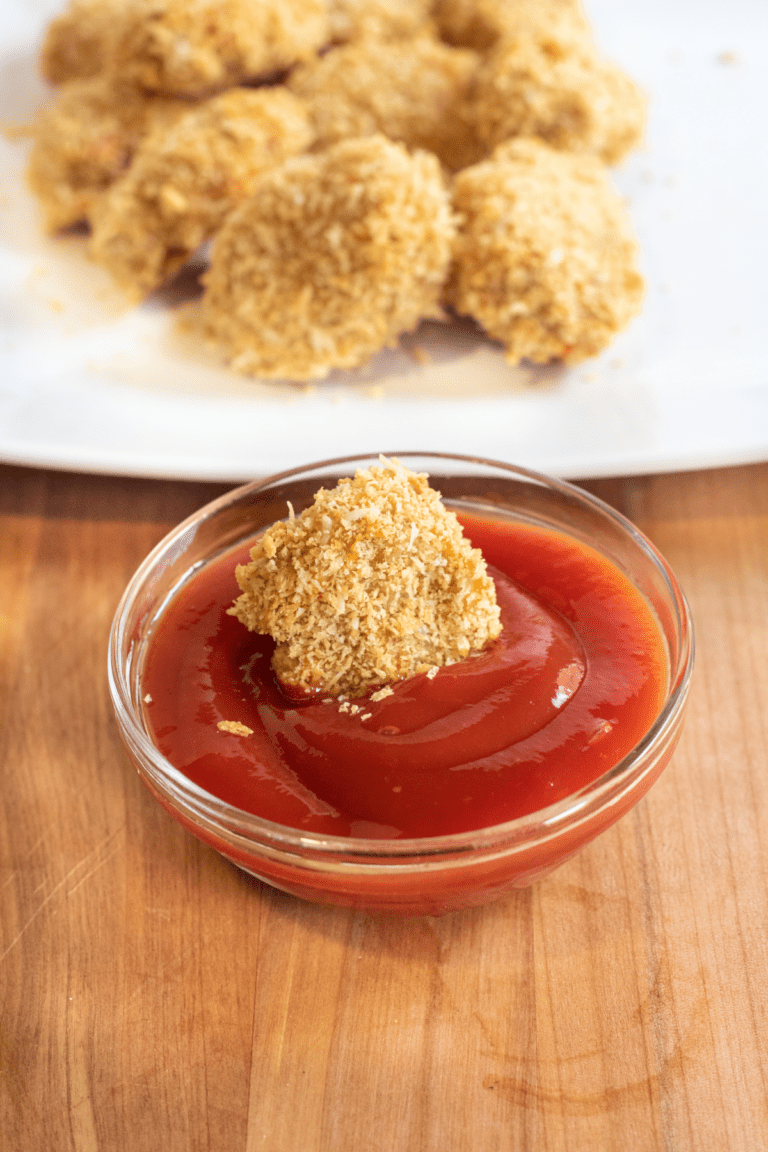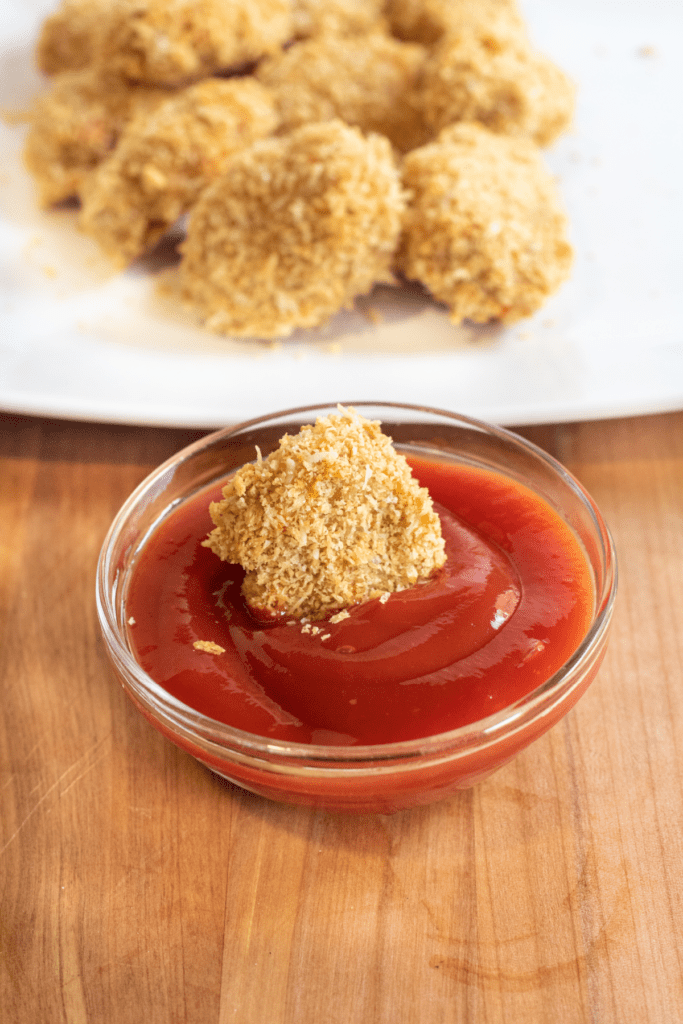 Is there anything better than a copycat that's just as delicious but healthier? Our kids don't think so, which means that's a win for us!
Some Other Healthier Copycats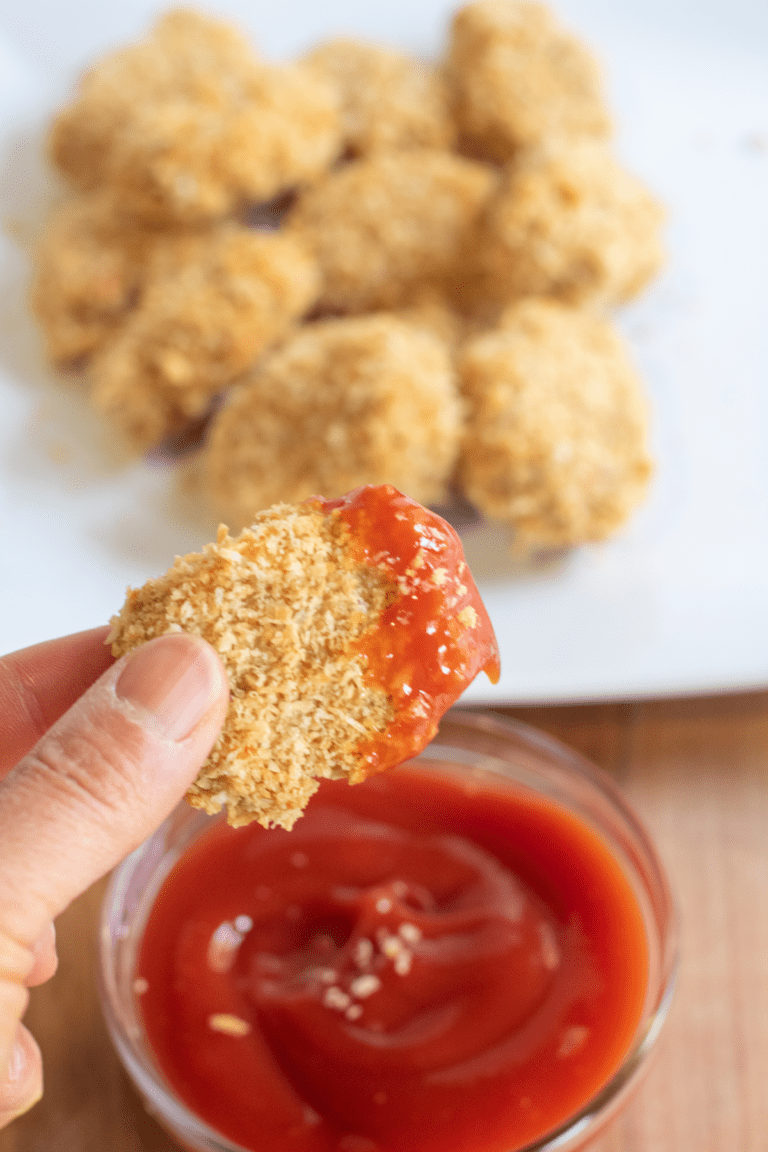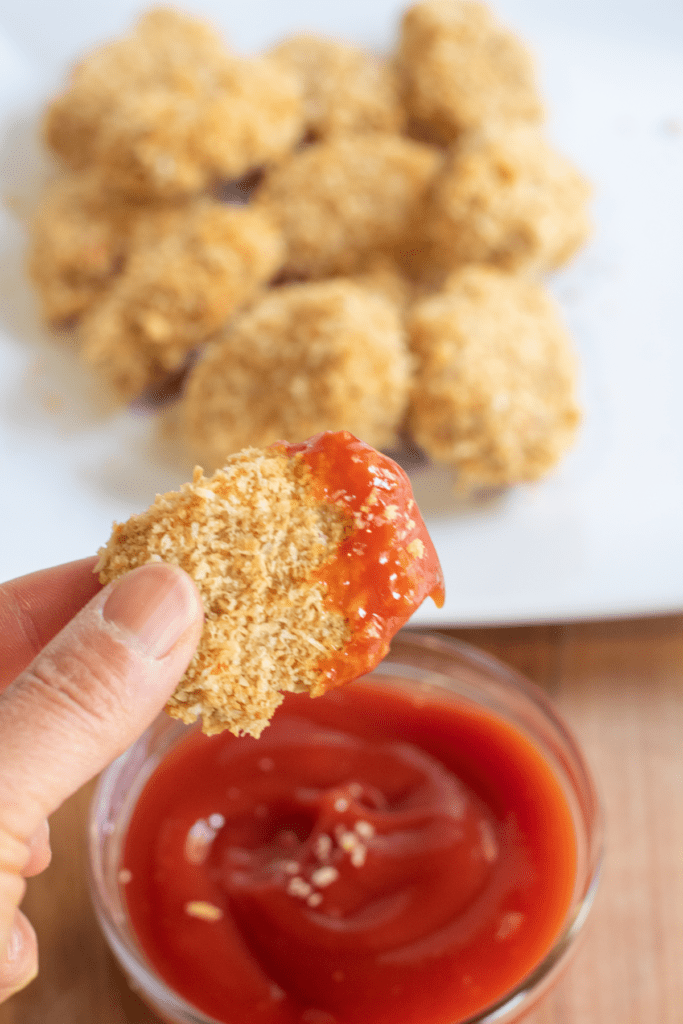 Whatever dipping sauce you choose, our Healthy Baked Chicken Nuggets are the perfect vessel!
Enjoy! As always, if you make this recipe or any of my others, I love to hear what you think! Leave a comment below, email me, or you can find me on Facebook, Instagram, and Pinterest!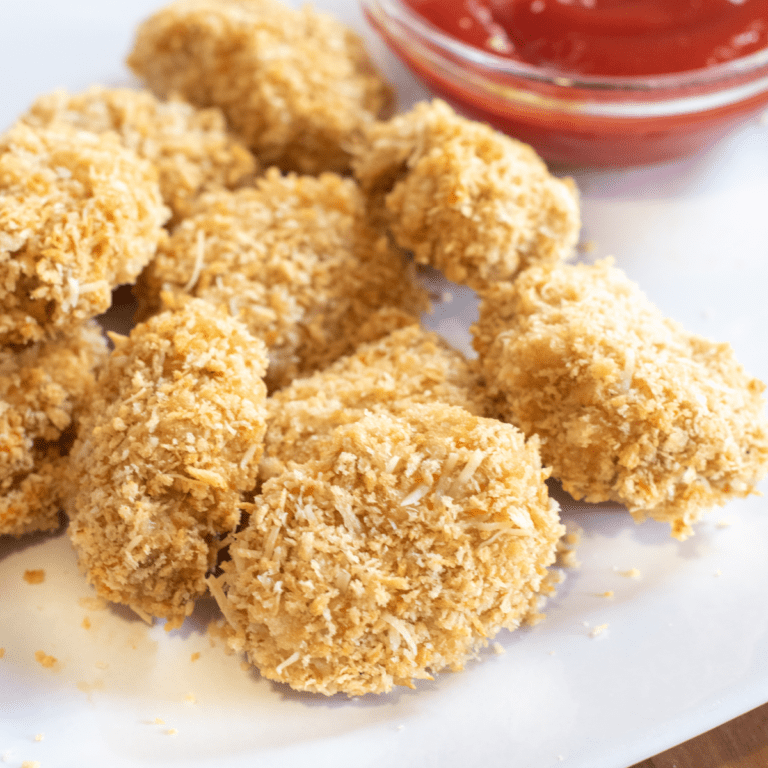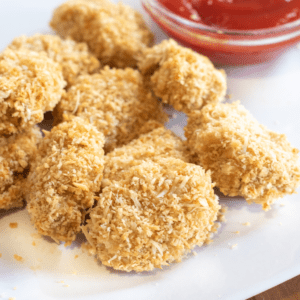 Healthy Baked Chicken Nuggets
One of your favorites, but made healthier by baking them and with our secret ingredient.
Print
Pin
Rate
Ingredients
1

lb

ground chicken

1/2

cup

mashed sweet potato

1

teaspoon

kosher salt

divided

1/2

teaspoon

garlic powder

1/2

teaspoon

onion powder

3/4

cup

Parmesan cheese

divided

1/4

teaspoon

ground black pepper

1 1/2

cups

Panko bread crumbs
Instructions
Peel sweet potato and cut into 1 inch cubes. Add to a small pot of water and bring to a bowl. Let boil for about 10 minutes until sweet potato is fork tender. Mash and set aside 1/2 cup.

Pre-heat oven to 400° and line a baking sheet with parchment paper.

Spread panko bread crumbs over parchment paper and give a quick spay with a misto, or other olive oil spray.

Bake in the oven for 3 minutes then turn the tray and bake another 2-3 minutes or until bread crumbs are browned.

Meanwhile, add ground chicken to medium sized bowl and add 1/2 cup Parmesan cheese, 1/2 teaspoon salt, pepper, and garlic and onion powder. Mix well.

When bread crumbs are toasted, add to a medium sized bowl with Parmesan cheese and 1/2 teaspoon of kosher salt and mix.

Gather with your hands a small amount of ground chicken and shape it into an oval shape and then gently dip them into the bowl of panko bread crumbs and coat fully with panko bread crumbs. Line them on parchment paper lined baking sheets.

Bake for 25 minutes or until internal temp of nuggets reach at least 165 degrees.

Serve with your favorite dipping sauce!
Notes
Nutritional Value = Approximately per nugget
Storage
Fridge: Store in the fridge for 2 -3 days.
Freezer: Bake and then let cool on the baking sheet. Make sure that they're completely cool first so that they don't freeze together. Store in a freezer-safe container for up to 3 months.
Shaped Nuggets
Use your own cookie cutters to create your own shapes. Do this by using misto to spray the edges of a cookie-cutter before filling with ground chicken then carefully add to the bowl of bread crumbs and gently coat before adding to the baking sheet.
Substitutions
Sweet Potato - You can also use 2 eggs in place of the sweet potatoes.
Spices - We also like to use oregano, cayenne, mustard powder, and paprika.
Reheating From Frozen
Pre-heat oven to 400 degrees. Add nuggets straight from the freezer on a single layer on a wire rack and bake for 20 minutes until fully heated through.
Nutrition
Calories:
73
kcal
|
Carbohydrates:
5
g
|
Protein:
6
g
|
Fat:
3
g
|
Saturated Fat:
1
g
|
Polyunsaturated Fat:
1
g
|
Monounsaturated Fat:
1
g
|
Trans Fat:
1
g
|
Cholesterol:
22
mg
|
Sodium:
224
mg
|
Potassium:
171
mg
|
Fiber:
1
g
|
Sugar:
1
g
|
Vitamin A:
45
IU
|
Vitamin C:
1
mg
|
Calcium:
67
mg
|
Iron:
1
mg