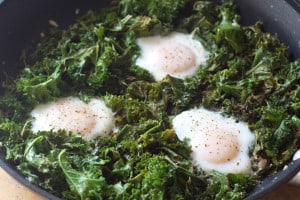 Sometimes, I have really great ideas. Like topping leftover sauteed kale with a poached egg. Ok, that wasn't so much an 'idea' as it was I wanted poached eggs for breakfast but we didn't have any bread and these leftovers seemed like the only thing we had that would have worked as an appropriate poached egg vessel.
Even though it wasn't the genius concoction that it ended up tasting like, it made me realize that eggs and kale are freakin' delicious together and instead of using leftover kale, I should actually try planning to make eggs and kale together. It was like a real idea. Sometimes those happen. Thus, this pan of deliciousness.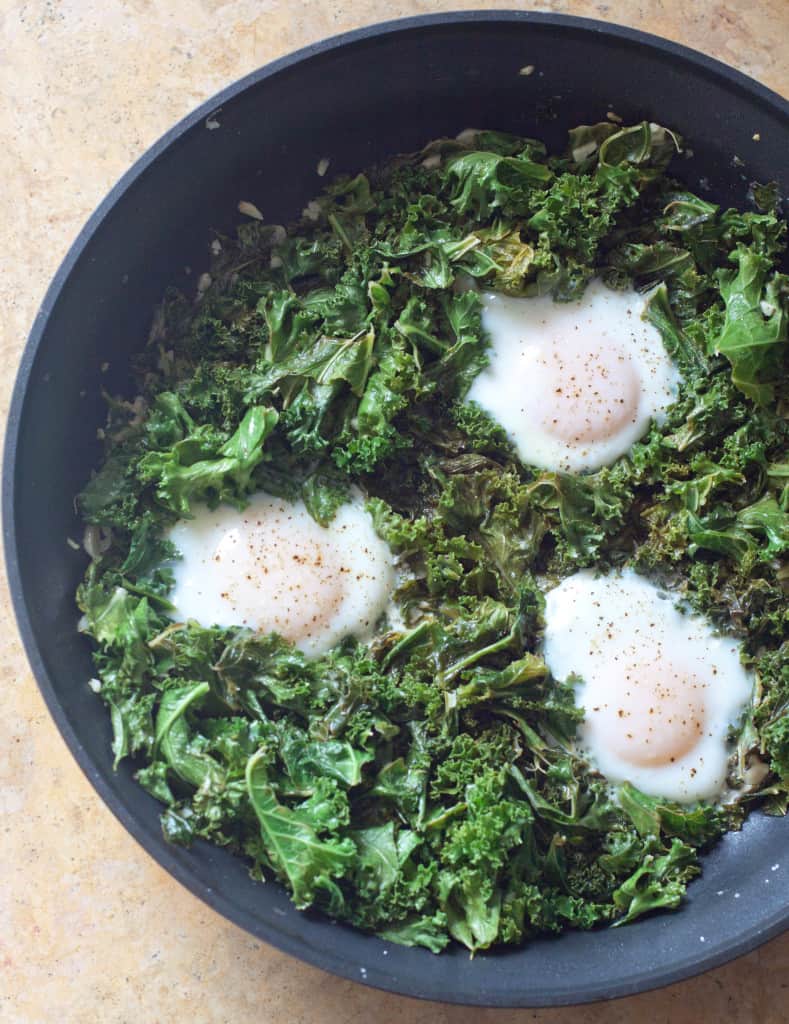 Sauteed garlic and kale in chicken stock and then simmered all together with a few eggs? Breakfast win. Protein rich eggs with vitamin rich kale all deliciously flavored with a homemade stock and plenty of garlic made for the perfect weekend breakfast. Just what we needed before a hike up Zig Zag Mountain. Also, it just further proves that you can add eggs to almost any vegetable and call it a meal!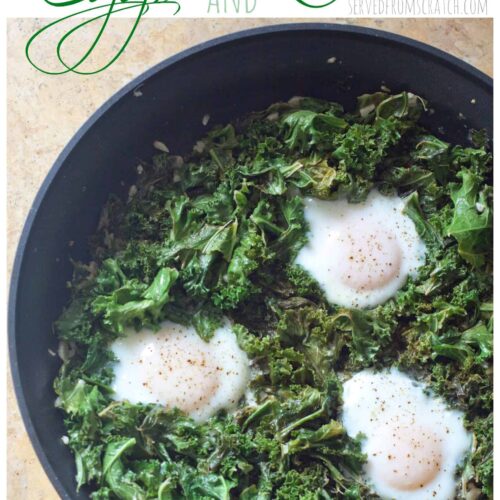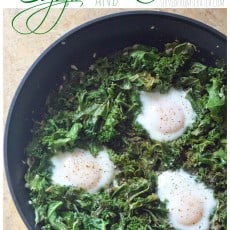 Ingredients
1

Tbs.

salted butter

3

garlic cloves

minced

1

large bunch of kale

tough stems removed, leaves roughly chopped

1

cup

chicken or vegetable broth

1/2

tsp.

salt

plus more, to taste

1/4

tsp.

freshly ground black pepper

plus more, to taste

Juice of half a lemon

3-4

eggs

Red pepper flakes

to taste
Instructions
In a large saute pan, melt the butter over medium-high heat. Add the garlic and cook, stirring, until fragrant, about 1 minute. Add half of the kale and sauté, stirring frequently until it begins to wilt, about 2 minutes. Stir in the remaining kale and repeat. Add the broth, the 1/2 tsp. salt and the 1/4 tsp. black pepper. Stir in the lemon juice. Simmer, stirring occasionally, until the kale softens, about 6 minutes.

Using a spoon, create a pocket for each egg in the kale. Crack 1 egg into each pocket. Reduce the heat to medium-low and season the eggs with salt and black pepper. Cover the pan and let the eggs cook until almost opaque, 4 to 5 minutes. Turn off the heat and let the eggs rest, covered, until done to your taste. Sprinkle with red pepper flakes and serve immediately.