No need to wait, make your favorite Girl Scout Cookie at home any time of the year with this Thin Mints From Scratch recipe!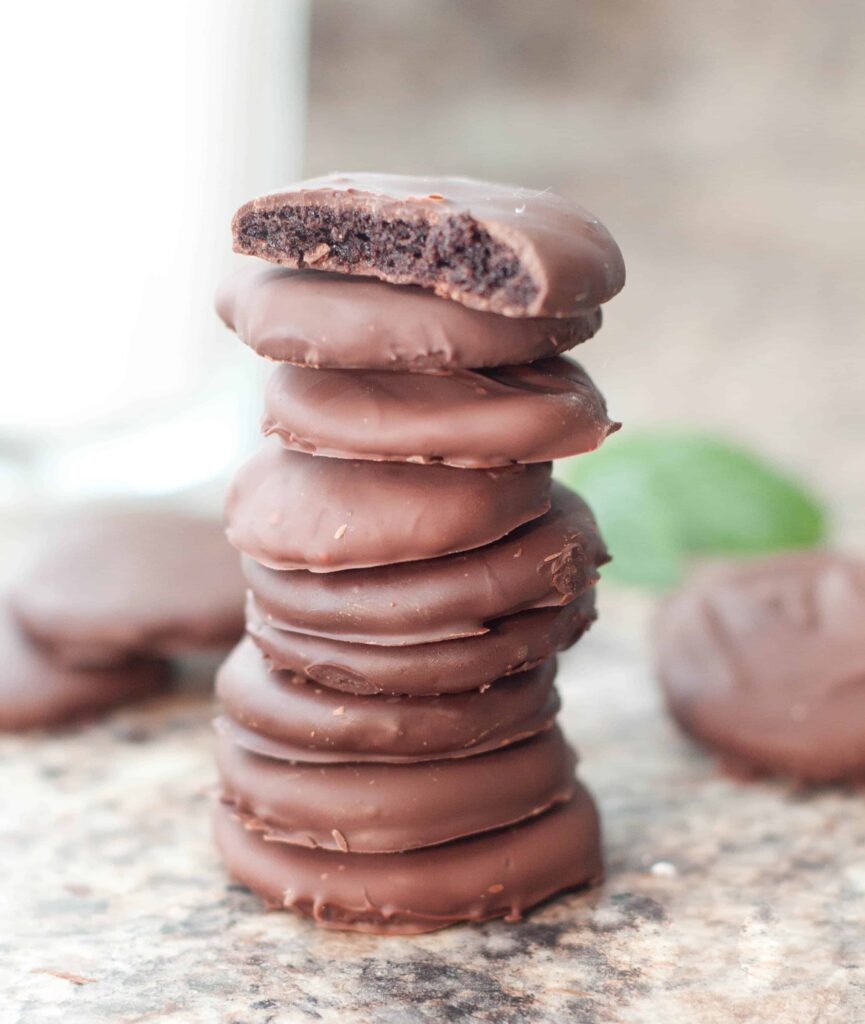 I don't know about you all, but the one time of the year that Girl Scout cookies are sold, it's just not enough. And no matter how I try to prepare for the many months in between that oh so delicious time each year (by prepare I mean fill my freezer with cookies to ration), there will inevitably be a time when I'm craving a Thin Mint but I've already run out. But oh… Oh that day is over as I bring you, Thin Mints From Scratch! *happy dance*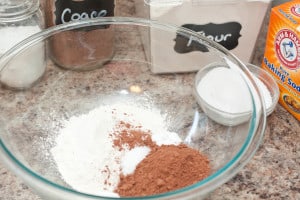 What You Need:
Even better, these guys are actually pretty simple, and way more affordable! The delicious minty inside is just a simple cookie made of flour, cocoa, eggs, vanilla extract, and peppermint extract.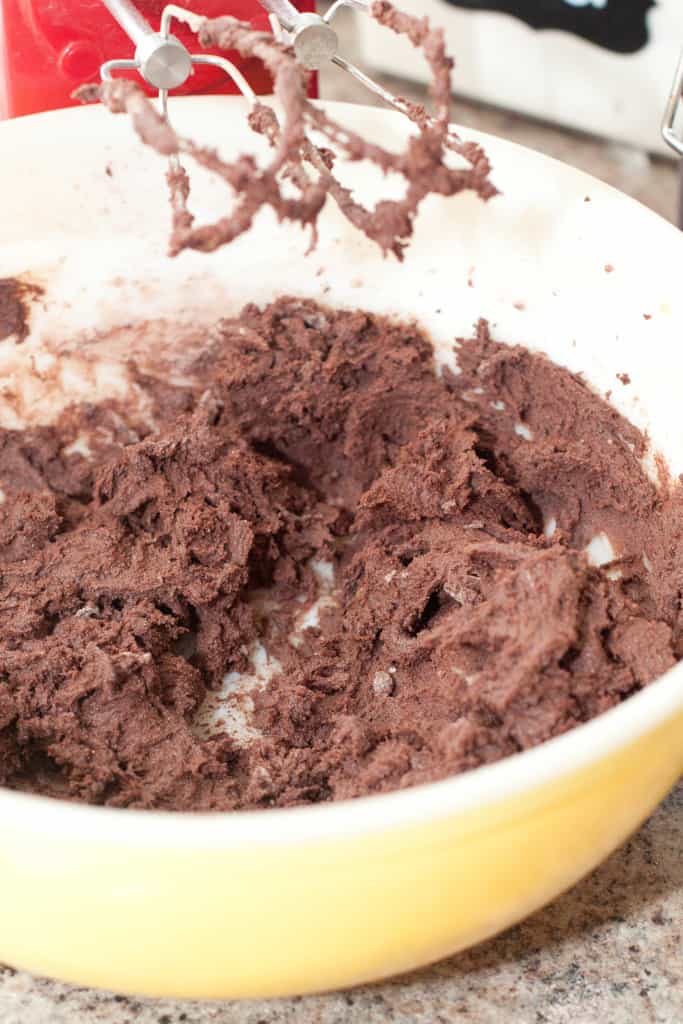 All mixed together into a super sticky dough,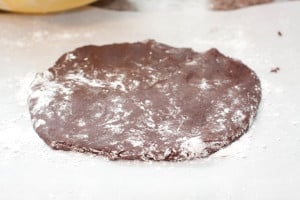 and shaped into a disc, chilled, then rolled out.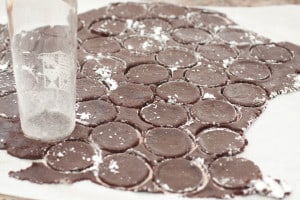 Then, with a small round cookie cutter, or the members glass from TeSoAria Winery (which just happens to be the perfect size), I cut out the little rounds that would become that crispy minty center.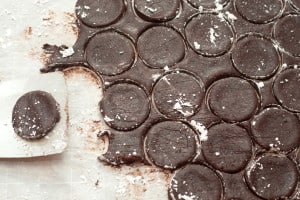 The dough is still pretty sticky so I used a baking spatula to gently get the rounds off of this parchment paper and onto some baking sheets lined with parchment. I used confectioners' sugar like flour and cleaned the spatula often to prevent sticking.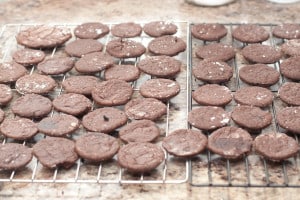 Then I popped these guys in the freezer once they were done and baked them at 350 degrees for 8-12 minutes (the thicker cookies took a few extra minutes).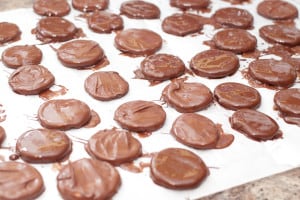 From there, it's just a quick dip in some melted semi-sweet chocolate and then left to cool (Because I'm super impatient, I put them into the freezer to set).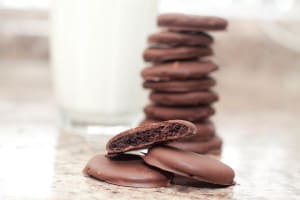 Success! Thin Mints From Scratch!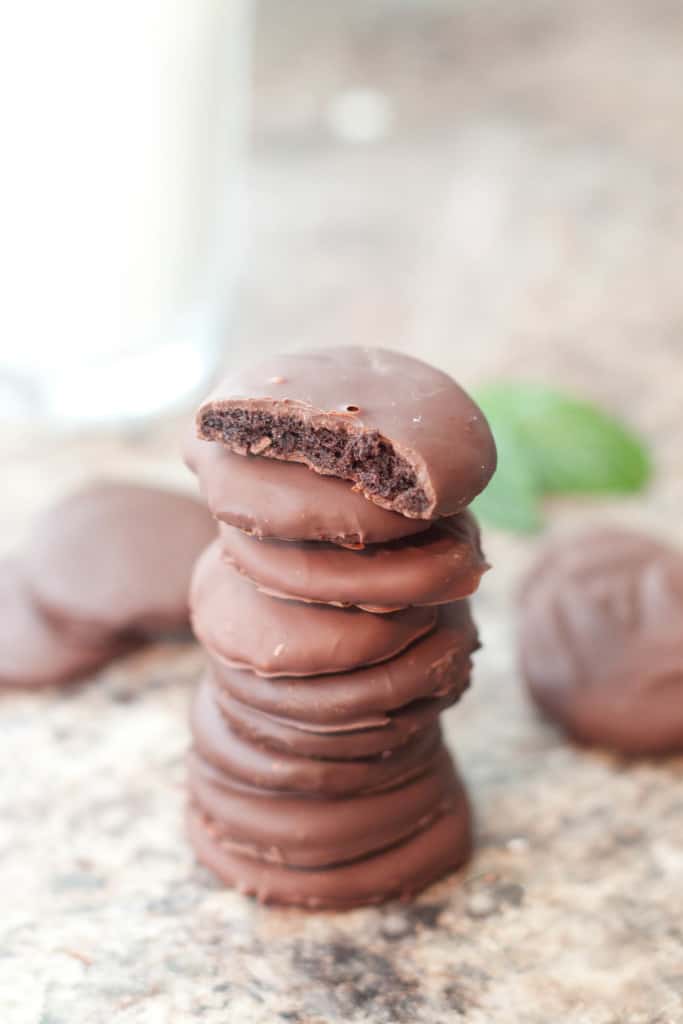 Make these Thin Mints From Scratch cookies and you'll undoubtedly be the Hero of any Holiday Party you go to this year! Bring these with some Homemade Milanos and then really blow their minds! Hooray for Girl Scout cookies any time of the year!
Thin Mints not your fav? Well check out these homemade Samoas from The Cozy Cook!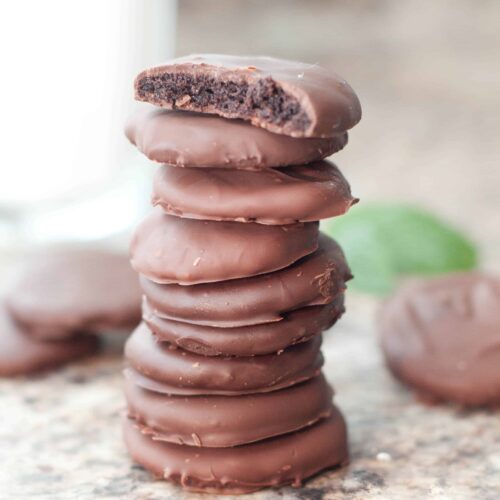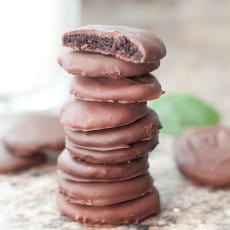 Thin Mint Cookies From Scratch
Your favorite Girl Scout Cookie can be made at Home From Scratch!
Print
Pin
Rate
Ingredients
1

cup

all-purpose flour

1/2

cup

unsweetened cocoa powder

1/2

teaspoon

baking soda

1/2

teaspoon

salt

1/2

teaspoon

baking powder

3/4

cup

granulated sugar

5

tablespoons

butter at room temperature

1

large egg plus 1 large egg yolk

at room temperature

1

teaspoon

vanilla extract

1

teaspoon

peppermint extract

Confectioners' sugar

for dusting

12 to 18

ounces

semisweet chocolate chips
Instructions
In a medium bowl, whisk together the flour, cocoa powder, baking powder, baking soda, and salt. In the bowl of a stand mixer or in a large bowl with an electric mixer, beat together the sugar and butter on medium speed until creamy and well combined, about 1 minute. Reduce the speed to medium-low and add first the egg and then the egg yolk, beating well after each addition. Beat in the vanilla and peppermint extracts. Slowly beat in the flour mixture until just combined. The dough will be super sticky.

Dust the cookie dough, your hands, and a piece of parchment paper with confectioners' sugar. Shape the dough into a disk on the parchment paper. (If the dough is too sticky to work with, chill it in the fridge for 30 mins) Wrap the disk of cookie dough in plastic wrap and refrigerate until firm, at least 30 minutes. (You can refrigerate the dough up to overnight, though you'll need to let it warm slightly at room temperature before you're able to roll it out.)

Preheat the oven to 350°F and adjust the oven racks to the middle and upper third positions. Line 2 baking sheets with parchment paper.

Roll out the dough on the parchment (and covered with the plastic wrap to prevent sticking to the rolling pin)until it's about 1/8 inch thick. Using a 1 1/2-inch round cutter, cut out cookies from the dough and place them 1/2 inch apart on the prepared baking sheets. Re-roll any scraps and cut out more cookies. Freeze the cutouts for about 15 minutes.

Bake the Thin Mints, switching the baking sheets from top to bottom and front to back halfway through, until dry and crisp and firm around the edges, anywhere from 8 to 15 minutes, depending on thickness. Let the cookies cool slightly on the baking sheets and then transfer them to wire racks to cool completely.

Meanwhile, melt the chocolate chips in a double boiler. Submerge a cookie into the melted chocolate and turn to coat. Shake off any excess and place on parchment paper. Repeat for all of the cookies, re-heating the chocolate when necessary.

Let cookies cool for at least 30 minutes or pop them in the freezer for 15.

Cookies will keep, layered between sheets of parchment paper in an airtight container, for up to 1 week - ha, if you have any last that long!