No need to wait, make your favorite Girl Scout Cookie at home any time of the year with this Thin Mints From Scratch recipe!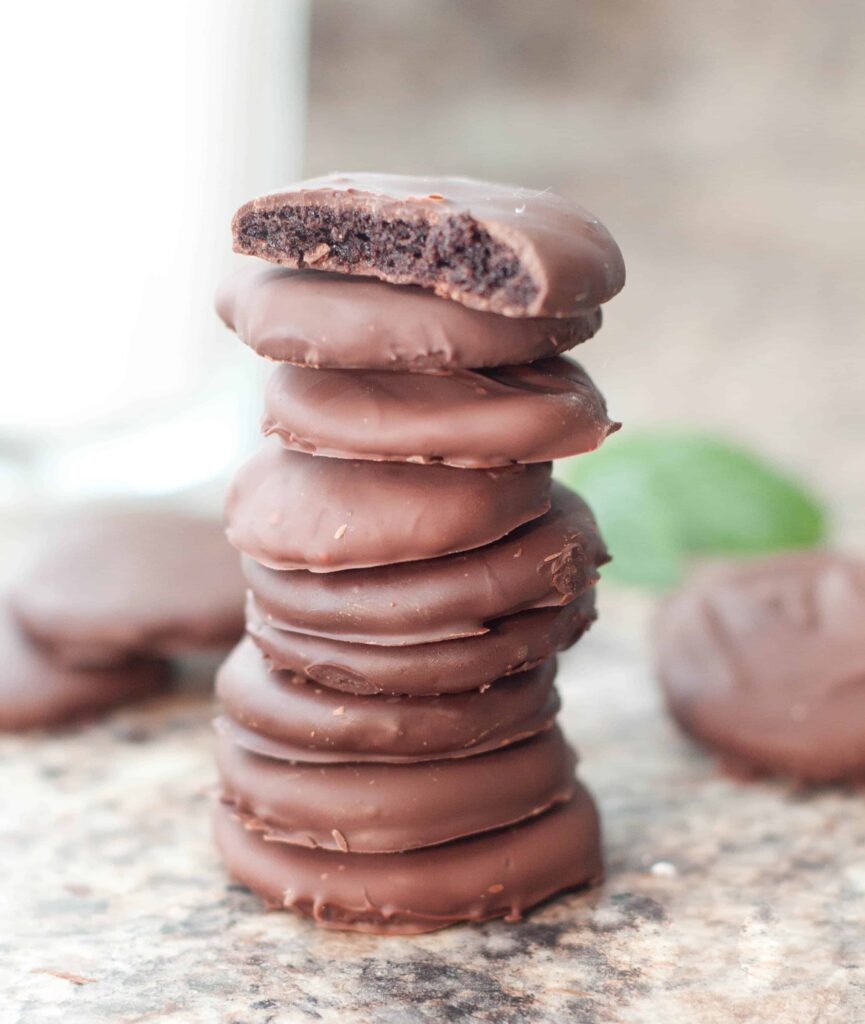 I don't know about you all, but the one time of the year that Girl Scout cookies are sold, it's just not enough. And no matter how I try to prepare for the many months in between that oh so delicious time each year (by prepare I mean fill my freezer with cookies to ration), there will inevitably be a time when I'm craving a Thin Mint but I've already run out. But oh... Oh, that day is over as I bring you, Thin Mints From Scratch! >happy dance<
Ingredients Needed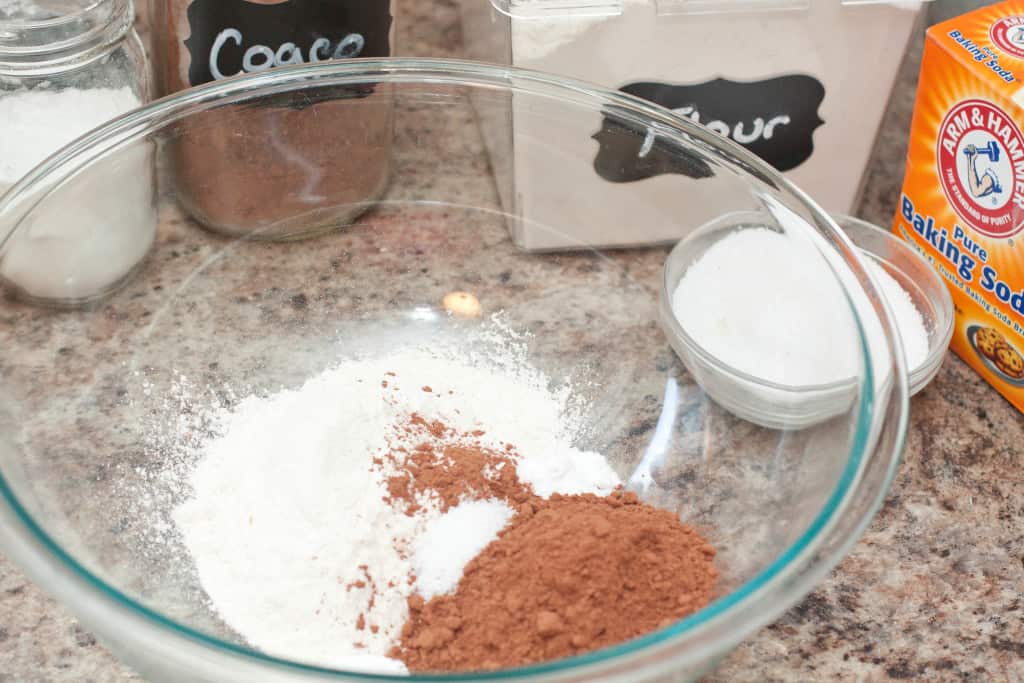 Even better, these guys are actually pretty simple, and way more affordable! The delicious minty inside is just a simple cookie made of:
Flour - All purpose flour is great, or even a 1:1 gluten-free flour would work as well.
Cocoa - Unprocessed and unsweetened.
Eggs
Baking soda and baking powder
Vanilla extract (by the way,

have you made your own yet

?!)
Peppermint extract
Butter
Confectioner's sugar
Chocolate Chips
Simple, right? Do you already have everything in your pantry?
Step-by-Step Instructions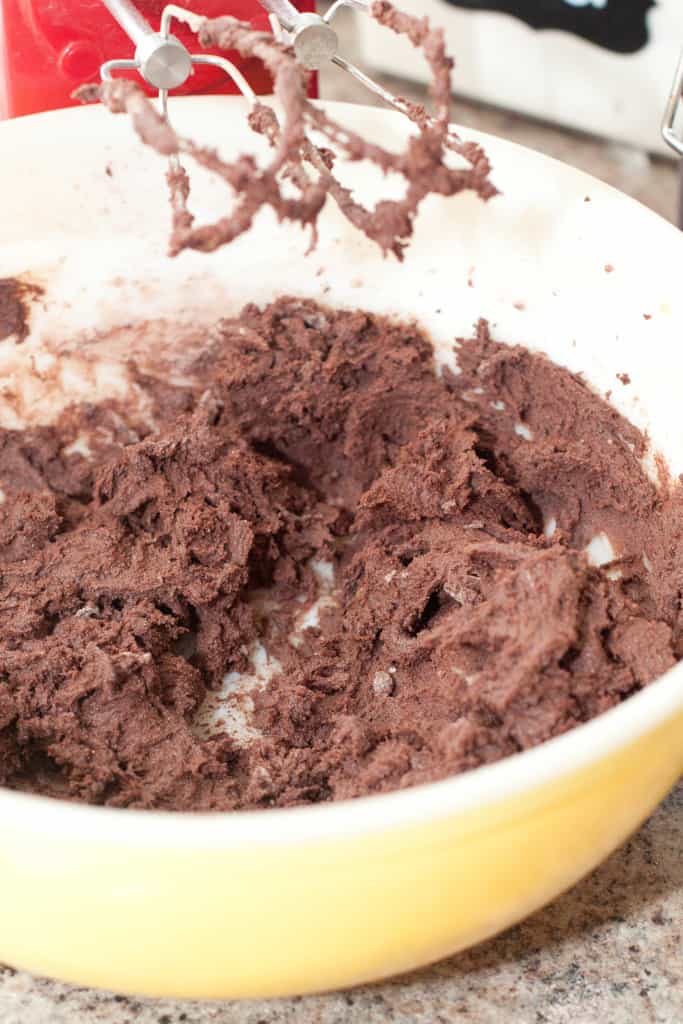 Step 1: Mix everything (except the confectioner's sugar and chocolate chips) together into a super sticky dough. It is a sticky dough so I prefer to use a hand mixer, but you can also do it by hand, it'll just take a little elbow grease.
This is our favorite hand mixer.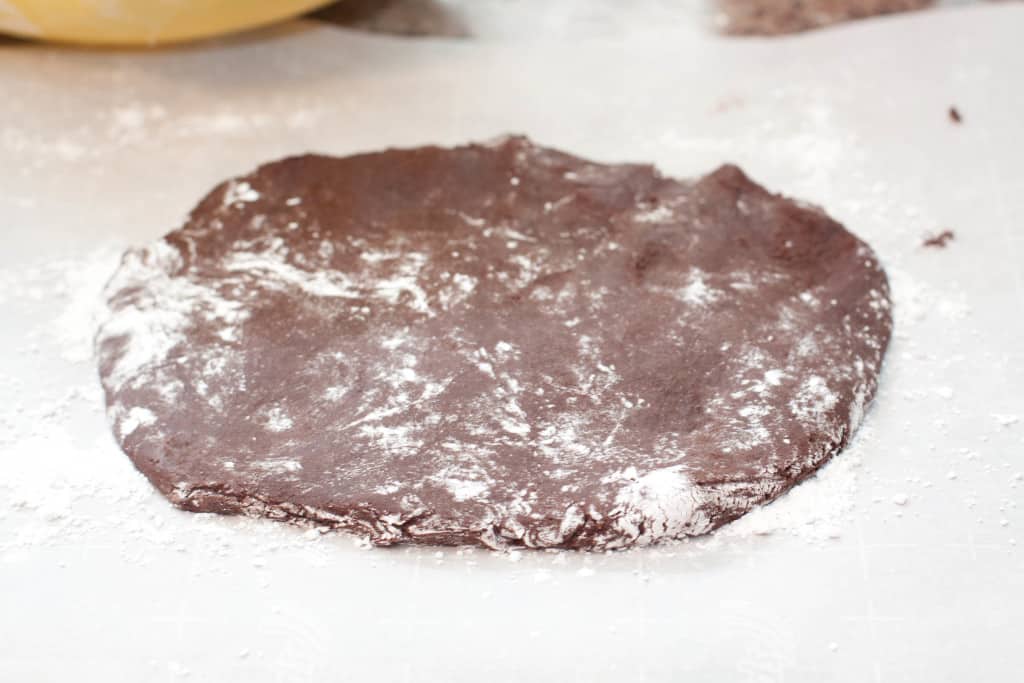 Step 2: Shape the dough into a disc, chill for 30 minutes. This will help make that dough much easier to work with and roll out.
TIP: You can make this dough up to 24 hours in advance, too!
Step 3: Roll out the dough into a thin disc, about 1/8 inch thick.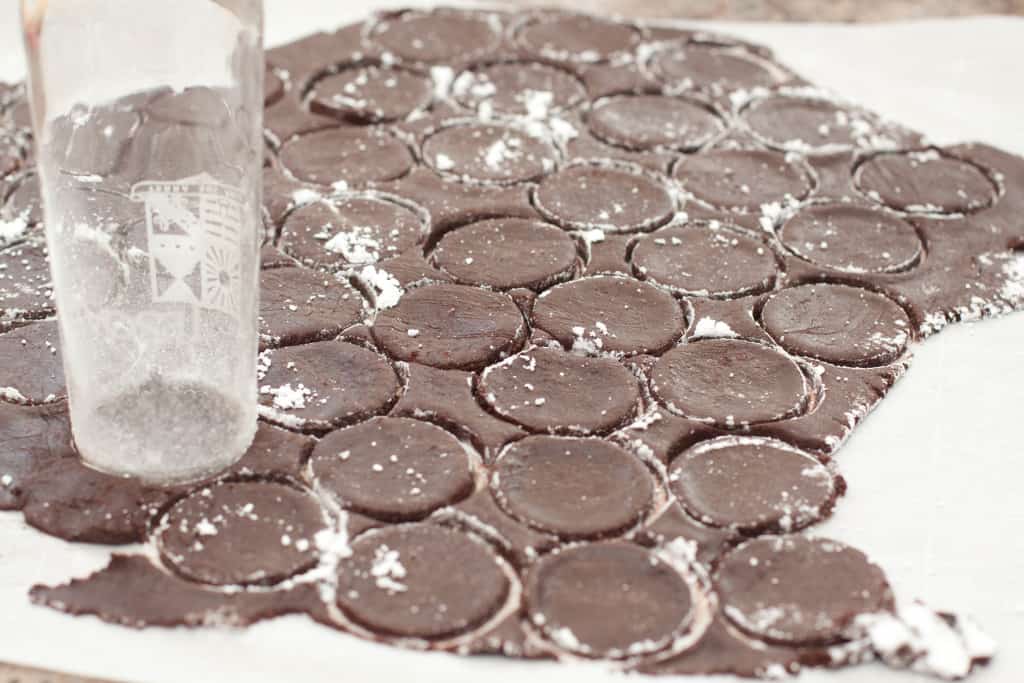 Step 4: Use a circle cutter or glass to cut out about 2 inches diameter.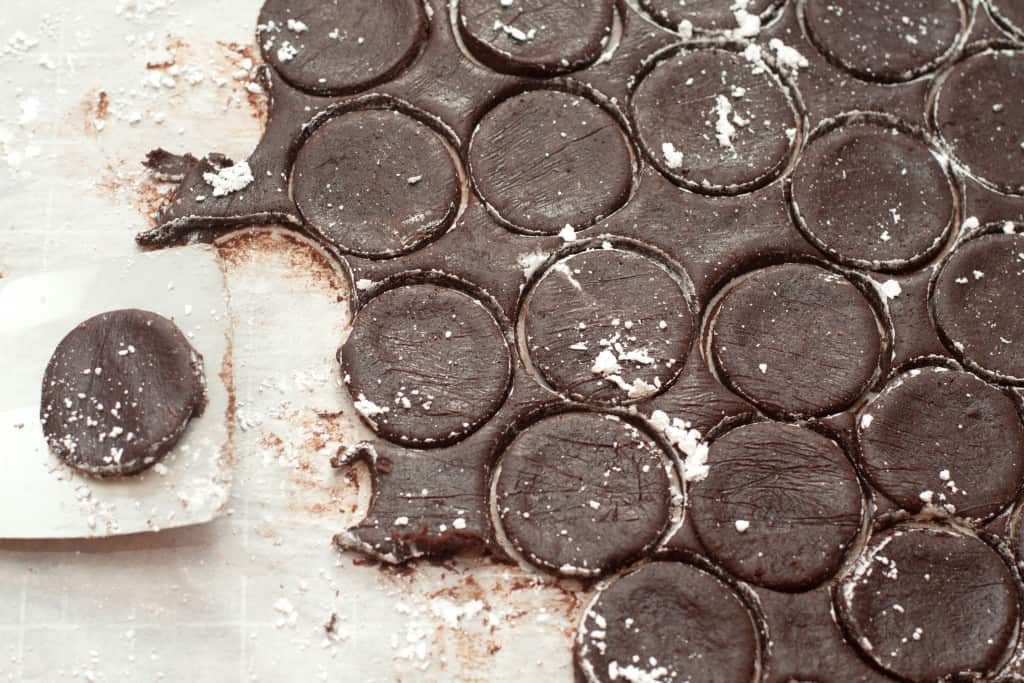 TIP: The dough is super sticky - be sure to do this all on parchment paper and a spatula will help you transfer them to the baking sheets. You can also use some confectioner's sugar to help with the stickiness of the dough.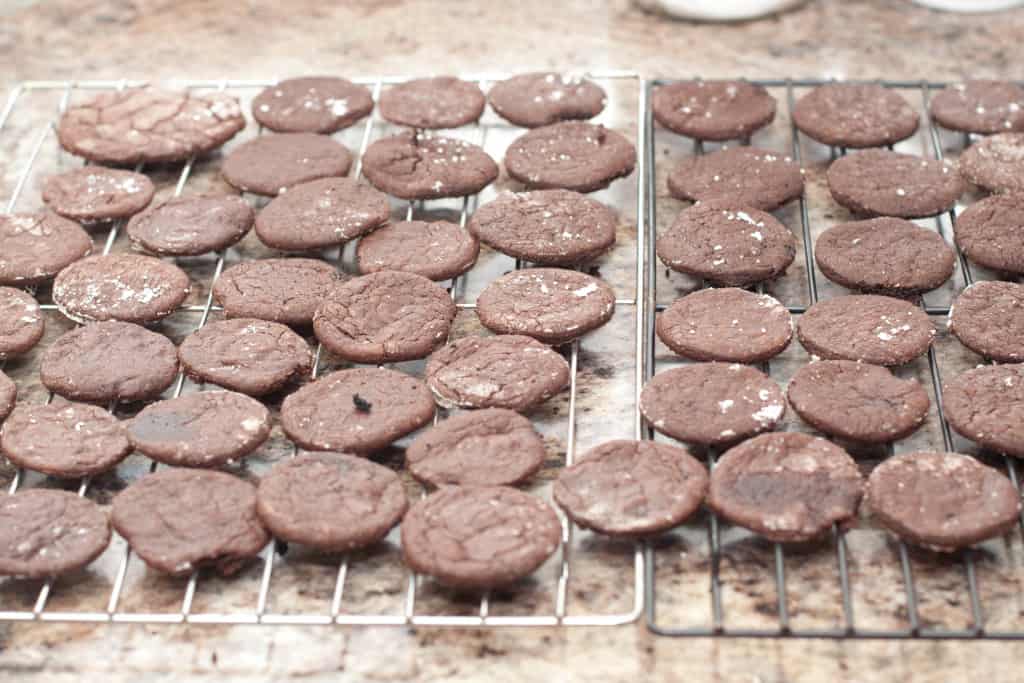 Step 5: Bake into thin crispy peppermint spiked cookies.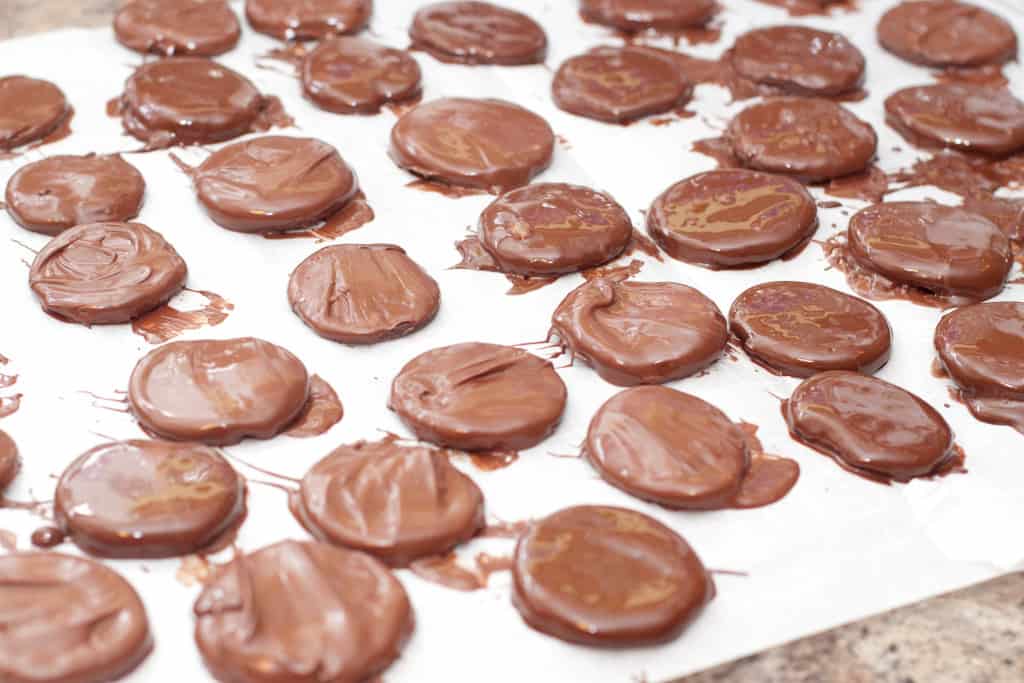 Step 6: Melt the chocolate chips in a double boiler and then coat the crispy thin cookies.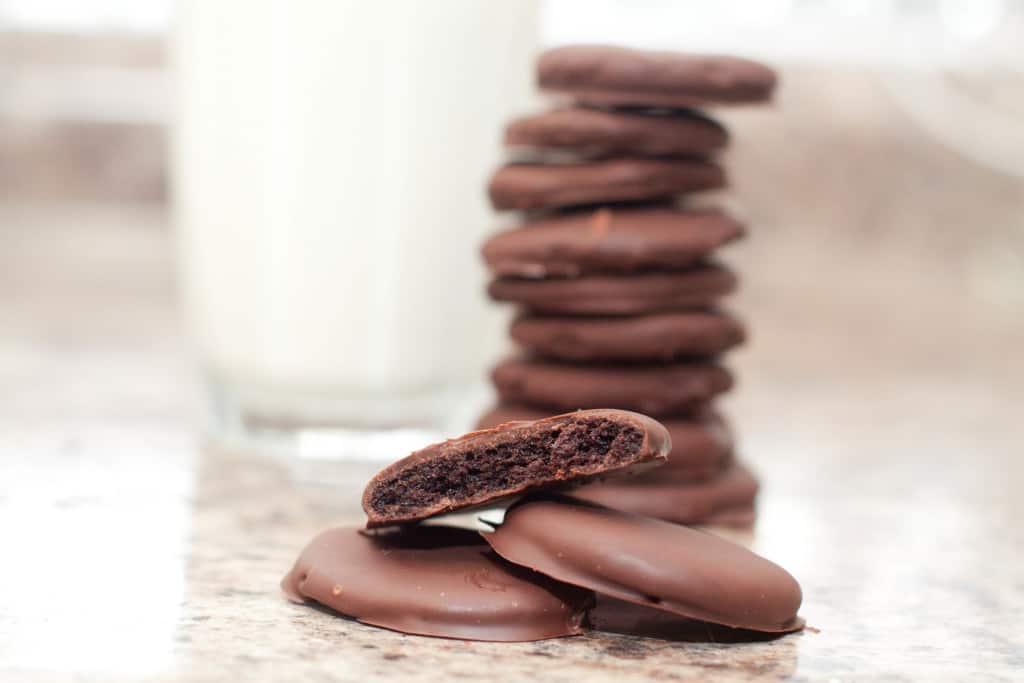 Step 7: Let the chocolate set and you're done!
Crispy minty chocolate cookie on the inside with a chocolate coating on the outside. Mmmm Thin Mints From Scratch success!!
We seriously love these cookies. Better yet, a batch of them will make more than you get in a box of Girl Scouts cookies!
Some of our other favorite Cookies
Other Chocolate Treats
Grandma Pearl's Whoopie Pies From Scratch
Glazed Chocolate Munchkins (Donut Holes)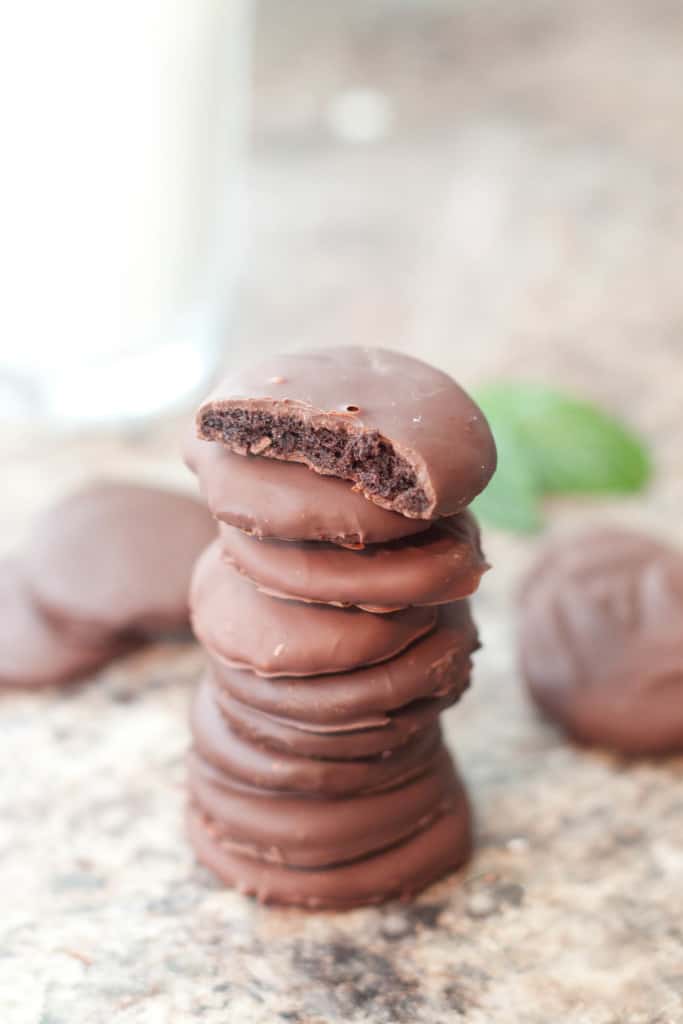 FAQs
Do I have to use a hand mixer?
You don't, but I think a mixer is the best to cream the butter and sugar. You can also use a stand mixer or use a fork to mash the butter and then using a wooden spoon to stir the sugar and butter until they're fluffy.
My dough feels too sticky to work with.
Chill it longer! Also, coating your hands and the dough with some confectioner's sugar will help too. Coat your rolling pin, too and that will help! Also, when transferring your circles to the baking sheet, using a spatula is super helpful.
How do I coat the cookies?
The best is to use a fork to dunk the cookie into the melted chocolate and then lift up out of the bowl and shake off excess chocolate. If the cookie sticks to the fork, just use a little toothpick to get it off.
Enjoy! As always, if you make this recipe or any of my others, I love to hear what you think! Leave a comment below, email me, or you can find me on Facebook, Instagram, and Pinterest!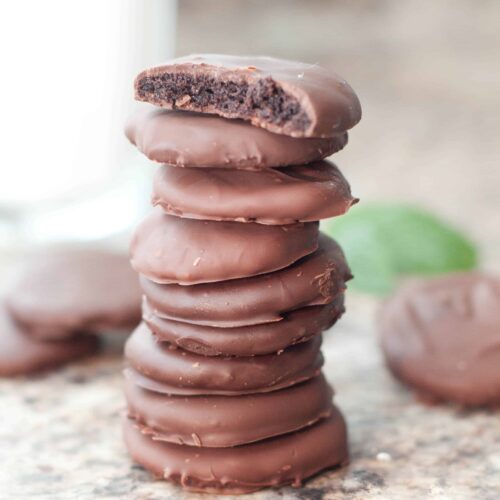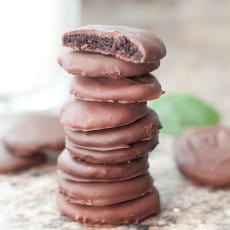 Thin Mint Cookies From Scratch
Your favorite Girl Scout Cookie can be made at Home From Scratch!
Print
Pin
Rate
Ingredients
1

cup

all-purpose flour

1/2

cup

unsweetened cocoa powder

1/2

teaspoon

baking soda

1/2

teaspoon

salt

1/2

teaspoon

baking powder

3/4

cup

granulated sugar

5

tablespoons

butter at room temperature

1

large egg plus 1 large egg yolk

at room temperature

1

teaspoon

vanilla extract

1

teaspoon

peppermint extract

Confectioners' sugar

for dusting

12 to 18

ounces

semisweet chocolate chips
Instructions
In a medium bowl, whisk together the flour, cocoa powder, baking powder, baking soda, and salt. In the bowl of a stand mixer or in a large bowl with an electric mixer, beat together the sugar and butter on medium speed until creamy and well combined, about 1 minute. Reduce the speed to medium-low and add first the egg and then the egg yolk, beating well after each addition. Beat in the vanilla and peppermint extracts. Slowly beat in the flour mixture until just combined. The dough will be super sticky.

In a large bowl, beat together butter and sugar with a hand mixer on medium speed until creamy and it's all well combined. This will take about a minute. Turn the speed down to medium-low and add 1 egg and beat well. Then add the egg yolk and beat well again.

Add vanilla and peppermint extract and beat until well combined.

Slowly add the flour and continue to mix until a super sticky dough forms.

Line a clean work space with parchment paper. Use a mixture of confectioner's sugar and a tiny bit of flour to dust your hands. Transfer sticky dough onto the parchment paper and shape your dough into a round disc. Wrap in plastic wrap and chill in fridge for 30 minutes. Keep that parchment paper for later!

Add parchment paper to two baking sheets.

Remove dough from fridge and place on reserved parchment paper, gently covering it with the plastic wrap to prevent sticking to the rolling pin. Use rolling pin to roll out disc to about 1/8 inch thick.

Use a 1 1/2-inch round cutter or glass to cut out cookies from the dough and place them 1/2 inch apart on the prepared baking sheets. Gather and re-roll any scraps to cut out more cookies. Freeze the cutouts for about 15 minutes.

Freeze the cutouts for about 15 minutes. Pre-heat oven to 350 degrees F with oven racks to the middle position and the one right above.

Bake the cookies for about 4-5 minutes and then rotate the baking sheets from the upper rack to lower and then turn them from the front to the back. Bake for another 4-9 minutes until the cookies are crisp and firm around the edges. For thin cookies right about 1/8 inch, total cooking time should only be about 8 minutes total, but for thicker cookies it could take up to 15 minutes total.

Let the cookies cool for 1 minute on the baking sheet and then transfer them to wire racks to cool completely.

Meanwhile, melt the chocolate chips in a double boiler. Once chocolate is melted, dip a cookie into the melted chocolate and turn to coat. Shake off any excess and place on parchment paper. Repeat for all of the cookies, re-he. You may have to re-heat the chocolate.

Add cookies to freezer to set for at least 15 minutes.
Notes
Storage (Good luck keeping any around!)
Room Temp: Cookies will keep, layered between sheets of parchment paper in an airtight container, for up to 1 week.
Fridge: Store cookies in an airtight container for up to two weeks.
Freeze: Freeze baked cookies for up to 2 months.
Make-Ahead
Make cookie dough a day ahead and store it in the fridge.
Freeze unbaked cookie dough for up to 3 months.