Make your own sweet condiment with all of those fresh summer zucchinis! My mom's Sweet Zucchini Relish is easy to make and so much better than store-bought jarred relish!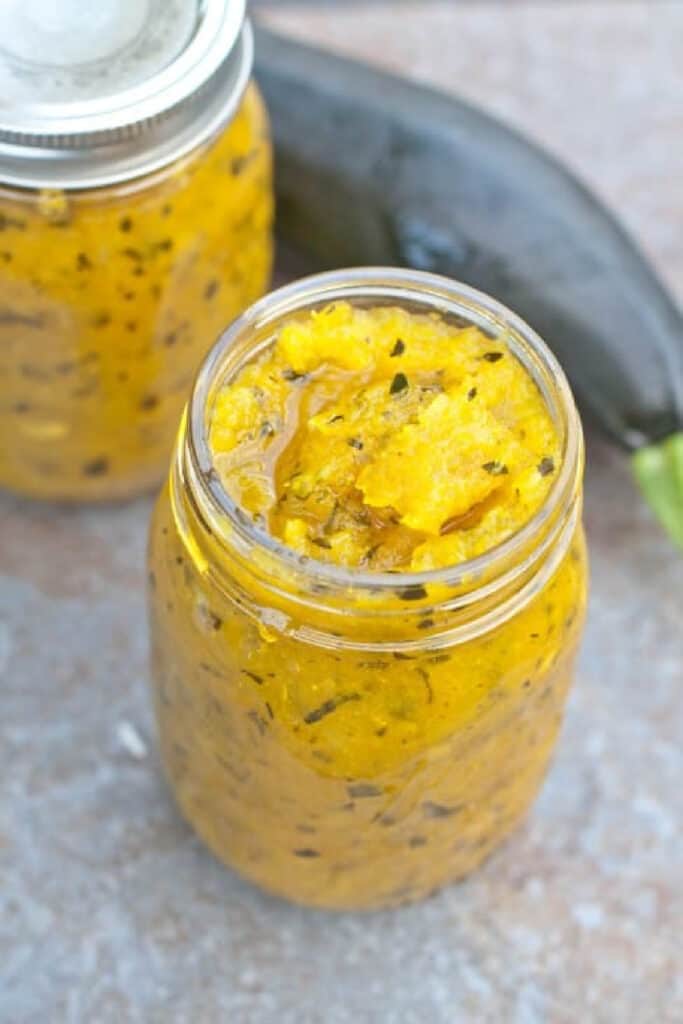 Hello! Today I'm sharing this oldie, but goodie, Sweet Zucchini Relish, for 3 reasons:
1. The end of summer is near and I can feel it in the air and this relish is the closest thing I've found to putting summer in a jar.
2. Due to my crazy new work schedule, my cooking this past week has been made up entirely of fast, easy classics like Cornell Chicken, Garlic Kale, and Kale Salad.
3. It's the time of year that I remember my dad the most as it was his birthday Sept. 1st and the anniversary of when he passed is this weekend. 10 years later, every time I pull out a massive Zucchini from our garden, I think of him and know that if he were still tending his gardens, he'd be handing his zucchinis off to my mom to make this relish.
So, if you have some huge zucchinis still coming out of your garden, or have been holding onto a few 'cause you just don't know what to do with them, jar yourself up some of this Zucchini relish and enjoy it at a Labor Day BBQ this weekend!
Also, be sure to give my husband's Zucchini "Apple" Bars a try- they're his favorite childhood Zucchini throw-back.
Happy Labor Day Weekend!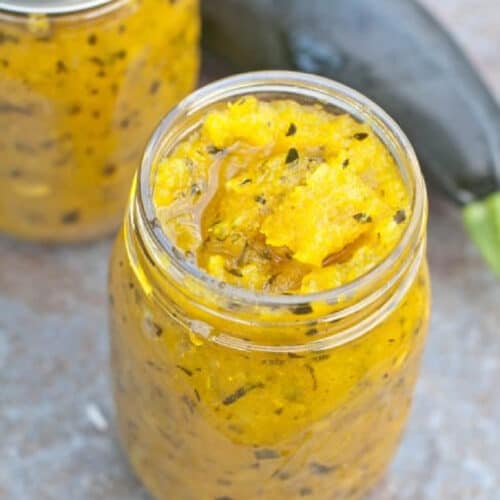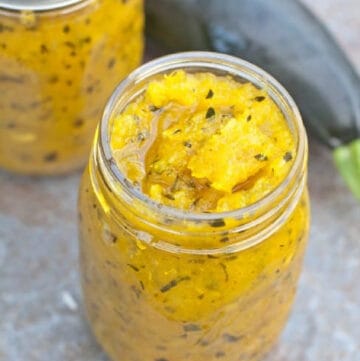 Ingredients
5

cups

of ground zucchini

2

cups

of ground white onion

2 1/2

tablespoons

of salt

1

cup

+ 2 tablespoons of white vinegar

2 1/4

cups

of sugar

1/4

teaspoon

of pepper

1

teaspoon

of celery salt

1/2

tablespoon

of nutmeg

1/2

tablespoon

of dry mustard

1/2

tablespoon

of turmeric

1/2

tablespoon

of cornstarch
Instructions
Coarsely grind zucchini and onion with food grinder or food processor. Mix zucchini, onion, and salt in a large bowl. Cover and refrigerate overnight.

The next day, rinse zucchini and onion with cold water, strain into a sieve, discard water, return to bowl, rinse again.

In a large pot, add vinegar, sugar, pepper, celery salt, nutmeg, dry mustard, turmeric, and cornstarch and bring to a boil. Add zucchini and onion and bring back to a boil. Reduce heat and let simmer uncovered for 30 minutes.

Prep jars for canning if storing, or just add to jars and let cool before storing in fridge.