This Easy Brazilian Cheese Bread is a yeast free, gluten free bread that uses tapioca flour and only has a couple of other staple ingredients. It's the perfect cheesy bread fill for when you're out of regular flour and yeast!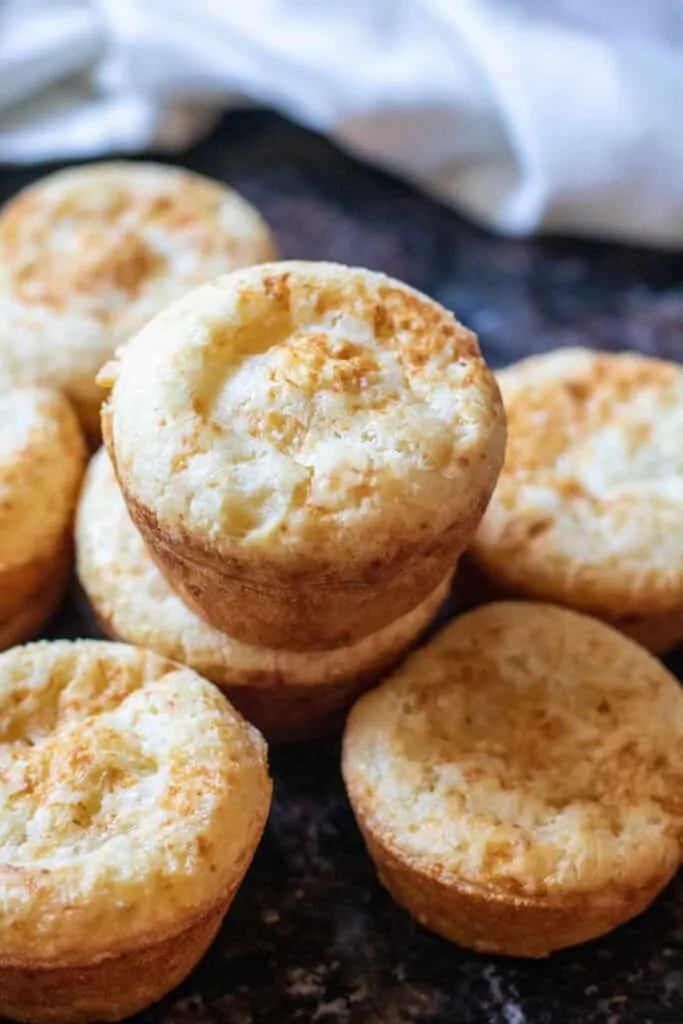 Guys. It is TOUGH Yeast competition out there. Anyone else having a hard time getting a hold of some? Ugh. Luckily, this Easy Brazilian Cheesy Bread doesn't require any yeast - or even gluten!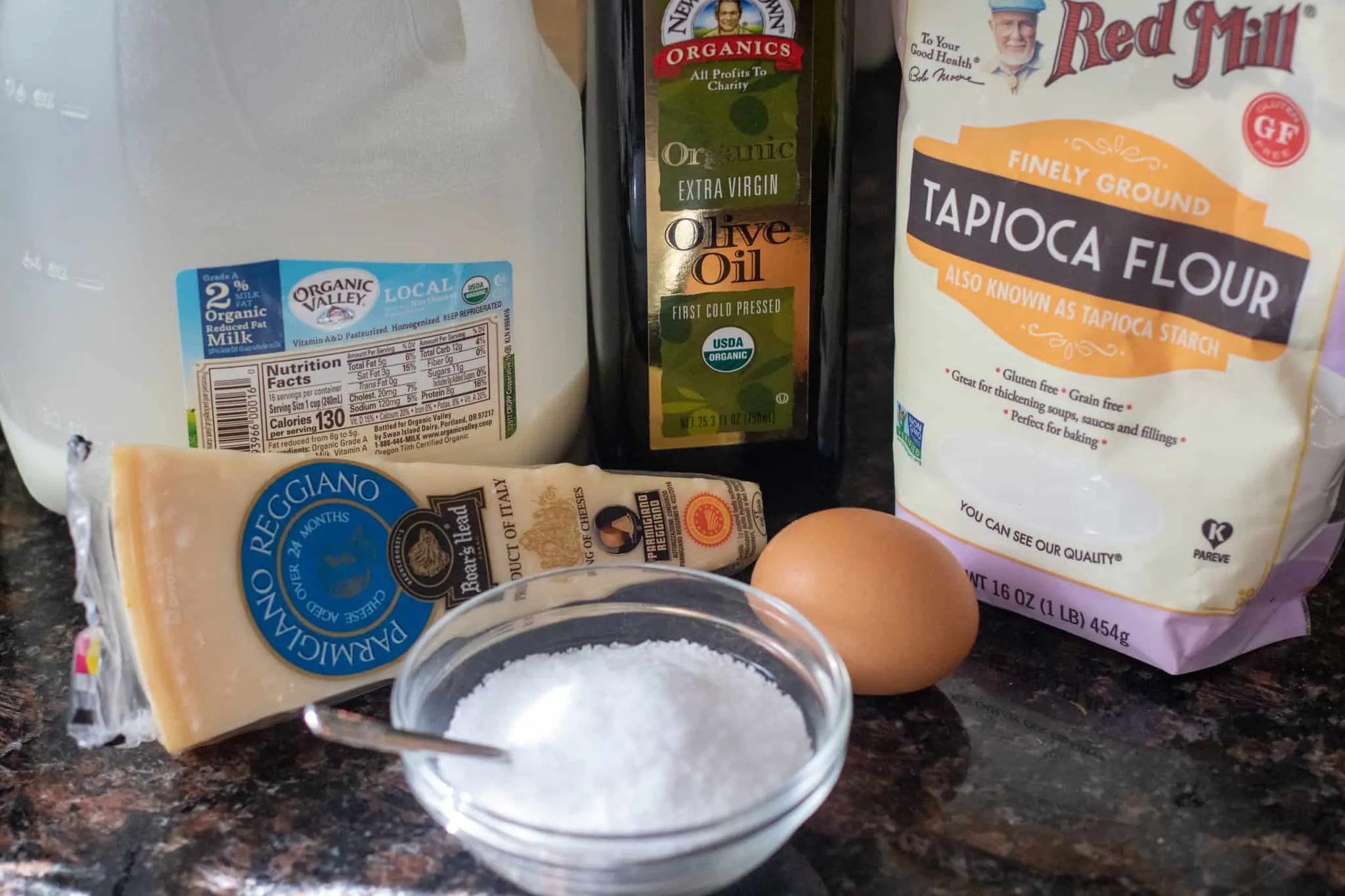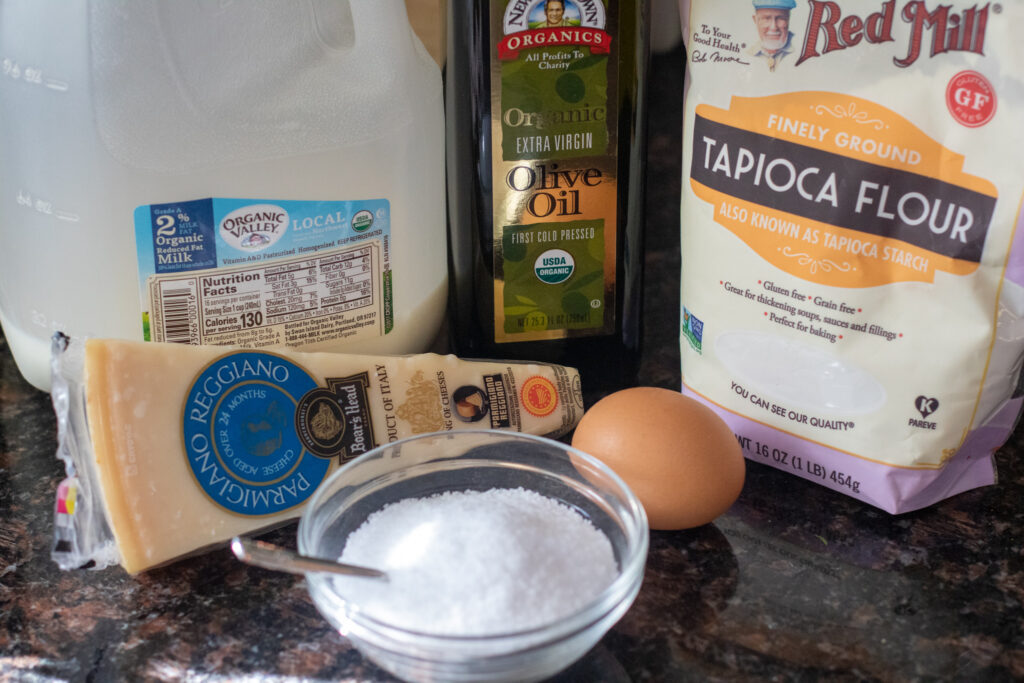 This "bread" is my new love. My new Quarantine fling. The new bread that my girls as for every. single. day. Seriously, my kids LOVE THIS BREAD.
Ingredients for Brazilian Cheese Bread:
Tapioca Flour - it's gluten free!!
Extra virgin olive oil
Egg
Milk - 2% or whatever you have
Parmesan Cheese
Kosher salt
And it's SO easy to make. I've made it with my girls 3 times in the last week... month... year?! What day is it?
How to Make Brazilian Cheese Bread: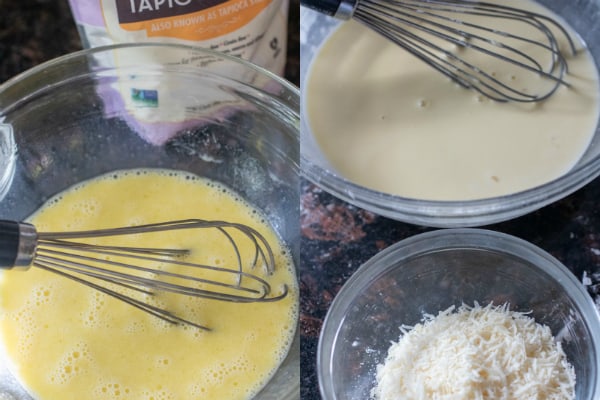 It is seriously easy enough for a toddler to make as M helped me every step of the way. Could there be a better endorsement of how easy it is to make these?
Whisk the egg with milk, oil, and salt
Add flour
Mix cheese
Fill muffin tins!
SO Easy.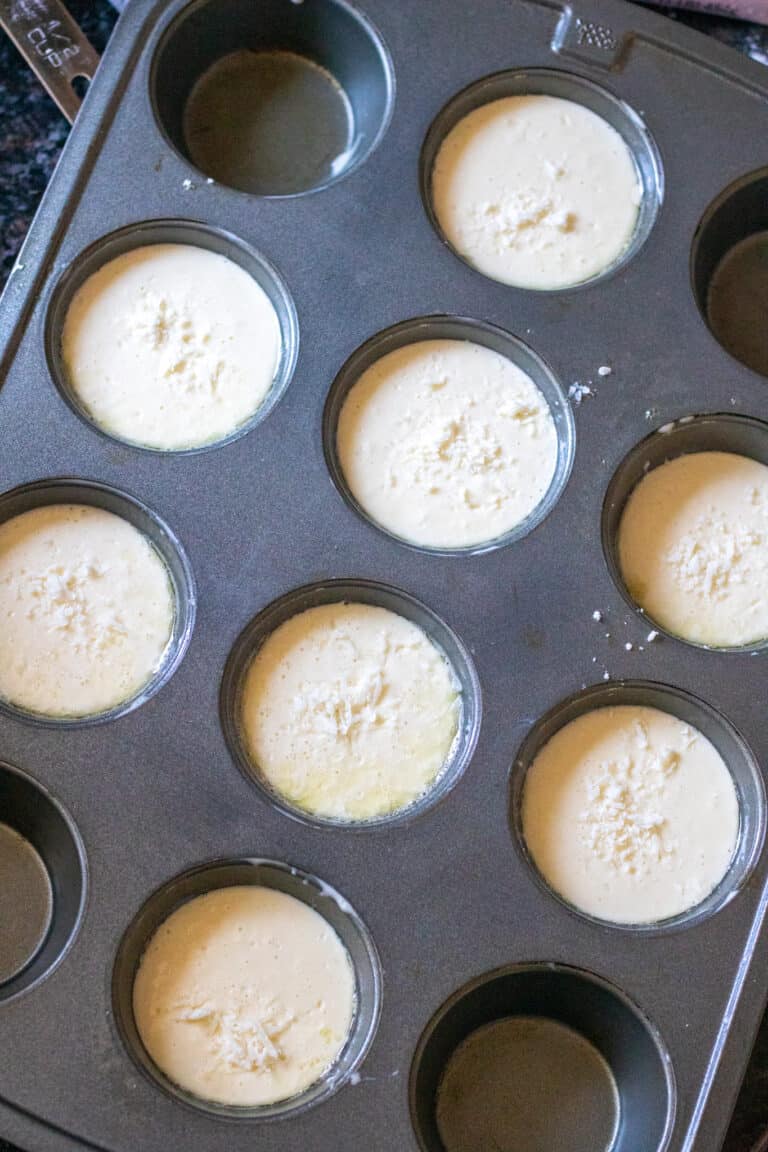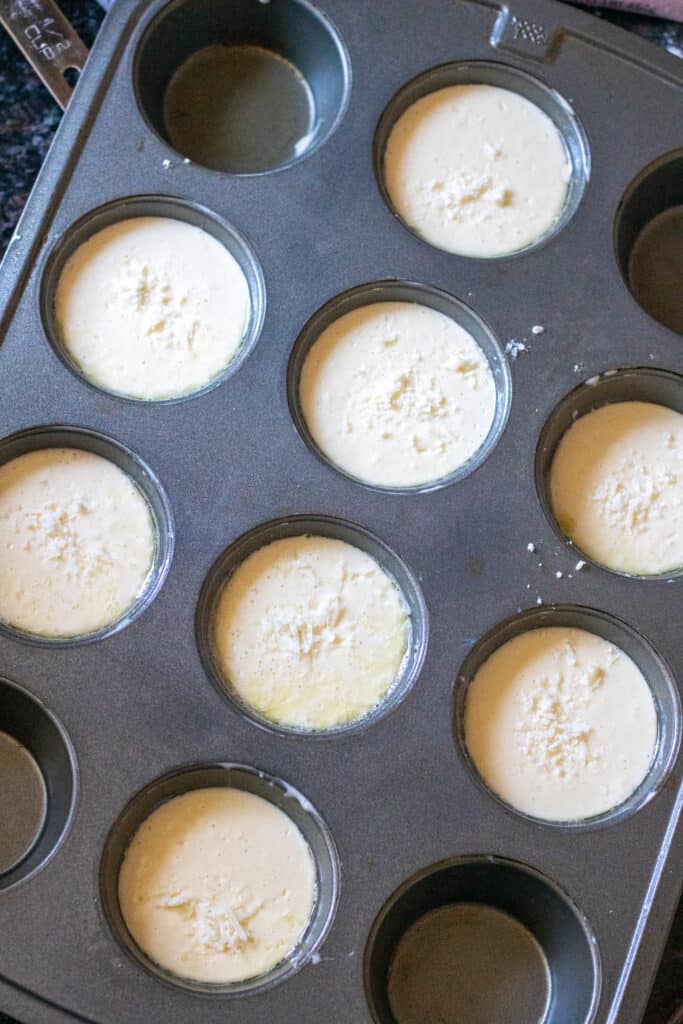 Other Easy Recipes with Muffins Tins:
Healthy Toddler Banana Oat Muffins
Healthy Raspberry Chocolate Chip Muffins
Tips
The only one that I have is make sure you grease those muffin pans WELL. The easiest is to spray or grease with butter or Crisco. An olive oil spray is not enough and they will stick if you don't give 'em a good grease.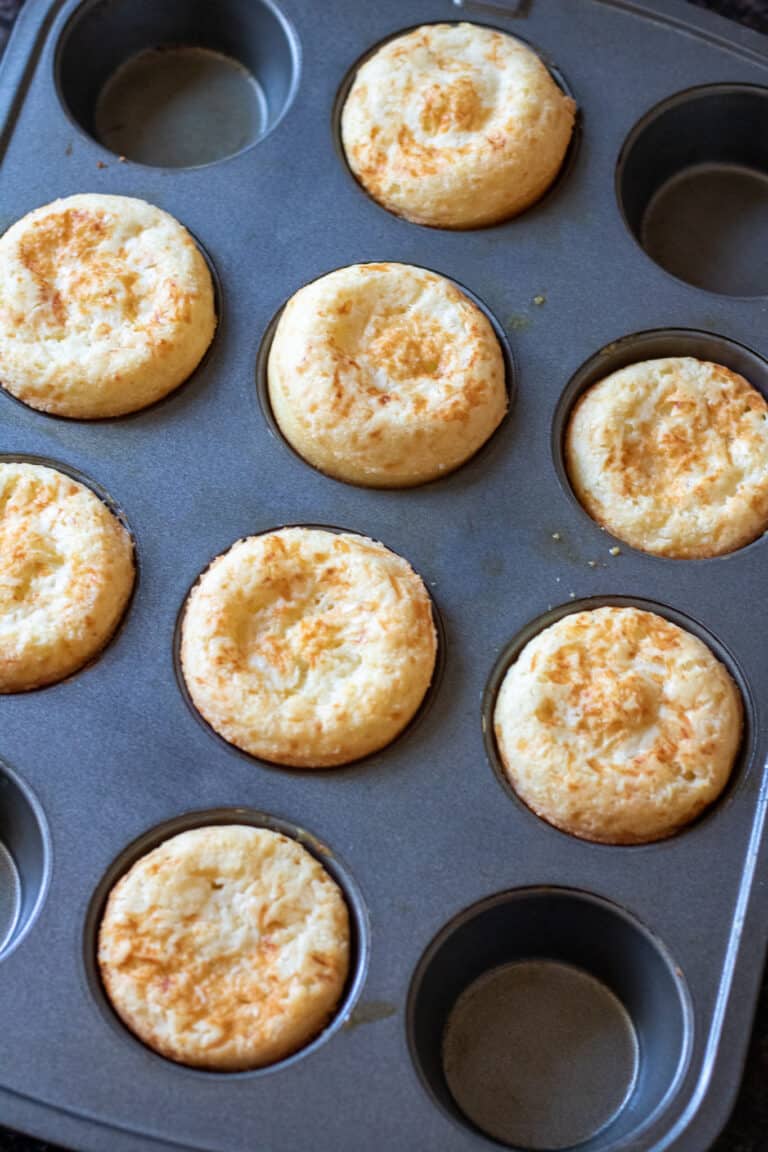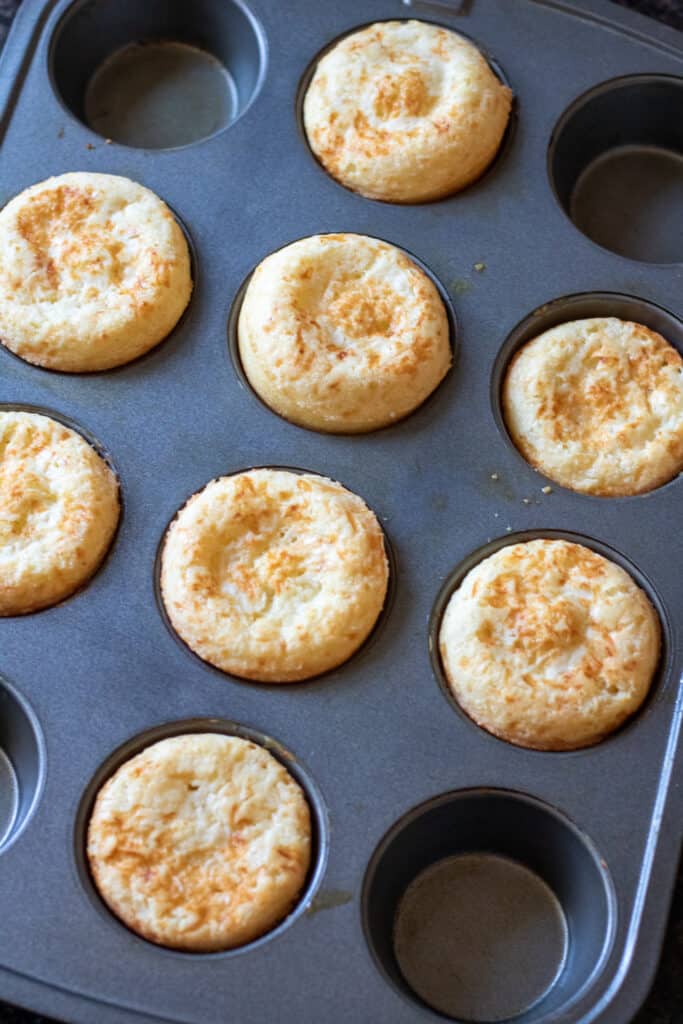 In a regular muffin tin this recipe makes 8 but in a mini muffin tin will make about 16.
As long as you grease a tin VERY well, you'll get these little bundles of soft squishy cheesy gluten-like goodness.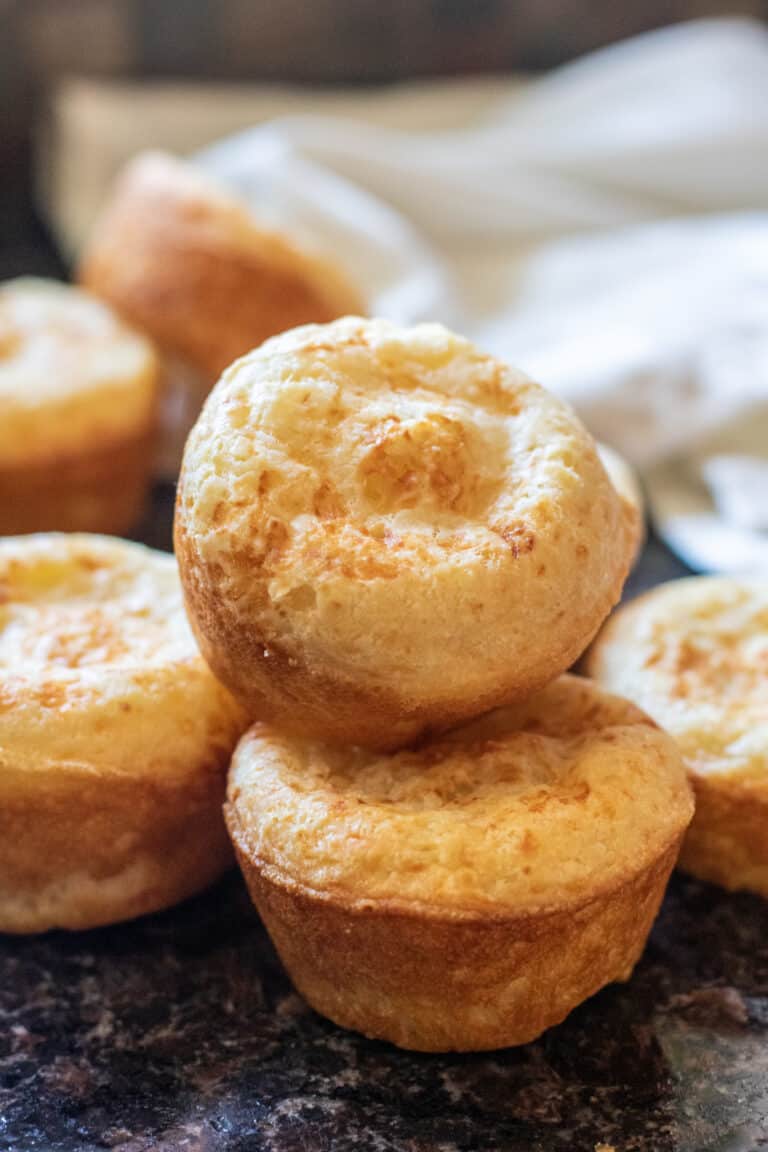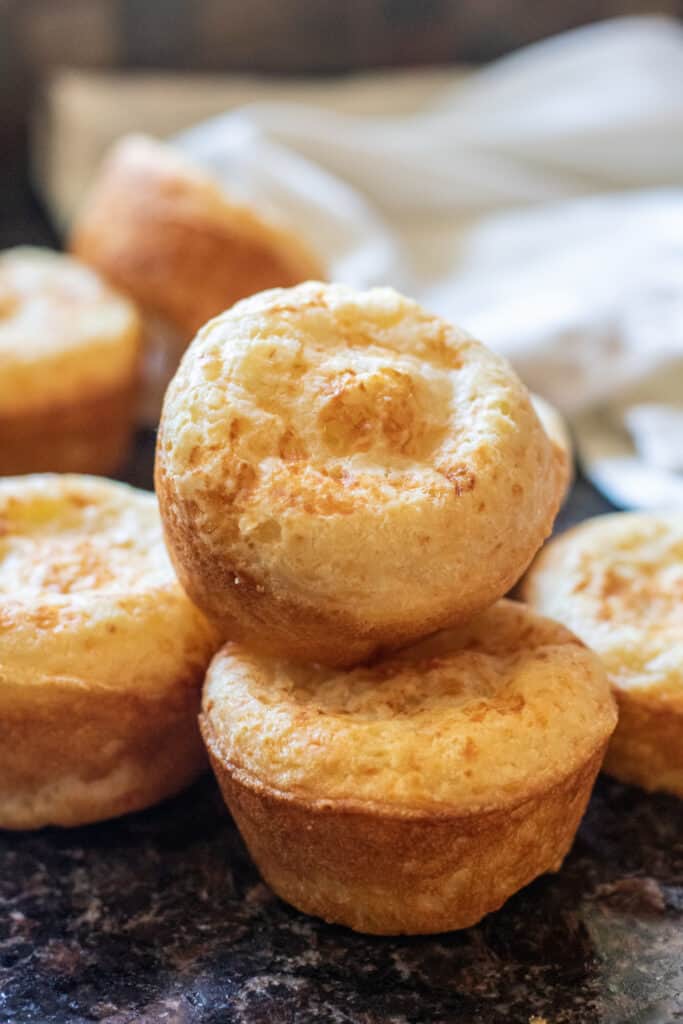 I say gluten-like because these little bites of deliciousness are made with gluten-free tapioca flour!
What is Brazilian Cheese Bread?
Pão de queijo in Portuguese means "cheese bread" and it is a new staple snack in our house now! What I love most about this bread is that it has a delightful chewy texture, kind of like Japanese Mochi.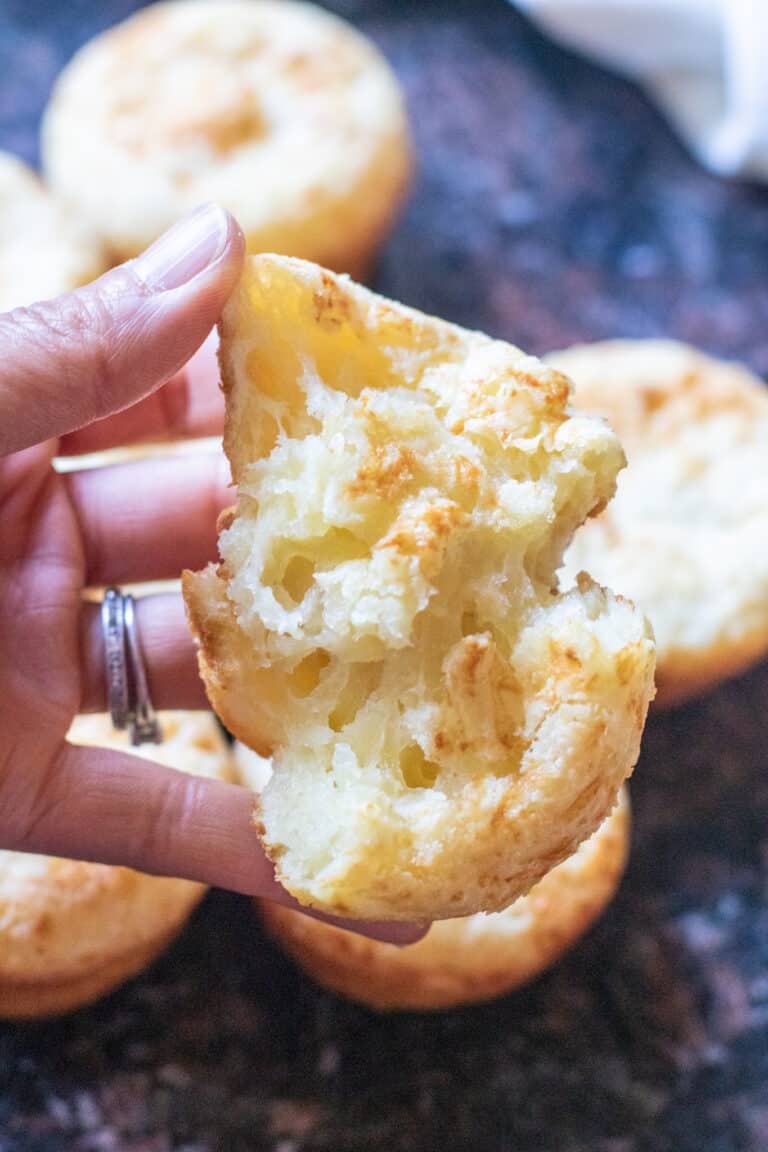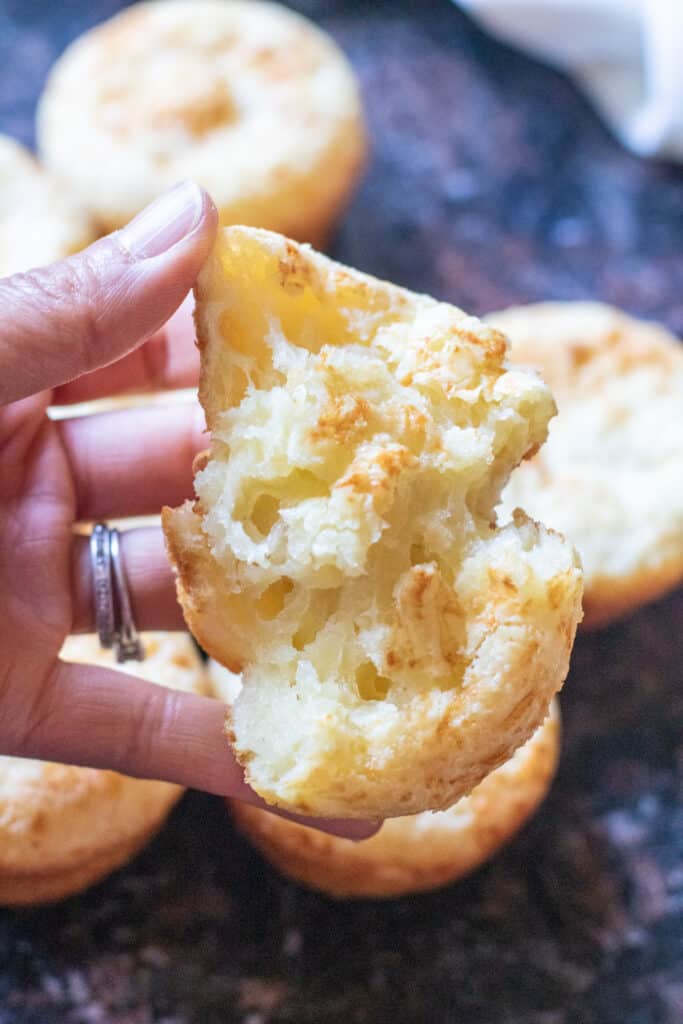 In our house, what is this Easy Brazilian Cheese Bread? Delicious, that's the only qualifier it needs. I've made multiple batches now and the girls always ask for it.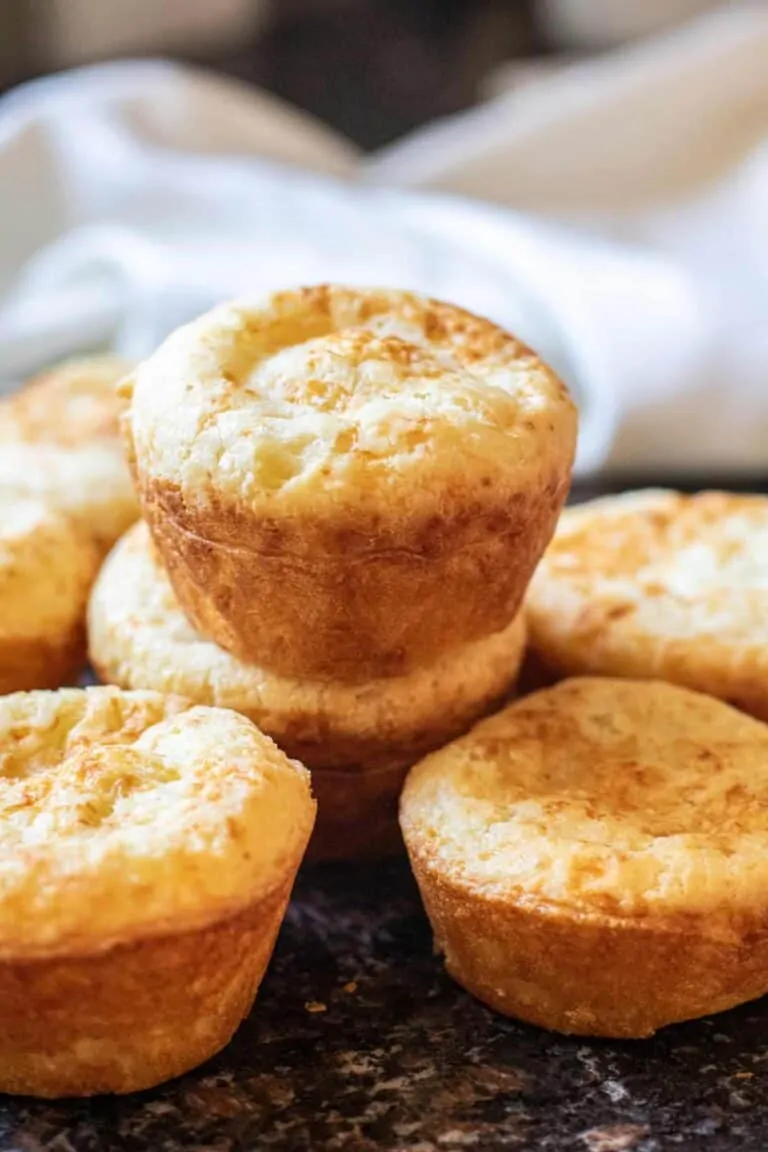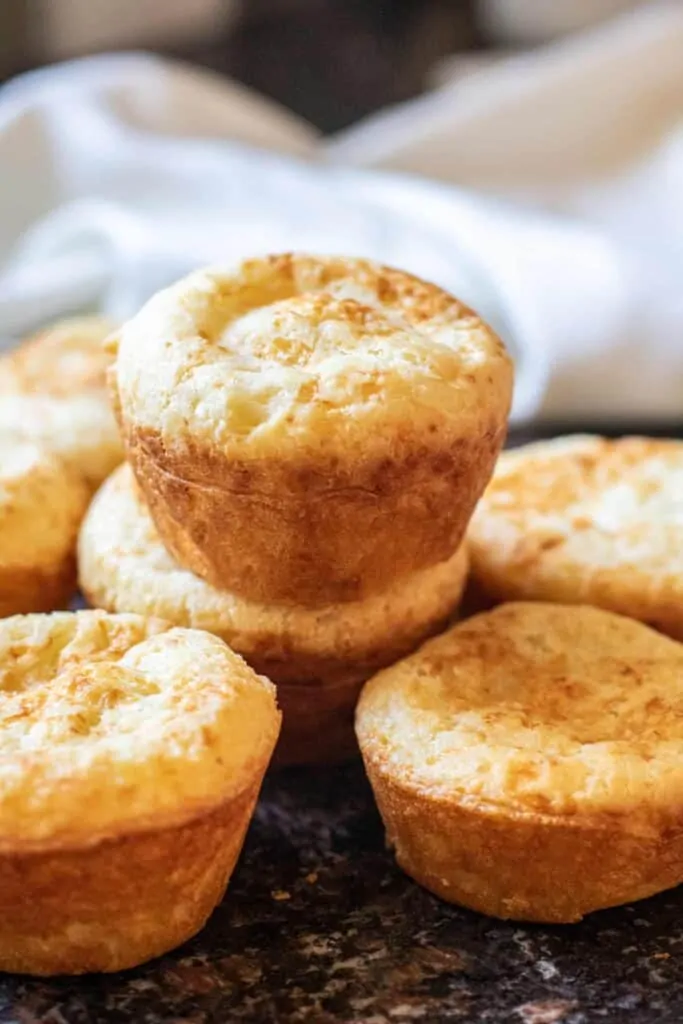 I mean how could they not? And you will, too! And when you make it, let me know on Facebook, Instagram, or Pinterest! I love hearing from you!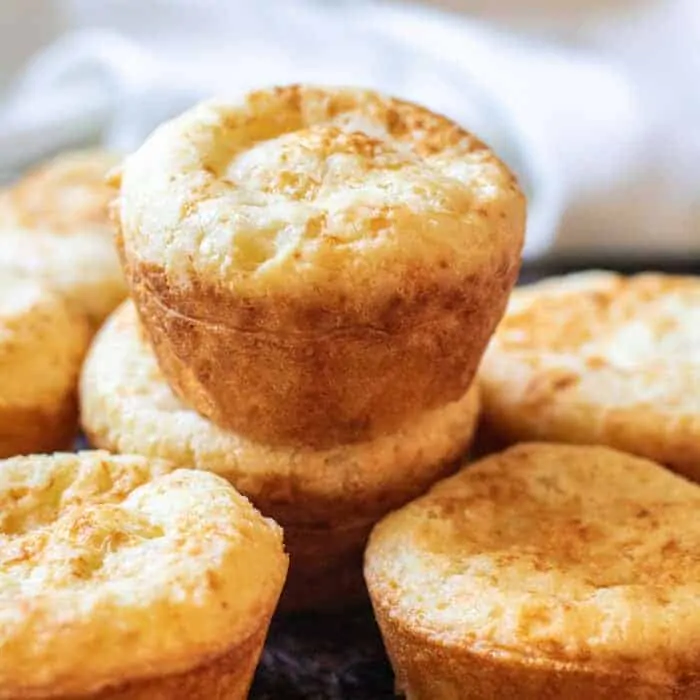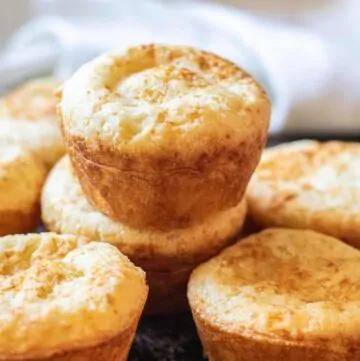 Easy Brazilian Cheese Bread
This Easy Brazilian Cheese Bread is a yeast free, gluten free bread that uses tapioca flour and only has a couple of other staple ingredients
Print
Pin
Rate
Servings:
8
regular muffins
Ingredients
1

large

egg

1/3

cup

olive oil

2/3

cup

2% milk

1/2

tsp

kosher salt

1 1/2

cup

tapioca flour

1/2

cup

Parmesan Cheese, shredded

+ more to top
Instructions
Pre-heat oven to 350 degrees.

Grease a muffin tin (regular or mini) REALLY well with butter spray or butter.

In a large bowl, vigorously whisk milk, oil, salt, and egg.

Slowly add flour, about a 1/4 to 1/2 a cup at a time and mix well until well combined.

Spoon mixture into muffin tin with the batter until almost all of the way, and then sprinkle with additional Parmesan cheese.

Bake at 350 degrees for 30-35 minutes until browned.

Remove from oven and then set to cool for at least 10 - 15 minutes. Enjoy!