This Ratatouille Pie is a classic ratatouille baked into a homemade pie crust and topped with homemade feta cheese!

This is one of the first meals my husband cooked for me when we first started dating. As he cooked away in my kitchen and I watched and drank wine, I asked him where he'd gotten the recipe from. His response: "I don't know, I just kind of made it up one night and liked it so I kept it," My response: Swoon.
It's pretty much what it sounds like: a ratatouille in a pie. Stewed vegetables in a buttery flaky pie crust? Um, yes please. Best part, you can throw in any veggies you want / have on hand. Our standard go-tos are eggplant, zucchini, yellow squash, onion, mushrooms, and some red and orange bell peppers to add some color. Then (ok this is the best part), plenty of our homemade feta cheese. I would absolutely be lying if I said that this pie was not one of the motivating factors towards us making our own feta. 'Case it was. It totally was.
And of course it wouldn't be from scratch without a homemade pie crust. Room temperature butter cut into flour with just a couple of tablespoons of water. Super easy.
Oh, and before I even made the pie crust, I sliced up the eggplant, gave the slices a sprinkle of salt, and let them sweat for about 30 minutes.
Then I made the pie crust. Then I prepped the rest of the veggies, sliced up the mushrooms, and chopped up the peppers, onions, and squash into good sized pieces. But see how I threw all the veggies into one big bowl? Don't do that. It'll be annoying later when you only need to cook some of them first before the others, speaking from experience...
But of course I didn't realize this until I started cooking and after I added the cubed eggplant to the bowl.
So then I had to pick out the eggplant, squash, and zucchini to cook first. Oops.
Meanwhile, Dan was on pie crust duty. He rolled out the dough and formed them in the pie dishes.
Once he had them ready, he gave them a little prick with a fork,
And then baked them for about 10 minutes.
I was on filing duty so I cooked the veggies by adding the rest of them: onions, peppers, mushrooms.
Then, with our homemade feta, I crumbled a layer down for the base of the pie,
and topped it with the veggies.
(Whenever we make this pie, we always make two!)
And finally, more feta crumbled on top and finished in the oven for 30 minutes.
When it's done, Ratatouille Pie!
A wonderfully healthy, savory pie!
So healthy, that we had some wine with it. Not that we ever need an excuse to drink wine with dinner. 😉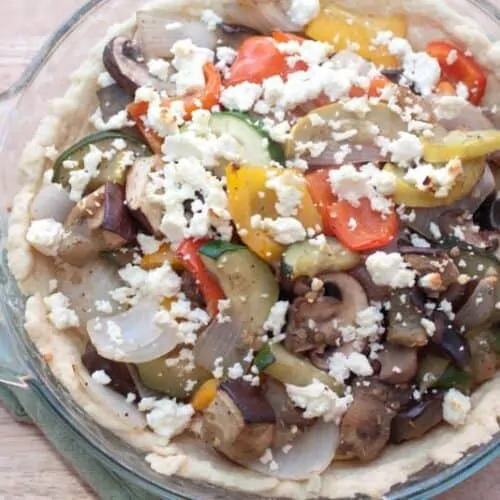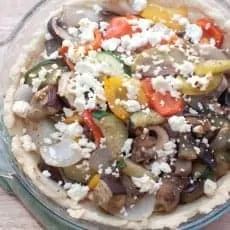 Ratatouille Pie
Ratatouille baked into a homemade pie crust and topped with homemade feta cheese!
Print
Pin
Rate
Ingredients
Ratatouille: Enough filling for 2 pies
1

eggplant: sliced

sweated, and cubed

1

zucchini

halved and sliced

1

yellow squash

halved and sliced

8

mushrooms

sliced

1

red bell pepper

chopped

1

orange bell pepper

chopped

1

white onion

chopped

7

oz

of feta cheese

1

tablespoon

of olive oil

salt and pepper to taste
Pie Crust: - 1 pie
1/2

cup

of butter

one stick room temperature

1 1/4

cups

of flour

1-2

tablespoons

of water

pinch

of salt
Instructions
Take butter out of fridge to bring to room temperature. Slice eggplant and sweat by sprinkling with salt. Let sit for at least 30 minutes then cube.

Add salt to flour and mix, then cut butter into flour. Add water and then knead until dough forms. Set aside.

Pre-heat oven to 350 degrees and heat oil in large saute pan on medium.

Add eggplant, zucchini, and squash to the pan. Salt and pepper. Cover and let cook for 7-10 minutes, stirring occasionally.

Roll out the pie dough in to a large circle to fit into pie dish. Gently lift dough, place in dish, and trim to fit. With a fork, gently pierce the bottom of the dough in a circle around the base of the pan. Bake in oven for 10 minutes.

Add the rest of the vegetables to the saute pan, cover, and cook for another 10 minutes or until the onions are translucent. Peppers may still be a bit crunchy but they should finish in the oven. Stir occasionally and salt and pepper to taste.

When pie crusts are done, remove from oven and sprinkle half of the feta down for a thin layer. Add vegetables on top filling each pie crust. Sprinkle top with remaining feta.

Bake for 30 minutes.

Serve and enjoy!