It was a vegan and gluten free kind of a dinner at our house yesterday. Mainly because the vegan / gluten free bachelorette party dinner I was supposed to make was thwarted by a weekend trip to the ICU for Nigel. So since I had all of the food I'd bought for that party and I didn't feel like going to the store, I made it for us for dinner instead. This is soooo good that we didn't miss animal products or gluten at all. My very carnivorous / gluten loving husband even said, "I will happily eat this a lot." Win!
The salsa itself, super easy. Beans, corn, cilantro, jalapeno, sweet mini peppers, cherry tomatoes, onion, cumin, salt, and lime juice mixed in a bowl. Easy.
And so colorful!
Then after a spaghetti squash is cleaned and roasted, we had our selves a couple of super hearty plates!

Nigel and Dan were both super happy to be home.
And so we ended the stressful crazy weekend with a super delicious and super healthy meal. This will definitely be on our staple list as it'll be sooo good in some homemade flour tortillas or tortilla chips!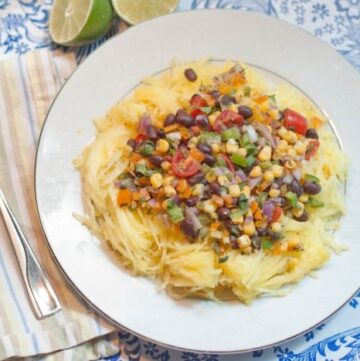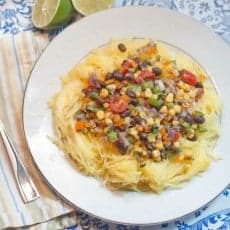 Ingredients
2

ears corn grilled

or 1 1/2 cups of frozen / canned corn

1 1/2

cups

of black beans

dried then cooked or 1 15 oz can- rinsed

1

cup

cherry tomatoes quartered

½

red onion chopped

¼

cup

cilantro chopped

3-5

sweet mini peppers chopped

1

jalapeno chopped

1

lime juiced

½

tsp

black pepper

½

tsp

cumin

¼

tsp

kosher salt

1

spaghetti squash

Olive oil
Instructions
Pre heat oven to 400º.

Slice spaghetti squash in half, clean out seeds, and then brush the sides with olive oil. Place squash open side down on roasting tray and then cook for 40 minutes.

While squash cooks, clean kernels off of grilled corn and mix corn, beans, tomatoes, onion, pepper, and jalapeno in a bowl. Add cilantro, cumin, and pepper and mix. Add salt and squeeze lime juice on top of salt and then mix together.

When squash is finished, with a fork fluff the inside of the squash and then spoon it out on to a plate. Top the squash with the salsa and serve!