Savor those fresh summer cherries all year long! Our Homemade Cherry Jam - Without Pectin is a low-sugar jam recipe that's made with just three simple ingredients and no added preservatives!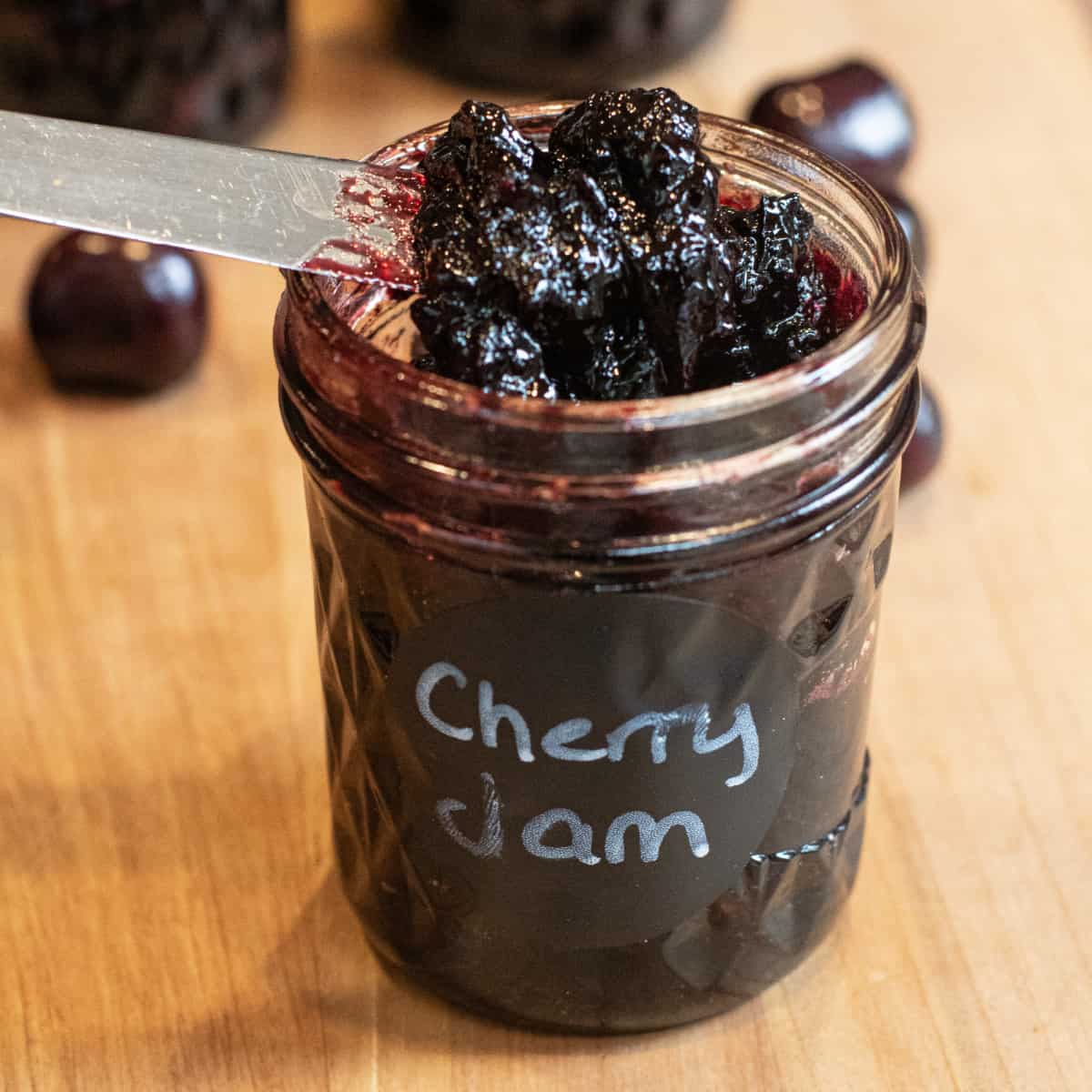 It's one of our favorite fruits of the summer!! Our Homemade Cherry Jam - Without Pectin is how we're going to savor those fresh cherries all year long! Not only is it made with only 3 ingredients, but this homemade jam recipe is one that does not use any added preservatives because cherries have enough natural pectin already.
Ingredients Needed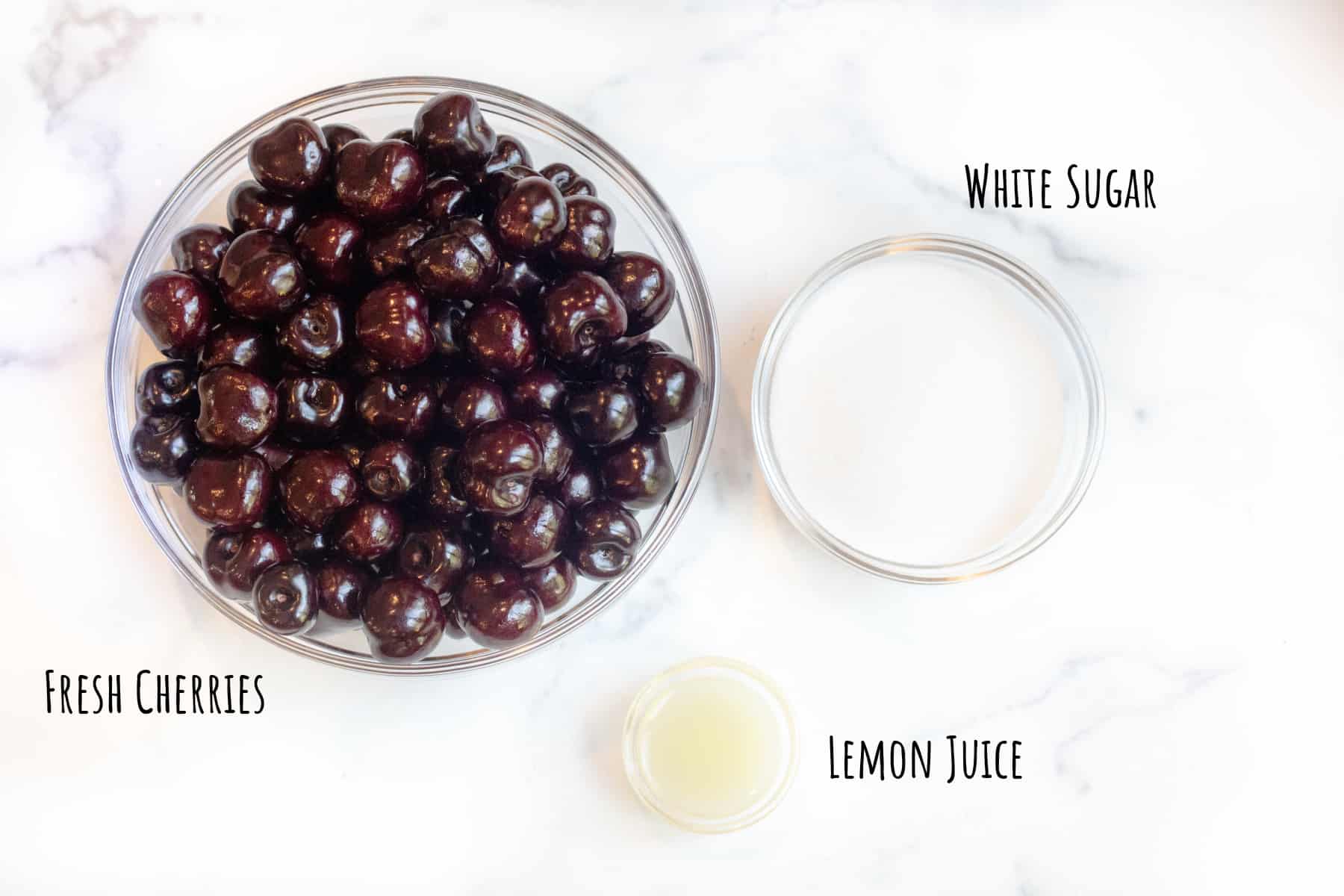 Cherries - Fresh picked are of course preferred and we absolutely love the Bing cherries from Mt. View Orchards here in Oregon, but you could also use another variety like Rainier Cherries, but we prefer to just eat those on their own because they are so amazing.
Sugar - Just a little. This cherry jam is a low-sugar jam because the ratio of sugar to jam is only 1:6, which is considered low, however, cherries are naturally a high-sugar fruit that, in my opinion, there's no need for a ton of added sugar. This way, the natural flavor of the cherries can shine.
Lemon Juice - Just enough to bring up the acidity a little bit for the canning process, and highlight the cherry flavor.
Low Sugar and Pectin Free Jam
As long as you have a little time, there's no need to add the preservative pectin to your jam. It helps the jam thicken faster, but that can easily be done by just allowing enough time for the natural pectin in the cherries to release during the cooking process. Also, naturally occurring in cherries, sugar! Cherries land toward the top of the list of sugar-packed fruits, and so because of that, this is a low-sugar homemade jam because there is plenty of natural sugar in the cherries to make this a sweet jam but without a ton of processed sugar.
Easy to Make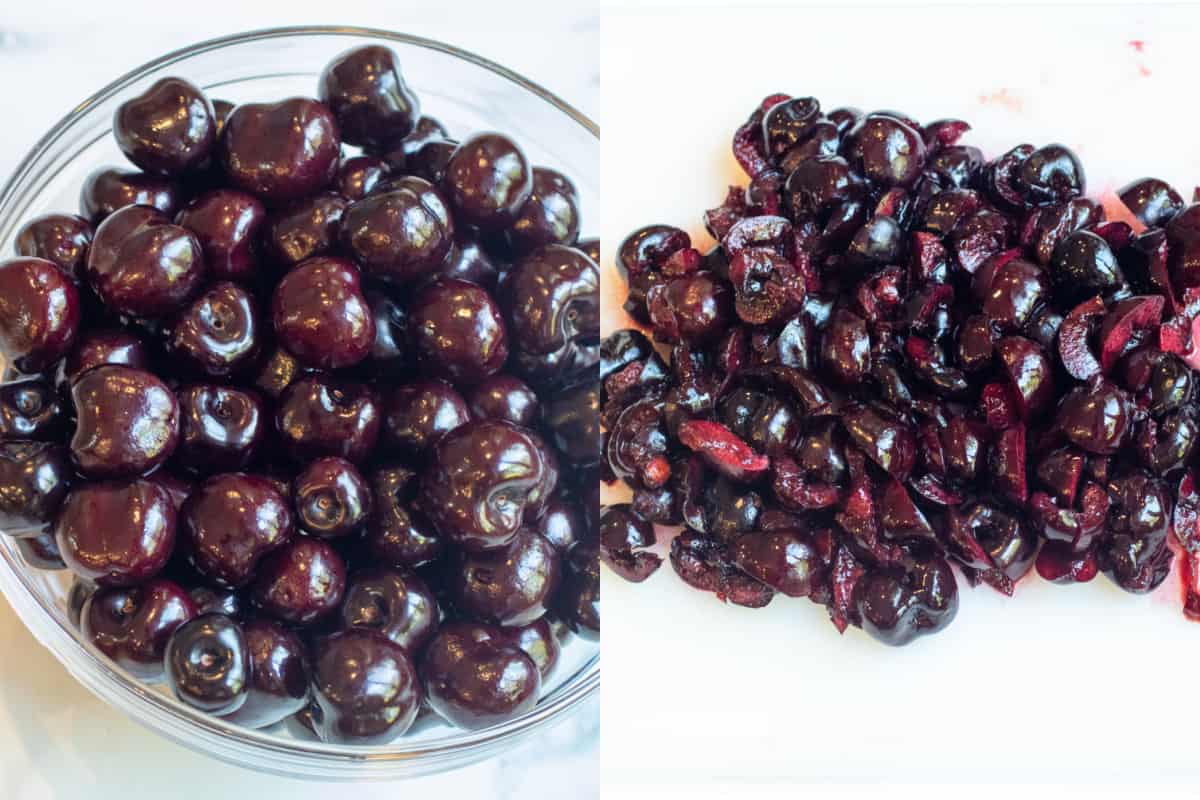 As with all of our homemade jam recipes, this Cherry Jam is super easy to make! The hardest part - pitting the cherries! Make your life way easier by getting a cherry pitter. They're inexpensive and worth every cent for how much easier it makes your cherry-filled life!
Once the cherries are pitted, you can either give them a rough or fine chop. The rougher the chop and the larger the pieces of cherries are left intact, then the larger the chunks you'll have in your jam, if that's your thing. If you want a smoother jam, then give the cherries a finer chop.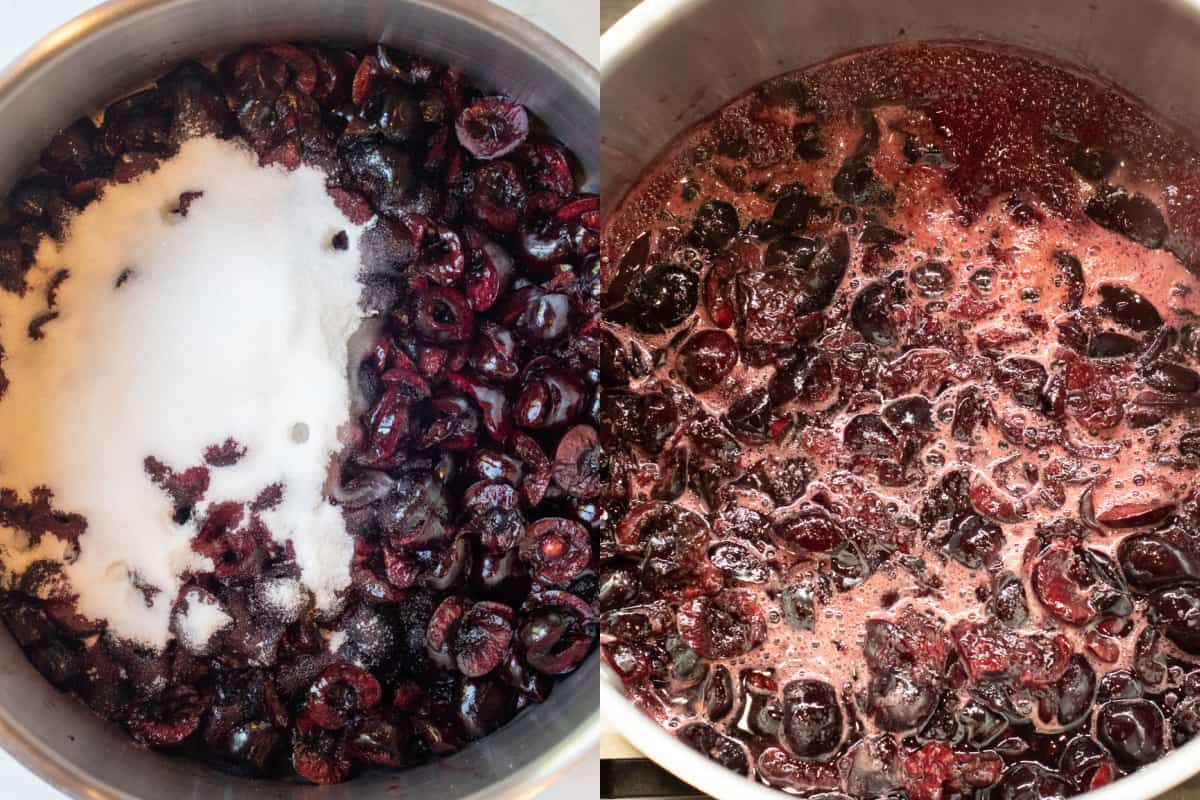 Once your cherries are ready, then it's time to just let them cook down with some sugar and lemon juice. Give them a gentle mash, and a stir when they start to foam, but otherwise, you can just leave them to cook down and thicken as that natural pectin is released.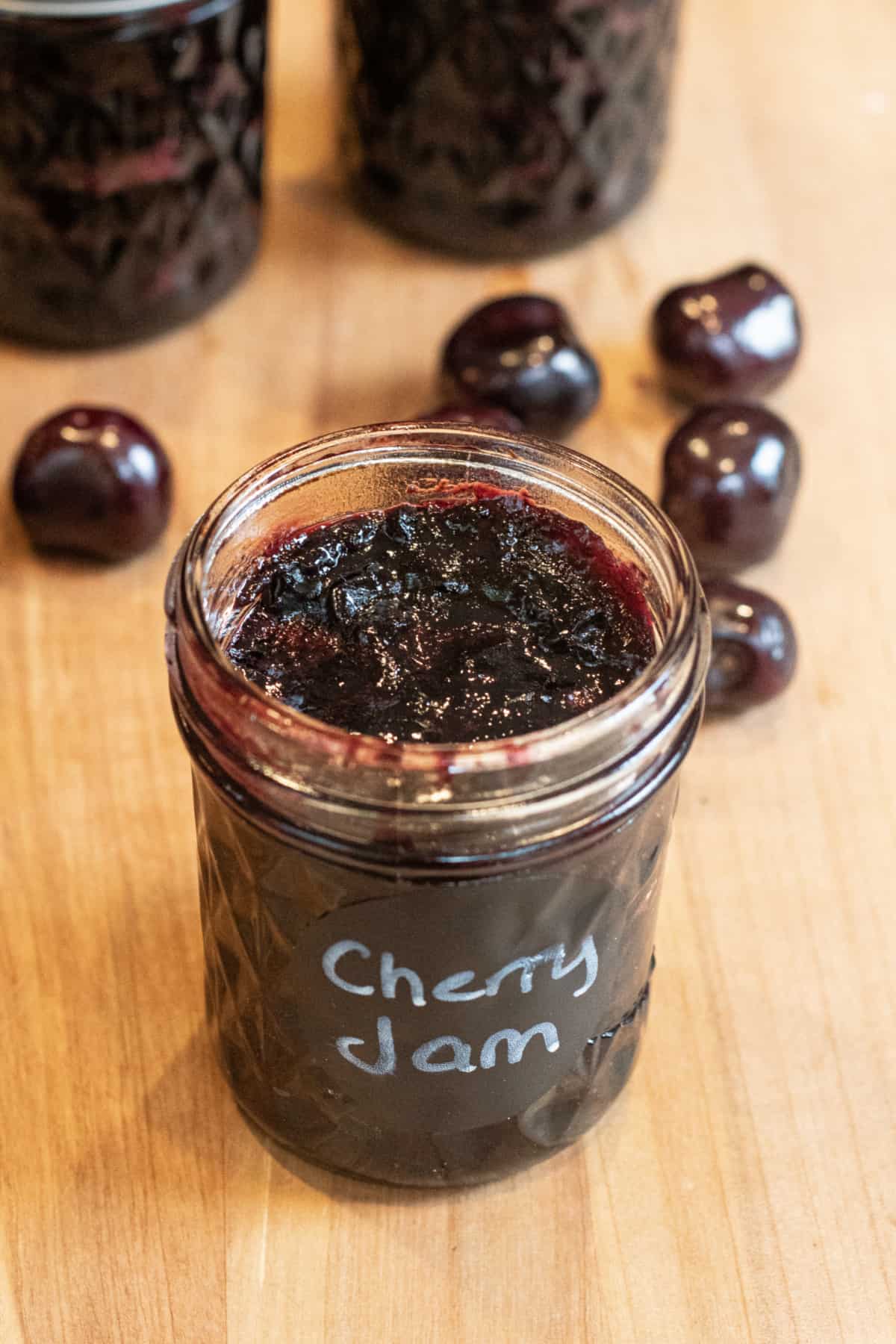 Add them to some sterilized jars if you're planning to can them, or just store them in the fridge as this homemade cherry jam will last in the fridge for up to 3 weeks.
Jam Making Tips
Can I use frozen cherries?
Yup! You'll want to macerate (soften) them in some lemon juice first though.
Don't use butter!
Some people swear by using butter to help reduce the foaming when the fruit cooks, but I think this is totally unnecessary. Plus, a good rule of thumb is to not water bath anything dairy.
Use a large pot
To deal with the issue of foaming while cooking, we use a larger pot to give plenty of space. Once the cooking fruit starts to foam, just give it a good mix, but by using a larger pot, you'll reduce the chance of it making a mess on your stovetop.
Knowing when the Jam is done
The best way is to use an instant-read thermometer to test to see if the jam has reached 221° F. You can also use the gel test by placing a ceramic plate in a freezer when you start to cook your jam. When you want to test, add a teaspoon of the jam to the plate and return it to the freezer for 3 minutes. At the end of the 3 minutes, push the jam with your finger, and if the top wrinkles a bit when pushed, then it's done.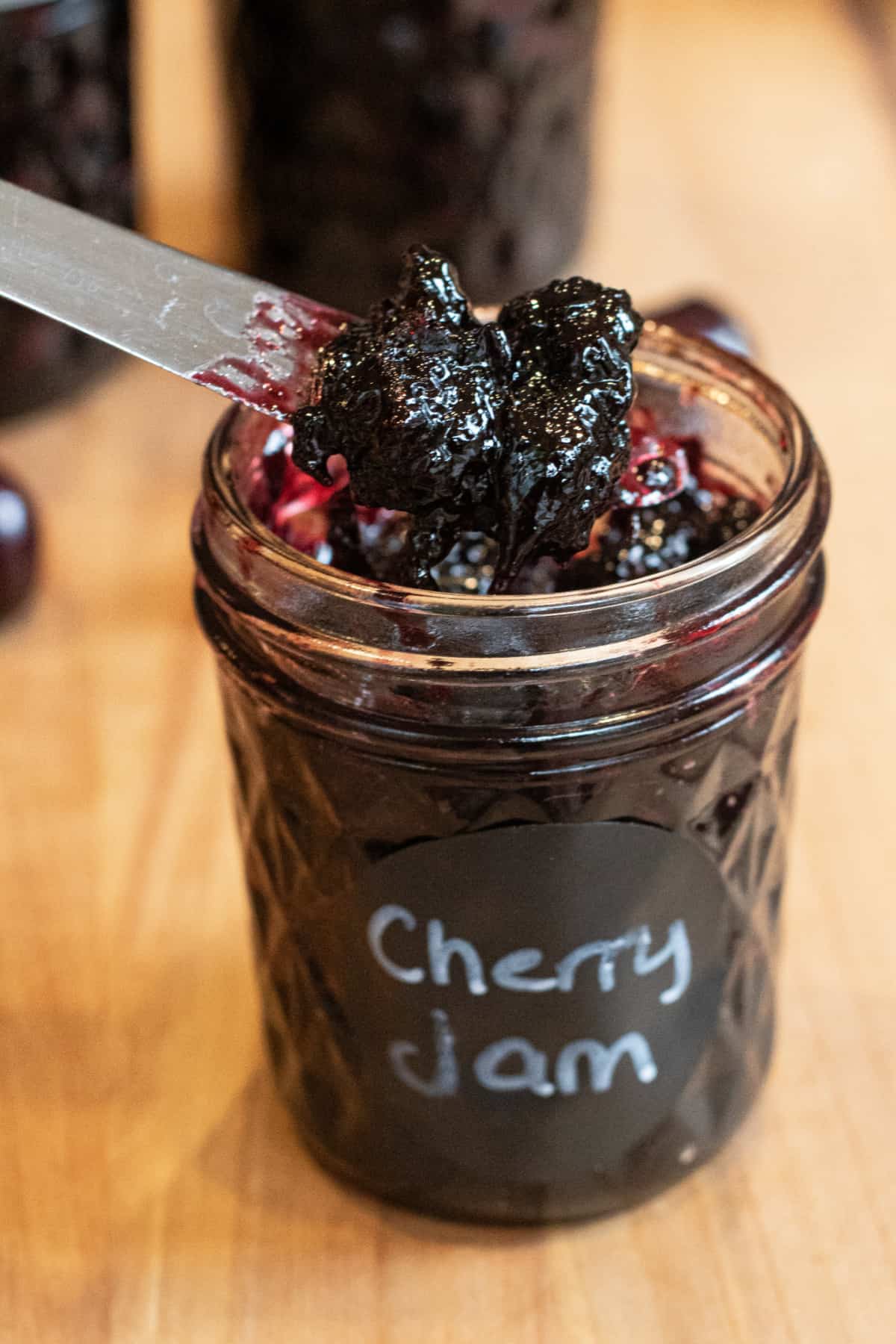 You Also Might Like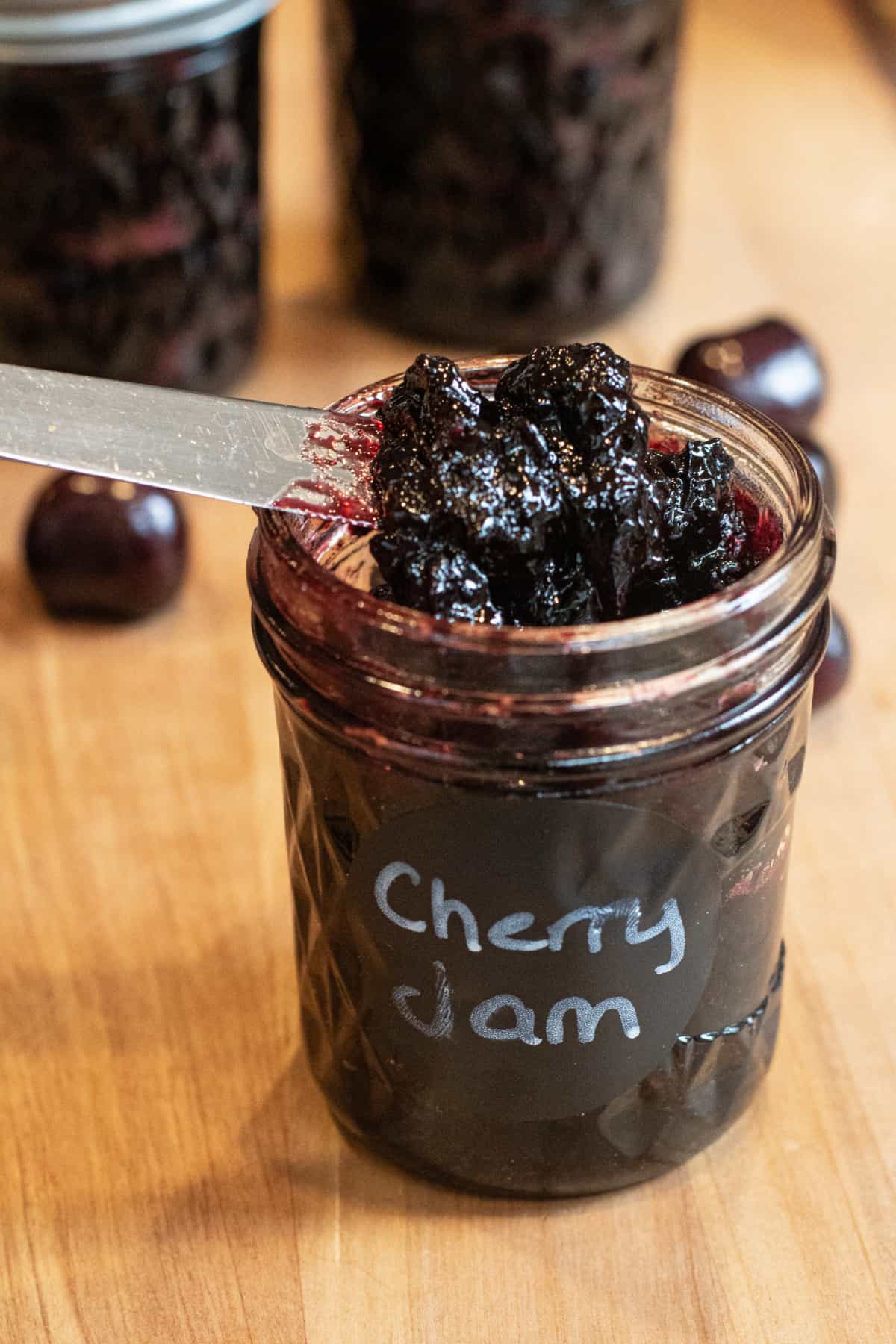 Cherry season is one of our favorite seasons of the year, but it's always gone too fast. With this Homemade Cherry Jam recipe, we'll be enjoying those summer cherries all year long! Plus there's nothing like fresh jam for all of those school-year PB&Js!
Enjoy! As always, if you make this recipe or any of my others, I love to hear what you think! Leave a comment below, email me, or you can find me on Facebook, Instagram, and Pinterest!
If you want to see more, be sure to sign up for my 5 Easy Ways to Start Cooking From Scratch!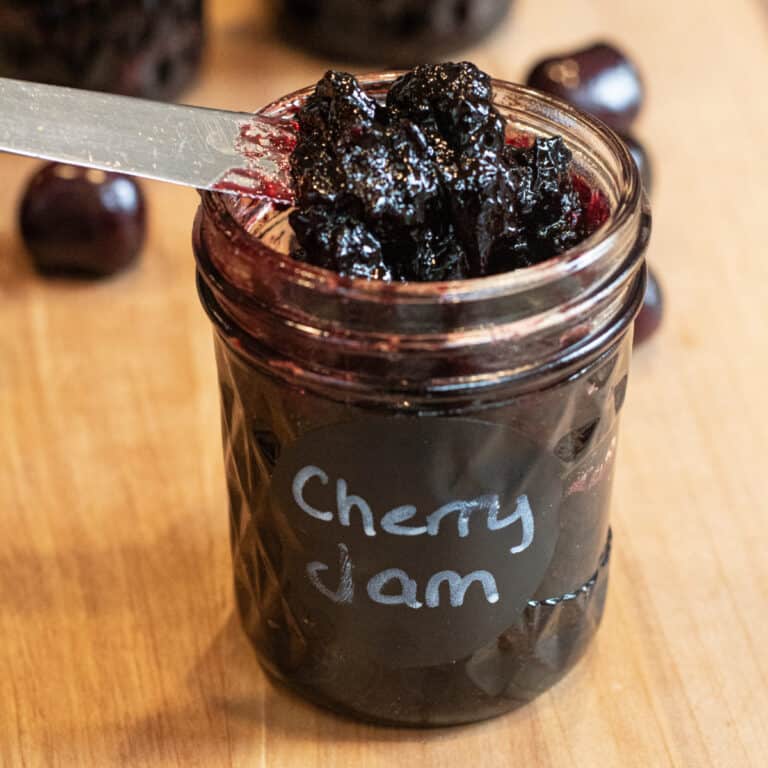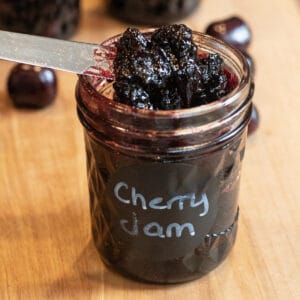 Homemade Cherry Jam - Without Pectin
Savor those summer cherries all year long!
Print
Pin
Rate
Ingredients
3

lbs

fresh cherries

approximately 6 cups pitted

1

tablespoon

lemon juice

1

cup

sugar
Instructions
Prep Cherries: Rinse cherries and remove any that may be bruised or discolored. Use a cherry pitter to pit cherries and then, in batches, chop up cherries on a cutting board with a large knife.

Cook Cherries: Add the cherries, lemon juice, and sugar to a large pot and heat to medium. Bring it all to a gentle boil and then turn the heat down to medium-low to simmer. The cherries will foam, just stir occasionally to reduce the foam.

Let simmer until the jam begins to gel, or when the temperature of the jam reaches 221° F.

Can: Add to strealized canning jars and can with a water bath or store in fridge or freezer.
Notes
The nutritional value is approximately per oz or 6 servings in 1 6 oz jar. Storage Fridge: Store in an airtight container in the fridge for up to 3-4 weeks. Freezer: Store in a freezer-safe container and freeze for up to 3 months. Canning: Use safe water bath canning methods to can and store this jam for up to 1 year in a cool dry place. Substitutions Cherries: You can use frozen cherries in place of fresh ones by adding the thawed berries to a bowl with lemon juice. Let it all macerate (soften) in the lemon juice first and then add to the pot with sugar. Lemon Juice: For this recipe, we prefer to use concentrate to ensure high acidity, which can vary if using fresh lemons. Sugar: This is a low-sugar jam because cherries themselves are very sweet and high in natural sugar. You can add up to 2 cups for a very very sweet jam. Tips Pot: Use a larger pot because the berries will foam as they reduce, to prevent foaming over.
Nutrition
Calories:
91
kcal
|
Carbohydrates:
23
g
|
Protein:
1
g
|
Fat:
0.2
g
|
Saturated Fat:
0.03
g
|
Polyunsaturated Fat:
0.04
g
|
Monounsaturated Fat:
0.04
g
|
Sodium:
0.1
mg
|
Potassium:
169
mg
|
Fiber:
2
g
|
Sugar:
21
g
|
Vitamin A:
48
IU
|
Vitamin C:
6
mg
|
Calcium:
10
mg
|
Iron:
0.3
mg