With just 4 ingredients and 30 minutes you can make your own Homemade Andes Mints!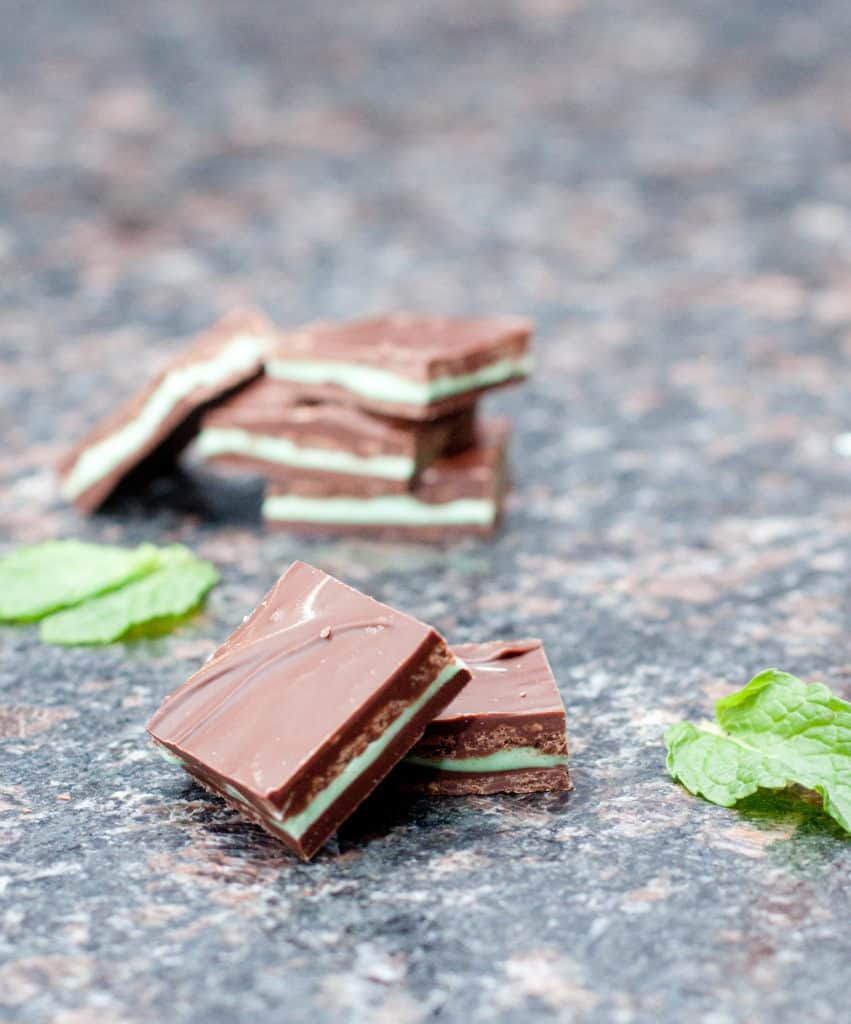 Heelllloooooooo!!  Hello?  Anyone still there?  I know, I know it's been crickets around here the past couple (eek!) of months.  It's like when you haven't talked to that friend in soooo long and you know you need to call her but it's been soooo long that now it's kind of awkward, so you keep putting off calling her until finally it's just been SOOOO long that it's finally ok to call again because now it's been long enough to just acknowledge what a terrible friend you've been for not calling and it's not so awkward anymore.  Not that I've ever done that… but Hi!  I know I've  been a terrible friend and haven't shared any new recipes in so long so you know I knew I had to come back with something good.  And oooh boy, this is a good one.  Like so good that I literally made them 4 times to make sure they were perfect.  So friends, after being gone for so long, I give you Homemade Andes Mints!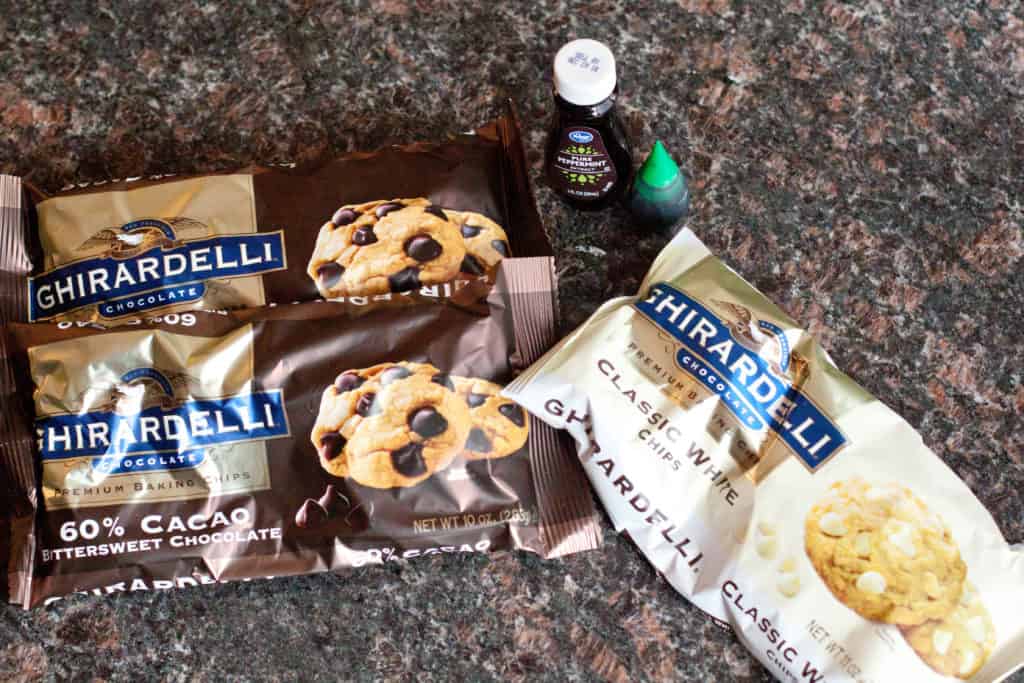 I've been wanting to make these guys for so long after seeing this recipe.  And so finally, after all the winter travelling and visiting of family and friends we've been doing the past month, I finally got around to making them… four times. ?
First, I melted the chocolates in the oven instead of a double boiler by separating them into their own oven safe bowls.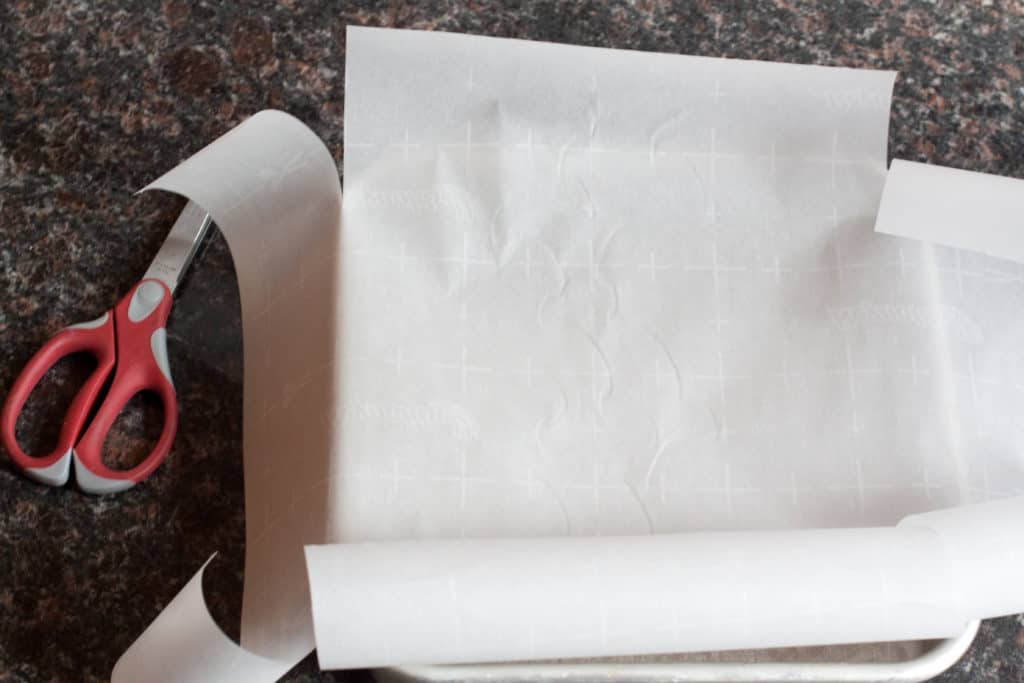 Then, while they slowly melted, I cut out a piece of parchment paper for my pan.  I used a square 9X9 pan, but you could also use either a small jelly roll pan or standard sized one and double the recipe.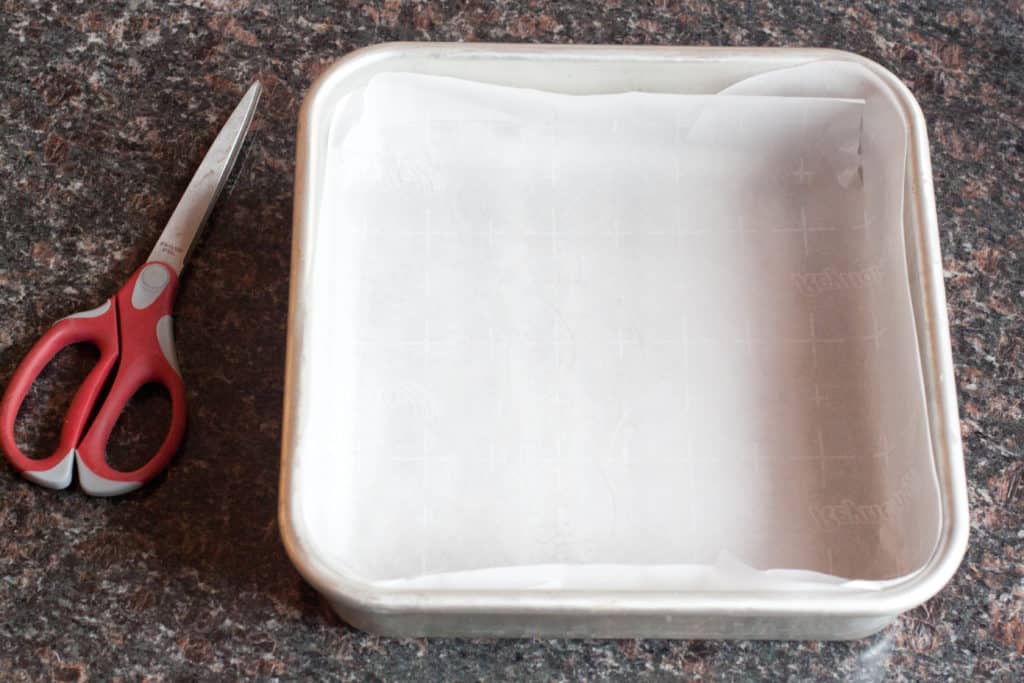 Trimmed down and ready to go.
The time for the chocolates will really depend on your oven.  I pre-heated mine to convection bake of 200 and then set it to warm before putting the chocolate in.  Our oven is brand new but I know that if we still had our old ovens, I would have just left it at 200 degrees because they didn't always stay to temp. Although some ovens "warm" setting is 200. Either way, as long as it's low there's little risk of burning the chocolate.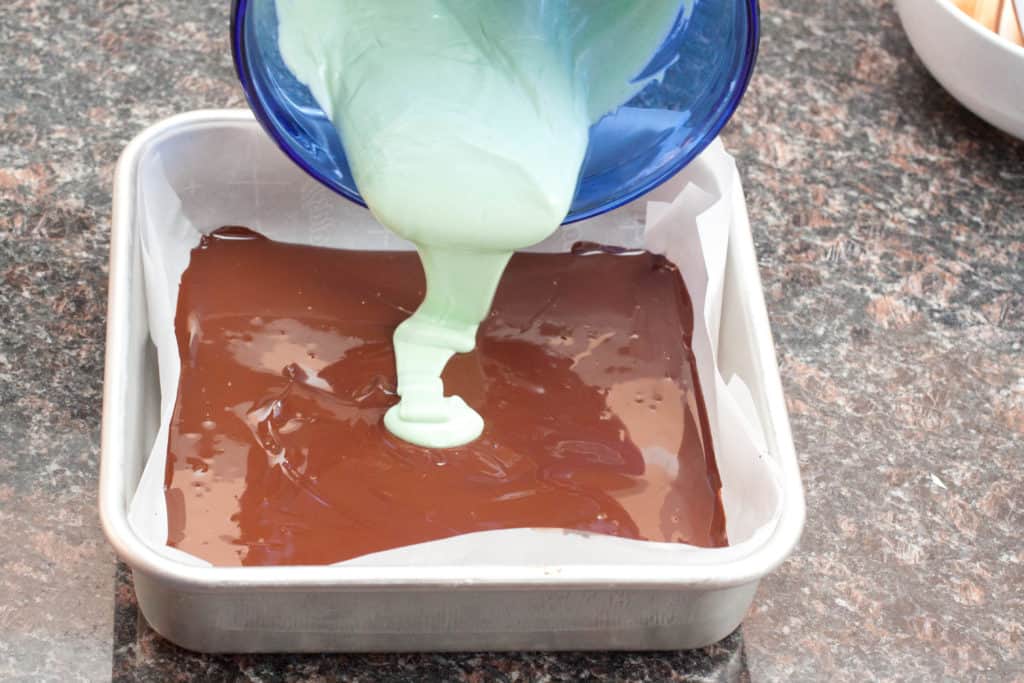 For the first layer, I took out one of the chocolate bowls, added 1/4 teaspoon of peppermint extract, gave it a good mix, and then poured it into the pan.
 Now here is the 'hardest' part of the recipe.  Adding the second white chocolate layer has to be done at just the right time.  Waiting until the first layer fully cools and hardens means that the second layer wont stick to it.  But adding the second layer too soon will result in the two chocolates just mixing.  What worked best for me is 2 minutes after I did the first layer, I took the white chocolate out of the oven and prepped it by mixing in 1/4 teaspoon of peppermint extract and 4 drops of green food coloring.  This took about another minute. Then I poured the second green layer on top, spreading it out over the first layer, then gently spreading it being careful to not mix the still melted first layer.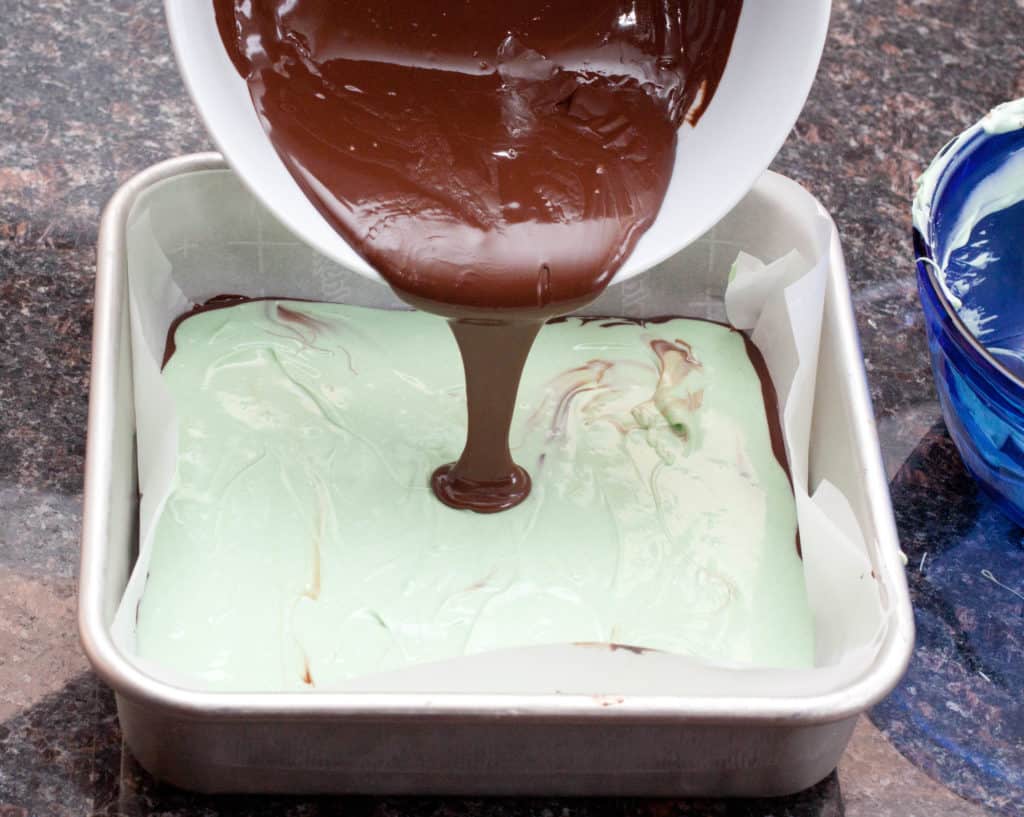 Adding the third and final layer was the same process.  After 2 minutes of adding the middle layer, I took the final bowl of chocolate out of the oven, mixed in the peppermint extract, and then poured it on top.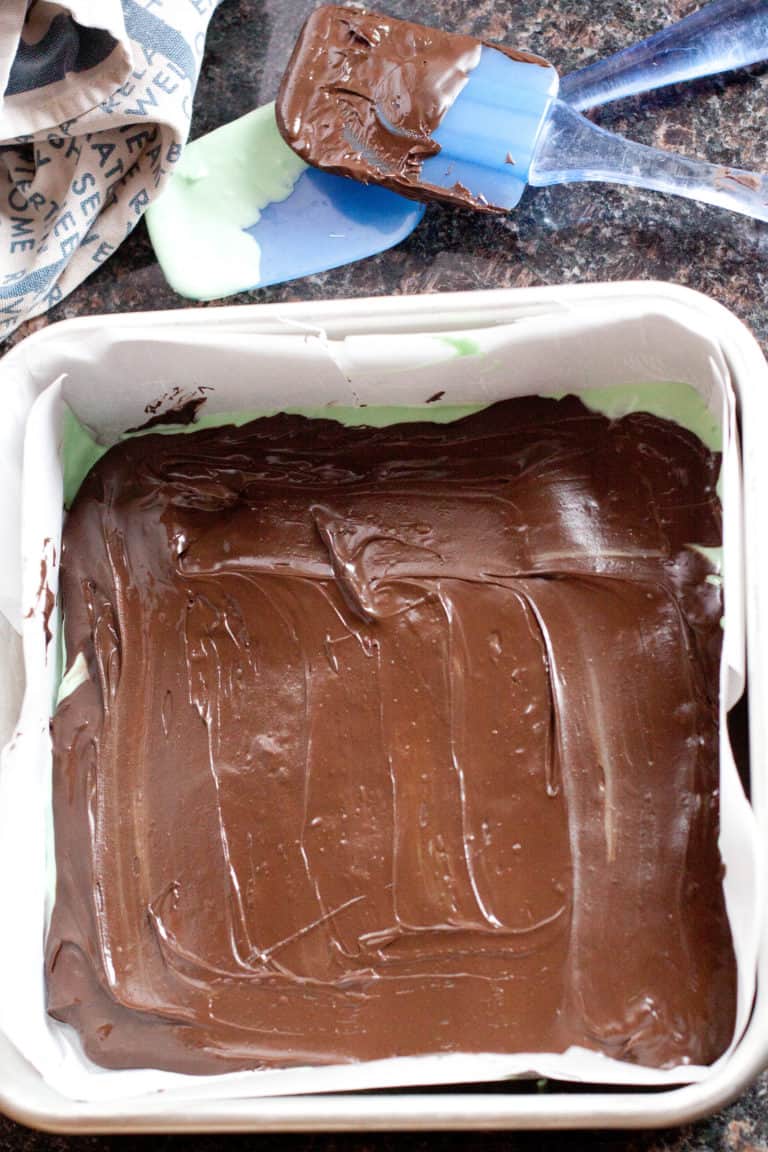 Left to cool (not in the fridge) and you're good to go!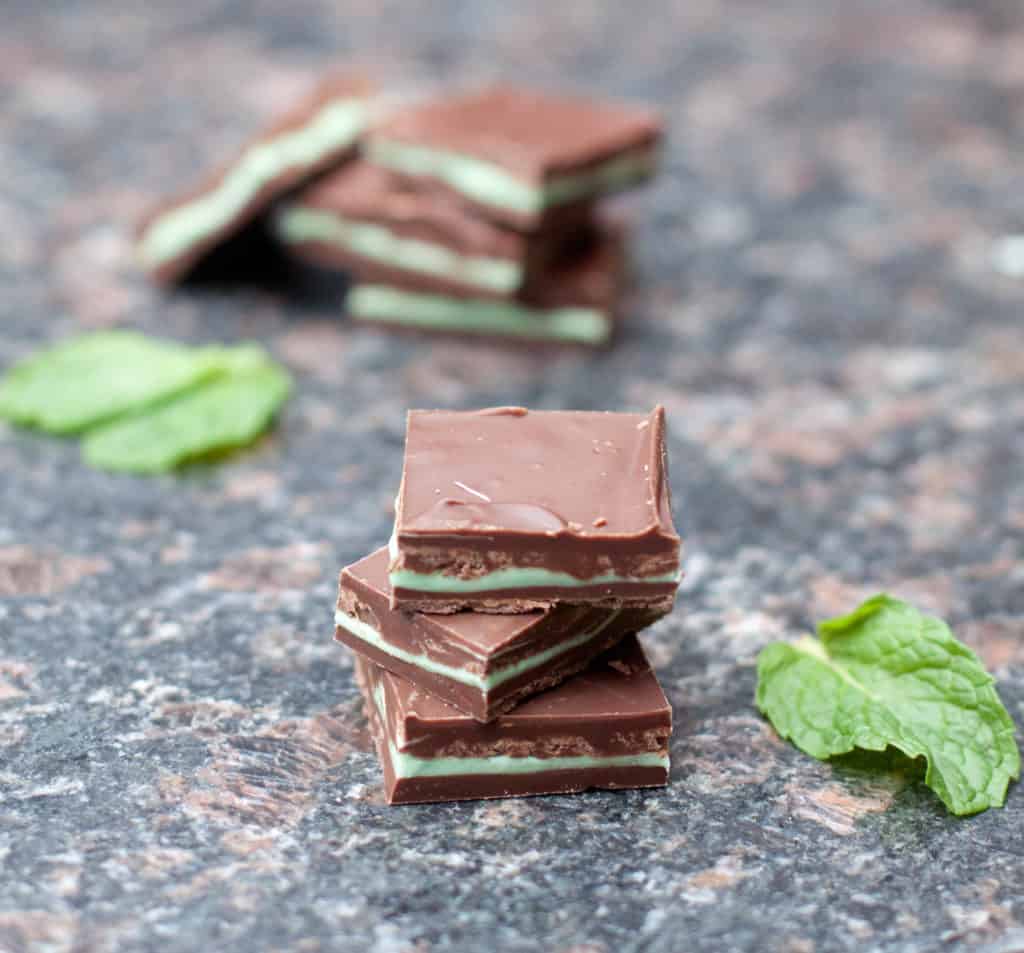 Homemade Andes Mints!
The layering isn't perfect, but the taste nearly is!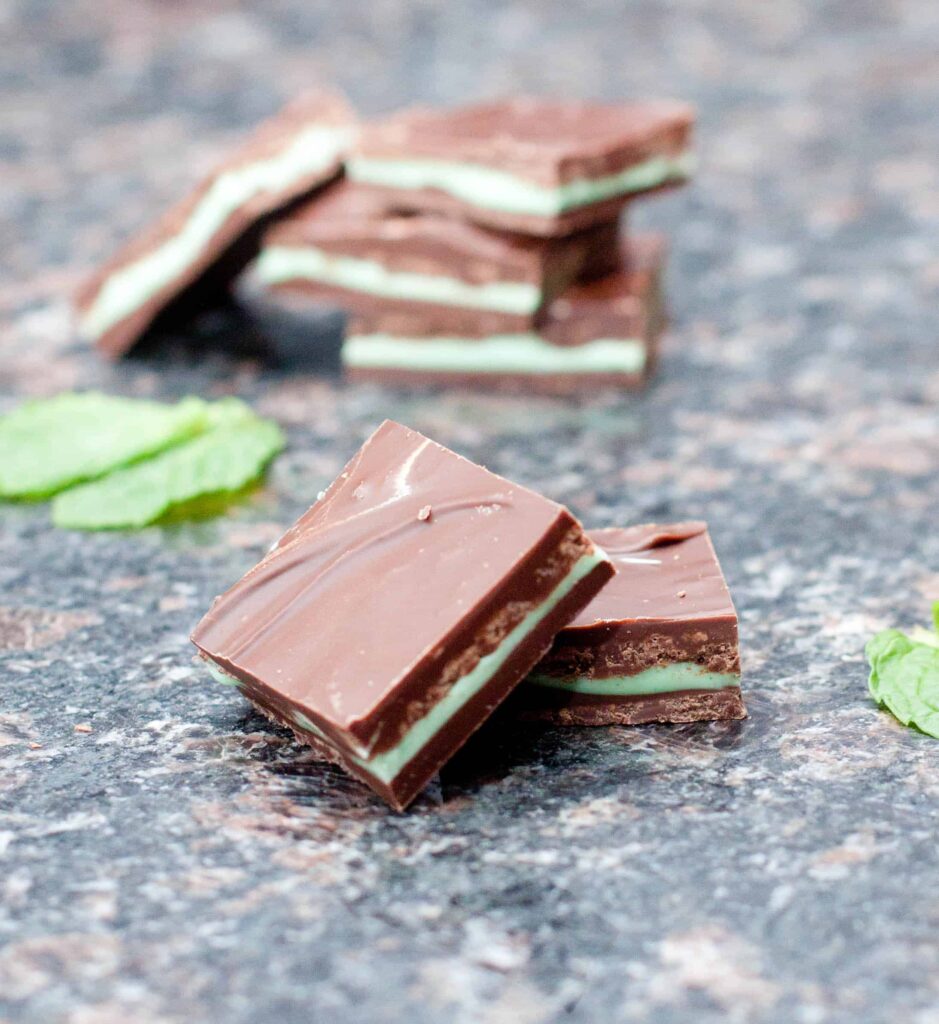 These would make a great post party treat to wrap and send home with guests or for Easter.  Make some Inside Out Peanut Butter Cups, Crunch Bars, or Mini Almond Joys and you can have an all homemade Easter Candy basket!  And the real reason why I made these?  To make one of my favorite cookies, Andes Stuffed Sugar Cookies!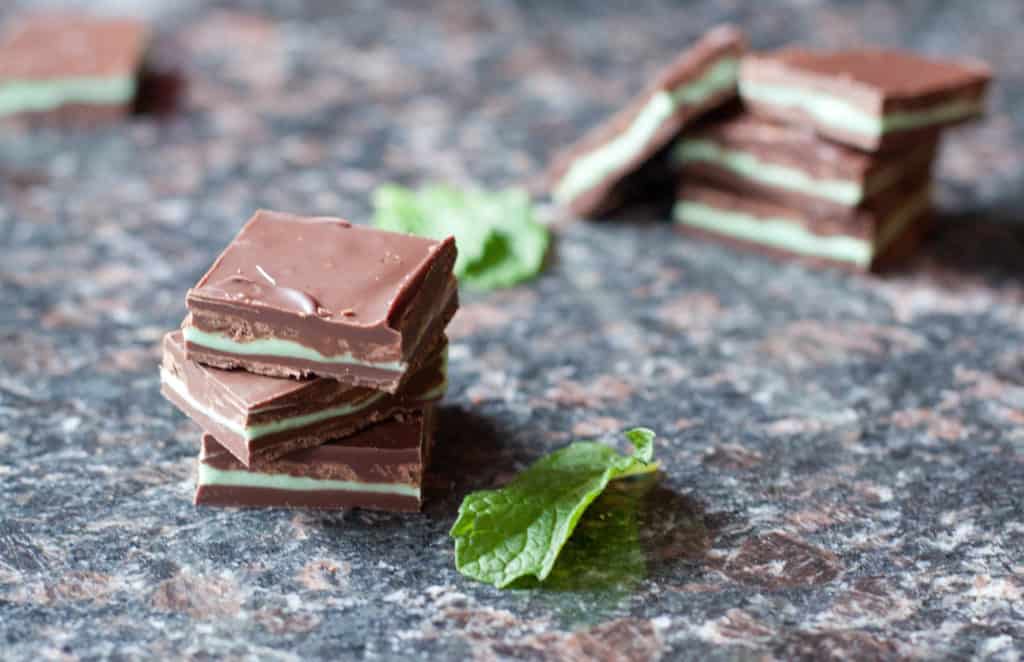 And don't forget to follow me on Pinterst, Instagram, and Facebook!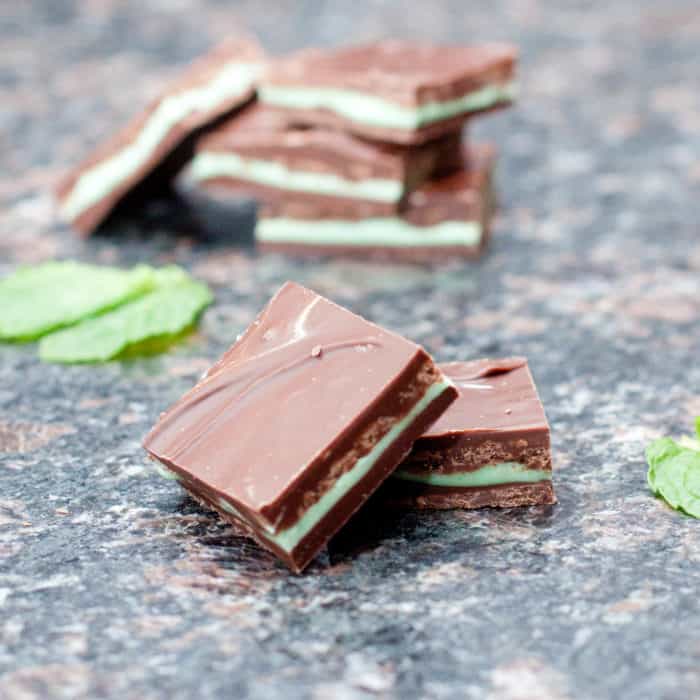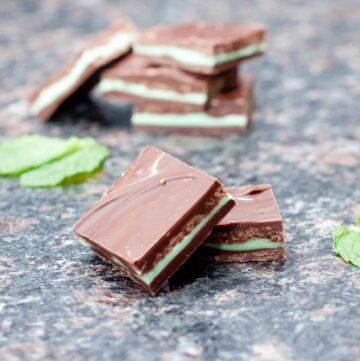 Ingredients
12

oz

dark chocolate chips - divided

or milk or semi, whatever you'd like!

7

oz

white chocolate chips or vanilla candy melts

3/4

teaspoon

pure peppermint extract - divided

4

drops of green food coloring
Instructions
Pre-heat oven to 200 degrees and then set to warm.*

In 3 small to medium oven safe bowls, add 6 oz of each of the chocolate chips and the 7 oz of white chocolate chips to separate bowls and place in oven.

Line either a small jelly roll pan or a 9X9 baking dish with parchment paper. Cut the four corners of the parchment paper to line pan or dish evenly and trim to fit.

After about 15-20 minutes, remove one of the chocolate bowls, add 1/4 teaspoon of peppermint extract, and mix well.

Pour into dish and smooth to an even layer.

After 2 minutes, or before the chocolate layer cools and goes matte take out white chocolate bowl, add 1/4 teaspoon of peppermint oil and 4 drops of food coloring and mix well.

Gently pour white chocolate over the first layer and smooth evenly with a spatula over the chocolate layer, careful to not mix the two layers.

Wait another 2 minutes an then take the final bowl out of the oven and then mix with last 1/4 teaspoon of peppermint oil and gently pour over middle layer and evenly smooth out.

Let cool at room temperature until the top of the last chocolate layer completely turns from glossy to matte.

Remove parchment paper from pan to a cutting board, and with a very sharp knife, cut into long strips and squares or rectangles of desired size.

Enjoy!
Notes
*Or if you have a oven that runs on the cool side, just keep at 200 degrees. Some ovens set at "warm" are at 200 degrees anyway.