Perfect for the changing seasons, this Winterberry Spice Cocktail from The Snug Club is everything you want in a winter cocktail. From the bright, fresh citrus, the warming cranberry spice of the syrup, to the sugar plum cinnamon rim, you'll be refreshed and nostalgic all in one sip! It's the perfect way to cozy on into winter.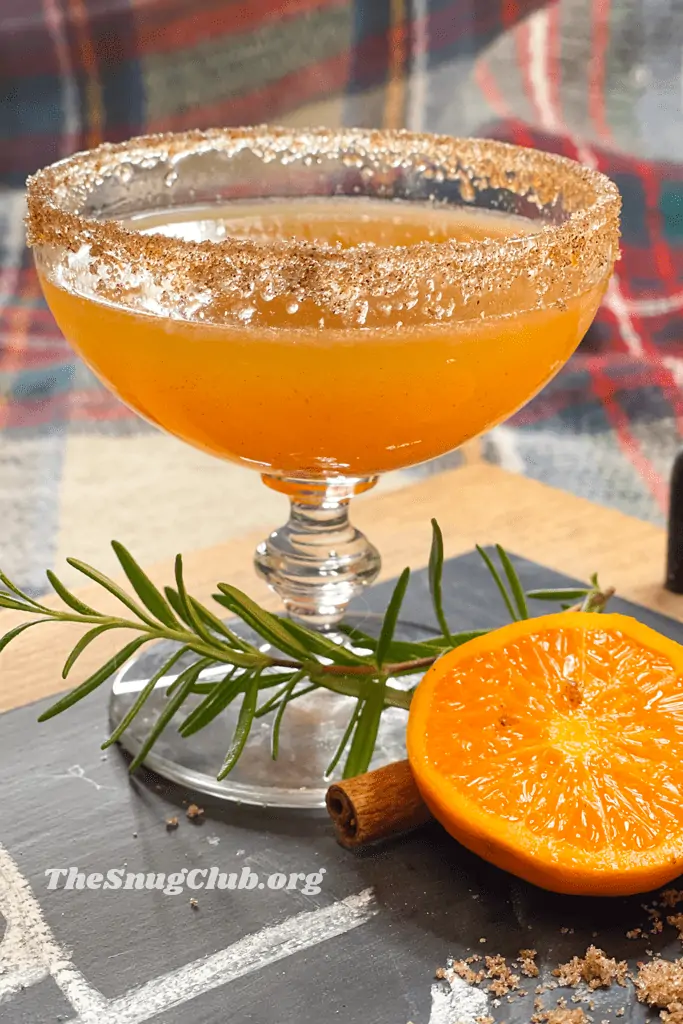 Friends! I am so so so excited to share with you today this Winterberry Spice Cocktail, courtesy of my girl Fiona over at The Snug Club. It is a winter cocktail that she specifically designed to help celebrate the Winter Solstice and ring in winter, and it is soooo delicious.
Another cocktail was way overdue here at SFS, and so I'm so excited to partner with The Snug Club to share with you all the recipe for this winterberry delight that can be found in their inaugural Winter Solstice Box!
What is the Snug Club?
The Snug Club is a local Oregon, woman-owned small business that's fostering creativity and community. Born from the owner, Fiona's Irish heritage where the Pub is the hub of the community, and fueled by her fierce and incredibly talented creativity and gregarious and connective spirit (that just unites and, quite honestly, just gives you the warm and fuzzies when you're around her), The Snug Club is just the beginning to what will eventually be a makers pub in little adorable McMinnville, Oregon - The Snug.
So, if you've found that your creativity has hit a roadblock lately or that you just don't know how or where to start, the quarterly boxes from the The Snug Club are the perfect way to not only give life to your own creativity but also join a community of creators! Even better, not only do you get everything you need to create beautiful crafts, but you also receive ingredients and the instructions to create a gorgeous (and delicious) drink!
I was lucky enough to do some testing of the goodness in the first Snug Club box last month with a group of friends, and I believe in this business so much (and am also here for lifting up other women), that when Fiona said she would be willing to share her recipe for this Winterberry Spice Cocktail that comes in her first box, I was so honored - and excited - to be able to share it with you all!
Ingredients Needed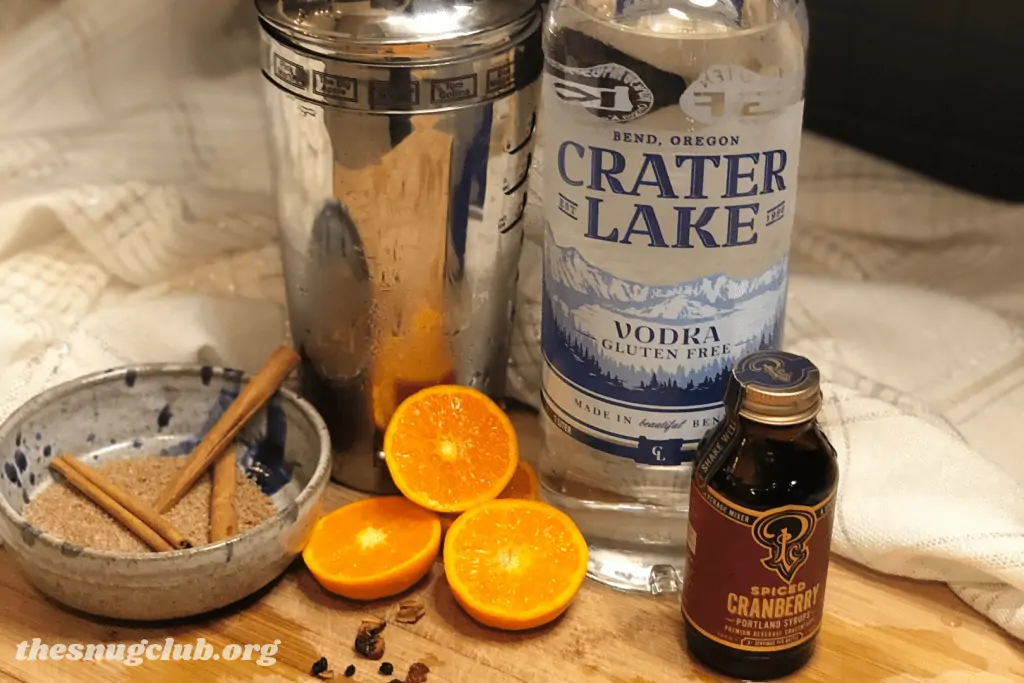 Another reason to love a local business like The Snug Club is their commitment to showcasing and lifting up other local businesses! And let's be honest, this holiday season, the more we all can do to shop local, the better.
Vodka - This drink is a lovely lil' vodka drink and we love to use a local favorite, Crater Lake Vodka which is just a smooth and cool as the crater lake it's named for!
Cranberry Spice Syrup - While the vodka may be the heart of the drink, this syrup from the Portland Syrups is the soul! It is a autum rich syrup made with cranberry, plum, and mulling spices. It is sold locally in Portland or on their website and here on Amazon.
Orange or Mandarin Juice - Some fresh juice to add a kiss of bright citris.
Club Soda or Soda Water- The perfect topper to add a little carbination.
Garnish - The fun of any fancy cocktail! This drink is so delightful with a little rim of cinnamon and sugar, dried orange, or fresh rosemary!
Make it a Mocktail! Vodka is totally optional! Even if you omit the alcohol and you'll have a magical mocktail that tickles all the holiday season tastebuds!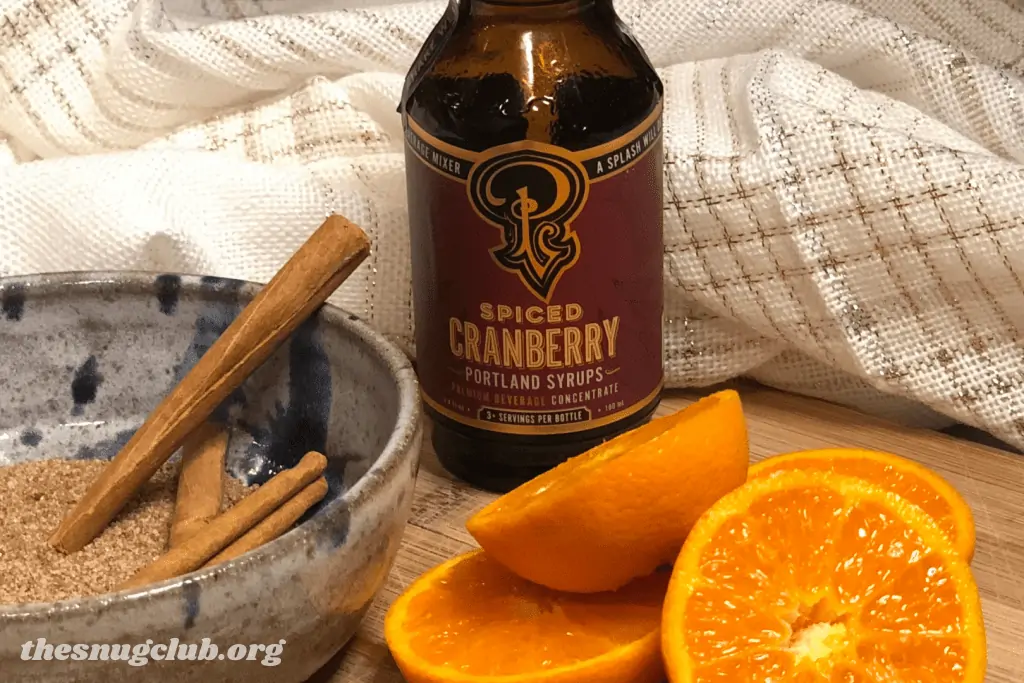 This winter cocktail is so easy to make, and let me tell you, this Spiced Cranberry syrup is exactly what you want in a winterberry cocktail!
How to Make
Measure. Just like a food recipe, your amounts in a cocktail recipe will absolutely make a difference in the taste. Use a little jigger that can measure the oz correctly.
Shake. Just like Bond advises, shake, don't stir. You can do this with either your favorite cocktail shaker, or what I used to do in my bartending days when the one shaker was in use (I worked in a total dive bar), just fill a tall pint glass with ice and your ingredients and then put another pint glass (with the same mouth width) over it, and shake the ice and ingredients between the two. Be sure to hold that seal tight, though!
Rim. The easiest way to take a cool cocktail to the absolute next level is with a rim! This cocktail is elevated with a little cinnamon and sugar rim that'll give ya a little sweet sugary kiss with every sip! This rim has both white and brown sugar because that lil' subtle molasses flavor of the brown is just perfect to add to the winter cocktail vibes.
Strain. Use a little bit of that bartender flair you have in there and strain that cocktail into your cinnamon and sugar-rimmed glass! Use your favorite martini glass or cocktail glass.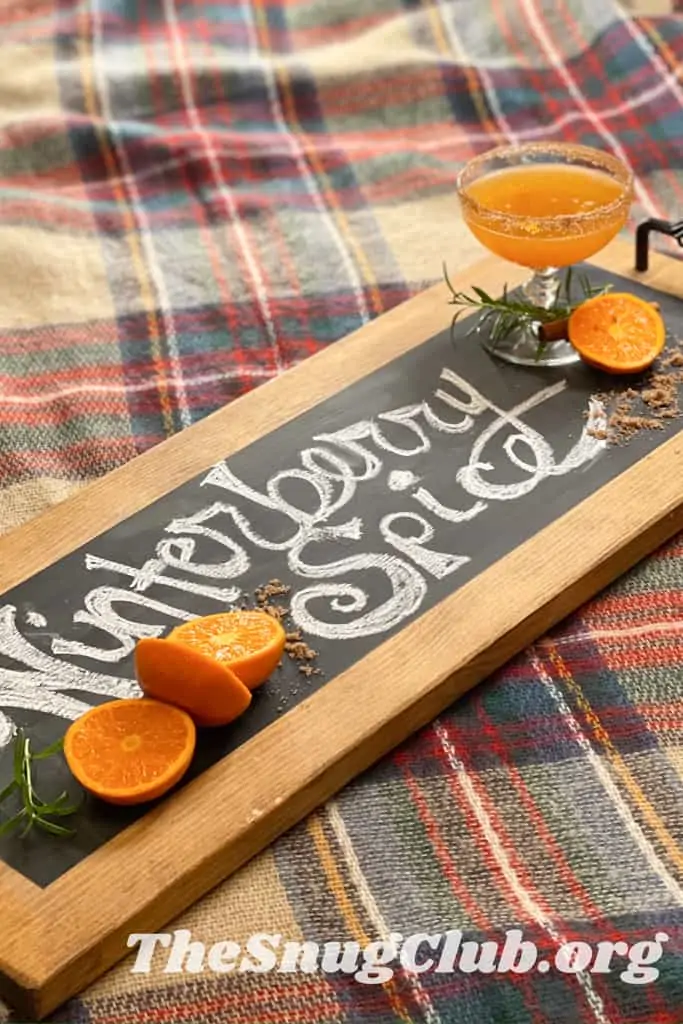 Voilà, Winterberry Spice Cocktail!
I mean, how beautiful and inviting and just downright delicious does this look?! This winter cocktail is one that is sure to warm you on a cold night and help you ring in the winter season, thanks to The Snug Club's Winter Solstice Box!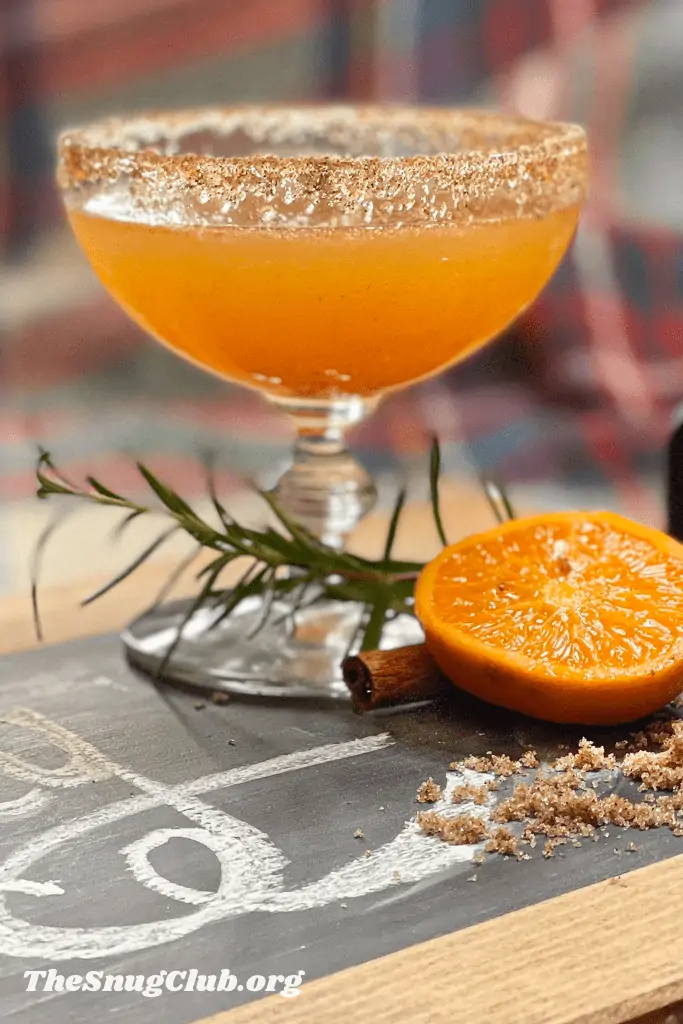 Cheers to the upcoming winter season, friends! Check out The Snug Club on Instagram and Pinterest for more delicious cocktails and incredible crafts!
Enjoy! As always, if you make this recipe or any of my others, I love to hear what you think! Leave a comment below, email me, or you can find me on Facebook, Instagram, and Pinterest!
If you want to see more, be sure to sign up for my 5 Easy Ways to Start Cooking From Scratch!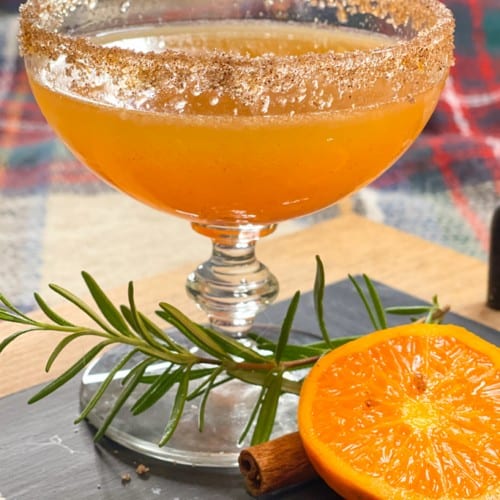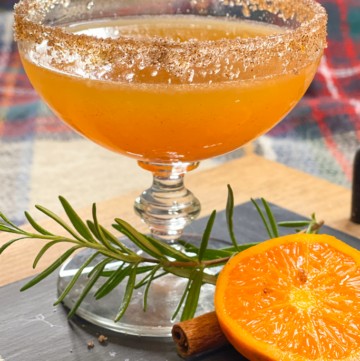 Winterberry Spice Cocktail
A Winter Cocktail created by The Snug Club!
Print
Pin
Rate
Equipment
martini or cocktail glasses
Ingredients
2

oz

vodka

4

mandarins

or about 2 oz of mandarin juice

splash

club soda / soda water

optional for a little carbonation

Ice
Sugar Rim
1/4

cup

brown sugar

1

tablespoon

granulated sugar

2

teaspoons

ground cinnamon
Instructions
Mix sugars and cinnamon in a shallow, wide bowl that is at least the width of the glasses you will be using. Set aside.

Fill shaker halfway with ice.

Slice the mandarins in half and squeeze juice from each half into a shaker. Or juice mandarins to get at least 2 oz of juice. Set aside at least 2 halves.

Add vodka and Cranberry Spice Syrup to the shaker.

With the two mandarin halves, use the flesh of the mandarin and drag them along the rim of the glasses. Gently dip the rims into the shallow bowl with the cinnamon and sugar mixtures to create a sugar rim.

Strain half of the contents of the shaker into one glass and the other half into the second glass.

Top each glass off with a splash of soda water if desired.
Notes
This recipe makes 2 drinks that are approximately 3-4 oz each (dependent upon how big your splash of soda water is!).
Substitutions:
Vodka: Make it a mocktail by omitting the vodka and using 2 oz of your favorite soda water.
Cranberry Syrup: While we wholeheartedly encourage you to try some of Portland Syrups Cranberry Spice Syrup, if unavailable in your area, you could also use cranberry juice mixed with some mulling spices. Mix 1 glass of cranberry juice with the spices and then add about 2 oz of the glass of the shaker.
Mandarin Juice: Fresh squeezed is best, but you can also use your favorite jarred mandarin or OJ, or fresh squeezed OJ.