It's a staple brunch treat! My Mom's Classic Coffee Cake is a tried and true recipe and is exactly what you'd expect. It's fluffy, soft, sweet, moist, and topped with a sweet cinnamon streusel. Simple, easy, and so delicious.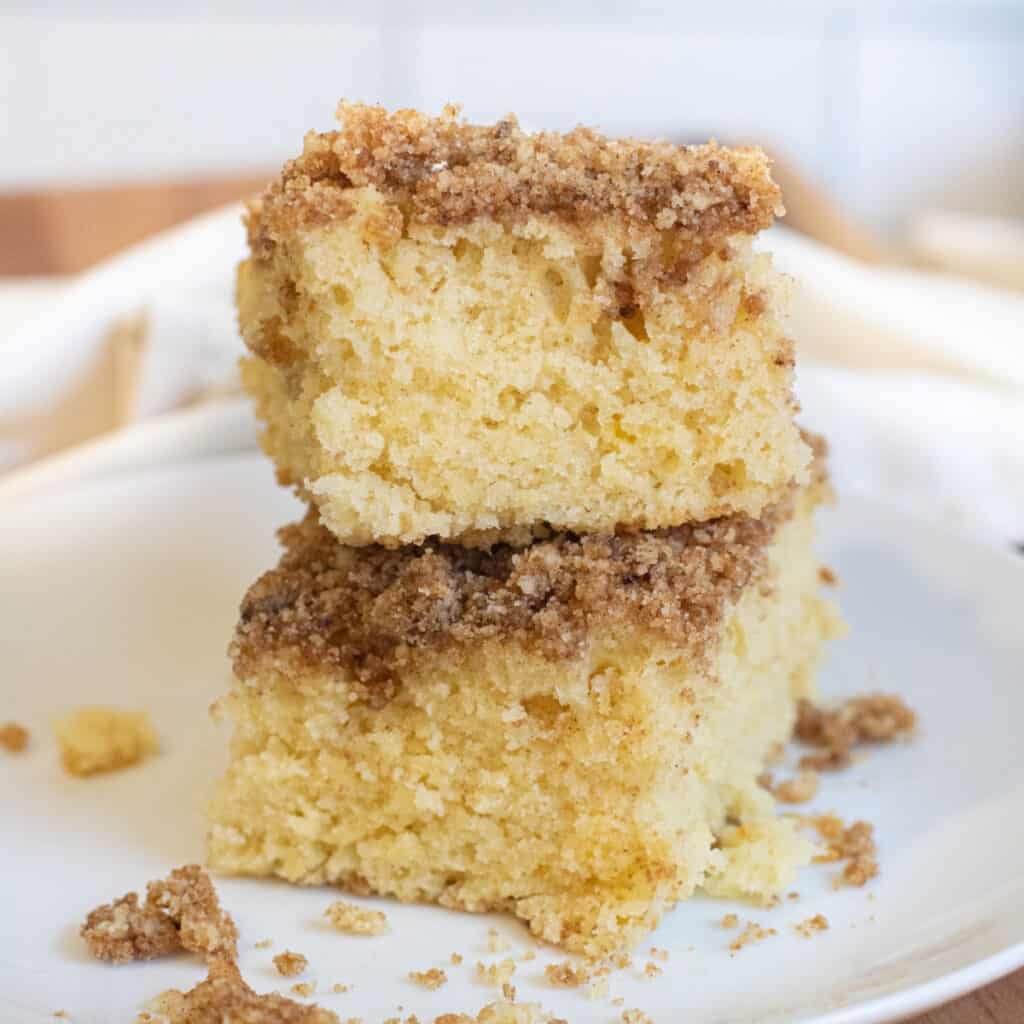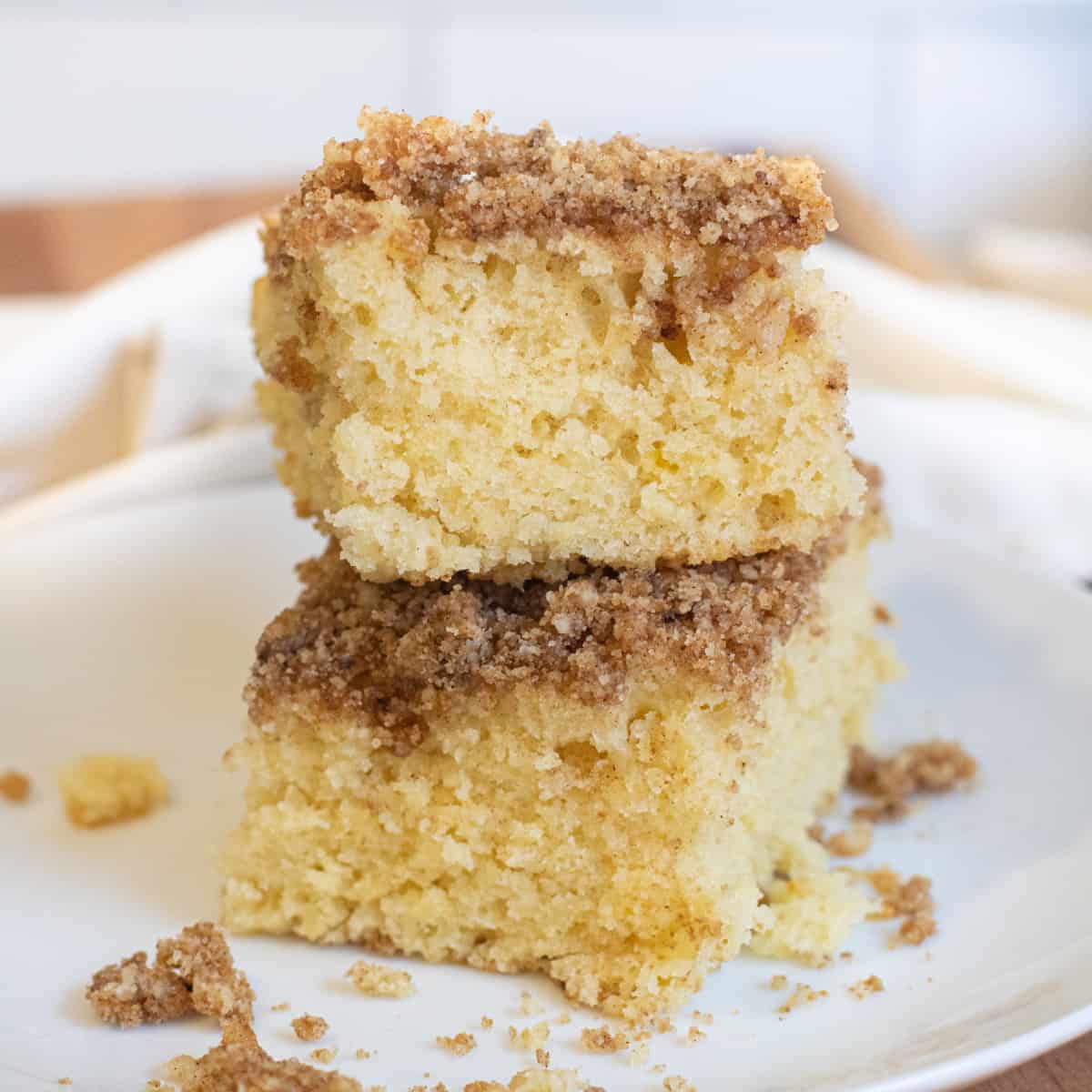 It's finally here! After posting on my Instagram stories a poll to see whether or not you all wanted my Mom's Classic Coffee Cake recipe, and the results were a resounding YES, here it is! This is the coffee cake of my childhood. Every single holiday, from Mother's Day to Christmas my mom always had this classic coffee cake waiting for us. It's so incredibly easy to make and so moist and fluffy. No dense dry crumb cake here - this one is a tried and true loved and devoured coffee accompaniment dream.
What is Coffee Cake?
My husband's exact question to me when I started making this recipe. Having not grown up with it, his experiences with it were what he saw with the other pastries behind the glass at a local coffee shop. Very simply, a classic coffee cake is a single-layer cake that's made from flour, butter, and sugar and served with coffee or tea. No coffee in it, just the perfect simple sweet cake to serve with it. Crumb Cake is another kind of cake similar to coffee cake, but it typically has a much thicker layer of streusel on top of the cake, while most coffee cakes, like my mom's, have a much greater cake to streusel ratio.
While the traditional cake baking in this house is usually done by my husband, My Mom's Classic Coffee Cake is so simple and easy to make that anyone can make it!
Ingredients Needed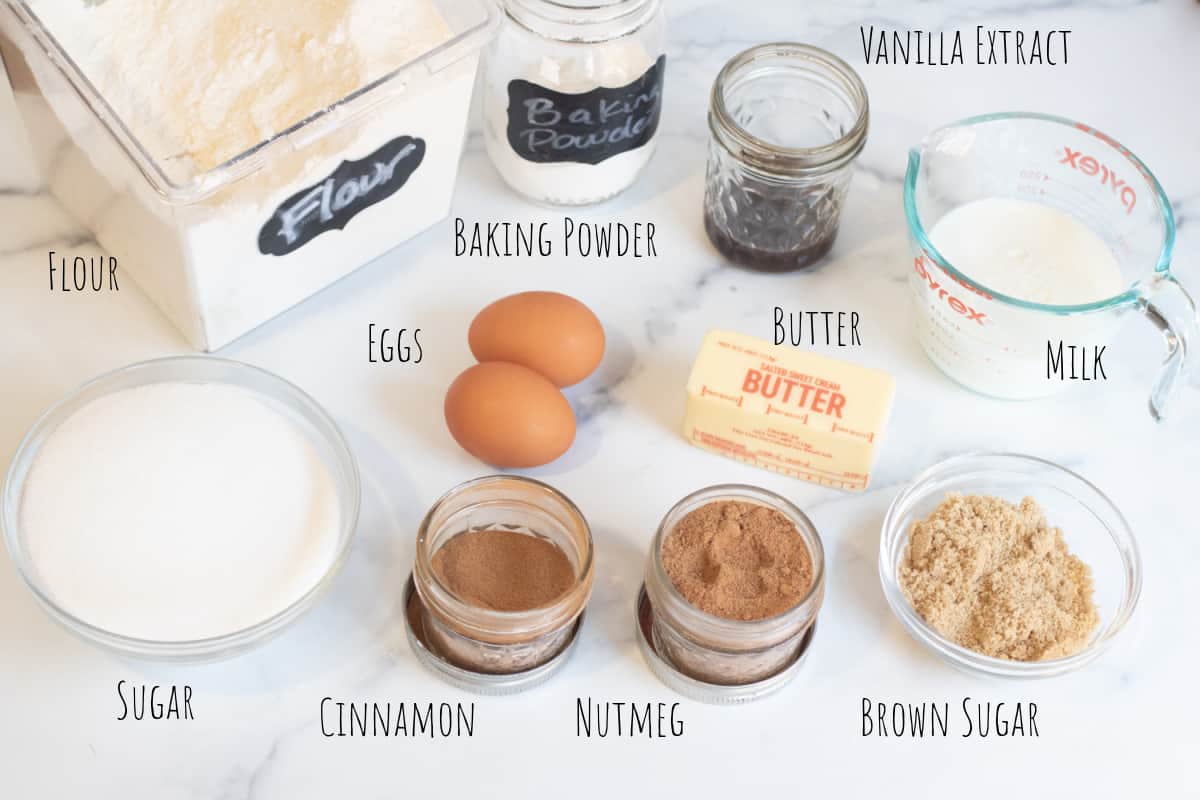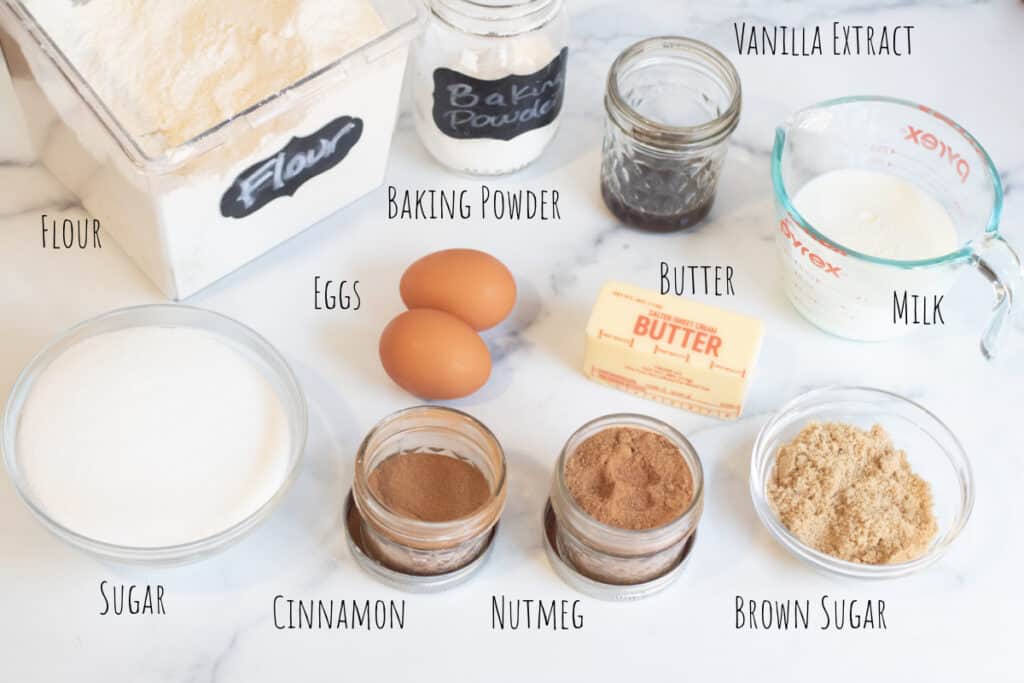 I bet you already have everything you need in your pantry, for this one.
Flour - We use all-purpose flour for this recipe, but you could also use your favorite gluten-free flour, too!
Sugar - A white granulated is best for this recipe.
Butter - We use salted butter, but if all you have is unsalted, that's fine, too. Then we would just suggest adding a pinch of kosher salt to the recipe.
Eggs - Essential for providing the necessary structure for the cake.
Milk - We use 2% because that's what we always have on hand, but you could also use 1% or whole milk, too.
Vanilla Extract - Have you made your own, yet?
Baking Powder - The coffee cake's leavening agent.
Brown Sugar, Cinnamon, Nutmeg - For your sweet cinnamon streusel!
Step-by-Step Instructions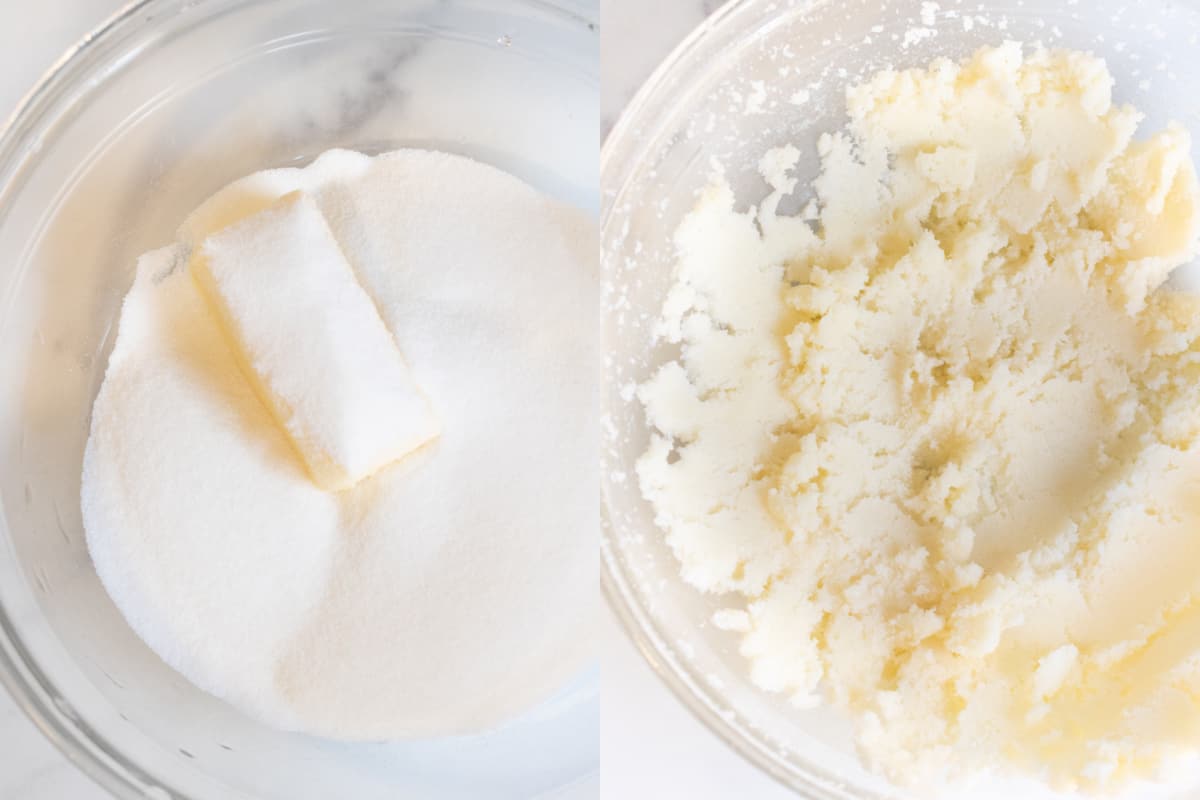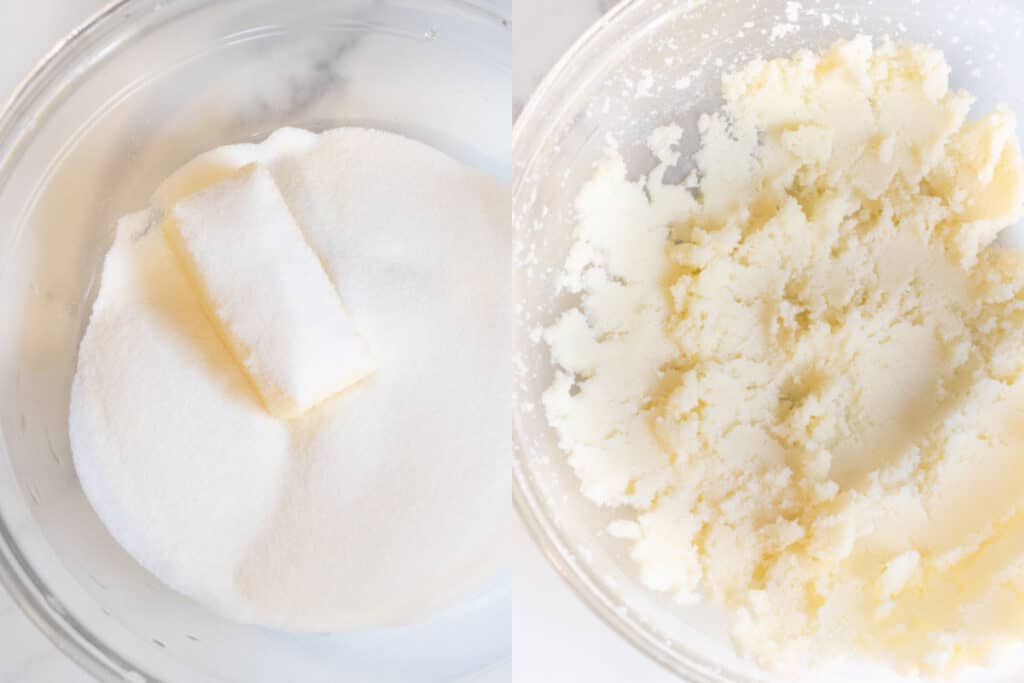 Cream your butter and sugar
This is one of the most important steps to ensuring that your coffee cake has the right light and fluffy texture. Creaming adds little pockets of air and that aeration is what gives it that perfect texture. We use our favorite hand mixer for this, but you can also use your stand mixer or get a great arm workout in by doing it by hand with a fork.
Tips for Creaming Butter and Sugar
Always use room temperature butter
About 65ºF is what you're shooting for. This is a big one. If your butter is too cold, it will not blend with the sugar right and you won't be able to get the right smooth consistency. If the butter is too hot, or even worse melted, then you're going to create a frothy kind of a mixture and that will ultimately result in your cake collapsing or having a heavy thick crumb.
How long do I beat it all together?
Properly creamed butter and sugar should only take about 2-3 minutes with your mixer on medium. Start on low so you don't blast your sugar all over the place, and then slowly turn it up to medium.
Use a large bowl
Use a much larger bowl than you think you'll need to give you the space you need to cream the sugar and butter together.
How will I know it's done?
You'll know your butter and sugar are properly creamed when it's turned to a pale yellow color and is creamy. Under creamed will look white and gritty. Overcreamed will look greasy.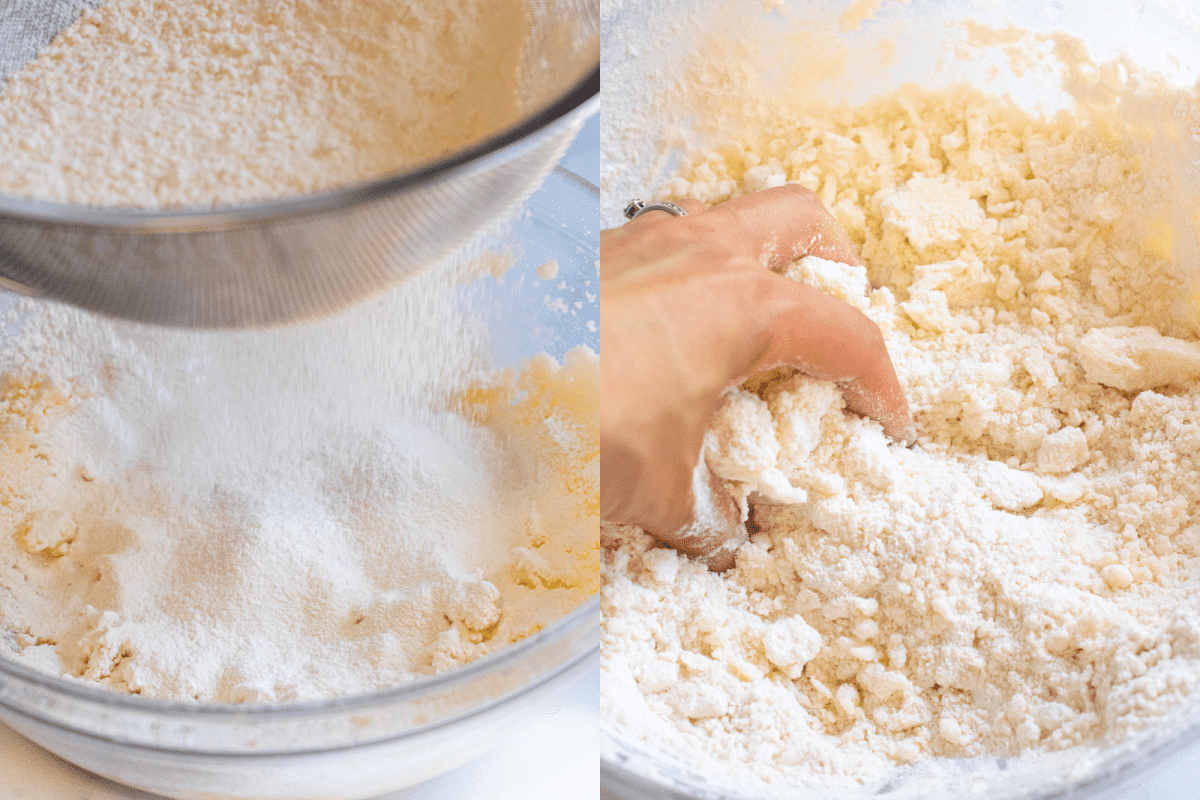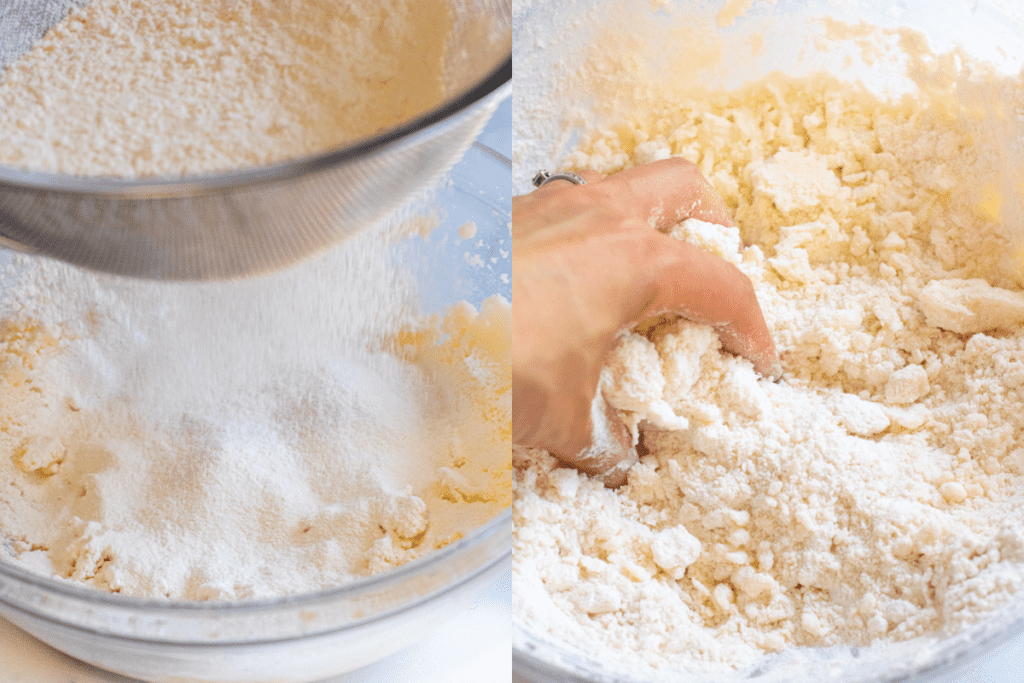 Add sifted flour and baking powder and create a fine crumb
Is sifting the flour a requirement? No. There are some arguments about whether or not sifting flour is even worth the effort. For this classic coffee cake where fluffy is the goal, in my opinion, any additional aeration is worth it. Plus, you don't need a special flour sifter (although they are pretty cool), all you really need is a fine-mesh sieve.
Another bonus of sifting is then the flour will be nice and light and perfect for mixing it into the creamed butter and sugar to a fine crumb mixture. I find that using your hands for this step is the easiest.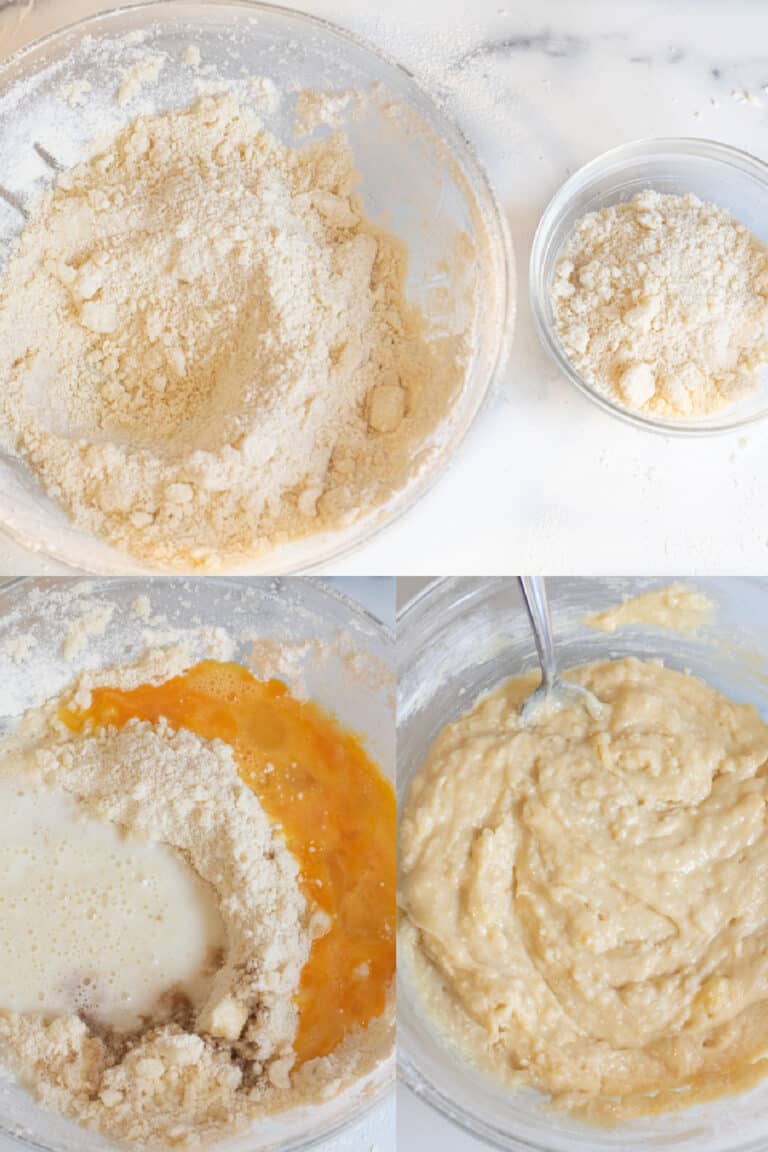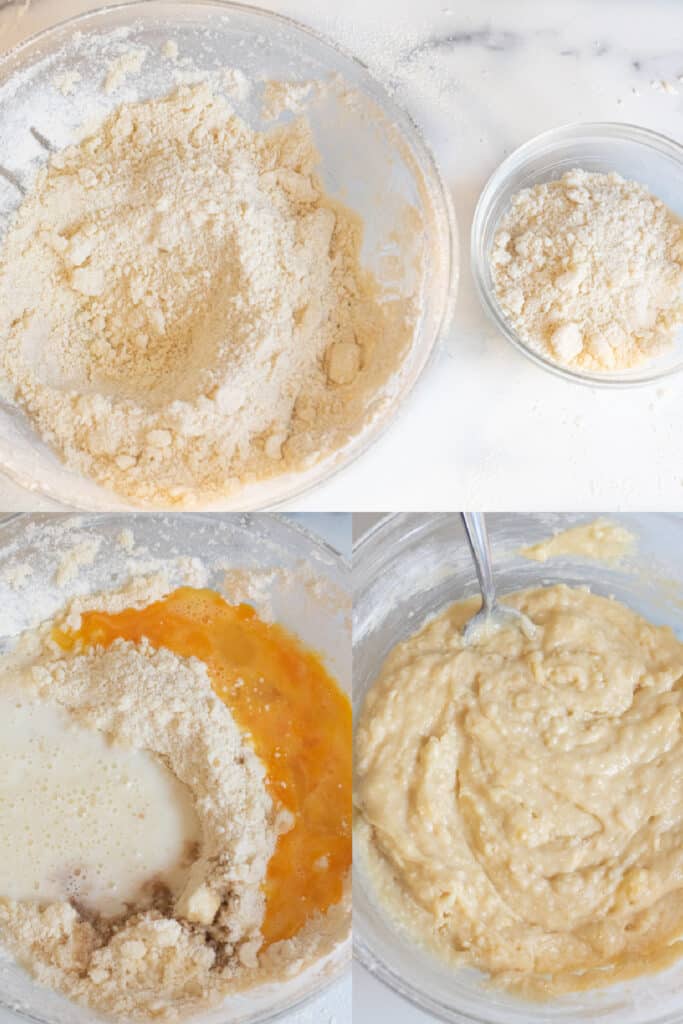 Set aside some of the crumbs and then finish the batter
Once you've created a nice fine crumbed mixture, reserve some for your streusel, and then finish making the batter by adding the milk, whisked eggs, and vanilla extract.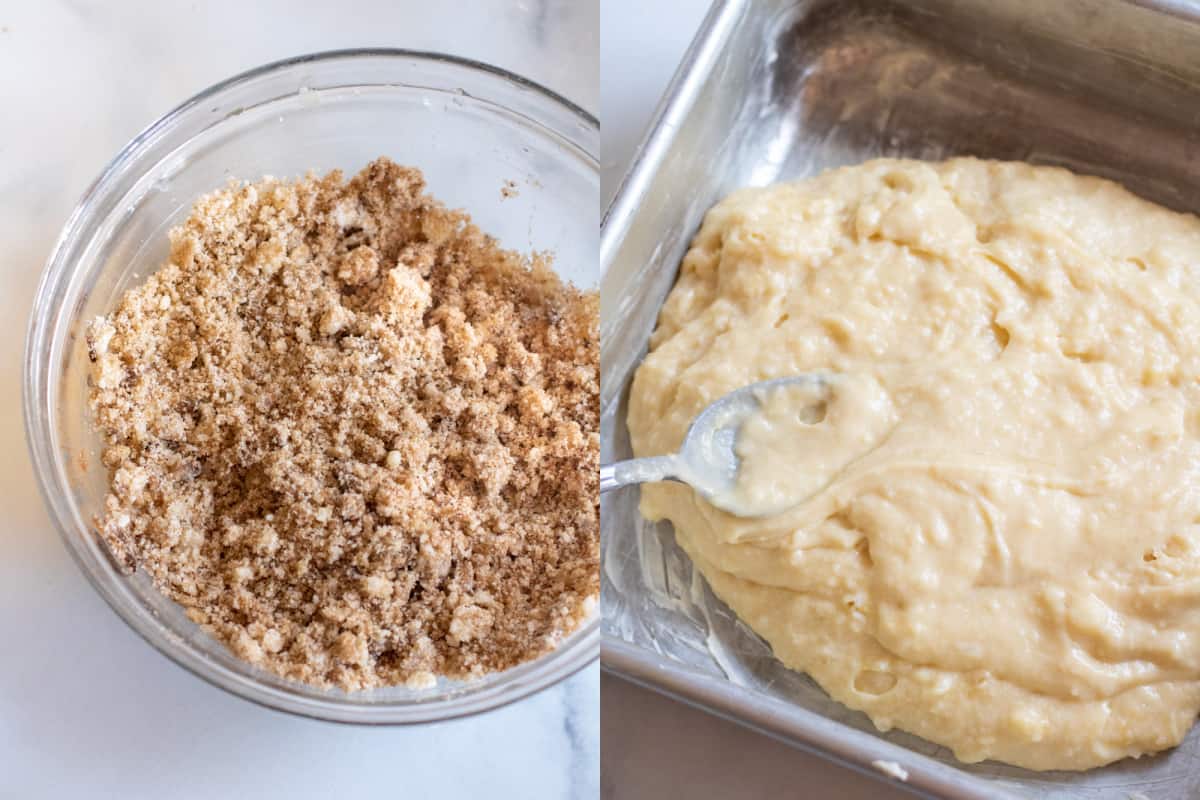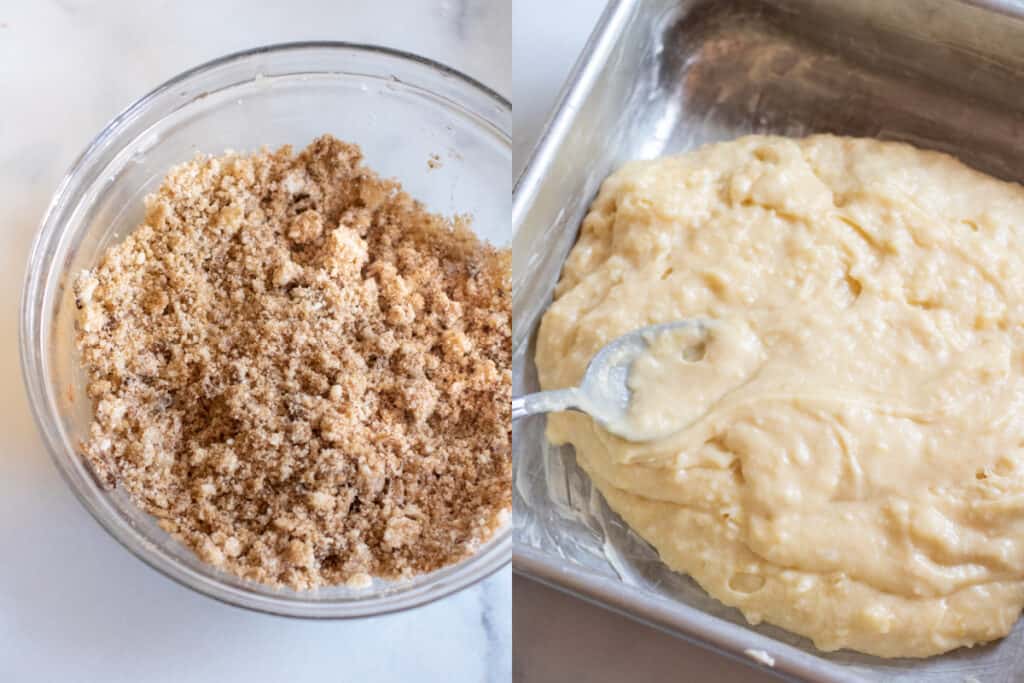 Create streusel and add batter to the pan
Grease a baking pan well and add your batter, then with the reserved crumbs, make a super easy cinnamon sugar crumble topping.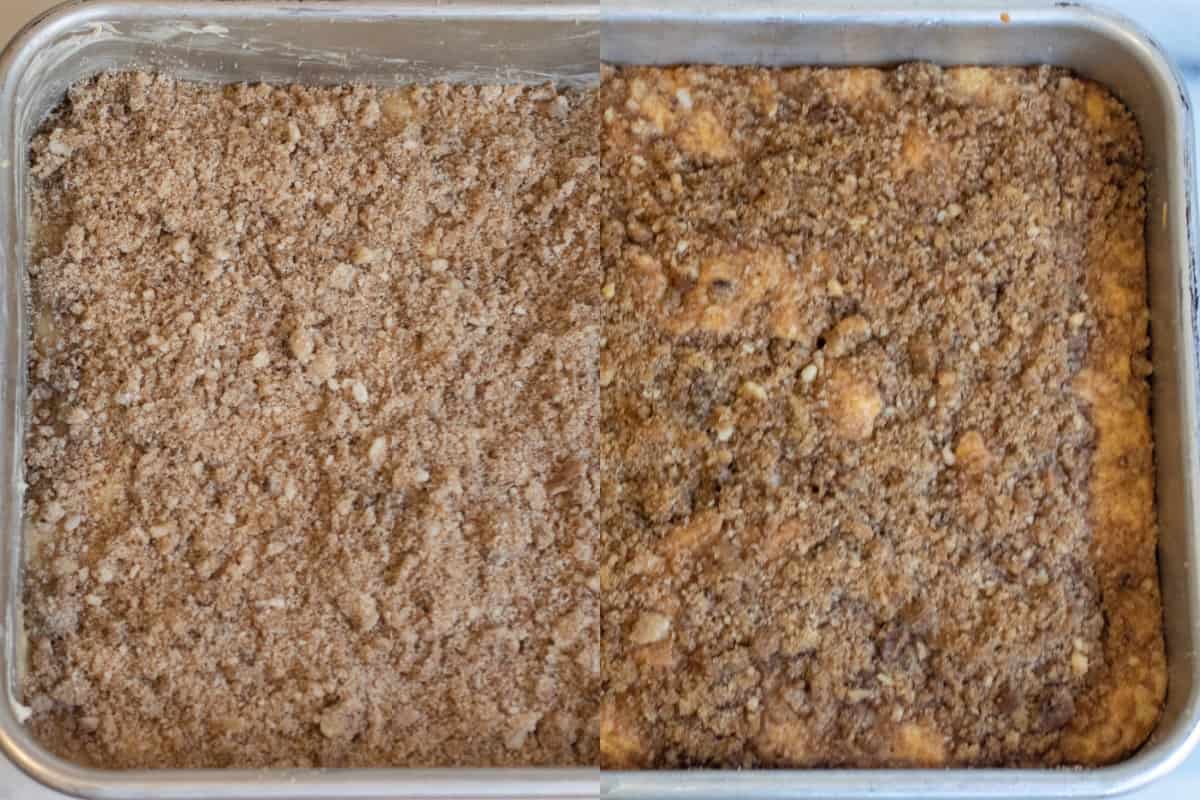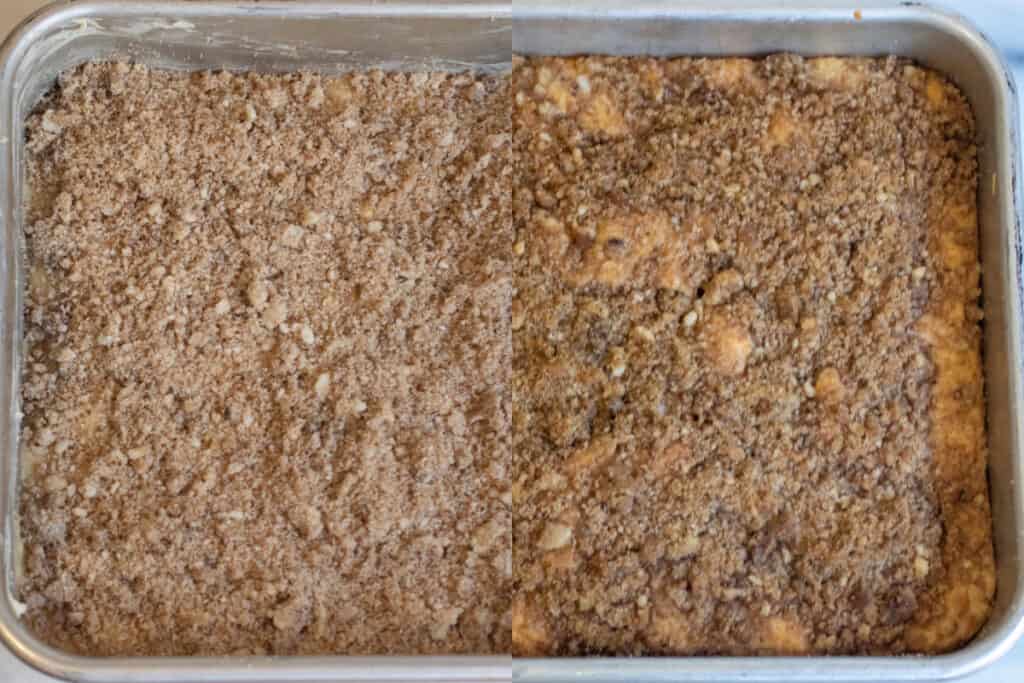 Bake!
You can make this in either a 9X13 pan or an 8X8 for thicker slices. Personally, I prefer the thicker pieces as it makes this classic coffee cake feel much more like a nice big piece of cake.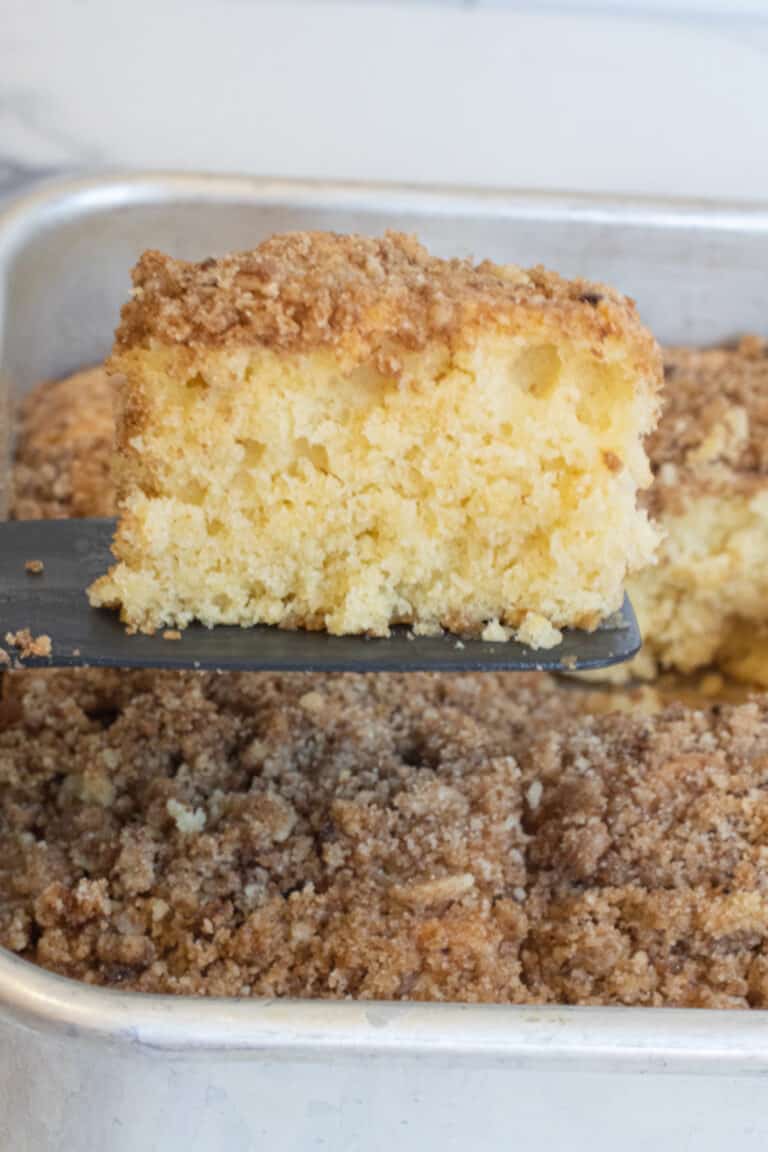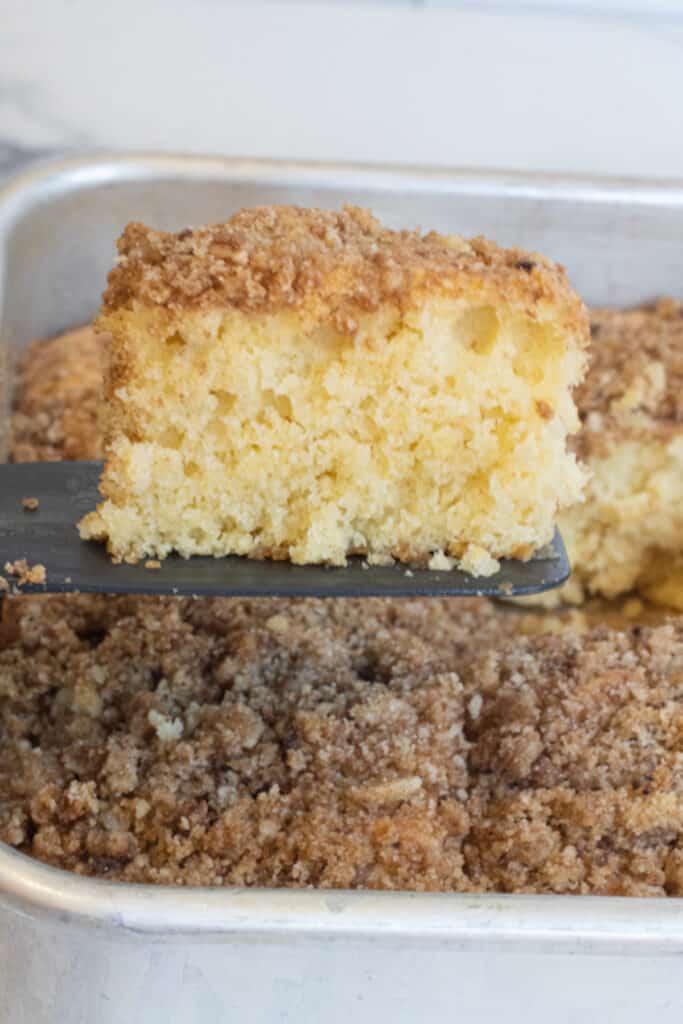 Absolutely perfect with your favorite cup of coffee or tea!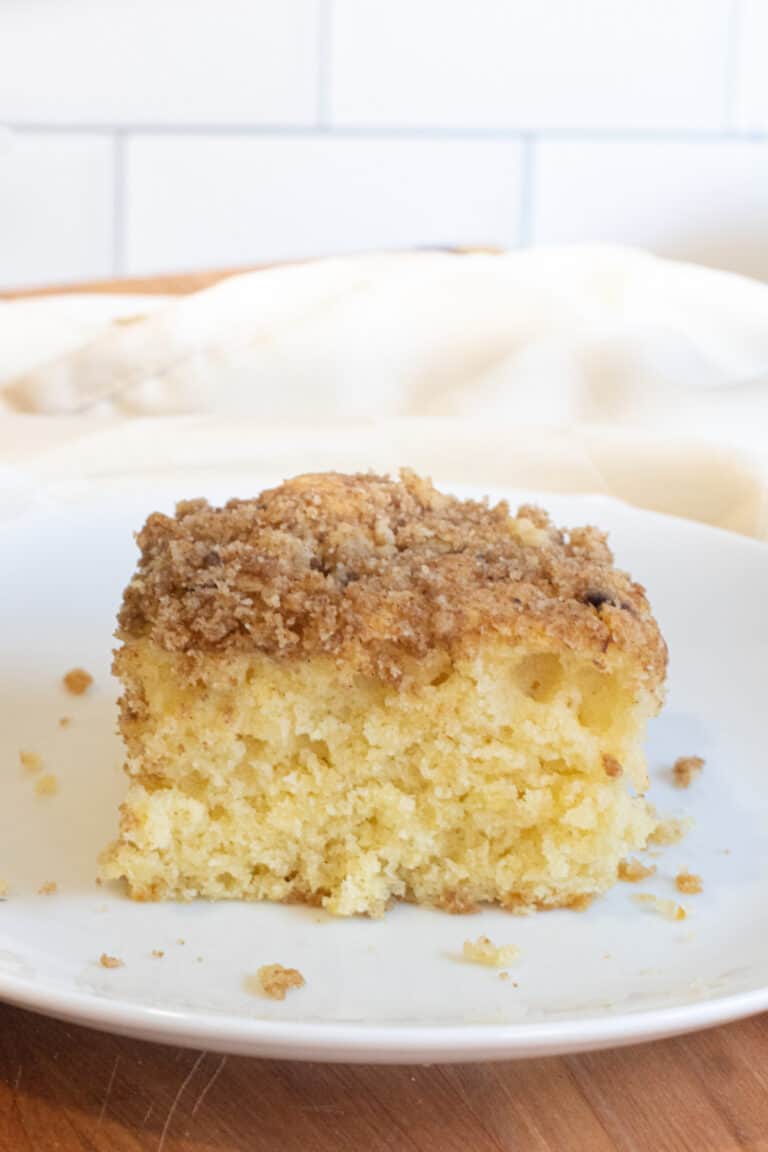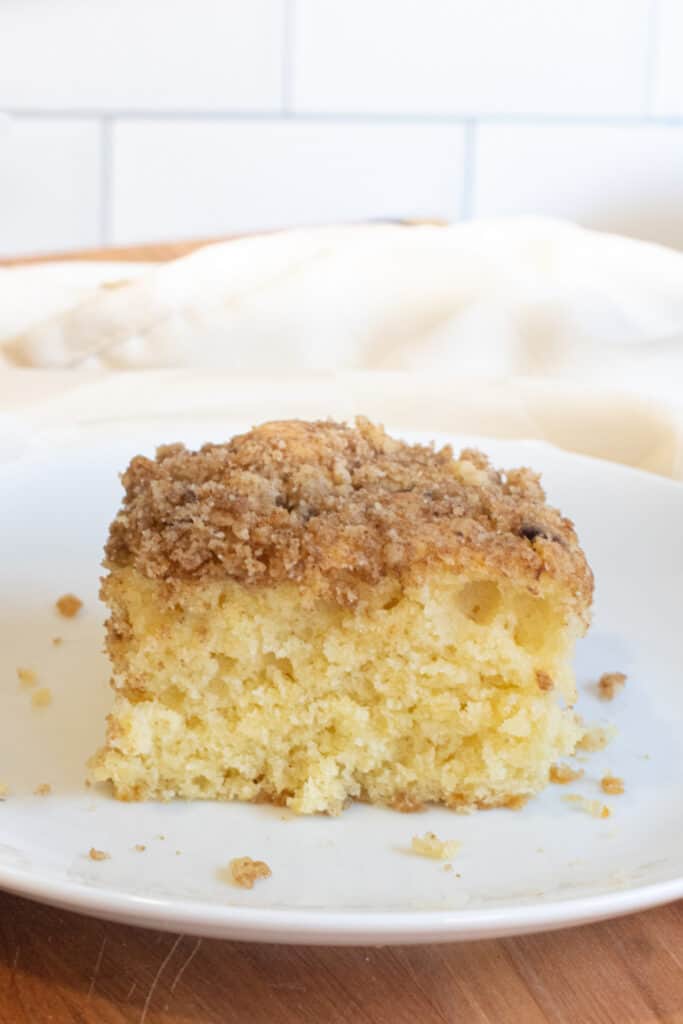 Mom's Classic Coffee Cake, it's nothing super fancy or crazy, but instead, it's a basic but absolutely delicious coffee cake that's fluffy and soft and has all of the sweet sugary cinnamon flavors you want from a big ol' slice.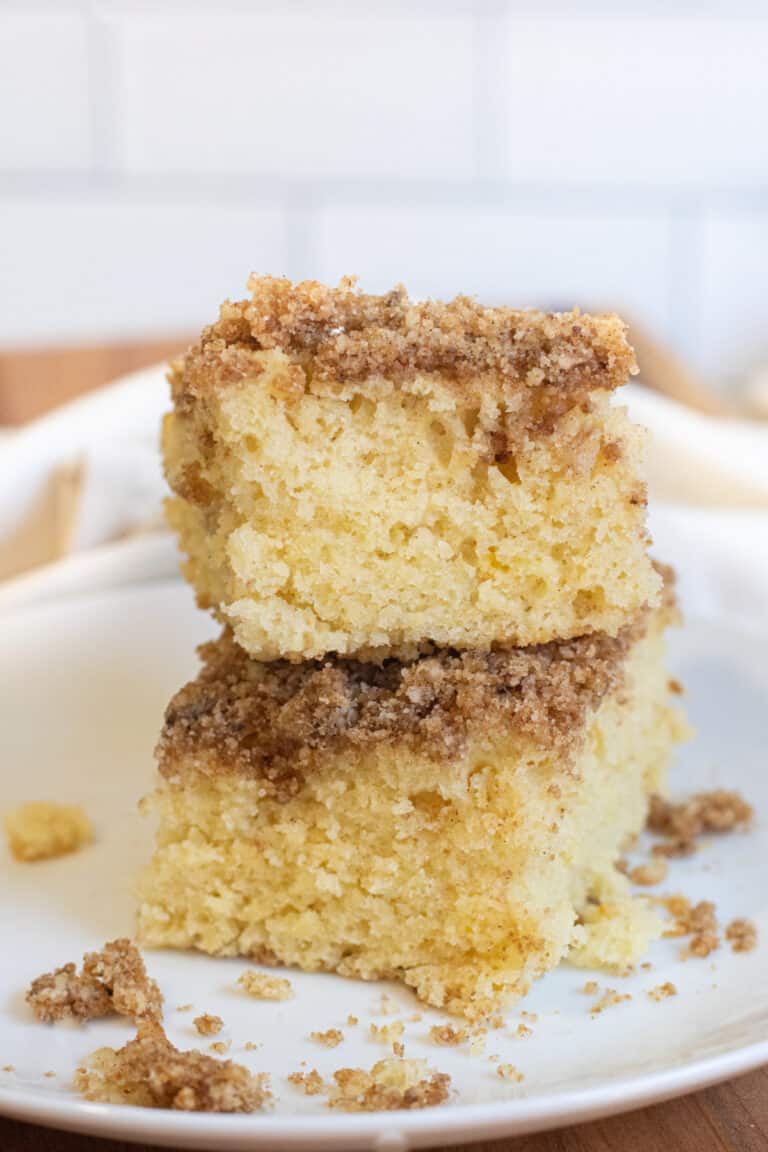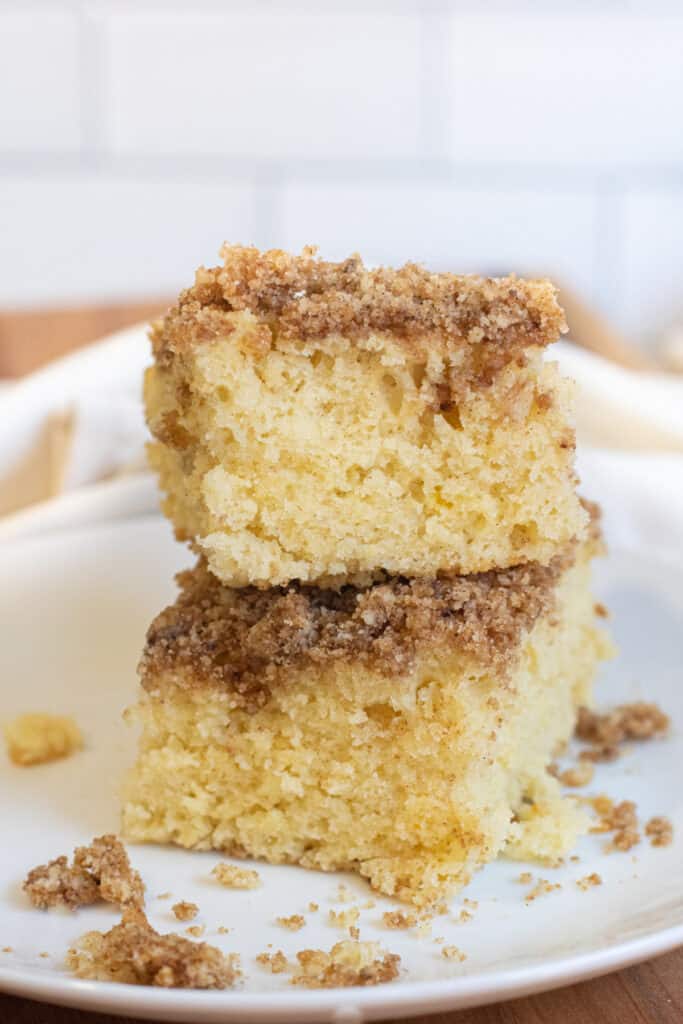 Or two!
This recipe is great to make ahead or freeze, and it'll always be welcome at any brunch gathering. Add your own flair by finishing it with your favorite icing, too. Add your own twists or keep my Mom's Classic Coffee Cake as it is, no matter what you do, enjoy! And as always, if you make this recipe or any of my others, I love to hear what you think. Leave a comment below, email me, or you can find me on Facebook, Instagram, and Pinterest!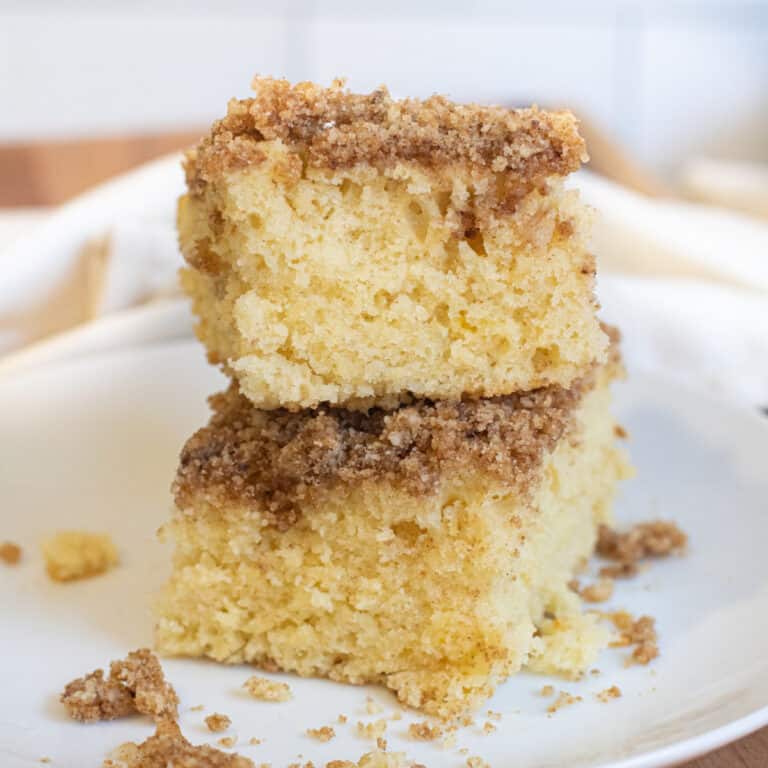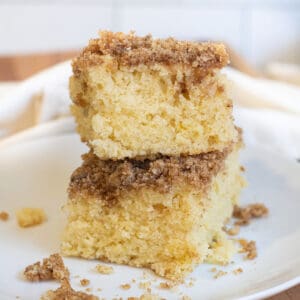 Mom's Classic Coffee Cake
Fluffy, soft, sweet, moist, and topped with a sweet cinnamon streusel, this coffee cake is a classic!
Print
Pin
Rate
Servings:
12
extra large pieces
Ingredients
1/2

cup

salted butter

1 1/2

cups

granulated sugar

2

cups

all purpose flour

2

teaspoons

baking powder

2

eggs

3/4

cup

milk

2% or 1%

1

teaspoon

vanilla extract
Struesel
3/4

cup

reserved crumble

1/4

cup

brown sugar

packed

1/4

cup

butter

melted

2

teaspoons

cinnamon

pinch

nutmeg
Instructions
Pre-heat oven to 350 degrees.

In a large bowl, cream butter and sugar either with a hand mixer. Start on low and then continue to cream on medium speed for 2-3 minutes until it is a pale yellow color and creamy. If it's gritty it's undercreamed and if it's greasy it is over creamed.

Sift flour with baking powder into the bowl with the creamed butter and sugar. Use your hands to working it all into fine crumbs.

Take 3/4 cup of crumble mixture and reserve for the struesel.

Add eggs, milk, and vanilla extract to the rest of the mixture and mix into a thick batter.

Grease your baking pan (either 8x8 or 9x13) and add batter to the pan in an even layer.

Add melted butter, brown sugar, cinnamon, and nutmeg to the bowl with the reserved crumble and mix until well combined and crumbly.

Sprinkle the struesel topping evenly over the batter in the baking pan.

Bake for 30-35 minutes for a 9X13 pan or 45-50 minutes for an 8X8 pan, or until a toothpick or cake tester pulls clean from the center.
Notes
Pan Size
You can make this recipe in a 9X13 pan or an 8X8 for larger thicker slices. We prefer the 8X8 for ultimate fluffy pieces. For 9X13, bake for 30-35 minutes, and for 8X8, bake for 45-50 minutes. Always check for doneness with a cake tester, toothpick, or knife by inserting it into the center of the pan and removing slowly. If it comes clean, your cake is fully cooked. If not, bake for another minute or two before checking again.
Make-Ahead
Prep everything and cover with plastic wrap and store in the fridge overnight. Remove from fridge and bake when ready.
Storage
Fridge: Cover in plastic wrap and store in the fridge for up to a week or on the counter in an airtight container for up to 3 days.
Freezer: Wrap in foil and store in a plastic bag in the freezer for up to 3 months. Remove and let defrost at room temperature or in the fridge.
Substitutions
Flour: You can use gluten-free flour, but be sure that it has xantham gum.
Milk: Use 1% - Whole.
Butter: Use unsalted butter and just add 1/4 teaspoon of salt to your flour and baking powder.
Vanilla Extract: Use almond extract to add a delightful nutty flavor!
Nutrition
Calories:
313
kcal
|
Carbohydrates:
47
g
|
Protein:
4
g
|
Fat:
13
g
|
Saturated Fat:
8
g
|
Polyunsaturated Fat:
1
g
|
Monounsaturated Fat:
3
g
|
Trans Fat:
1
g
|
Cholesterol:
60
mg
|
Sodium:
180
mg
|
Potassium:
67
mg
|
Fiber:
1
g
|
Sugar:
30
g
|
Vitamin A:
420
IU
|
Vitamin C:
1
mg
|
Calcium:
76
mg
|
Iron:
1
mg