Our 10 Minute Spinach and Feta Breakfast Quesadilla recipe is a new favorite in our house not only because it's ready in no time, but it's also packed full of healthy spinach, eggs, and plenty of cheese for a hearty, healthy, vegetarian breakfast, fast!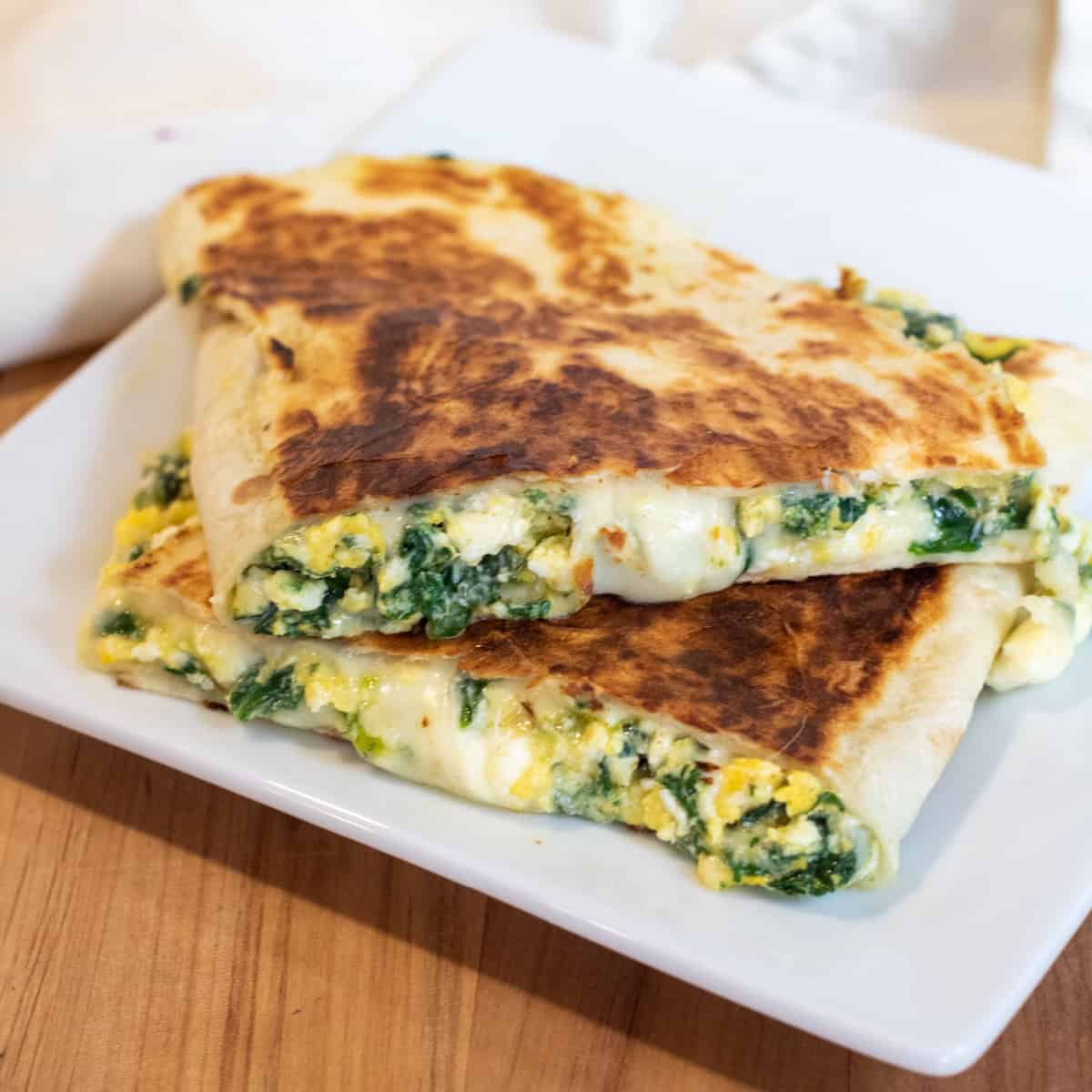 Switch up your normal breakfast eggs with the classic spinach and feta combo all in a lil' crispy breakfast quesadilla! Our 10 Minute Spinach and Feta Breakfast Quesadilla recipe is a new favorite. Not only because it's so fast to make, and has one of our favorites (spinach), but also because it's packed full of two kinds of cheese with that perfect crispy quesadilla crunch! Breakfast doesn't get much easier or tastier than this, friends!
Ingredients Needed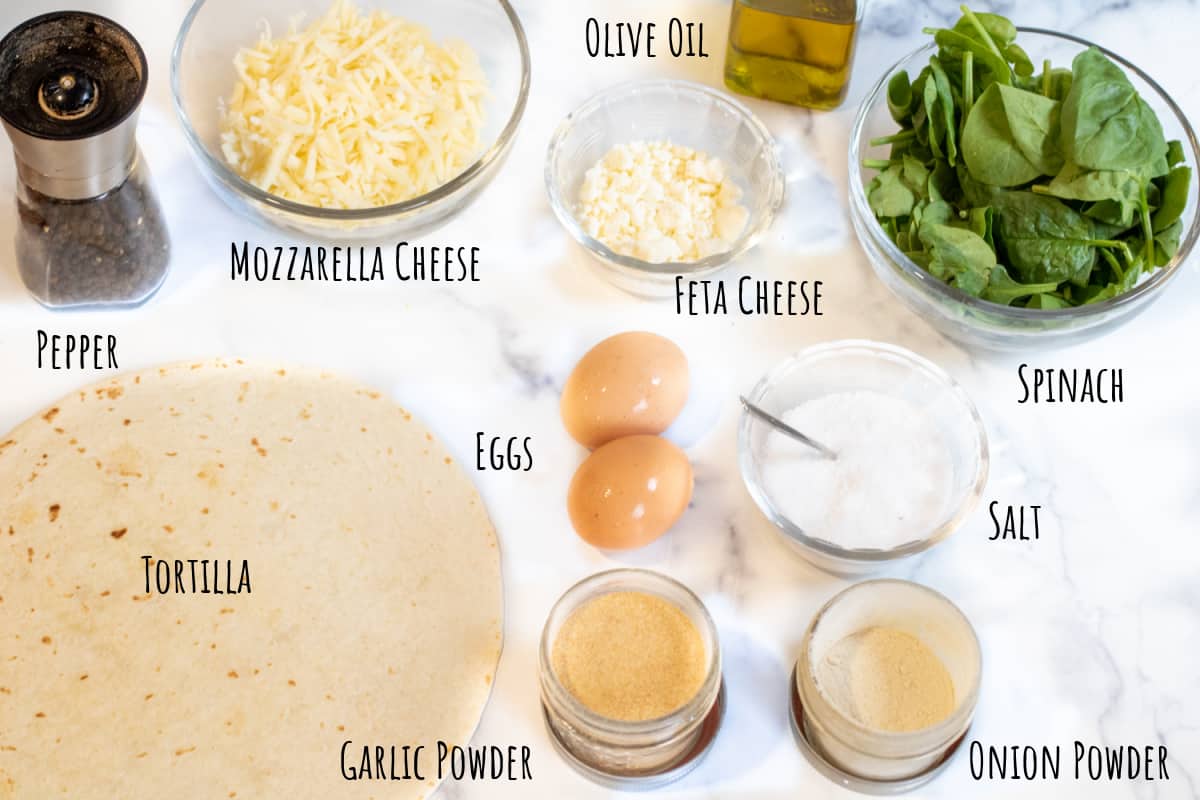 Tortilla - We prefer a nice big flour tortilla for this, but you can also of course make this gluten-free by using your favorite gluten-free tortilla, too!
Eggs - We use two big brown eggs, but any of your favorites or even an egg substitute would work great.
Spinach - Fresh baby spinach is our fav since it's always in our house. But you can also use some thawed frozen spinach, too!
Feta Cheese- Key for that delish spinach feta combo - and it adds a lot of great flavor. Did you know that you can make your own?!
Mozzarella Cheese - For that quintessential quesadilla cheese pull! You can use another melty cheese of choice, too, but I love the combo of the mozzarella with the feta and spinach. TIP: Also, keep in mind for the best melty cheese - always shred it yourself, and don't buy the pre-shredded. Those pre-shredded cheese have anti-lumping preservatives added, which means they don't melt as well as when you shred it yourself.
Seasonings - Garlic powder, onion powder, salt, and pepper to taste. Honestly, with this recipe, because of the deliciously briny feta, we often don't even add salt because it doesn't need it!
Olive Oil - You can also use butter to cook your spinach before adding the eggs.
Ready in 10!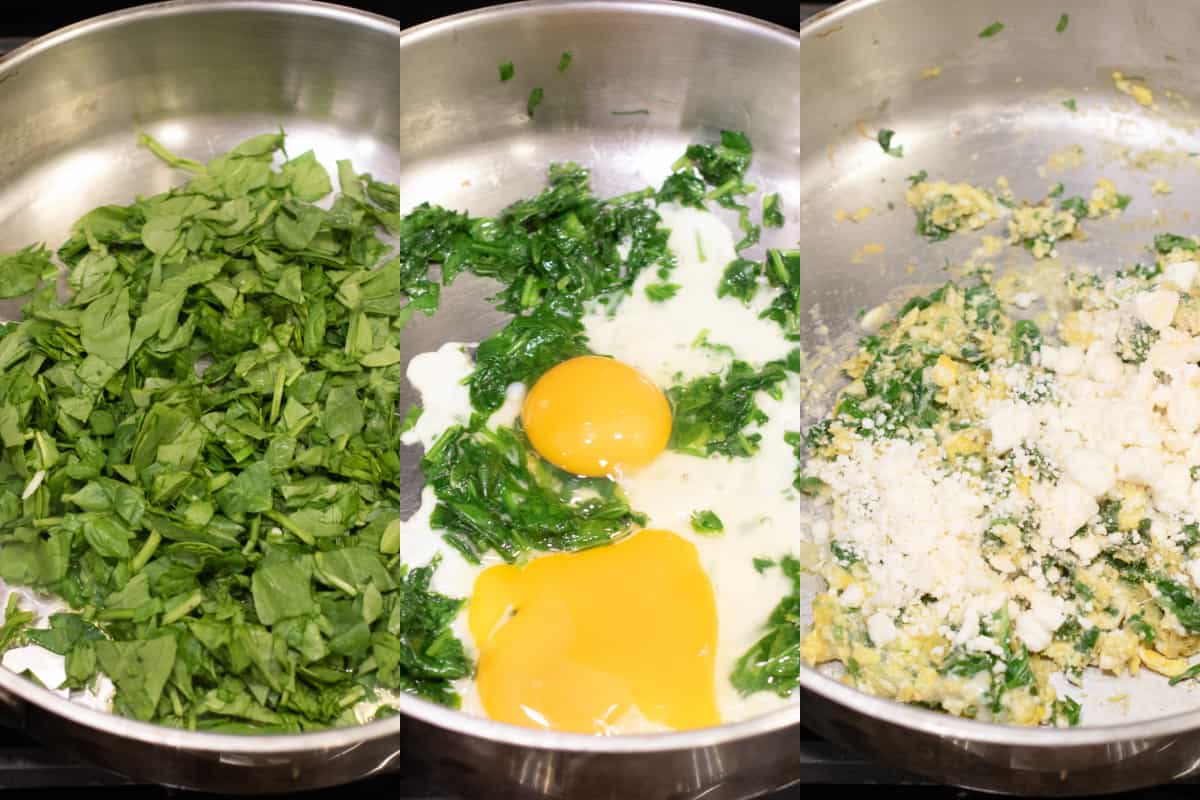 Have I mentioned yet that this breakfast quesadilla recipe can be on your plate ready to eat in just 10 minutes?! It's a thing of beauty, truly.
It takes only a couple of minutes to saute spinach with seasonings, add the eggs to scramble, and then top with the feta cheese before removing it from the pan.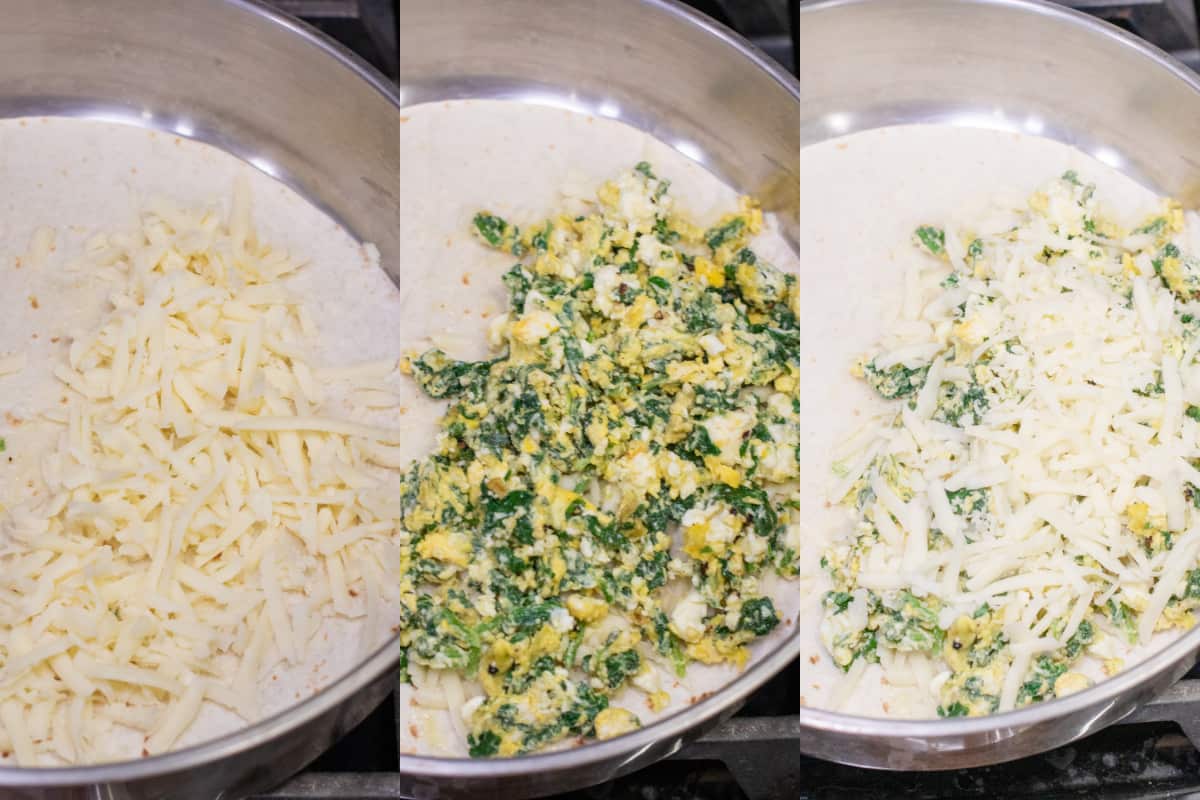 Then it's the final assembly of the Spinach and Feta Breakfast Quesadilla in the pan to let all of that mozzarella cheese melt. For ultimate mozzarella meltiness, add a layer of cheese first, the eggs and spinach next, and top with the rest of the mozzarella cheese!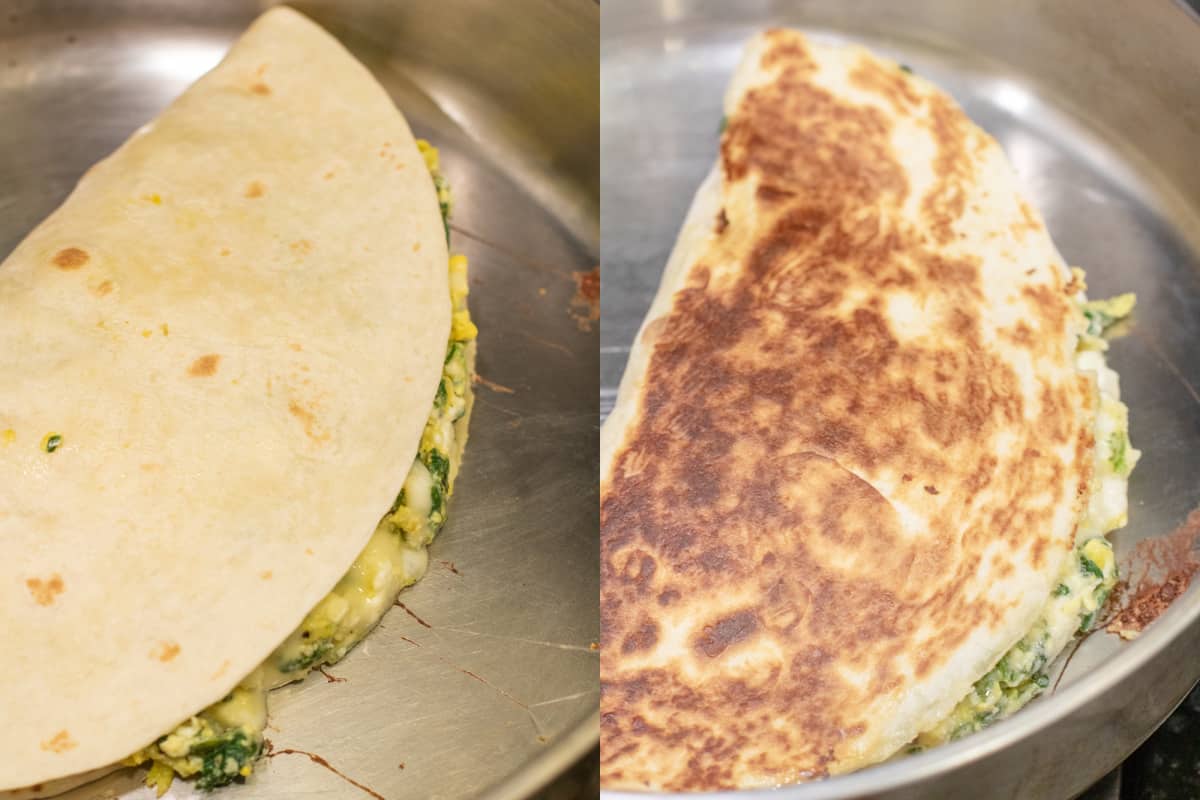 Let that cheese melt and the tortilla get all kinds of crispy for that ultimate quesadilla crunch!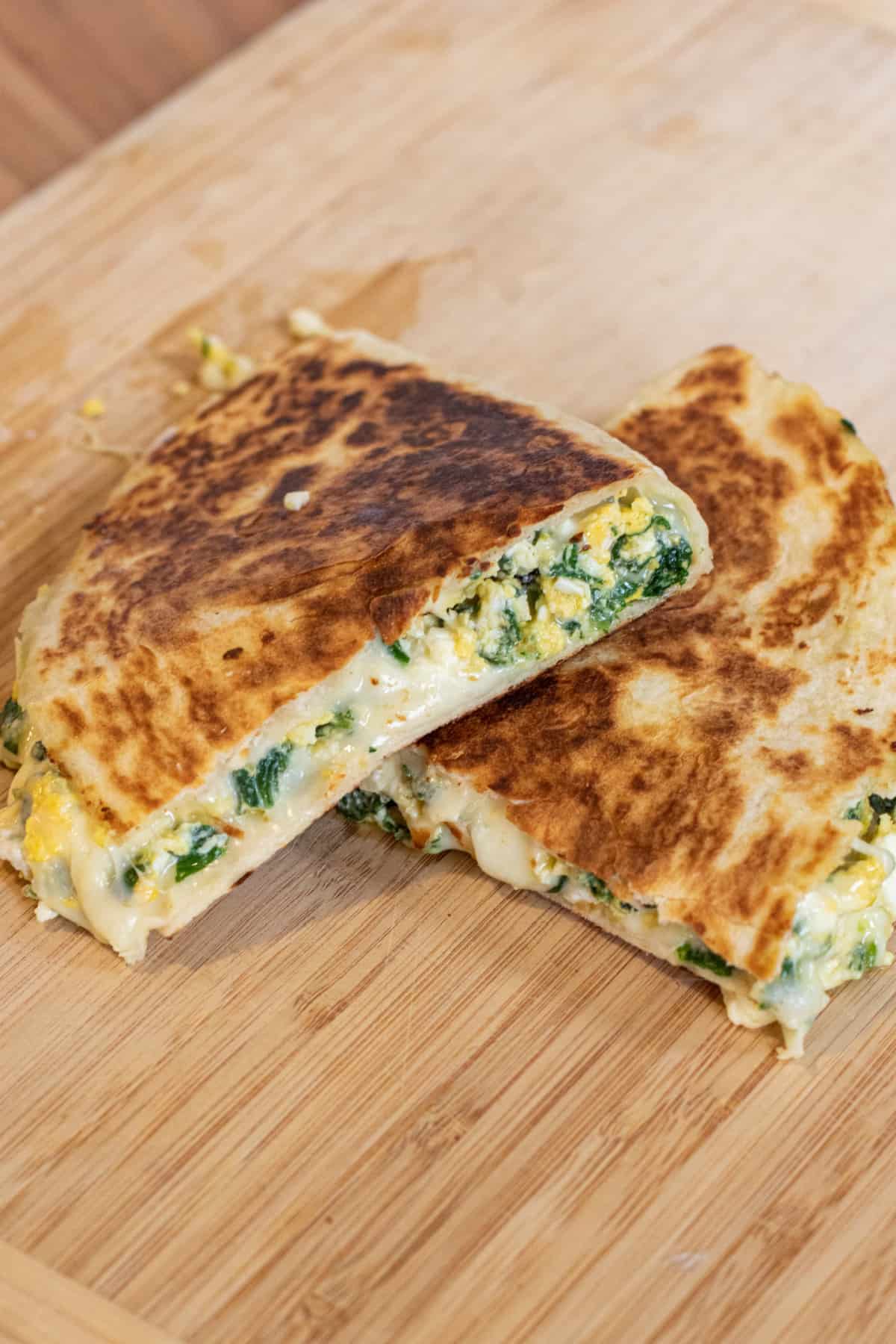 And done! 10 Minute Spinach and Feta Breakfast Quesadilla! So crispy. So cheesey. And all that fresh spinach snuck right in there between all of that cheese! Breakfast win.
Recipe Tips
Make it gluten-free
Use your favorite gluten-free tortilla to make this a vegetarian and gluten-free meal!
Add your favorite veggies
No spinach? No problem. Saute up some of your other favorite veggies like zucchini, onions, or bell peppers. Keep in mind that depending upon the veggie, it'll likely add to the cooking time because the spinach only takes a minute to saute. This is also a great way to use up some leftover cooked veggies!
Add another protein!
While we love this as an easy vegetarian breakfast option, we'd be lying if we said that it also wasn't super delicious with some cooked crumbled bacon mixed into the egg and spinach, too!
Add other cheeses
Feta and mozzarella are our favorite combos, but you can use your favorites too! Use a harder cheese with the spinach (like an Asiago or Parm) and then use a melty cheese like cheddar or Colby to line the sides of the tortilla.
Meal Prep and Freeze
While 10 minutes is super fast, if you wanted something even faster, these freeze beautifully. Just prepare until the last pan fry and freeze in a freezer-safe container. Take it out the night before and let defrost in the fridge before frying (although it'll take a few more minutes to fry to fully heat through) or pop it in the microwave for 10-15 seconds before adding it to your pan to melt the chees and crisp your tortilla!
Use the right pan
Be sure to use a pan that'll fit at least 1/2 of a large tortilla when you first cook your spinach and eggs. No need to dirty multiple pans! Also, it's best to use a non-stick pan.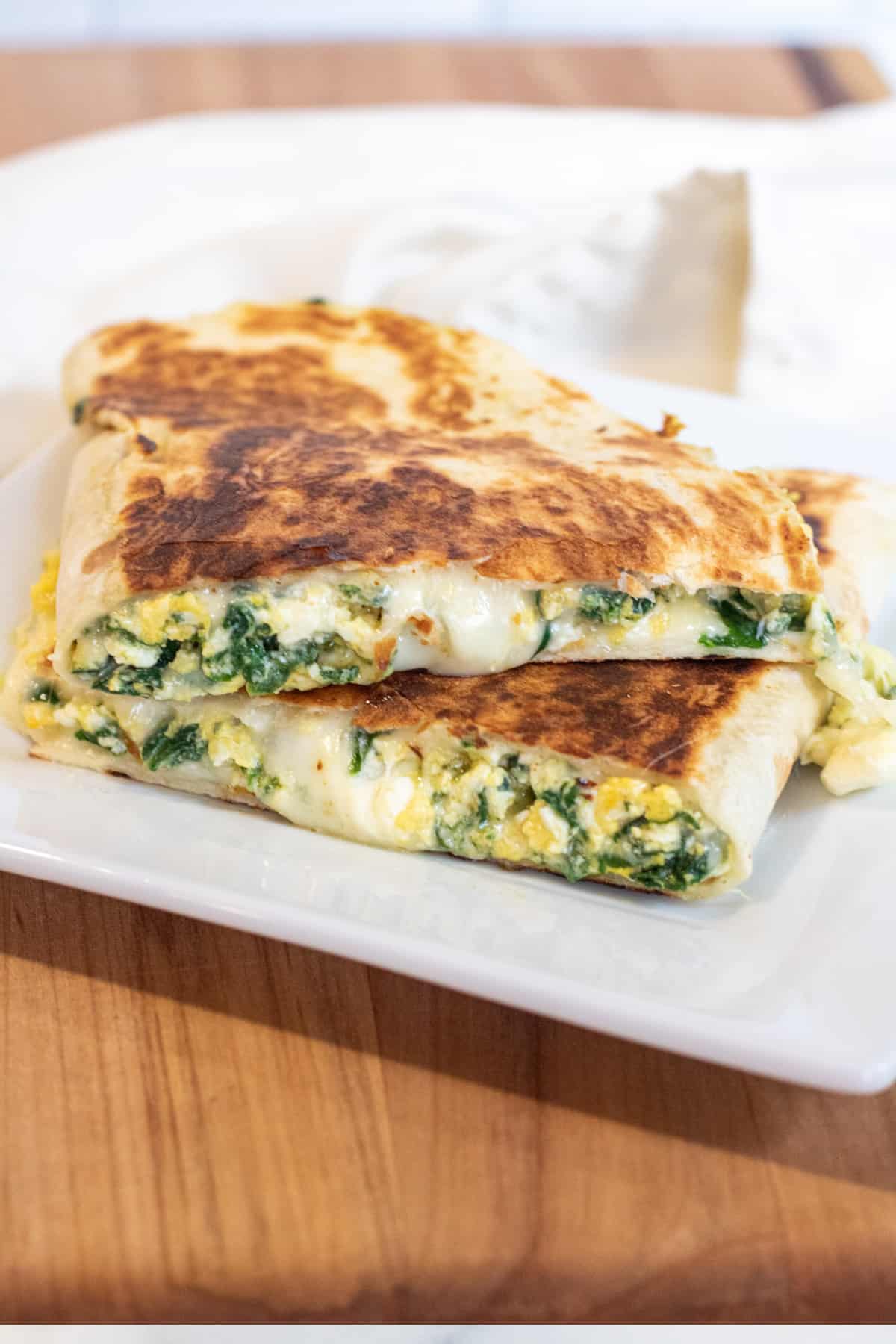 You Also Might Like...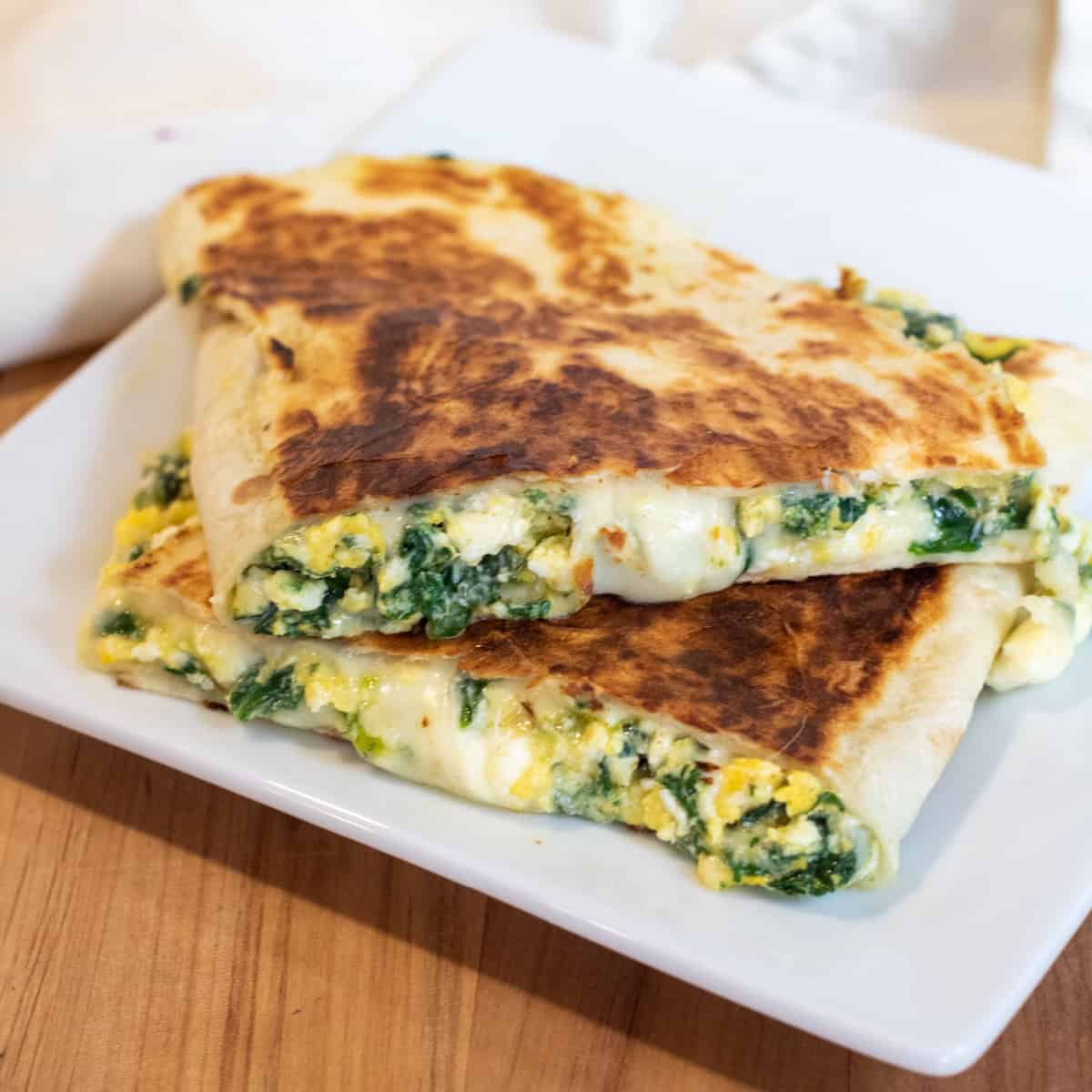 So get your quick and easy breakfast on with these healthy breakfast quesadillas, especially for the busy start of the school year!
Enjoy! As always, if you make this recipe or any of my others, I love to hear what you think! Leave a comment below, email me, or you can find me on Facebook, Instagram, and Pinterest!
If you want to see more, be sure to sign up for my 5 Easy Ways to Start Cooking From Scratch!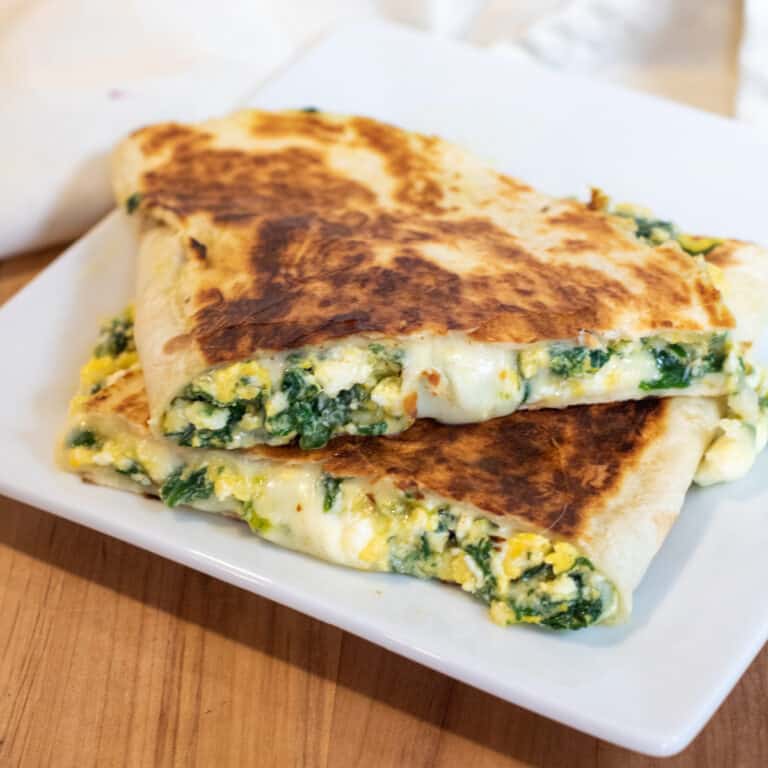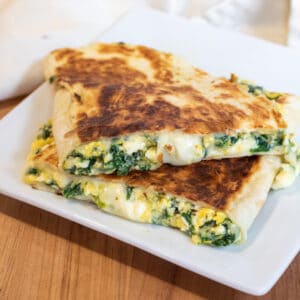 10 Minute Spinach and Feta Breakfast Quesadilla
A classic combo mixed with eggs for a fast and easy breakfast!
Print
Pin
Rate
Ingredients
1

teaspoon

extra virgin olive oil

or butter

1 1/2

cups

spinach

packed, approximately 2 oz

1/4

teaspoon

garlic powder

1/4

teaspoon

onion powder

2

large

eggs

1/4

cup

feta cheese

approximately 1 oz

1

large

flour tortilla

1/2 - 3/4

cup

mozzarella cheese

freshly shredded, approximately 2-2.5 oz

salt and pepper to taste
Instructions
Heat olive oil in the pan over medium heat and add spinach with garlic powder and onion powder. Saute for 1 minute until spinach begins to wilt.

Add eggs and use a spatula to break up the yolk and whisk as you scramble the eggs in the pan with the spinach until eggs are cooked, another 1-2 minutes. Top with feta cheese, give a quick stir to combine it all, and remove from then pan and set aside.

Lower heat to medium-low and add flour tortilla. Sprinkle 1/2 of the mozzarella cheese on one half of the tortilla, top with egg, spinach, and feta mixture, and top with the remaining mozzarella cheese. Fold other the other half of the tortilla.

Let cook for about 90 seconds on one side (or until the tortilla is nice and crispy and the bottom half of the mozzarella is melted). Flip and cook for about another 90 seconds on the other side, again, until the mozzarella is melted and the tortilla is lightly browned and crispy.

Transfer to a cutting board or plate and cut in half and enjoy!
Notes
The nutritional value is approximate for the entire quesadilla.
Freeze: Prepare in advance and store in the freezer! Prepare the eggs and spinach and assemble the quesadilla, but outside of the hot pan. Let cool and then add to a baking sheet covered with parchment paper and add to the freezer and freeze for 1-2 hours before transferring them to a freezer-safe container for up to two months.
Re-heat from Frozen
Thaw overnight: Remove from the freezer the night before and let thaw in the fridge and then add to the hot pan in the morning. Start with a lower temp and cook for longer than 90 seconds to ensure that the center of the quesadilla is fully warmed through.
Microwave: Remove frozen quesadilla from the freezer container and microwave for 10 seconds (in a high-powered microwave) before adding it to a pan to fry. If 10 seconds isn't enough, add another 5-10, but be careful to not make it too soggy because then it will be hard to stay together when you add it to the pan.
Airfryer: Add the frozen quesadilla straight to your air fryer at 350 degrees for 12-15 minutes.
Substitutions
Olive Oil: Butter is also great! We'd suggest unsalted because of the salt level that's already in the cheeses.
Spinach: Use frozen by thawing and then strain out the excess water.
Veggies: Add any of your favorite veggies! Just keep in mind cooking the veggies will take longer than spinach if they are raw. It's also a great way to use up some leftover cooked veggies.
Cheese: Use any of your favorites! Use a harder cheese with the spinach like a Parmesan or asiago and then a melty cheese like fresh shredded cheddar or Colby to line the tortilla with.
Shred Your Own Cheese
While the pre-shredded cheeses are super convenient, if you want the ultimate melt-factor, shred your own cheese, because those pre-shredded cheeses have anti-clumping preservatives added to them.
Nutrition
Calories:
552
kcal
|
Carbohydrates:
21
g
|
Protein:
34
g
|
Fat:
37
g
|
Saturated Fat:
17
g
|
Polyunsaturated Fat:
4
g
|
Monounsaturated Fat:
13
g
|
Trans Fat:
0.04
g
|
Cholesterol:
450
mg
|
Sodium:
1178
mg
|
Potassium:
506
mg
|
Fiber:
2
g
|
Sugar:
2
g
|
Vitamin A:
5296
IU
|
Vitamin C:
13
mg
|
Calcium:
615
mg
|
Iron:
5
mg