Grandma Pearl's Whoopie Pies From Scratch are two soft, pillowy chocolate cookies filled with a "miracle frosting" that's a New England classic made from Grandma's tried and true recipe!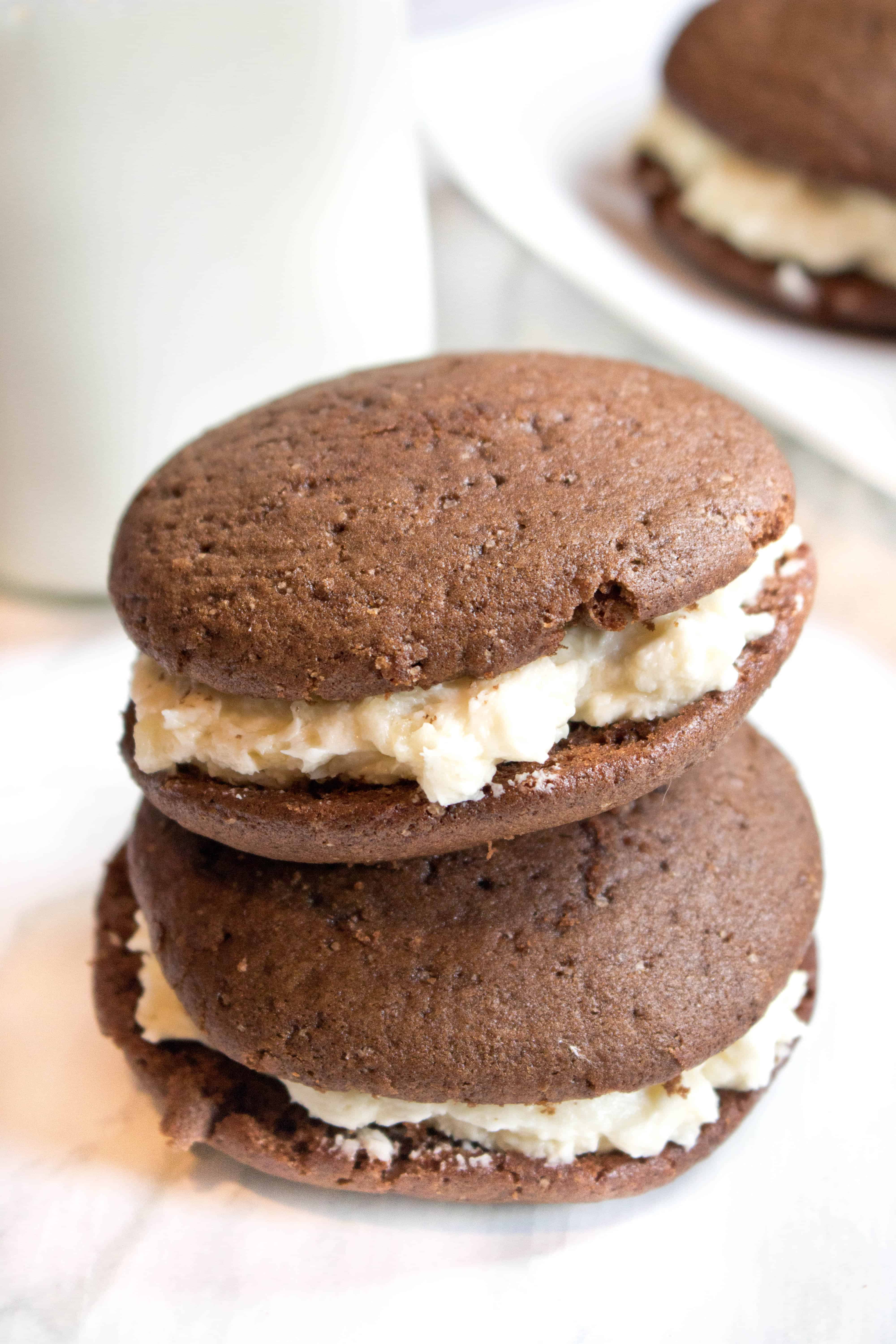 Guys. I have Valentine's Day treat for you, today, Grandma Pearl's Whoopie Pies From Scratch! A tried and true recipe from a Grandma passed down from generation to generation, but they're not from my grandma, they're from my best friend Holly's Grandma Pearl - 5th generation Vermonter who grew up on a dairy farm. Now if that's doesn't prove these are the best of the best when it comes to this New England classic, I don't know what will!
2019 started the very best way any year could possibly start with my best friend, my matron of honor, the woman I was honored to be maid of honor to, after living in separate states for many years, MOVED TO OREGON. I was sooooo honored that Holly wanted to share her Grandma Pearl's Whoopie Pies From Scratch with you all! These delicious pies of soft pillowy sweet chocolate cookies of New England heaven are super easy to make and so so soooooo delicious!
Ingredients Needed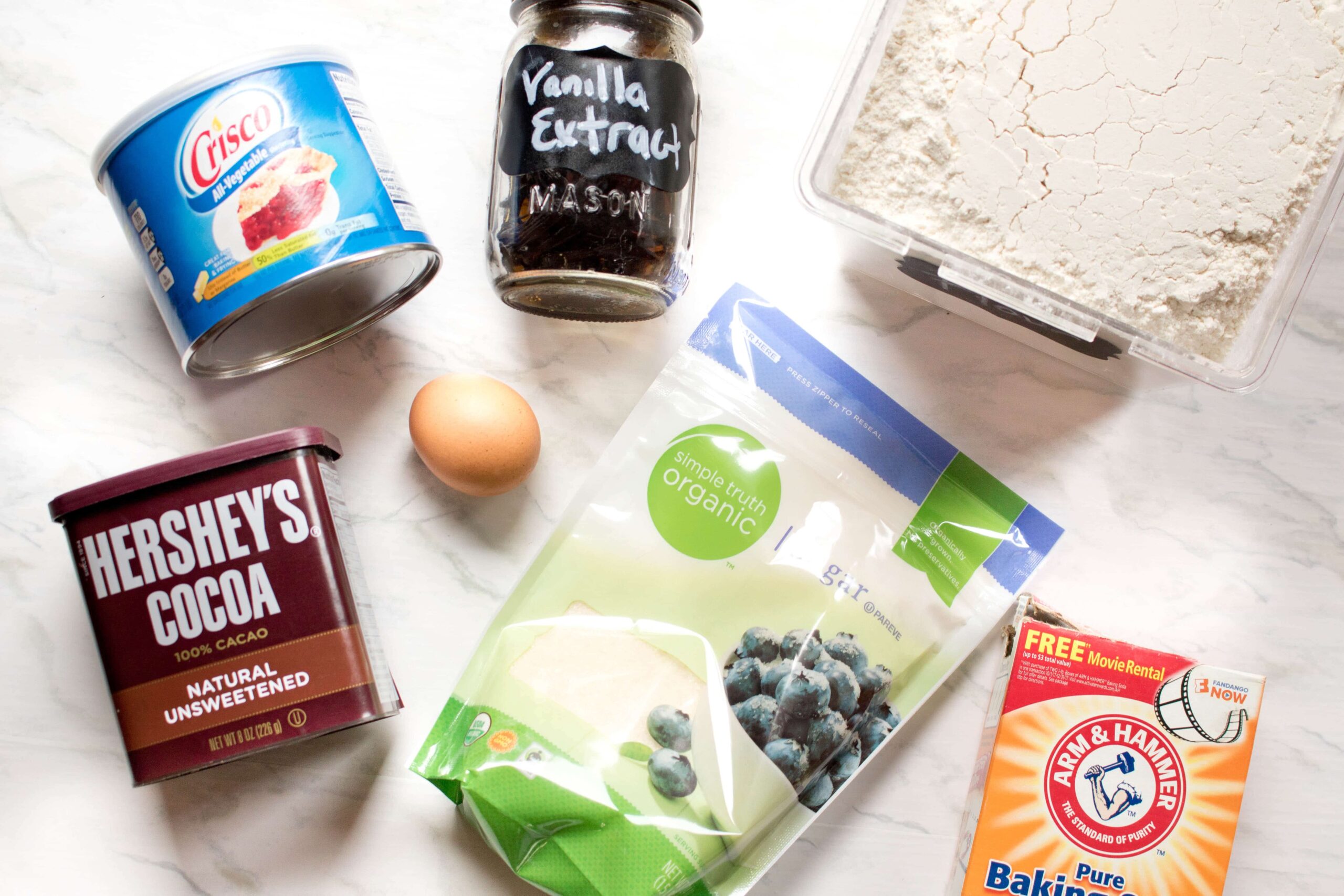 Now that we live so close to each other it means we can spend a Saturday afternoon together baking! you probably already have everything you need in your pantry to make them. Not pictured here, milk. Annndd probably something else, too. Because, well, I mom brain a lot of things. I had our little baby bear and then we were babysitting our friends 9 month old so I actually spent the time baby wrangling while Auntie Holly taught M all about measuring, mixing, and most importantly, tasting as they baked together. Have I mentioned how happy my heart is?
Btw, have you made your own Vanilla Extract From Scratch yet? No? Well if you make some now you'll have plenty ready to go by the time the next holiday baking season comes around and future you will totally thank past you for thinking ahead!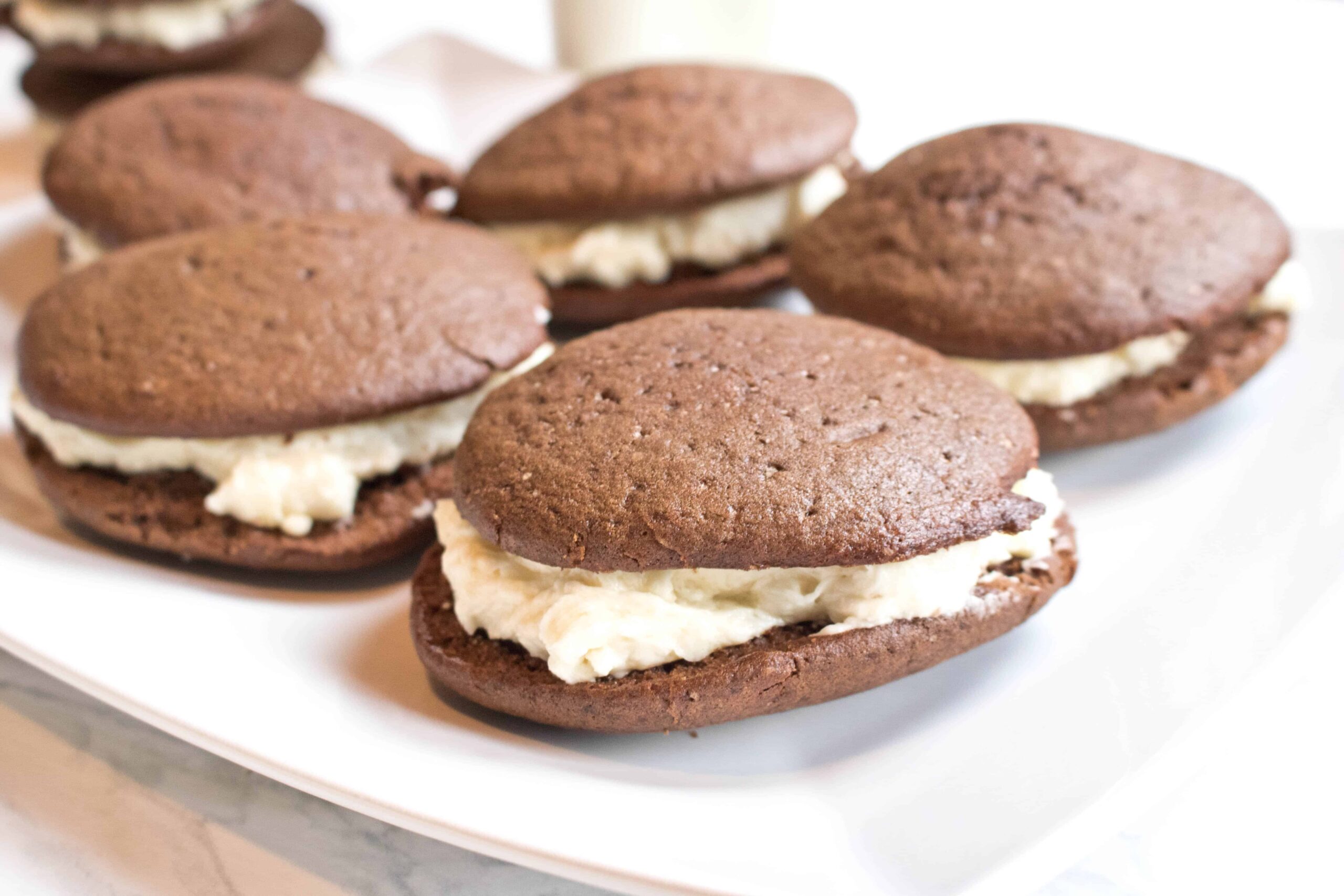 Ok, back to Grandma Pearl's Whoopie Pies From Scratch. See that chocolate cookie? It's super soft and just subtlety sweet. But that frosting - that Miracle Frosting - ooh man it is pure sweet deliciousness and the perfect balance for the chocolate!
Together, heaven. Soft and just the right amount of sweetness. And soooo New England. As Holly says, you know you're in Vermont when they're selling Green Mountain Coffee and Whoopie Pies at the gas station. Oh I'll always Lovermont. After all, it's where Holly and I met and now, after living in VT and CO together, OR's proving 3rd times the charm!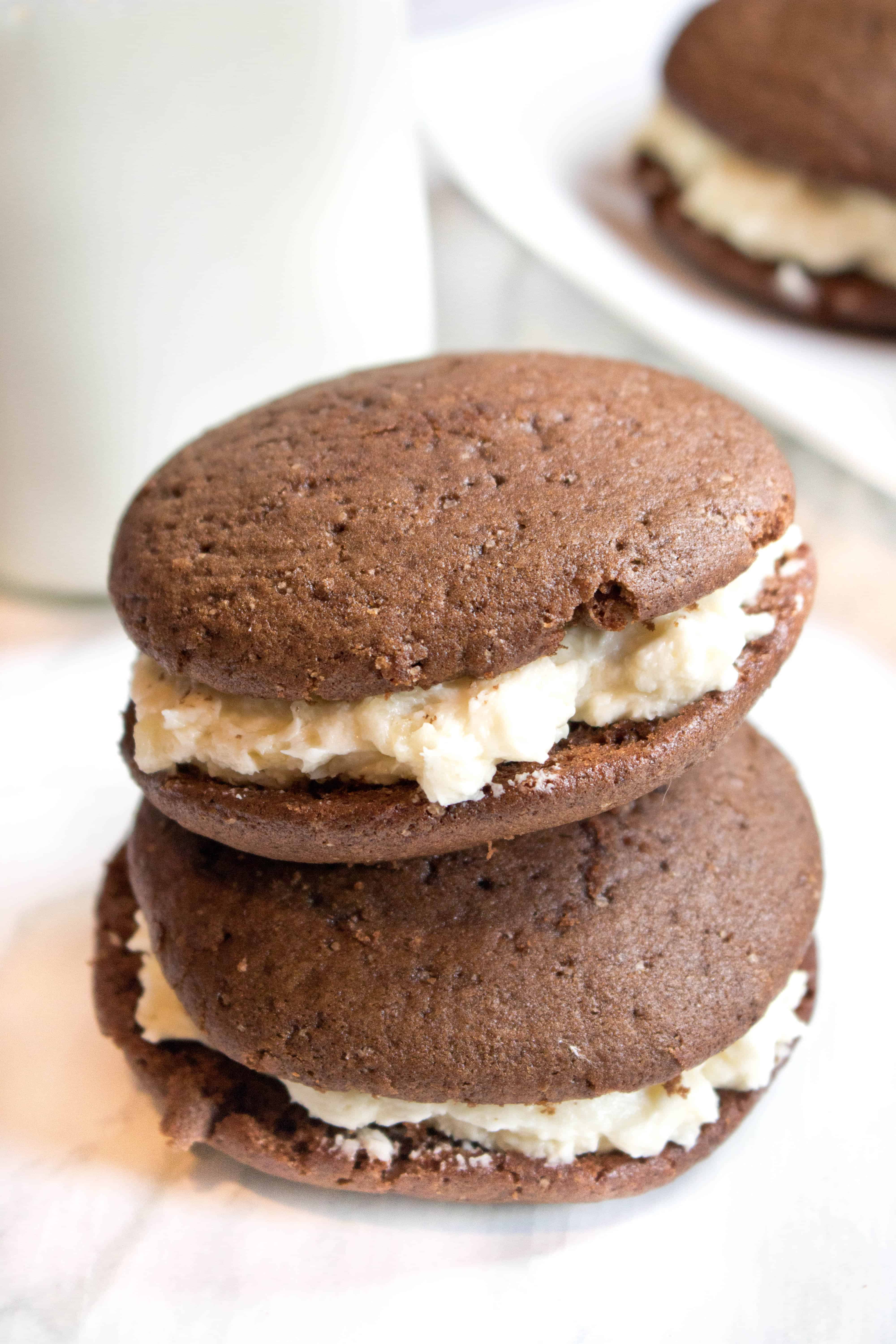 Happy Valentine's Day, friends! Or if that's not your thing, happy late Galentine's Day or (my favorite) Happy Early Super Duper Cheap Chocolate at the Grocery Store Day! 😉
Don't forget to share your photos and comments with me when you make these bad boys. I love to hear about it - and even more importantly, I'd love to share it with Holly and her family to make Grandma Pearl proud!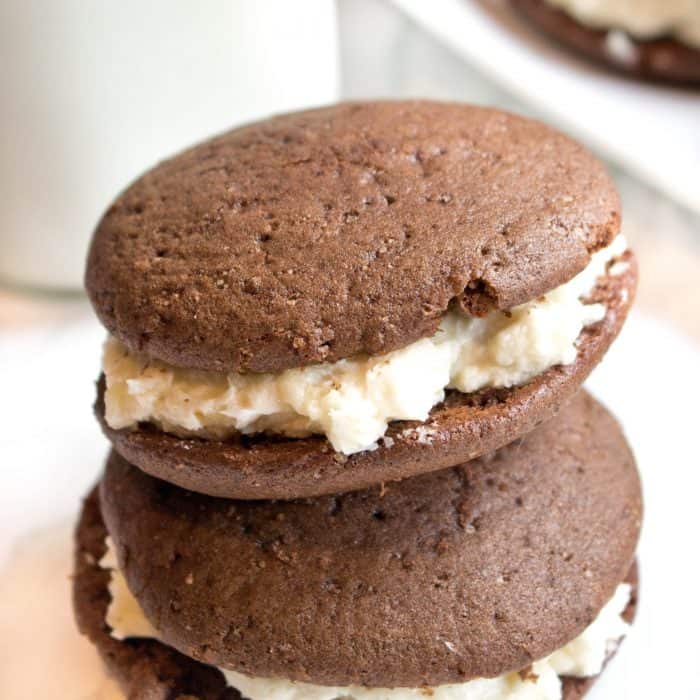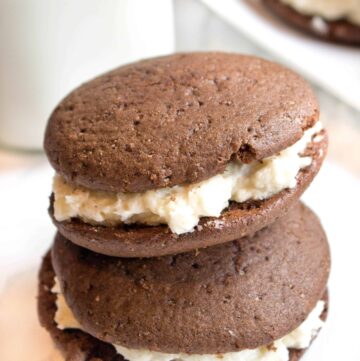 Grandma Pearl's Whoopie Pies From Scratch
A New England Classic! These Whoopie Pies From Scratch are two soft chocolate cookies sandwiching a Grandma Pearl's Miracle Frosting!
Print
Pin
Rate
Ingredients
Whoopie Pies
6

tablespoons

crisco

1

cup

sugar

1

egg

1

teaspoon

vanilla extract

1

cup

milk

1% or 2%

2

cups

all purpose flour

5

tablespoons

unsweetened cocoa powder

1 1/4

teaspoon

baking soda
Miracle Frosting
4

tablespoons

flour

1

cup

milk

1/2

cup

salted butter

1

teaspoon

vanilla

1/2

cup

crisco

1

cup

sugar
Instructions
Pre-heat oven to 400 degrees. Grease 2 large baking sheets and set aside.
To Make Miracle Frosting
Mix flour and milk together in a medium sauce pan and heat slowly, stirring constantly until it begins to thicken. Thicken until it's the consistency of heavy cream.

Put immediately in the fridge to cool.

With a hand mixer, in a large bowl whip butter for 4 minutes.

Add Crisco and whip for 4 minutes.

Add sugar and whip for 4 minutes.

Once cooled, add milk and flour mixture and whip for 4 minutes.
To Make Pies
In a large bowl cream together Crisco and sugar. Add egg, vanilla, and milk and mix together until well combined.

In a separate medium sized bowl, mix together all the dry ingredients: flour, cocoa powder, baking soda.

Mix dry ingredients into bowl with creamed ingredients.

Scoop approximately 1/4 cup of batter onto greased baking sheets, leaving plenty of room - 2 -3 inches between each scoop. The batter will spread!

Bake for 8 - 10 minutes. Then remove from sheet and let cool.

Assemble the pies by spreading a thick layer of frosting on one pie and then topping with a second.