Skip the take-out and make your very own Homemade Crispy Sesame Chicken! It's easier than you think and you can make it with simple and easy ingredients you already have in your pantry!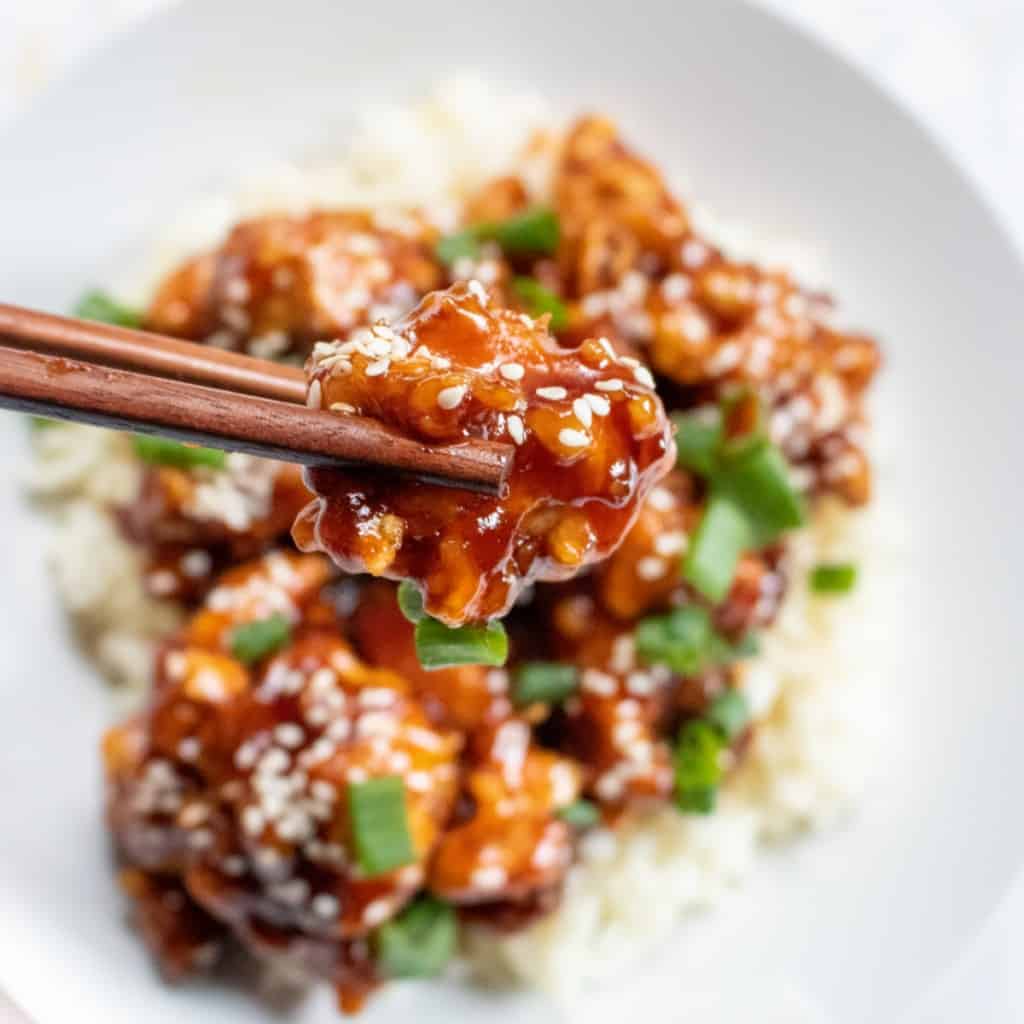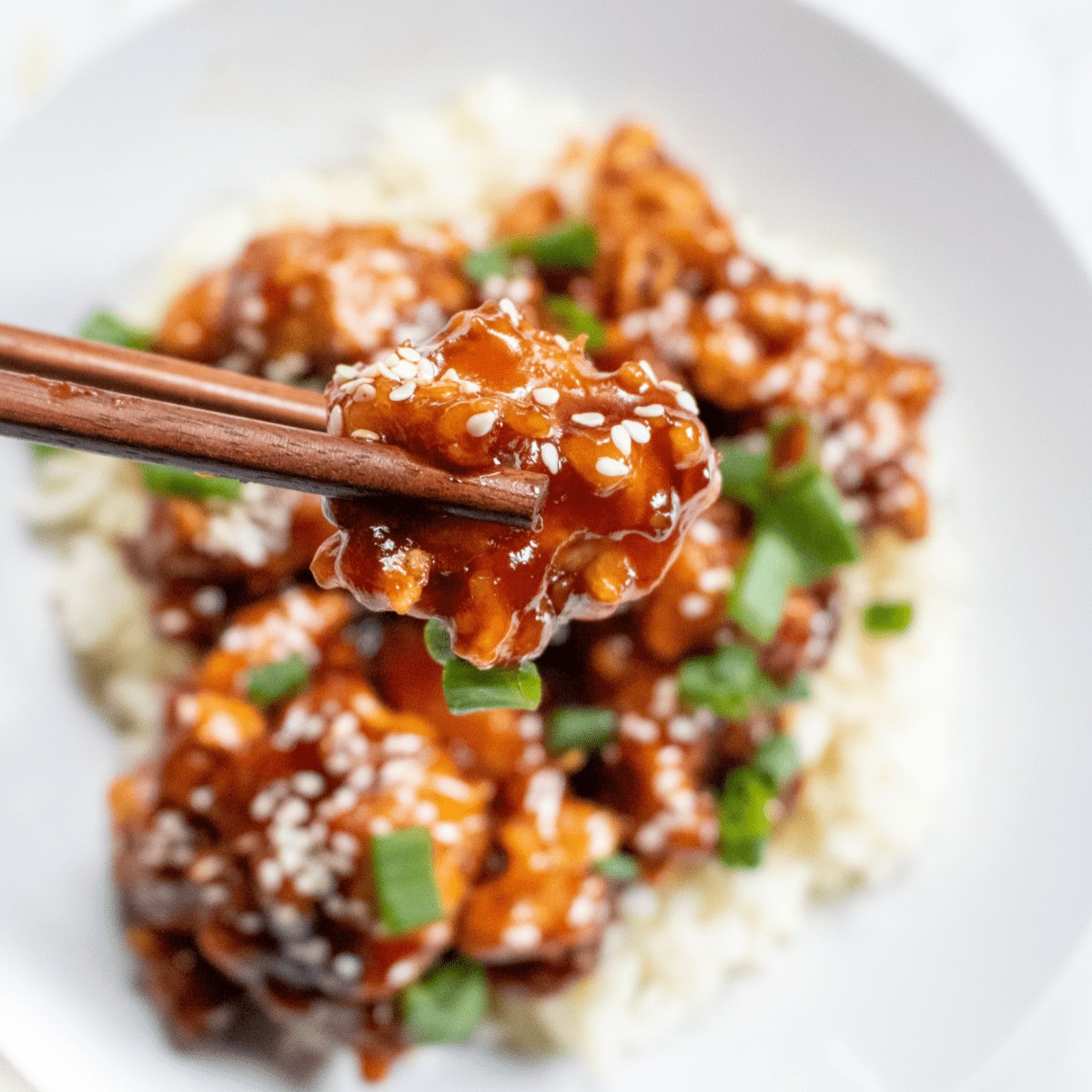 Guys. It's allllll the Asian flavors up in this house these days. Even though people often try to speak to me in Japanese, Chinese, and Korean (and any other Asian language that the speaker knows) because I am in Korean, I grew up in New England and was raised 100% Polish, so this much Asian deliciousness in our house isn't common, but it's now going to be because these homemade versions are so easy. With a two-year-old and a (now) 3-month-old at home, dinner has to be easy these days. And although it might take a little bit of time, this Homemade Crispy Sesame Chicken is easy!
Recipe Video
Ingredients Needed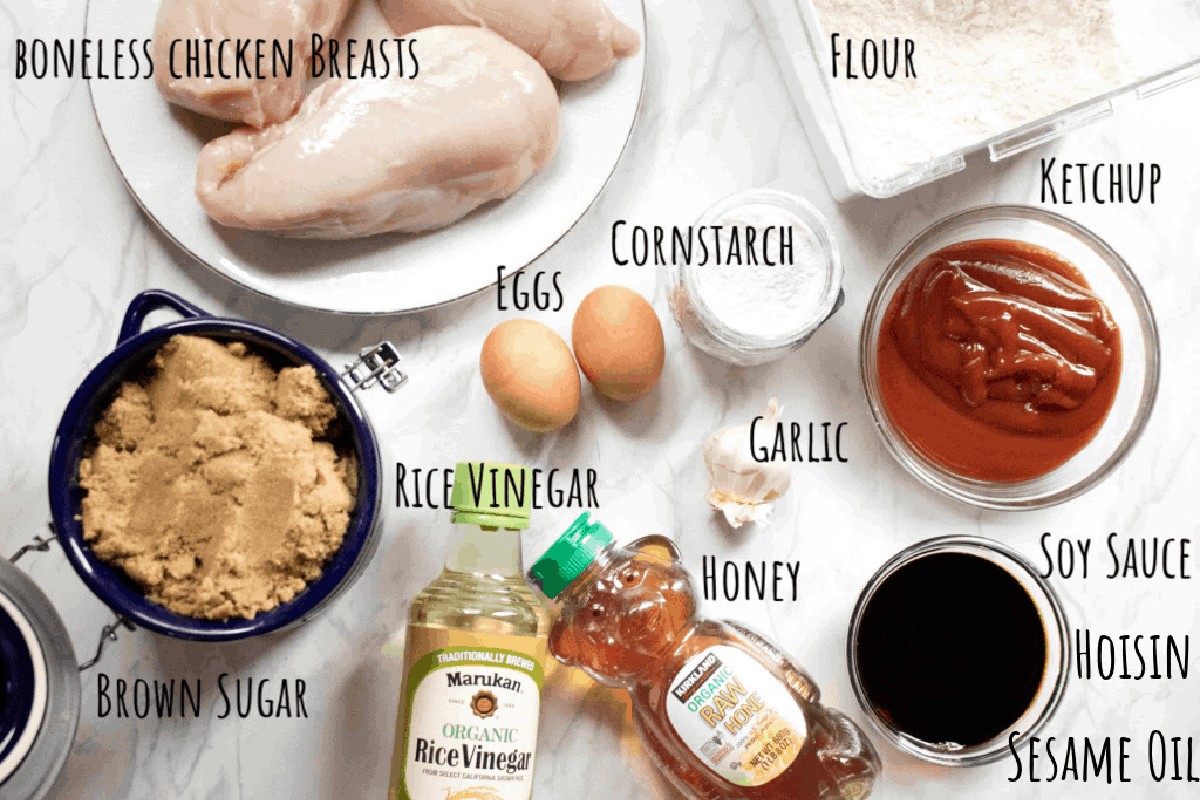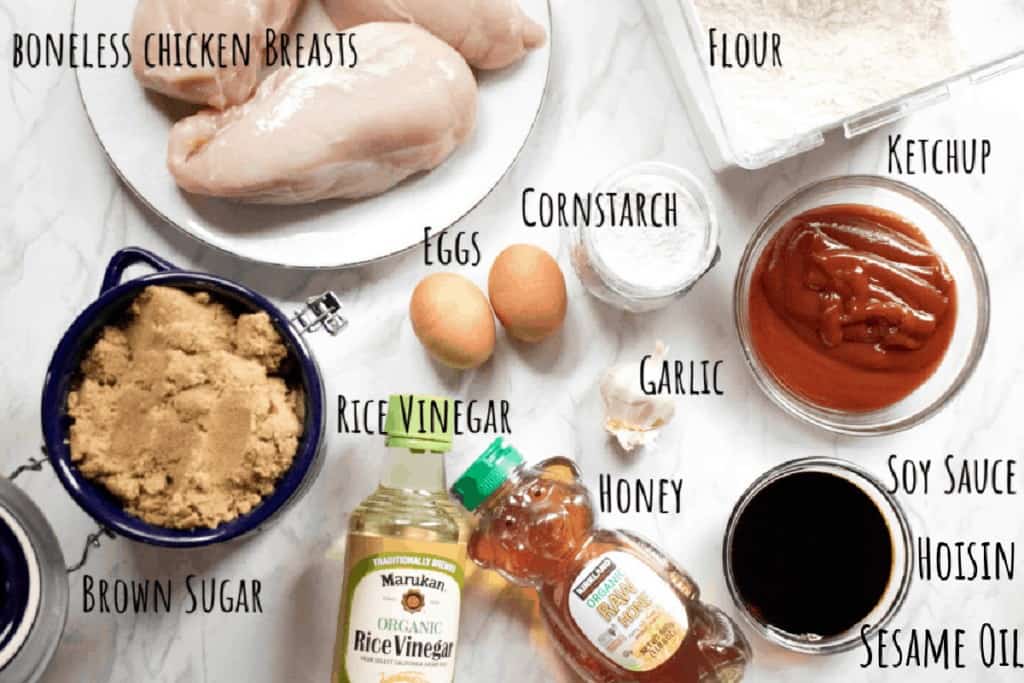 Even though "from scratch" and "homemade" can often sound time-consuming, it doesn't have to be. Plus, you probably already have everything for this recipe in your pantry. Maybe you don't have rice wine vinegar. In that case, you need to add it to your pantry immediately, especially if you want to make more Asian dishes.
Boneless Chicken - Breasts are our favorite for this.
Flour and Cornstach - To coat the chicken. We use all-purpose but you can also use gluten-free flour. Just keep in mind if you use almond or coconut flour, that will adjust the taste of your chicken. The cornstarch helps add to the crispiness while it's frying.
Eggs - To bind the coating
The Sauce - low sodium soy sauce, rice vinegar, ketchup, honey, garlic, hoisin, and brown sugar.
Sesame Oil - This adds that sesame flavor, although you could also use another oil, but keep in mind whatever you use will impart flavor, so best to use a vegetable oil, unless you want some added peanut flavor, add some peanut oil.
Tip: You can make your own 5 Minute Homemade Ketchup, Hoisin Sauce, and Homemade Brown Sugar!
Substitutes: You can also make this with boneless chicken thighs, but I prefer it with chicken breasts.
Step-by-Step Instructions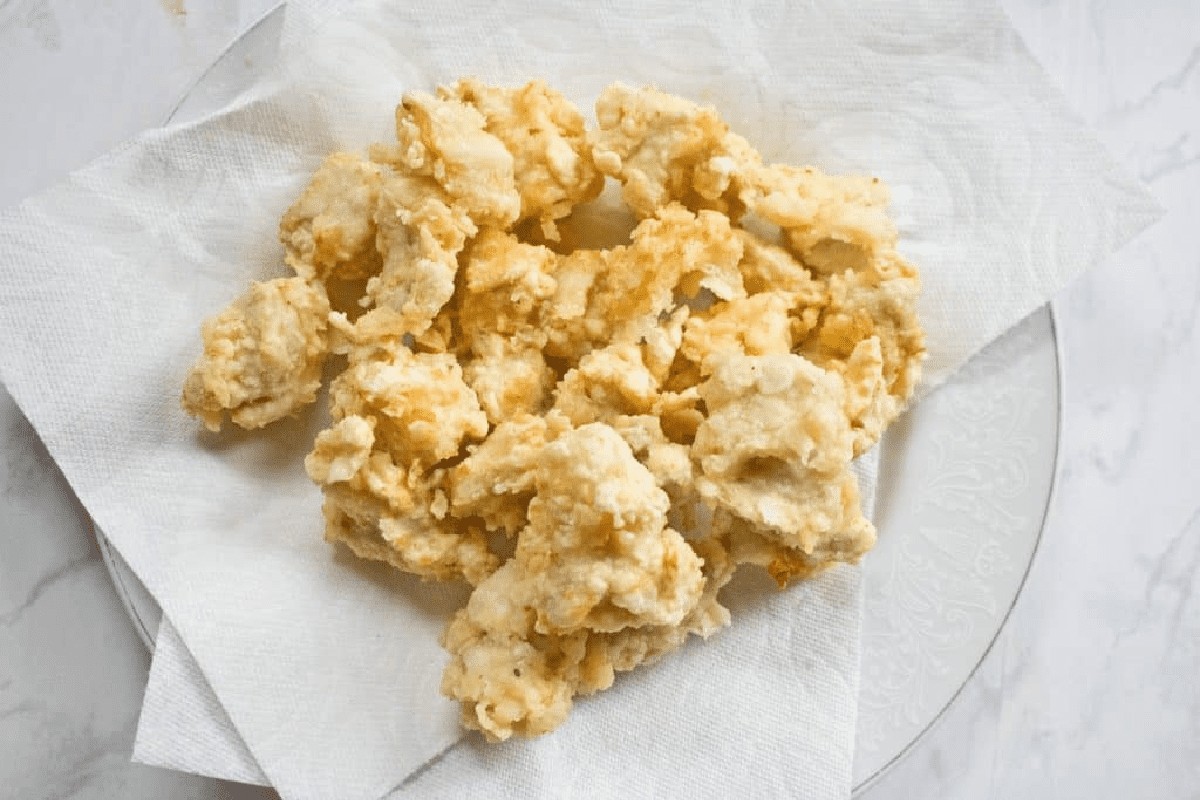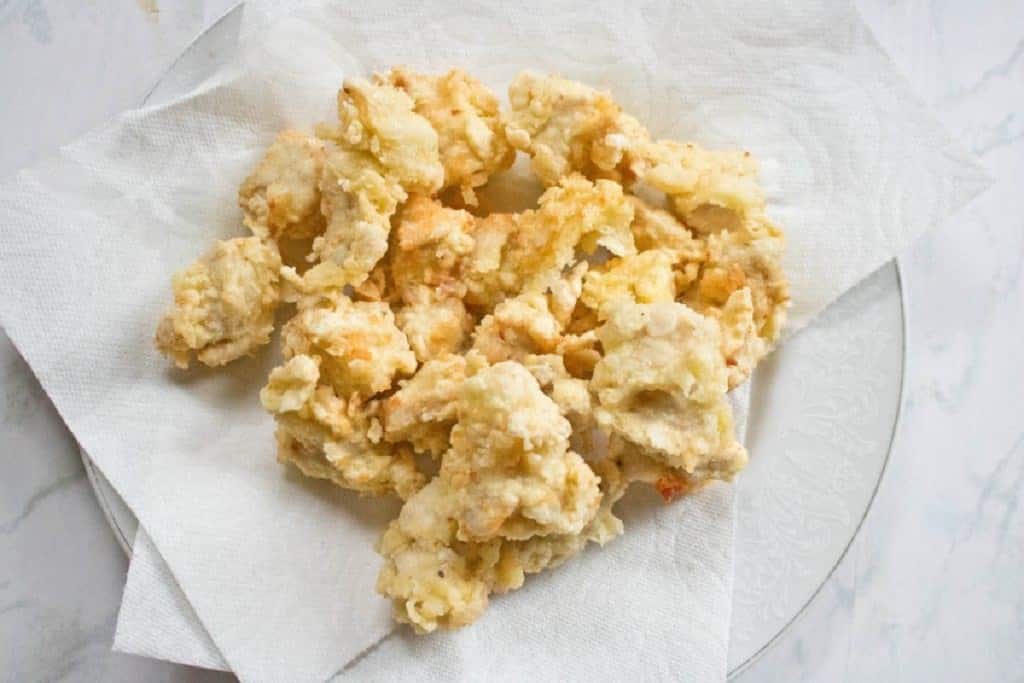 Step 1: Coat the chicken pieces in eggs, flour, and cornstarch, and then fry. It's the most time-consuming part of this recipe but 100% worth it.
Tip: For the best fry without the risk of undercooking and overcooking, is to make sure that your oil is 350 degrees. To do this, we have an instant-read thermometer and love this one.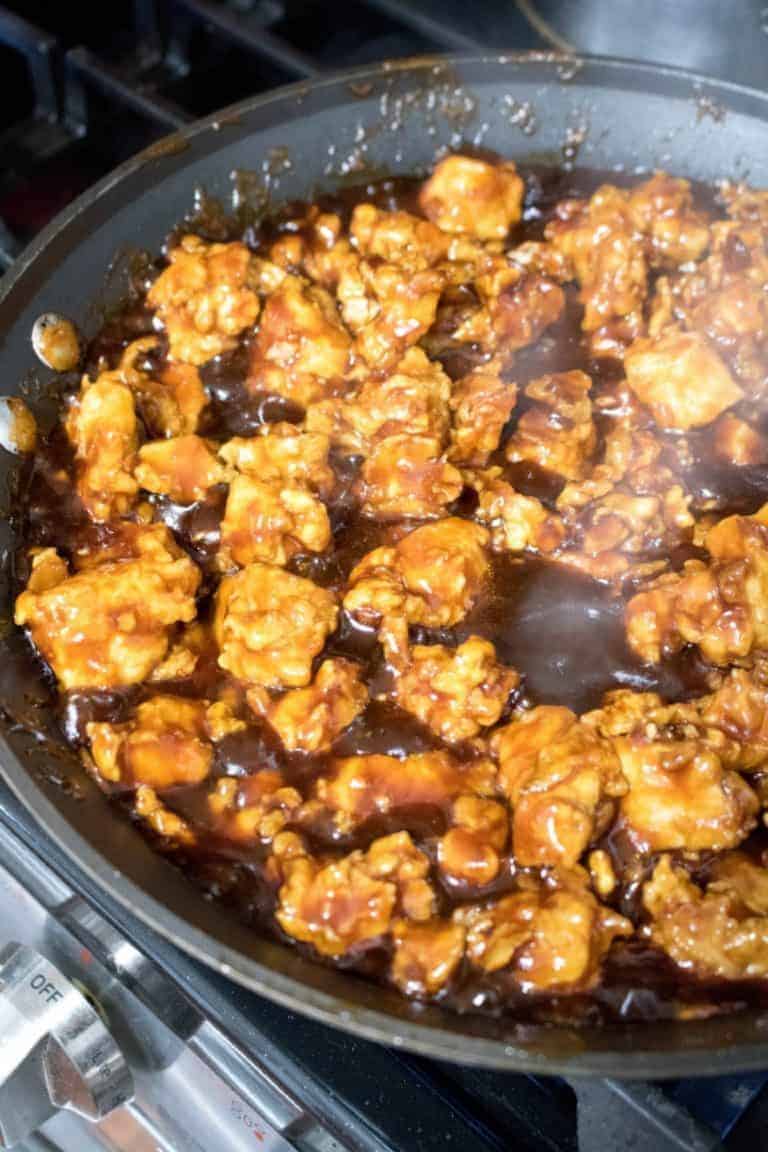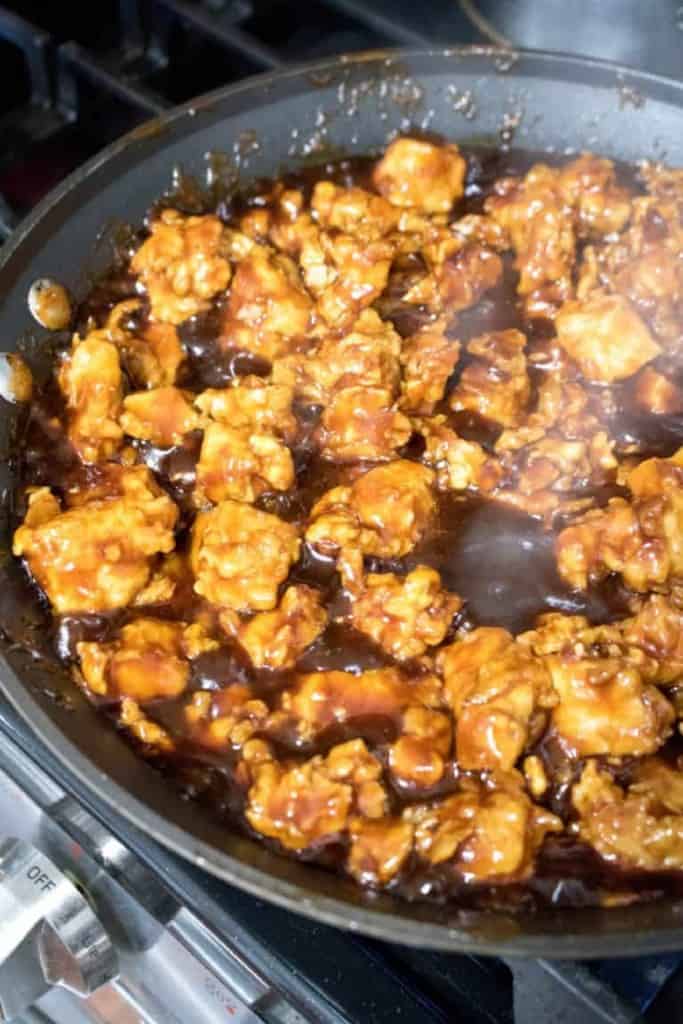 Step 2: Mix your sauce and then just mix the sauce, add it to a pan, and then toss your deliciously breaded and fried bits of chicken in it.
Tip: For added sesame flavor, we sometimes do a final drizzle of sesame oil over the top before giving it all a final mix.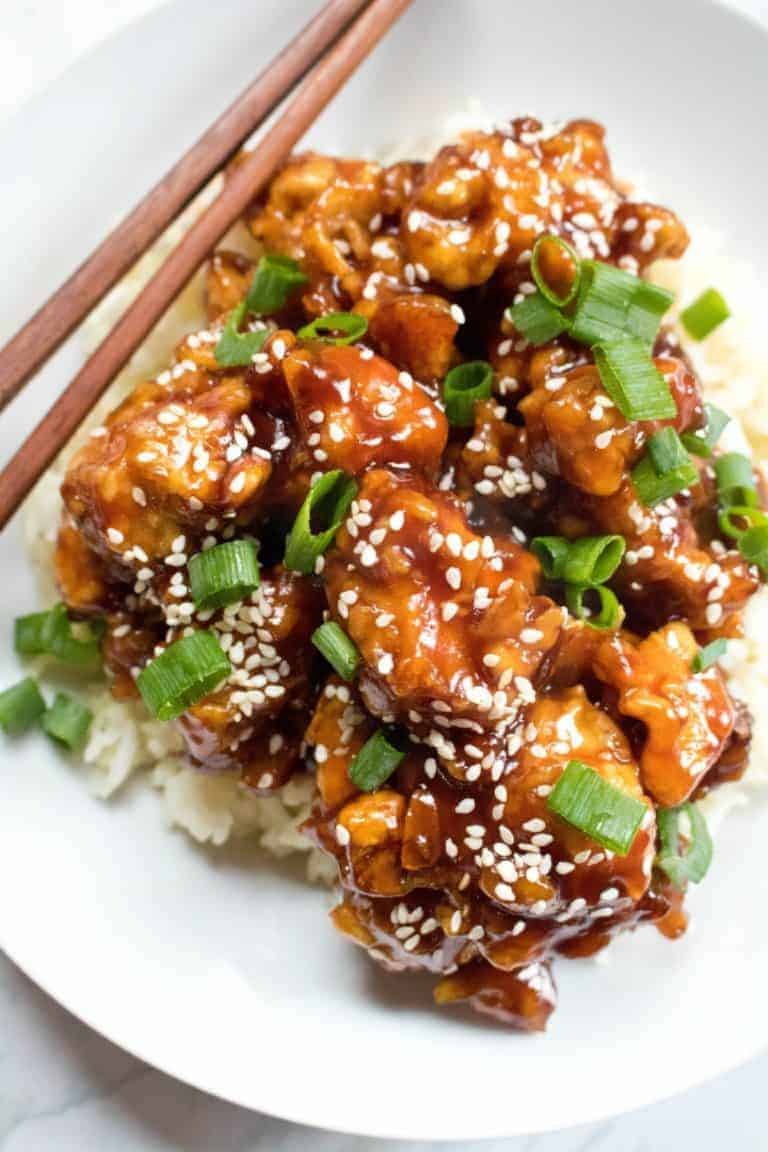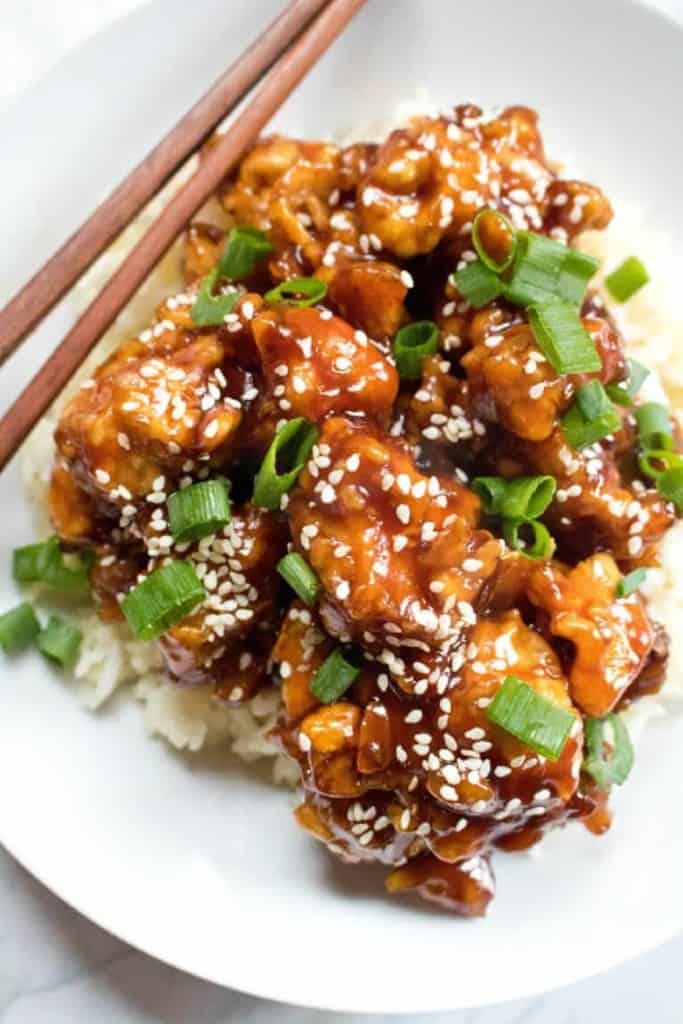 Step 3: Top with sesame seeds and green onions, serve over rice annnndddd done.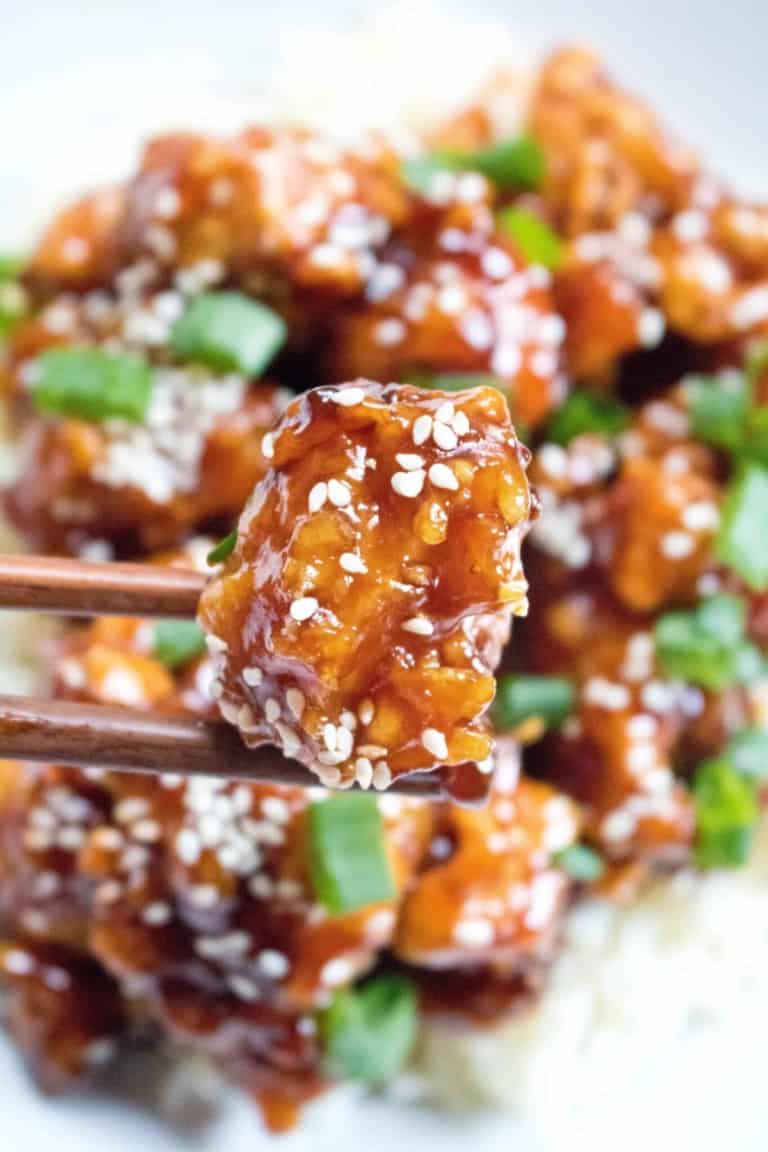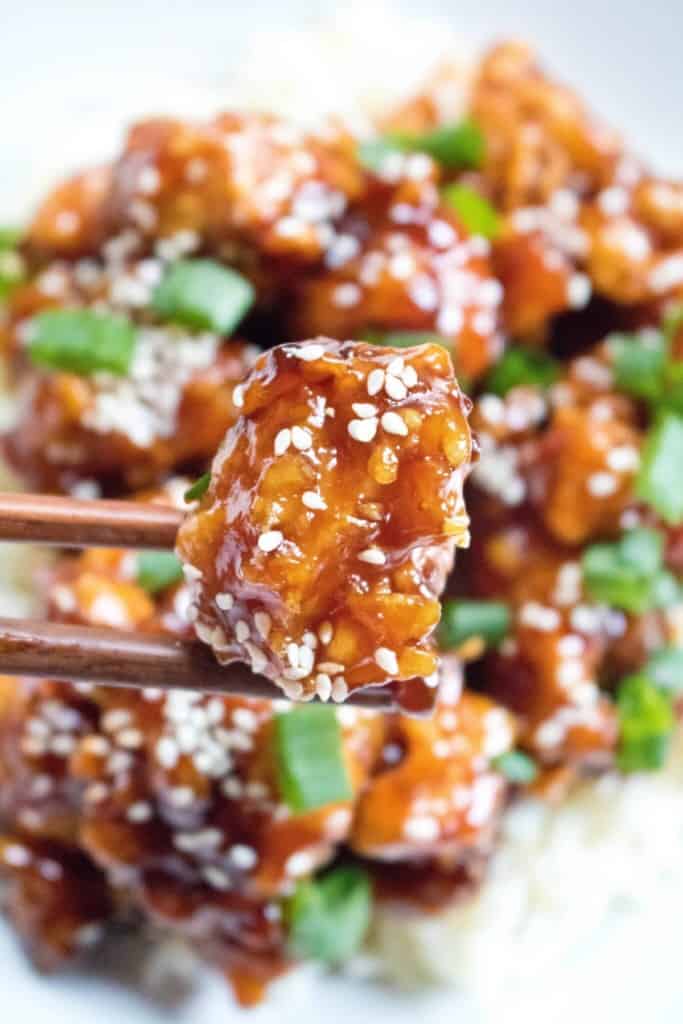 I mean, c'mon. How good does this look? Trust me, it tastes that good, too!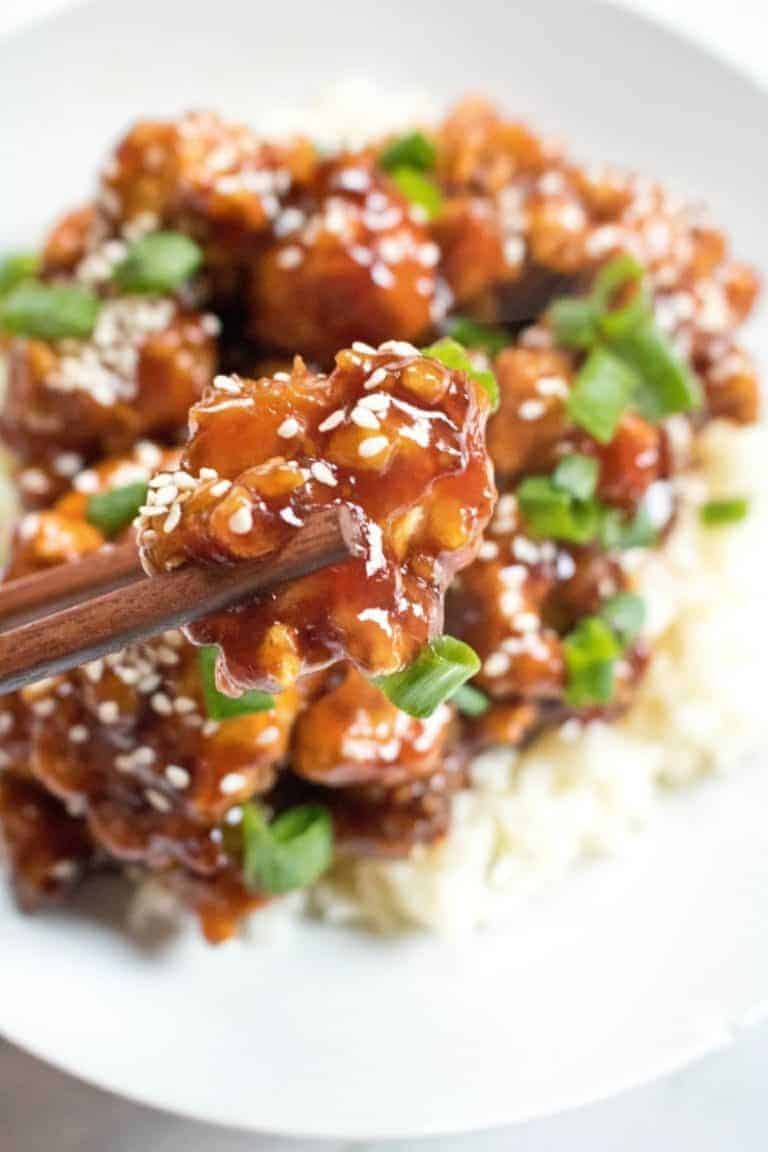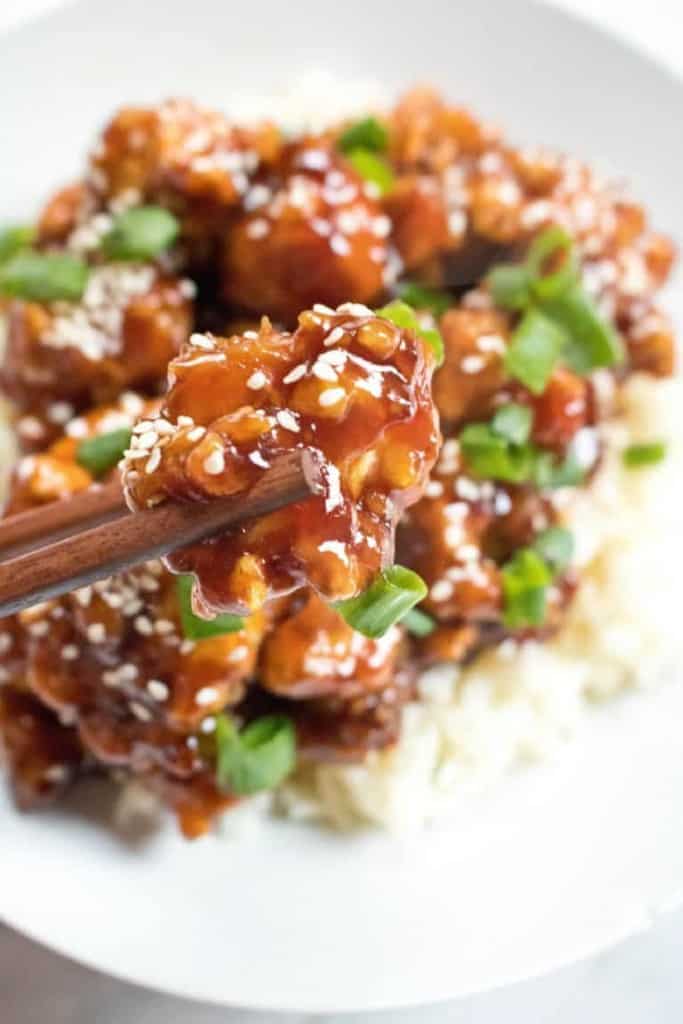 My husband and my two-year-old could not get enough and have already requested it again! So skip the take-out and make your own Homemade Crispy Sesame Chicken!
Other Favorite Asian Inspired Recipes
Crock Pot Beef Pho From Scratch
Sweet and Spicy Sriracha Chicken Thighs
20 Minute Sweet and Spicy Noodles
Chicken and Broccoli Sesame Noodles
Sweet and Sesame Ginger Meatballs
Don't forget to tell me if you've made the recipe on Pinterest, Facebook, Instagram, or Twitter! Or leave a comment below - I love hearing from you!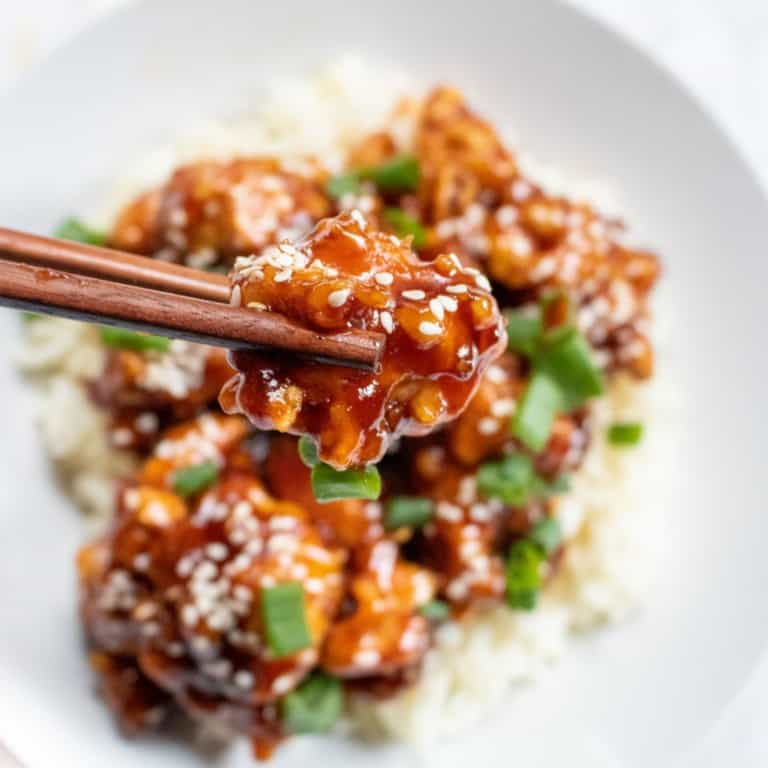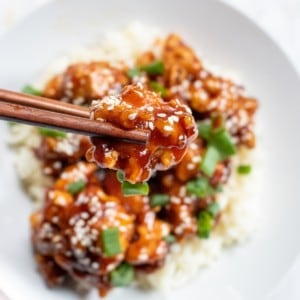 Homemade Crispy Sesame Chicken
Skip the take-out and make your very own Homemade Crispy Sesame Chicken with simple and easy ingredients you already have in your pantry!

Print
Pin
Rate
Ingredients
For the chicken
1 1/2

lbs

boneless skinless chicken breasts cut into 1 inch pieces

2

eggs

1/2

cup

flour

1/2

cup

cornstarch

1/4

teaspoon

salt

1/4

teaspoon

fresh ground pepper

oil for frying

vegetable
For the sauce
2

tablespoons

sesame oil, divided into 1 tablespoon and another 3 teaspoons

or vegetable oil

2-3

gloves

garlic, minced

or 2 teaspoons garlic powder

1/4

cup

honey

1/2

cup

Low sodium soy sauce

1

tablespoon

hoisin

1/3

cup

ketchup

1

tablespoons

brown sugar

1/4

cup

rice vinegar

2

teaspoons

cornstarch

2

tablespoons

sesame seeds

2

tablespoons

sliced green onions
Instructions
In a medium to large sized shallow bowl, combine flour and cornstarch.

In another bowl, whisk eggs and add salt and pepper and mix well.

Coat the chicken by dipping each piece of chicken into the egg mixture with tongs and then into the flour. Add to a large plate. Repeat with all of the chicken.

In a deep pot (one that will be good for frying), add about 3- 3 1/2 inches of oil and heat on medium until oil is 350 degrees. It's best to use a thermometer for this, but you can also do the wooden spoon test.*

Once oil is to temp, add chicken to oil (only about 8 pieces of chicken at a time as to not crowd the pot) and cook for 5 minutes or until crispy and golden brown. Remove from oil and add to a paper towel lined plate. Repeat with all of the chicken.

Let chicken drain on a paper towel lined plate.

Meanwhile, combine the honey, hoisin, soy sauce, ketchup, brown sugar, rice vinegar, 1 tablespoon of sesame oil and 2 teaspoons of cornstarch in a bowl. You can also prepare this sauce a day in advance.

Heat 1 teaspoon of sesame oil in a large pan over medium heat. Add garlic and sauté for about 30 seconds just enough for it to become fragrant, but be sure to not burn it. Then add the sauce, bring it to a simmer, and then let it all cook together for about 3 minutes.

Once sauce has thickened, add the crispy chicken to the pan and coat all the pieces fully with the sauce. Once well coated, drizzle remaining 2 teaspoons of sesame oil over the top.

Add sesame seeds and green onions to the top of the chicken and then serve!
Notes
*Wooden Spoon Test:

Place the end of a wooden spoon in oil. If oil bubbles gently around spoon handle, it is ready. If it bubble vigorously, then it is too hot and you should let it cool a little before checking the temp again.
Make Ahead: You can make the sauce the day before and store in the fridge. Mix the flour and cornstarch ahead and store in an airtight container before you're ready to reduce prep time for a faster weeknight dinner.
Nutrition
Calories:
376
kcal
|
Carbohydrates:
43
g
|
Protein:
30
g
|
Fat:
9
g
|
Saturated Fat:
2
g
|
Cholesterol:
127
mg
|
Sodium:
1418
mg
|
Potassium:
583
mg
|
Fiber:
1
g
|
Sugar:
22
g
|
Vitamin A:
236
IU
|
Vitamin C:
3
mg
|
Calcium:
52
mg
|
Iron:
2
mg