Enjoy all of the flavors of fall with this Maple Roasted Butternut Squash. The perfect amount of maple flavor to highlight the sweet squash in an easy roasted squash side that will compliment any fall dinner table.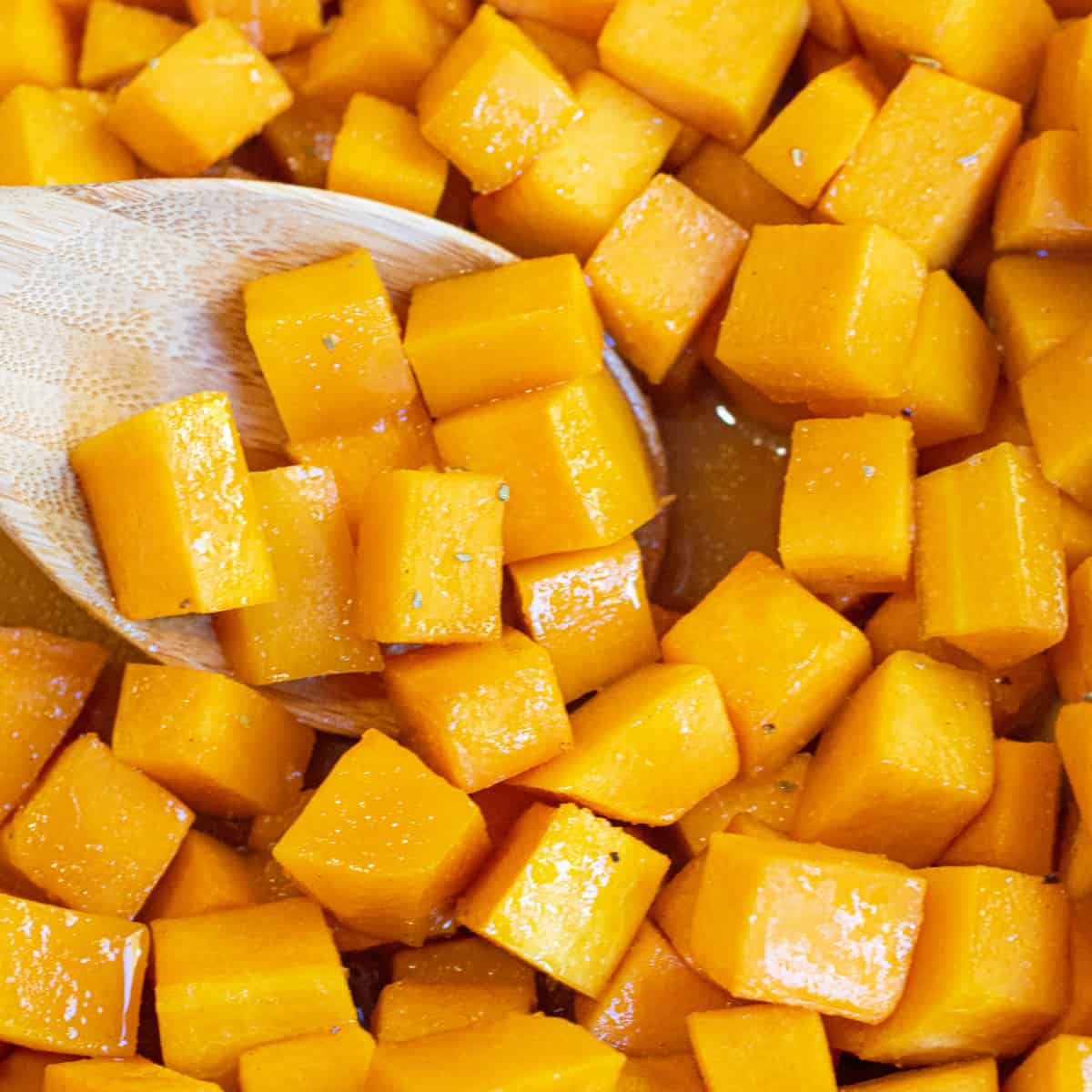 Bring on all of the fall recipes and flavors! Maple is a pretty big part of our lives all year long, as it's one of our favorite natural sweeteners, but there's something about how different butternut squash hits when the weather starts to cool down and the leaves start to change. Our Maple Roasted Butternut Squash recipe is an easy way to enjoy those fall flavors in a hands-off, gluten-free, and vegan-friendly way! It's just the right amount of sweetness and is spiced just right with some ground ginger to highlight those flavors, as well as just a touch of dried sage to tie it all together with just the right amount of savory.
Ingredients Needed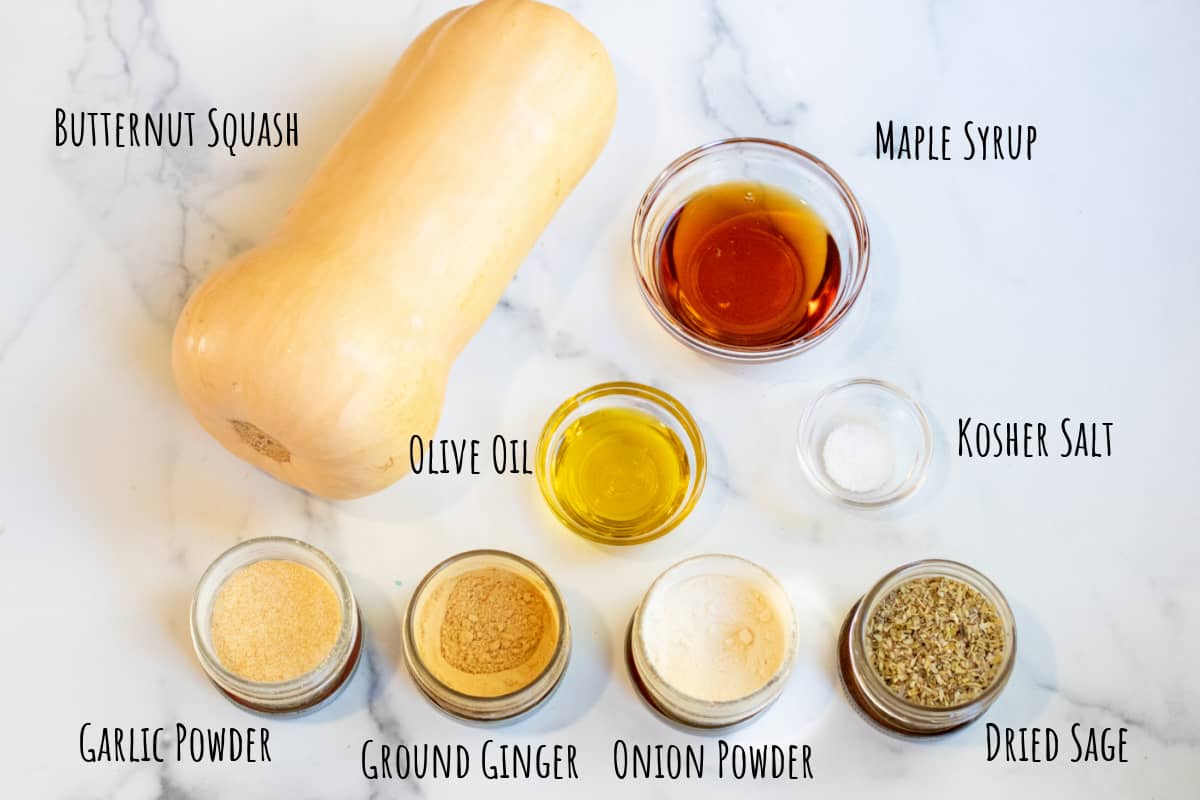 Butternut Squash - This sweet slightly nutty squash that's similar in flavor to pumpkin, is packed full of fiber and potassium.
Maple Syrup - Real, of course! Our go-to is from my home state of NH and we love the rich robust flavor of a grade-A amber.
Olive Oil - Just a touch. You could of course also use butter or your favorite neutral-flavored oil.
Garlic and Onion Powder - Just a touch, these are definitely background flavors to the squash.
Ground Ginger - This is one of my favorite spices to add to recipes, especially sweet ones.
Dried Sage - This gives this recipe the right amount of savory notes to highlight the maple and squash flavors.
Salt - Well of course, right?
A lot of roasted butternut squash recipes have cinnamon in them, and I've tried that, but honestly, I think that the ginger and sage in our Maple Roasted Butternut Squash creates a much more well-rounded compliment of flavors.
How to Cut a Butternut Squash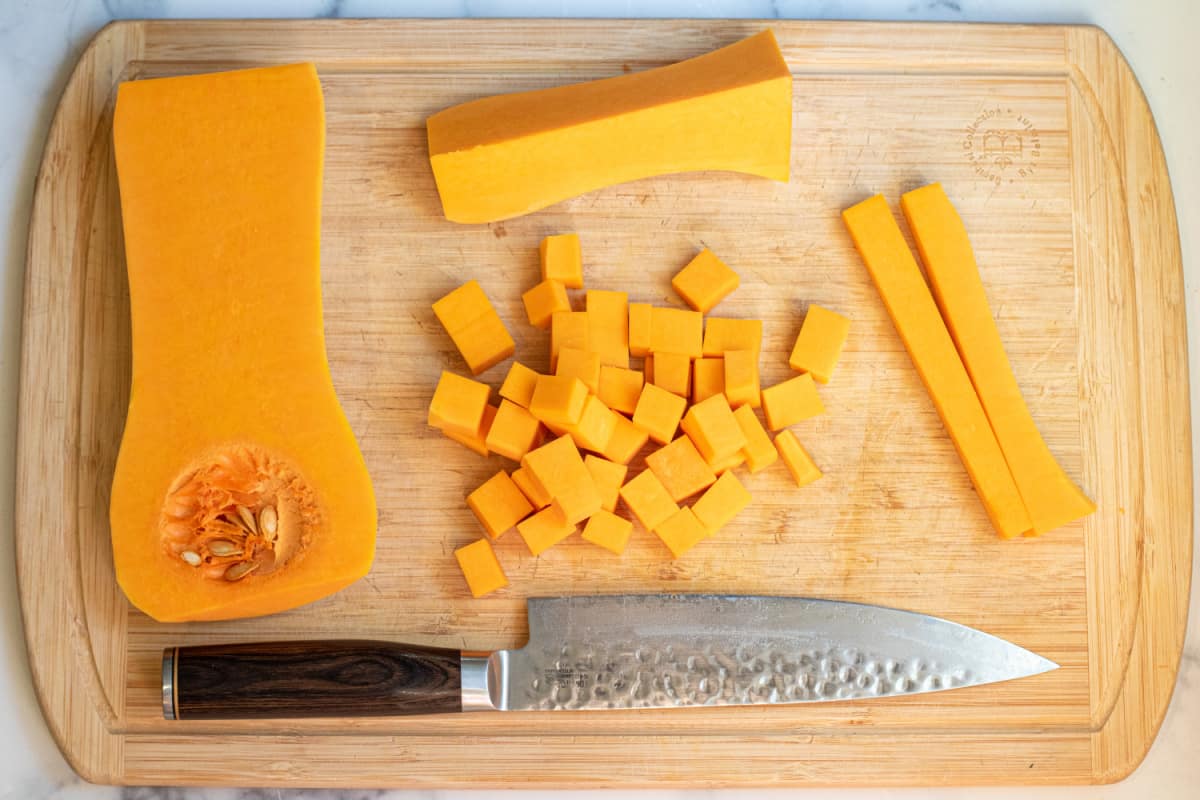 Making sure that your squash is evenly sized cubes is what will ensure even cooking for a roasted squash recipe. Here's how to cut up that squash
Cut off the ends
The first step is to cut off the ends of the squash, removing only about 1/4 - 1/2 inches.
Cut in half and scoop out the seeds
Use a heavy chef's knife and cut the squash in half by standing it up on the cutting board and then make one long cut down the middle of the top of the squash.
Scoop out the seeds and halve
Scoop out those seeds in the bottom of the squash, turn the squash over so that the cut side is down on the cutting board, and cut the halves in half where it just begins to widen.
Slice and Cube
Cut the squash quarters into 1-inch lengthwise slices, stack, cut again lengthwise into 1-inch slices, and then make crosswise cuts to make 1-inch cubes.
Coat with Seasoned Maple Syrup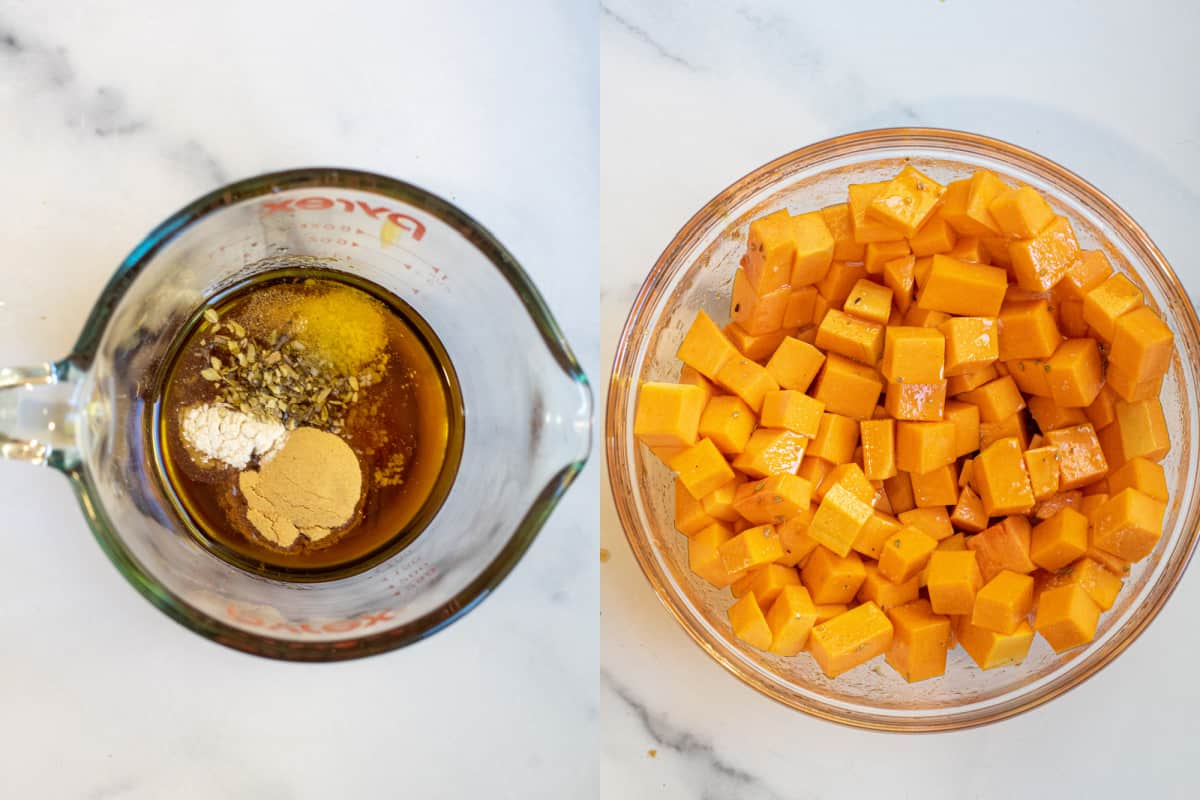 Add the maple, oil, and all of the spices into a little pyrex with a pour spout, give a good whisk, and then mix well in a bowl with your cubed squash.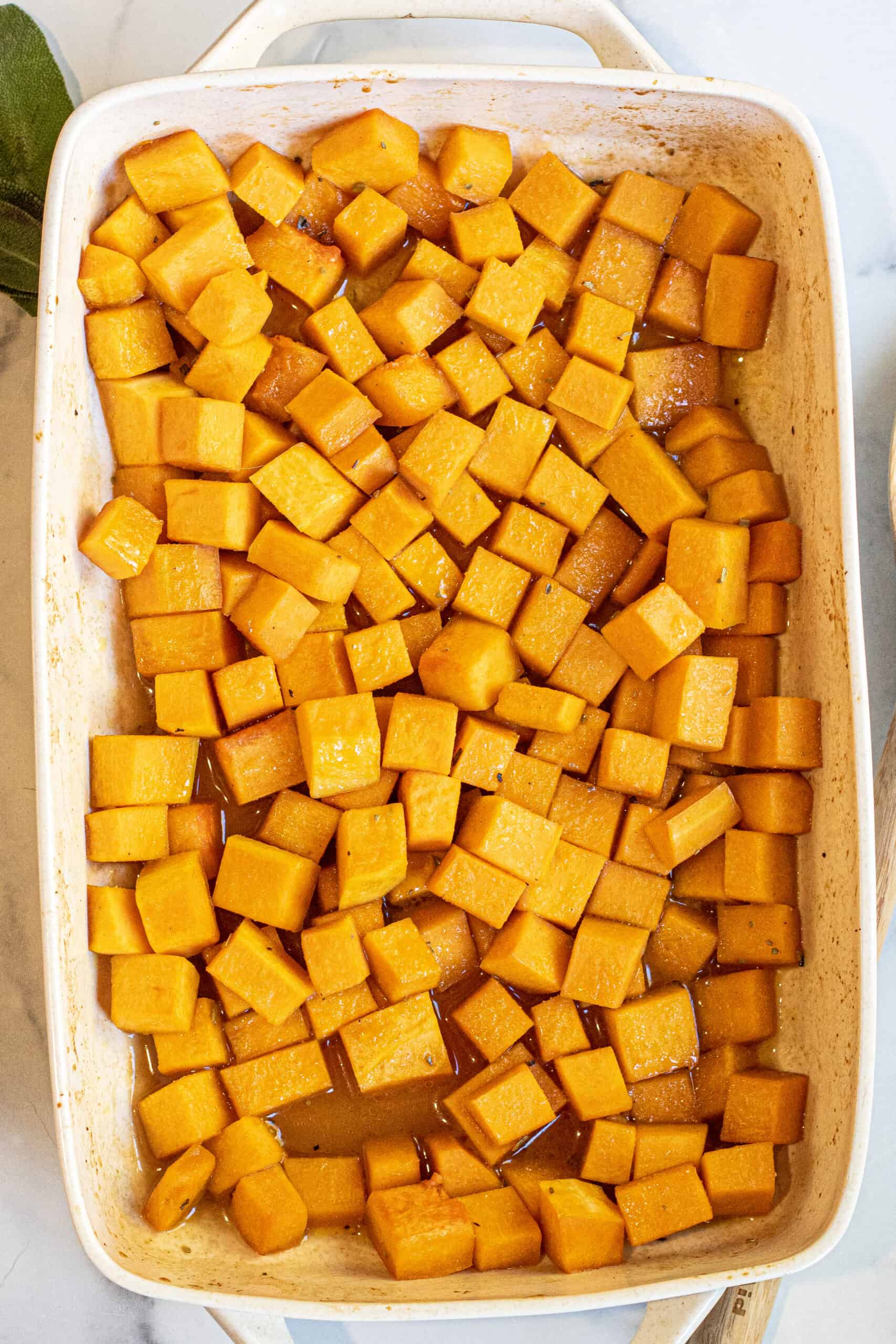 Roasted for about 35 minutes and you have an easy roasted squash side dish that's not too sweet, but instead, the natural sweet nutty flavor of the butternut squash is highlighted by maple, ginger, and sage.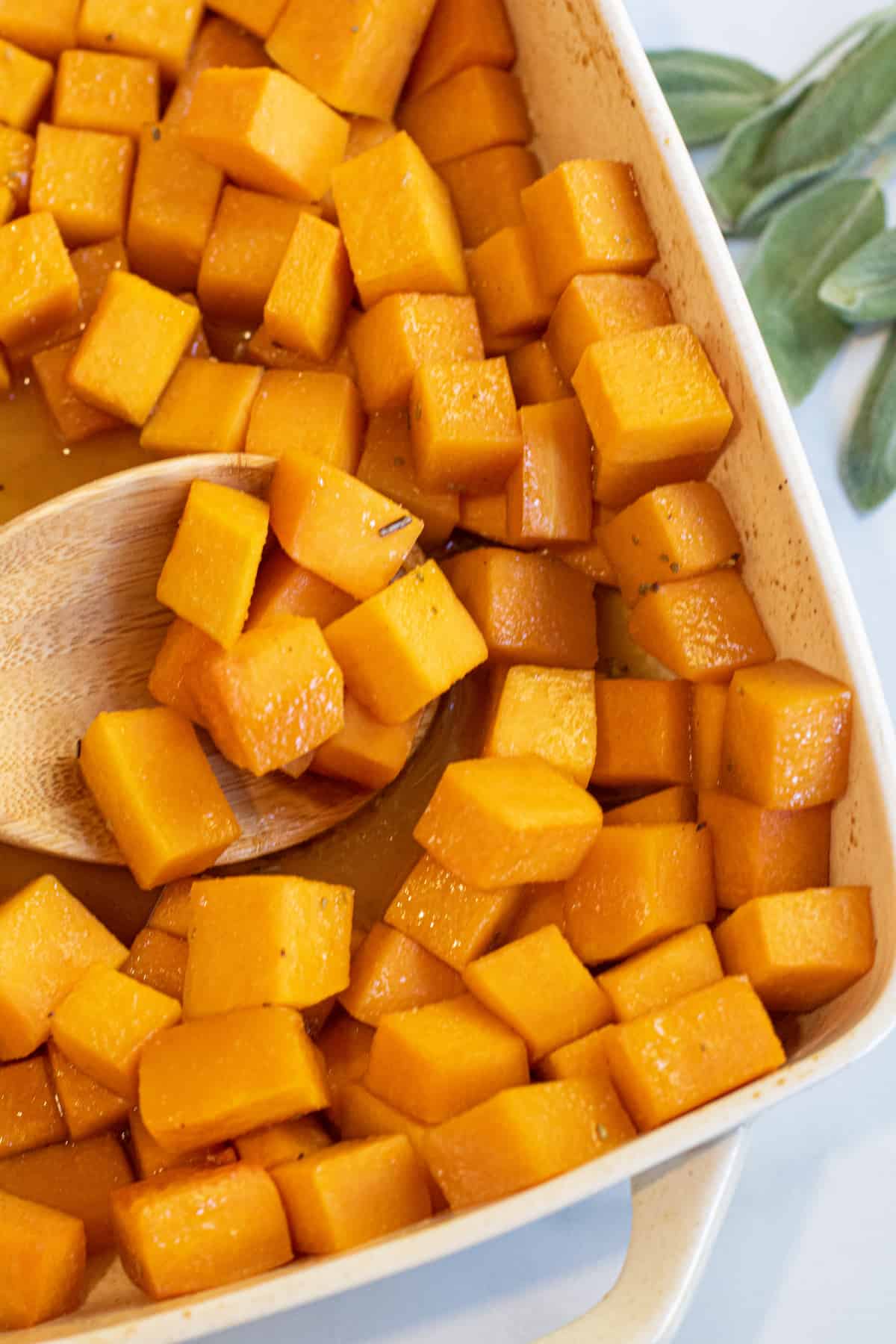 Maple Roasted Butternut Squash, a healthy, kid-friendly side that's a great addition to any fall or winter dinner table!
Other Maple Favorites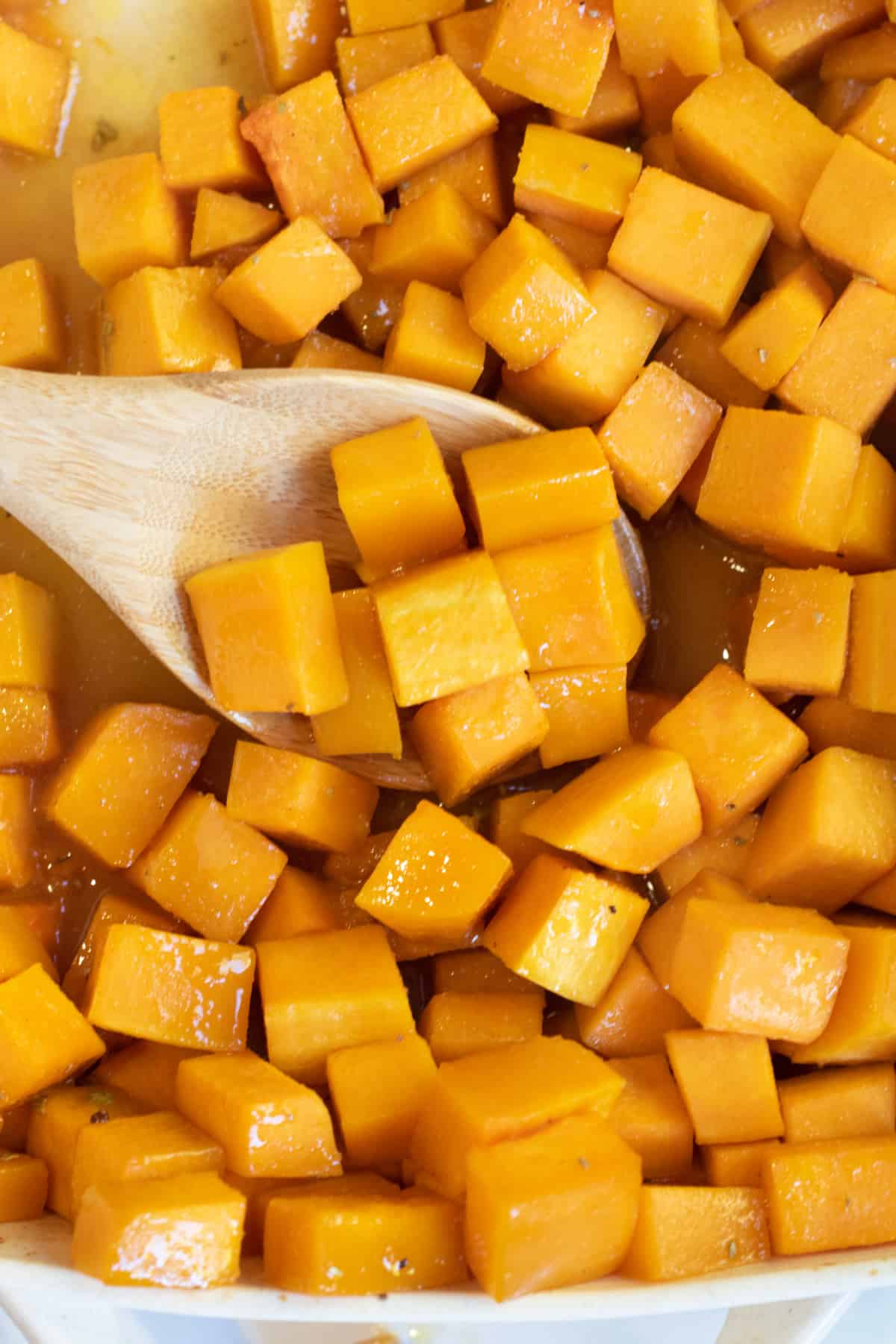 Enjoy! As always, if you make this recipe or any of my others, I love to hear what you think! Leave a comment below, email me, or you can find me on Facebook, Instagram, and Pinterest!
If you want to see more, be sure to sign up for my 5 Easy Ways to Start Cooking From Scratch!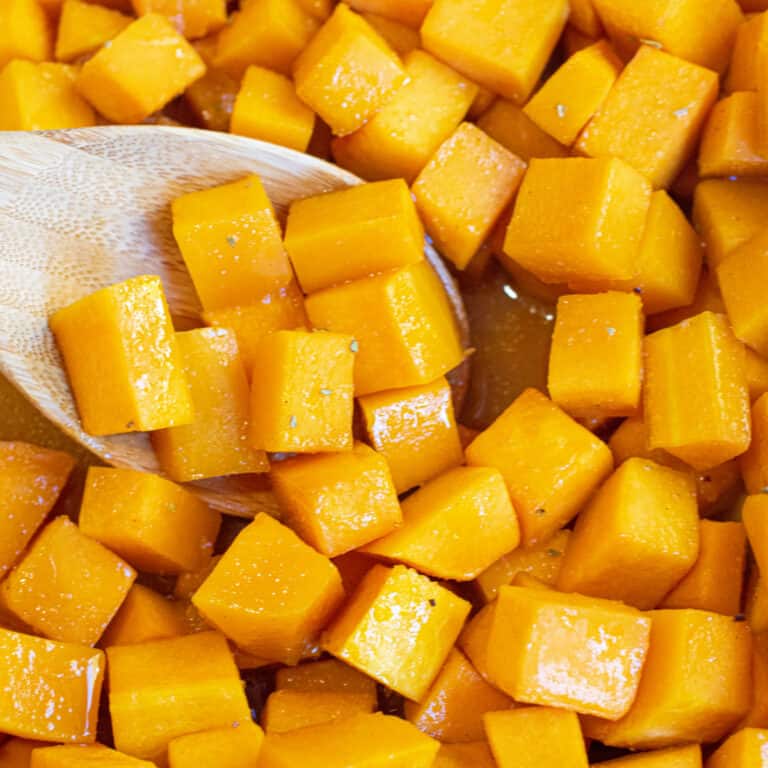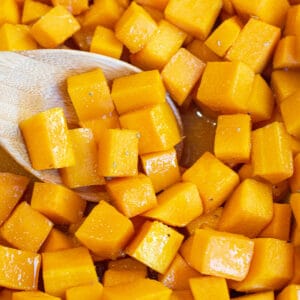 Maple Roasted Butternut Squash
A sweet maple ginger roasted squash side that's vegan and gluten-free friendly!
Print
Pin
Rate
Equipment
3.5 quart casserole dish

vegetable peeler
Ingredients
1 1/2-2

lb

butternut squash

5 cups or 1.5 lbs 1 inch cubes

1

tablespoon

olive oil

1/3

cup

maple syrup

1

teaspoon

ground ginger

1/2

teaspoon

onion powder

1/4

teaspoon

garlic powder

1/4

teaspoon

dried sage

1/2

teaspoon

kosher salt
Instructions
Pre-heat oven to 400 degrees.

Peel and cut the butternut squash into 1-inch cubes and add to a large bowl.

In a small bowl or pyrex, whisk together olive oil, maple syrup, spices.

Pour over cubed squash and mix well. Use a spatula to be sure to get it all out of the bowl as the salt can settle at the bottom.

Add to a casserole or baking dish. Use at least a 3.5 quart dish so most of the squash is in a single layer.

Bake covered in foil for 25 minutes. Then remove from the oven, discard foil, give the squash a good mix to rotate the top of the squash cubes now into the maple syrup, and return to the oven to finish baking for 10 minutes.
Notes
Storage
Fridge: Store in an airtight container in the fridge for up to 3-5 days.
Freezer: On a parchment paper line baking tray, add cooked squash (but not all of the liquid) and flash free for about 1-2 hours. Transfer to a freezer-safe container. To use, let it thaw in the refrigerator the night before reheating.
Prepare in Advance
This is a great dish to prepare everything in advance to then just assemble and bake when needed. Cube the squash and store it in an airtight container in the fridge for up to 3-5 days before cooking. Whisk together the maple syrup with seasonings and store in the fridge for up to 3-5 days.
Substitutions
Butternut Squash: This recipe is also great for some roasted pumpkin or acorn squash. You can also use frozen cubed butternut squash. No need to fully thaw, just be sure to break up the frozen clumps before mixing them with maple syrup and spices.
Olive Oil: Use your favorite neutral oil or butter.
Sage: You can also use minced fresh sage. Use 1 teaspoon of minced fresh to the 1/4 teaspoon of dried.
Nutrition
Calories:
122
kcal
|
Carbohydrates:
26
g
|
Protein:
1
g
|
Fat:
2
g
|
Saturated Fat:
0.4
g
|
Polyunsaturated Fat:
0.3
g
|
Monounsaturated Fat:
2
g
|
Sodium:
200
mg
|
Potassium:
447
mg
|
Fiber:
2
g
|
Sugar:
13
g
|
Vitamin A:
12055
IU
|
Vitamin C:
24
mg
|
Calcium:
75
mg
|
Iron:
1
mg