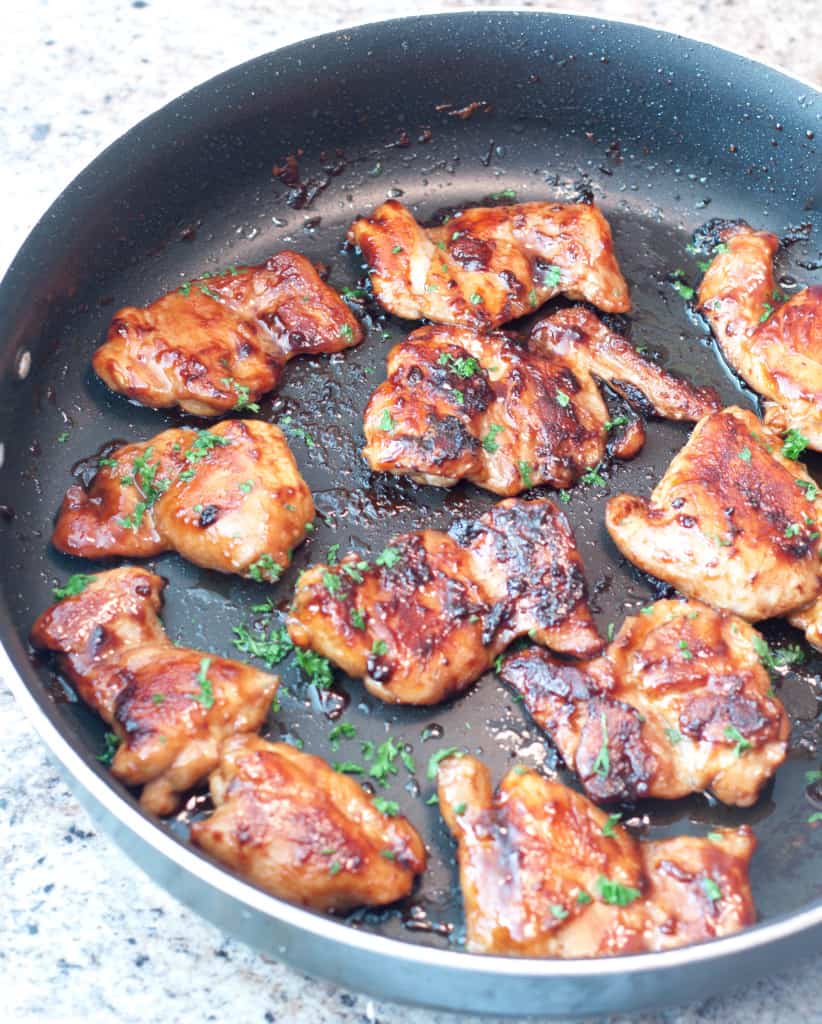 I don't know about you, but we eat a lot of chicken in our house. We bake it, we herb it, we spice it, we grill it, we taco it, we burrito bowl it, we crock pot it, we make it into stock, and we even Phở it. You get the idea.
Since it's such a main part of our diets, we're always looking for new, but easy ways to cook it on busy weeknights. Which makes this recipe one of our new favorites.
6 ingredients! Whaaa? Boneless chicken thighs, apple cider vinegar (oh and stay tuned for my apple cider vinegar from scratch coming… well, once it's ready!), soy sauce, olive oil, salt, and maple syrup. The real stuff is always preferred in my books, but that's just my New Hampshire showing.

To cook, all I did was heat some oil in a pan, salt the thighs, and cook them for a few minutes on each side before adding the whisked together apple cider vinegar, maple syrup, and soy sauce.
Cooked until the maple soy sauce is a delicious glaze on all of the thighs and that's dinner!
Delish.
We served these guys with some simple mashed potatoes and caramelized onions. Then the next day we ate the leftovers on top of salads. Totally delicious with any side! They're the perfect slightly sweet, salty, juicy easy weeknight chicken!
Maple Soy Glazed Chicken Thighs
2016-01-27 04:56:52
Slightly sweet, salty, and super easy!
Ingredients
12 boneless, skinless chicken thighs (or 8 bone in chicken thighs with bones removed- these tend to be a bit bigger and have more meat)
1 tablespoon of olive oil
kosher salt to season chicken
2 tablespoons pure maple syrup
2 tablespoons soy sauce
2 tablespoons apple cider vinegar
1 tablespoon of fresh minced parsley for garnish
Instructions
Season chicken thighs with salt.
Heat olive oil in large saute pan on medium high heat.
Combine maple syrup, soy, and apple cider vinegar in a small bowl.
When oil begins to simmer, add chicken thighs and brown on one side for 4 minutes then flip then to the other side.
Add maple soy mixture to the pan and let it come to a boil.
While mixture boils and reduces, flipping the chicken each few minutes to ensure that they are completely coated and move around pan to ensure glazing and coating.
When the chicken is cooked completely through (approximately 15 more minutes), remove from heat and serve immediately.
Adapted from Kiwi and Bean
Served From Scratch https://www.servedfromscratch.com/