Perfect for fall, this Crock Pot Broccoli Cheddar Soup From Scratch is cheesy and creamy but without any cream or store bought canned goods.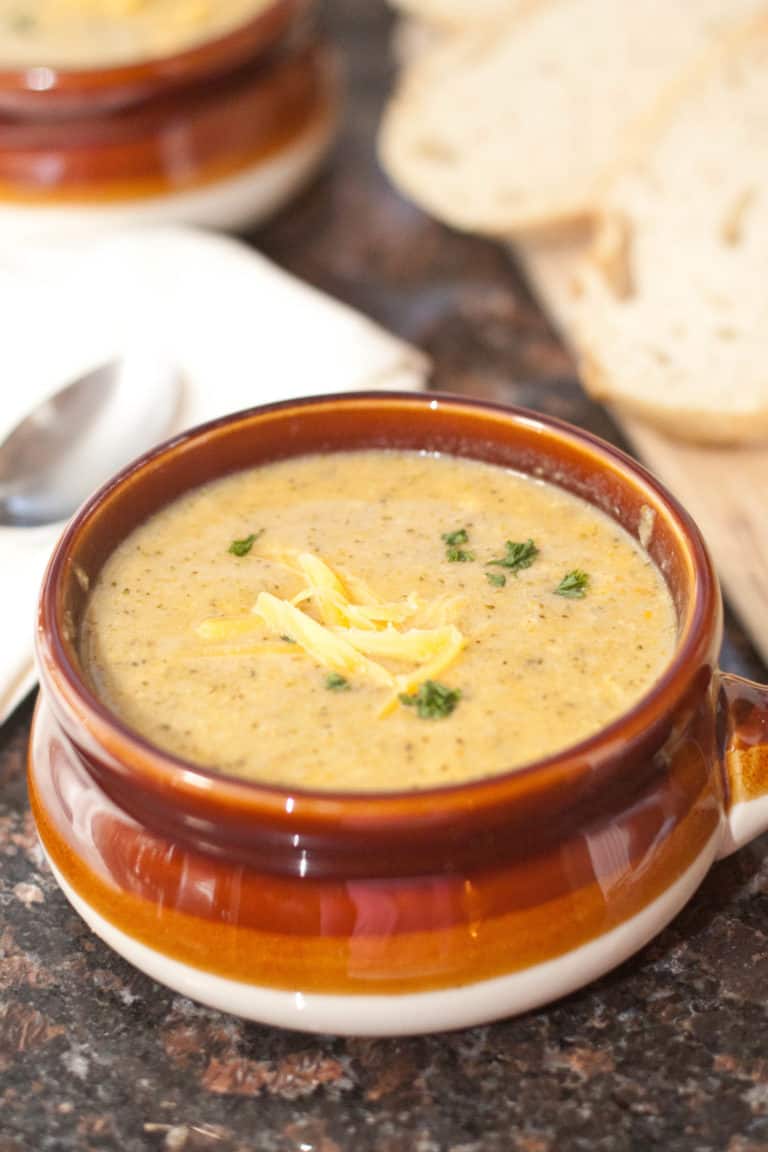 Is there anything more comforting than a big bowl full of creamy, cheesy soup? Definitely not. Even better is when it only takes a couple minutes to throw together like this Crock Pot Broccoli Cheddar Soup From Scratch!
Little M's Grandma is visiting from New Hampshire this week and since I've started a new job I'm only able to take one day off while she's here. That means after a long day at a new job I'm rushing home to be able to spend time enjoying all the rare and precious Grandma time that my mom is able to get with her only grandchild.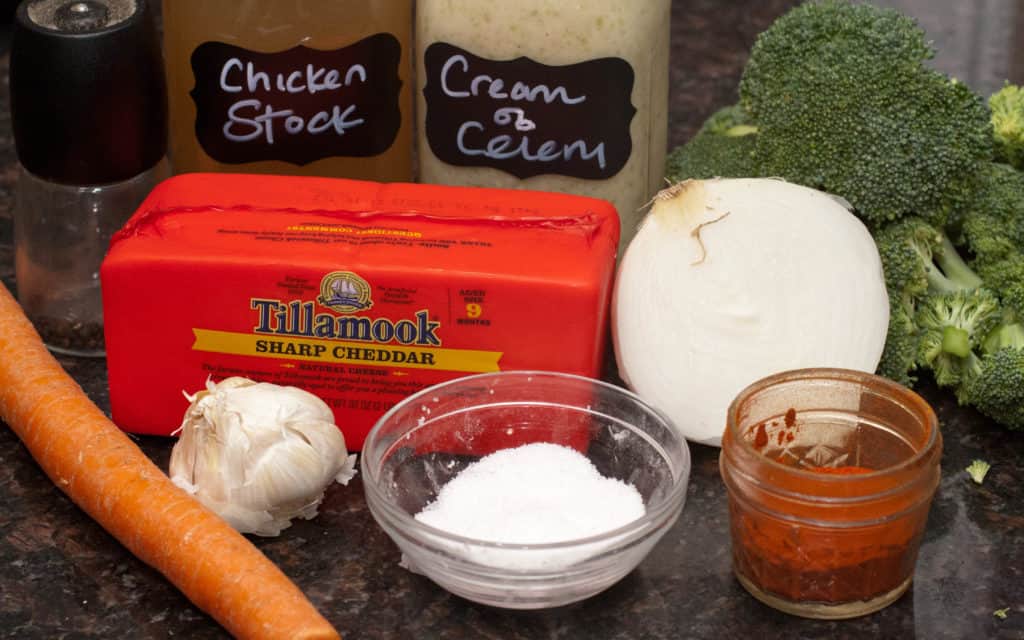 So that means the dinner needs to be easy. Which most all of our meals are these days. But if ever there was an incentive to have an easy, but delicious dinner ready, Grandma visiting has to be the best! Even better, we used some of our Homemade Chicken Stock and was able to put to use our new Condensed Cream of Celery Soup From Scratch! Then our cheese of choice for all things delicious is Tillamook's Sharp Cheddar. It's the primary reason we have a Costco membership, as my mom learned while she was here and is evident by the multiple lbs of cheese that will be smuggled back to NH in her luggage.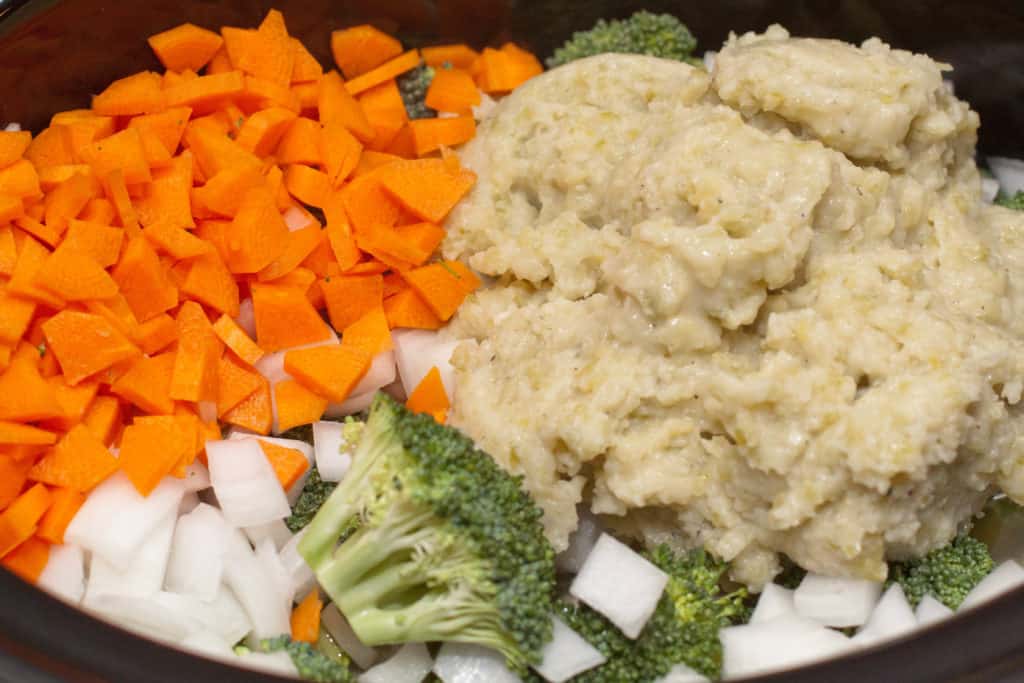 As with a lot of our Crock Pot meals, it's just a toss of everything into the trusty Crock Pot and cooked on low for 10 hrs. High for 4 hours or low on 6-8 would also be fine. The only reason we did 10 is solely because that's how long I'm away from the house on a workday.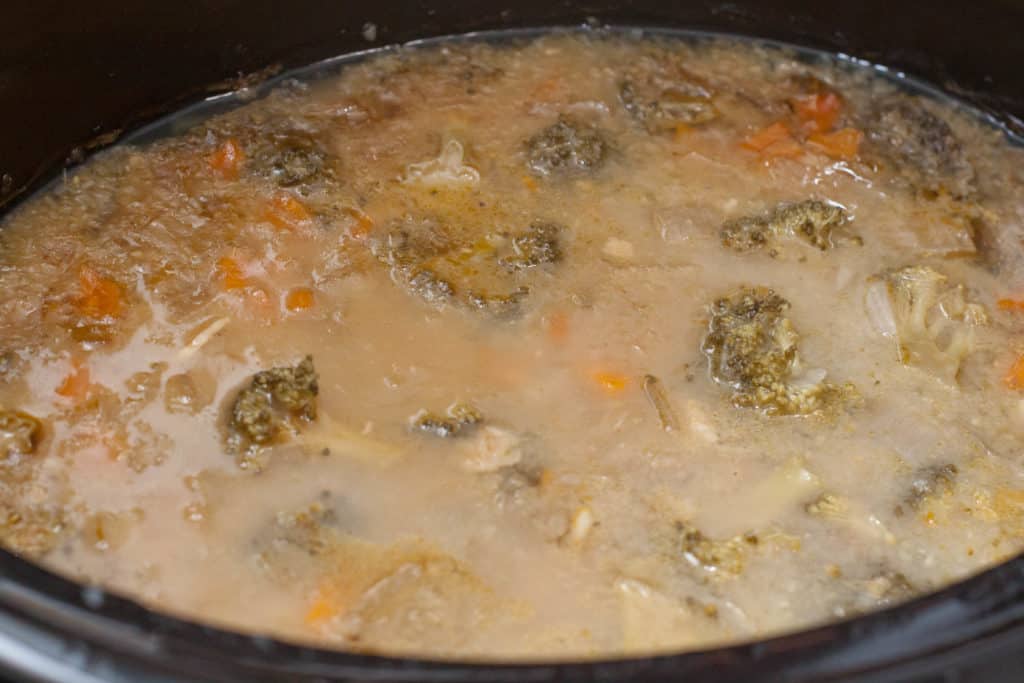 After 10 hrs it was ready to be blended.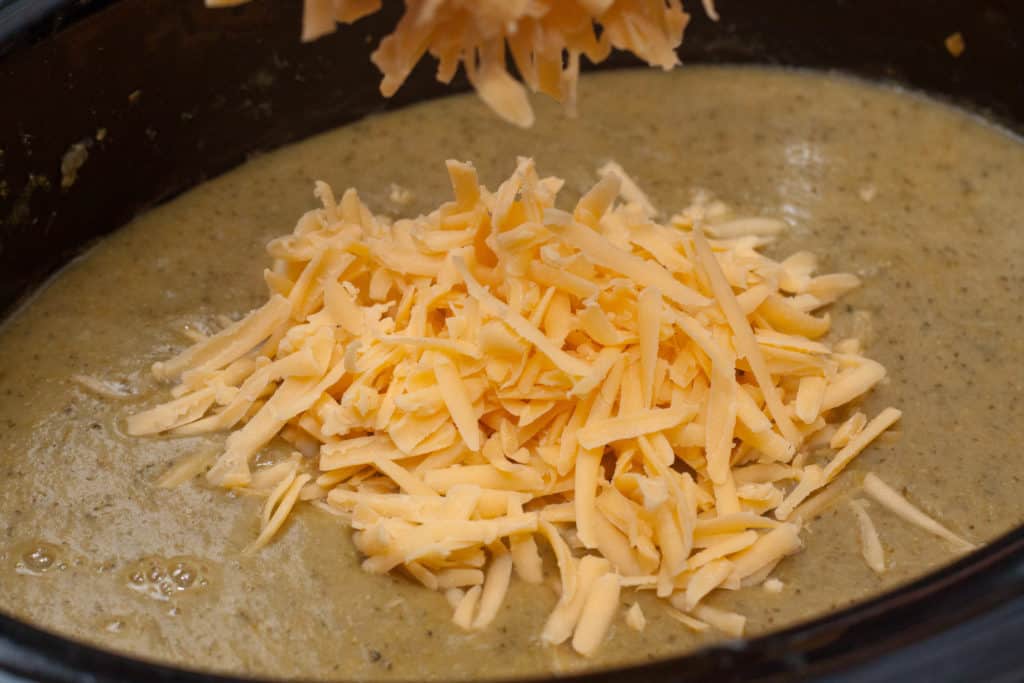 Now if you're lucky enough to have an amazing Vitamix then you don't even need a Crock Pot and you can just toss all of your ingredients in the Vitamix and then it'll even heat it enough to serve. It's been on my wish list for a loonngg time. But until then, we have a handy, inexpensive immersion blender that works great for soups like this. Once it's all blended smooth then it's time to add all of the cheese.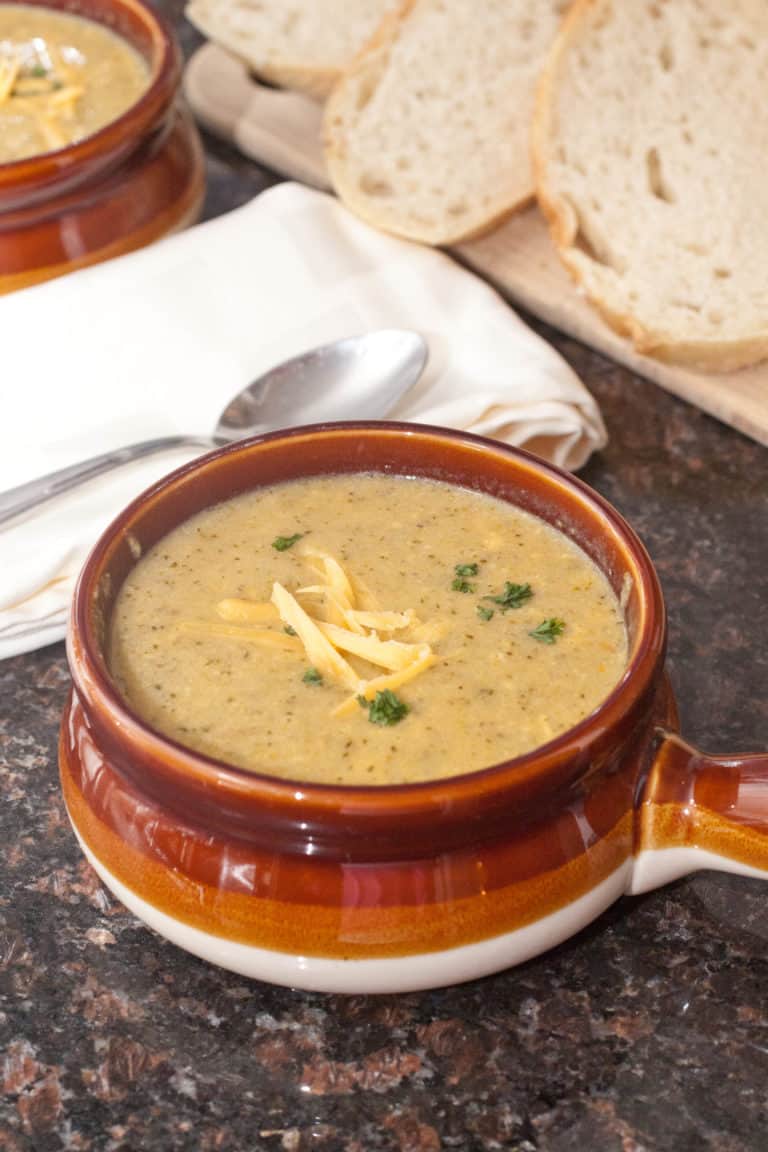 A little more cheese (because why not) and then a touch of parsley (really that's only for color), served with a fresh homemade bread, and you have an easy low maintenance dinner that's perfect for a busy weeknight when you want to be able to maximize Grandma snuggle and book reading time.
Enjoy!! Happy Fall Crock Pot cookin'!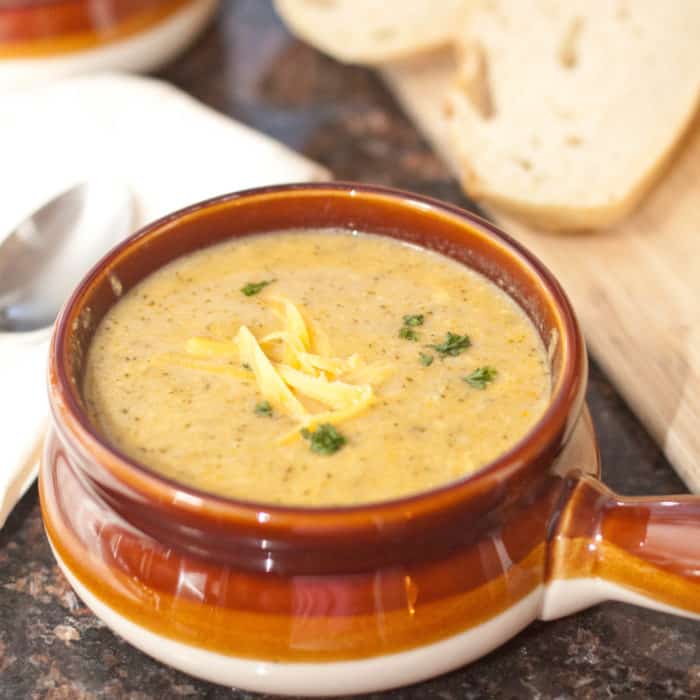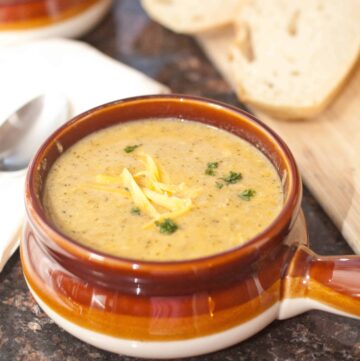 Crock Pot Broccoli Cheddar Soup From Scratch
Creamy, cheesy, and complete comfort!
Print
Pin
Rate
Ingredients
1 1/2

lb

of fresh broccoli - cut into florets

1/2

large white onion - diced

1

large carrot - peeled and diced

3

cloves

garlic - minced

4

cups

chicken stock*

2

cups

Condensed Cream of Celery Soup From Scratch

or two cans

1/2

teaspoon

salt

1/4

teaspoon

fresh ground pepper

1/8

teaspoon

cayenne

4

cups

shredded cheddar cheese
Instructions
Add broccoli, onion, carrot, and garlic to a Crock Pot. Mix pepper, salt, and cayenne in a small bowl and sprinkle over veggies. Mix and then add condensed cream of celery soup and chicken stock. Cook on low for 6-10 hrs or high for 4 hrs. Keep on warm.

With an immersion blender, blend soup until creamy.

Add cheese to soup 1 cup at a time and mix well so cheese melts. Add all of the cheese and mix until fully melted and creamy.

Serve immediately.