BOO-Ringues! Light, airy, slightly sweet puffed Halloween treats that are fun and easy for kids to make!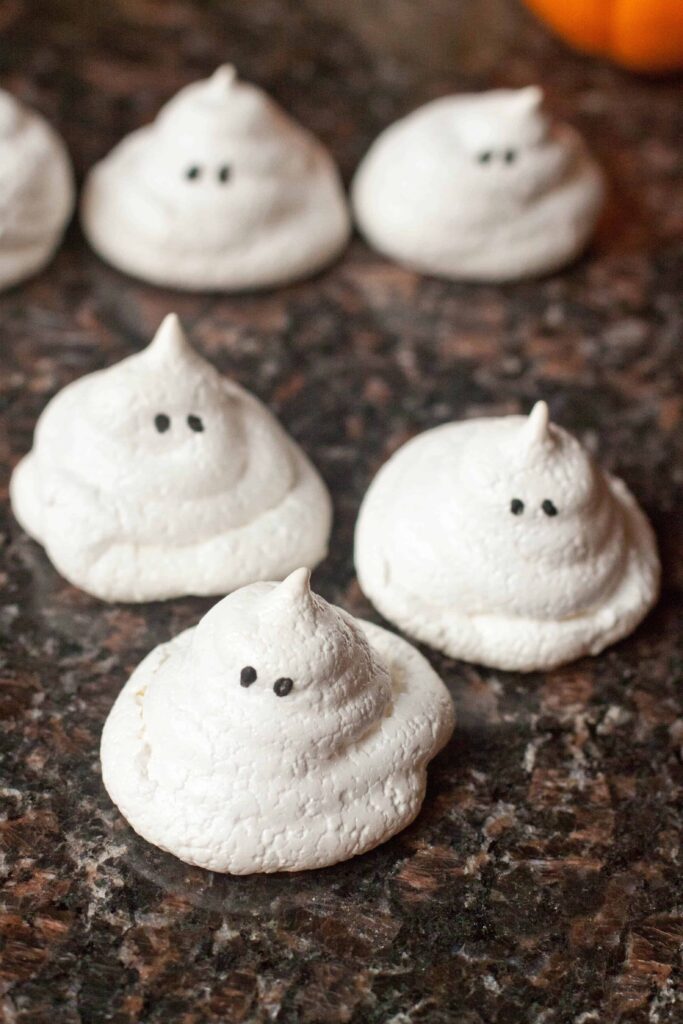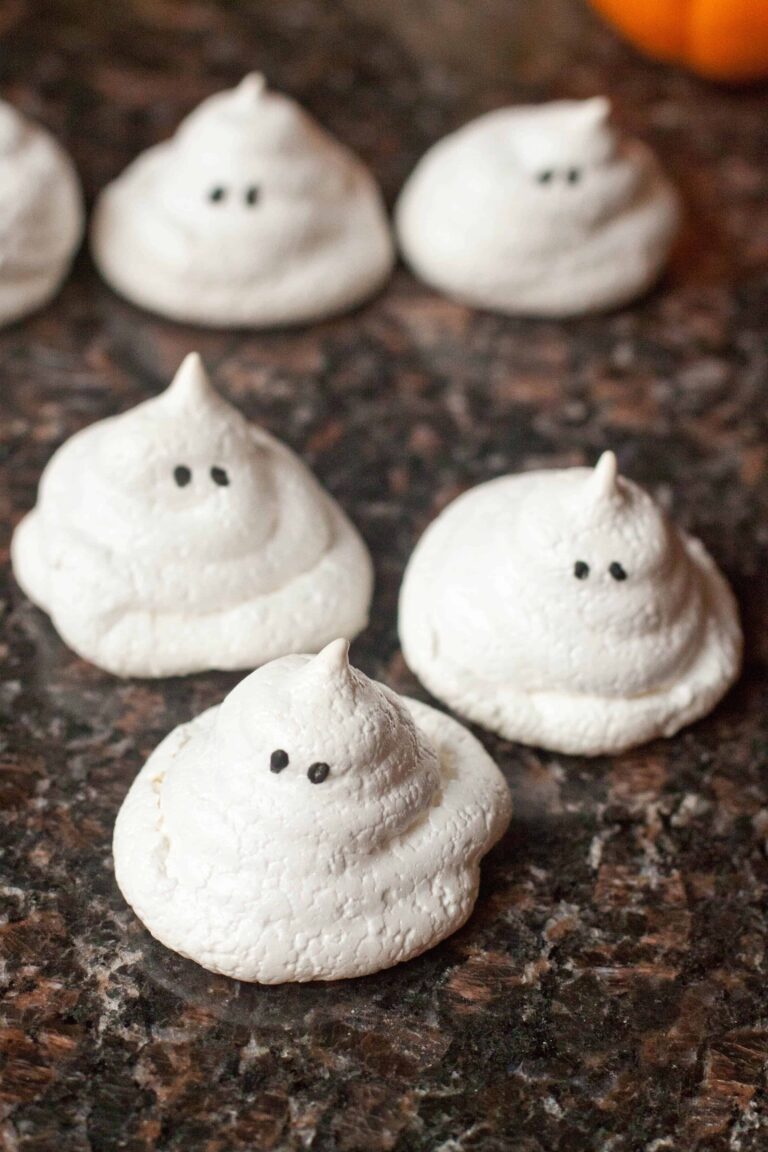 Happy Halloween, friends! And here's a treat I've been wanting to make for the past 3 Halloweens but just haven't 'gotten around to because, well, life. But in honor of little M's 1st Halloween that isn't surrounded by moving boxes, I decided that this year was the year. The year to start the BOO-Ringue tradition!
With the help of our friends, The Campos family, we whipped these little guys up during a lovely afternoon of cooking, chatting, and wine drinking. Three of my favorite activities! Although they're easy to make, as with all meringues, the whipping of the egg is the most time consuming part of the process. Annndd then if you don't put together your piping bag together correctly the first time and then need your husband to fix the meringue mess you made, well then that also adds to it... Just speaking hypothetically, of course.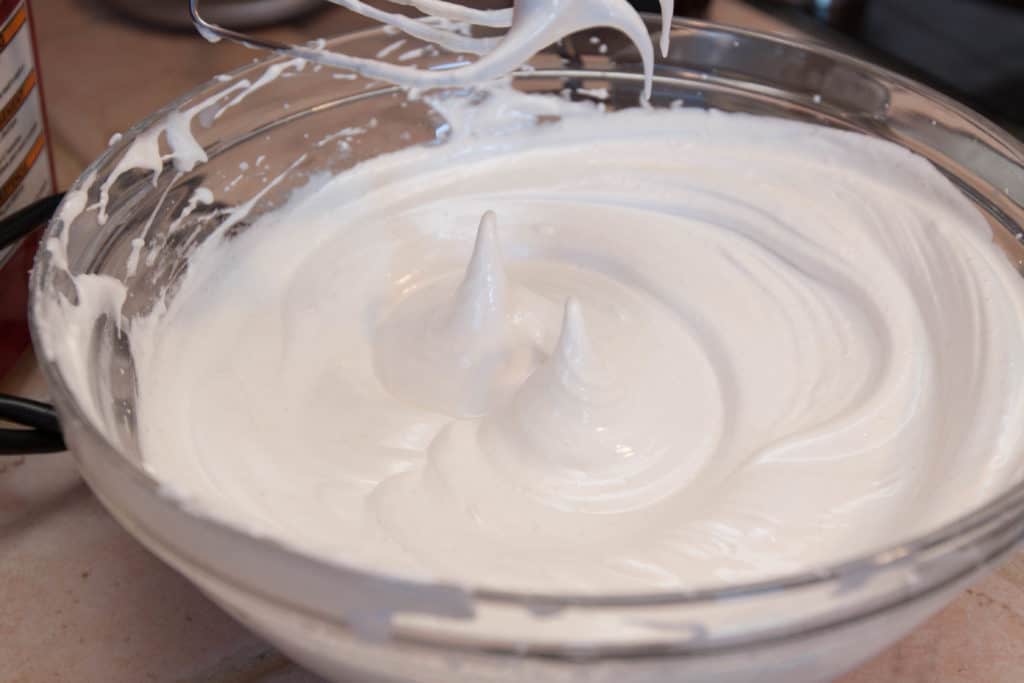 This recipe is just like if you're making some good ol' Meringue Kisses, but honestly, easier! First, you just whip your egg whites reeeaaallllyyy well until moist stiff peaks form. (Insert my husband's voice in the background saying, "Phrasing!" ?)
Oh, and don't forget, don't just throw away those egg yolks! Make some Mayonnaise From Scratch! Although, what I learned when we tried making mayo from our egg yolks this time... I didn't think about doing mayo until after 3 yolks had been added and one had broken, so I was stuck with 1.5X the recipe. And 1.5X the recipe is hard. Not just because I'm an Asian who actually isn't good at math, but it, coupled with a mixture of vegetable oil and olive oil after the initial emulsification, can mess with the consistency of the mayo. Moral of the story: stick to the mayo recipe then commit to either vegetable oil or olive oil and measure your oil before you emulsify to make sure you have enough. Otherwise your mayo will not be smooth a velvety like it should be.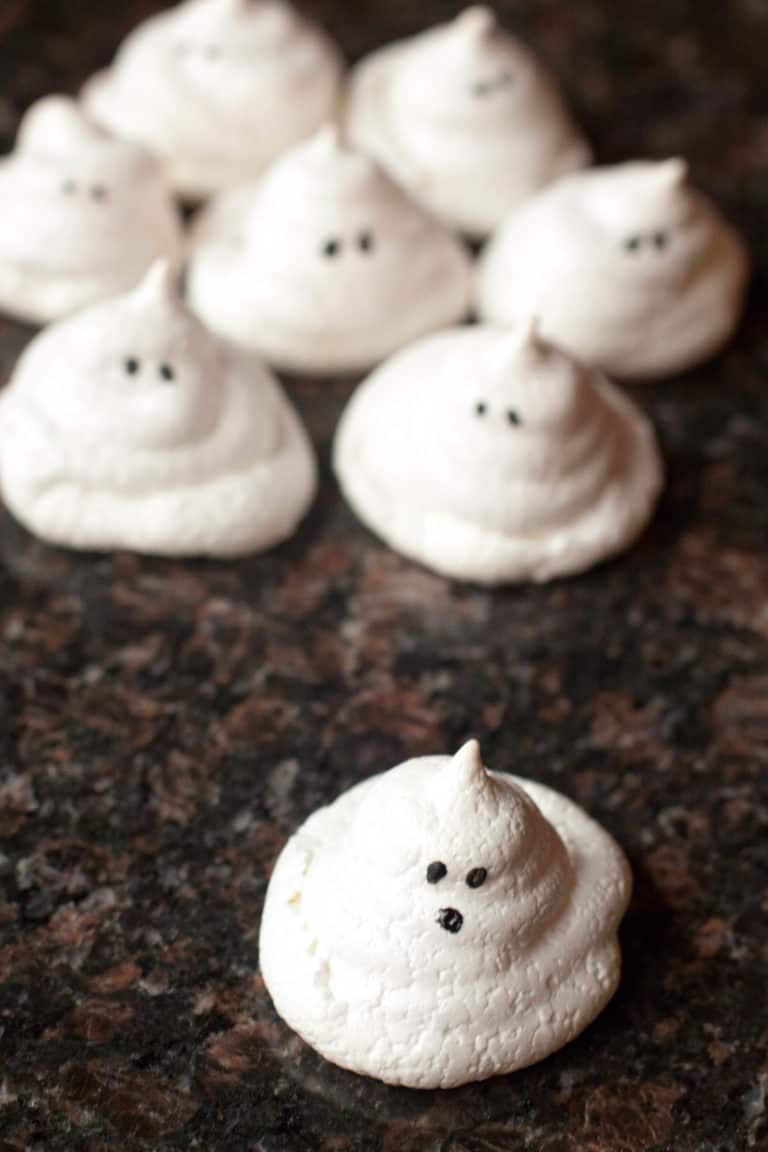 Anyway, back to these little BOO-Ringues! Once you have the eggs whites whipped and sugar and vanilla extract mixed in, then, like the Meringue Kisses, it's just piping the meringues onto some wax papered cookie sheets into taller-than-normal mounds. "Ghost Shaped" mounds, if you will. Bake and then with black icing and a toothpick add your faces! Just eyes, eyes and a mouth, whatever you think your little BOO-Ringues are feeling. 😉
Feel like making some more homemade candies for Halloween? How about some Andes Mints, Chocolate Crunch Bars, or Peppermint Patties? Or for a healthier Fall treat, make some Pumpkin Pie Apple Crisps! Whatever you make, I'd love to see it on Facebook, Instagram, or Twitter!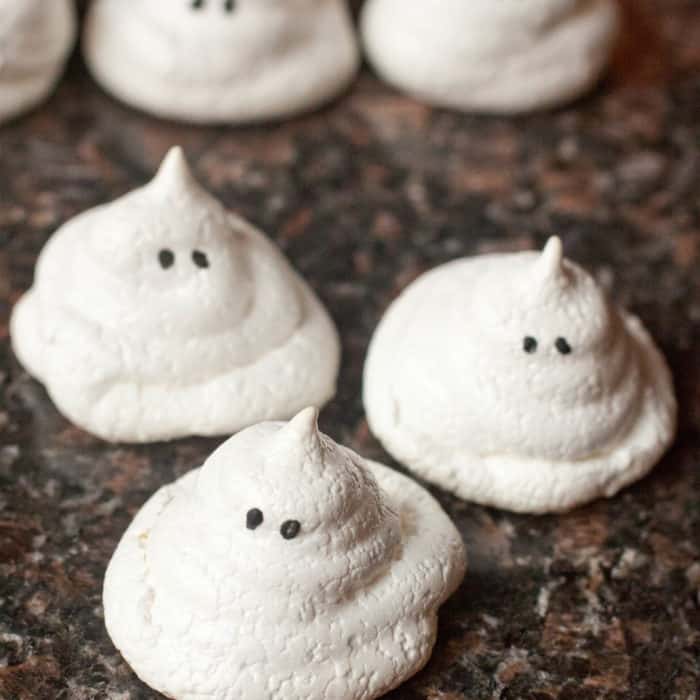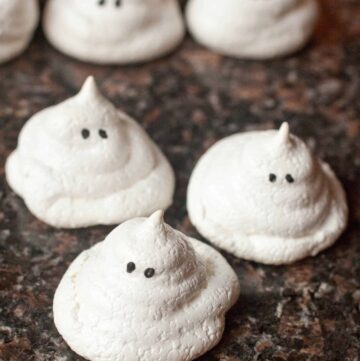 BOO-Ringues
BOO-Ringues! Light, airy, slightly sweet puffed Halloween treats that are fun and easy for kids to make!
Print
Pin
Rate
Instructions
Separate egg whites from yolks about an hour before making meringues. Leave whites in bowl at room temperature so that they beat up to a good volume.

Heat oven to 250° and cover un-greased cookie sheets with waxed paper.

Beat egg whites with a hand held blender on medium to high until stiff enough to stand in moist (not dry) peaks. Slowly beat in sugar just a tablespoon at a time then fold in vanilla. Continue to beat mixture until it is still and glossy, not grainy.

Fill pasty bag with mixture and add large regular round tip. Or just cut the edge off of the tip of a large freezer bag. Pipe medium to large circular (ghost shaped) mounds onto cookie sheets 2 inches apart. Bake 30-35 minutes.

Dip a toothpick into some black icing / frosting and add eyes, mouth, and any other 'scary' features to your ghosts!
Notes
Use those egg yolks to make some Mayonnaise From Scratch or Pudding! http://www.servedfromscratch.com/mayonnaise-from-scratch/
http://www.servedfromscratch.com/chocolate-raspberry-pudding/