With your slow cooker, you can make your own Vietnamese noodle soup! Our Crock Pot Chicken Pho is our take on this classic with an incredibly flavorful broth but with a little added nutrition from fresh bok choy. Making this Asian chicken noodle soup at home is easier than you may think!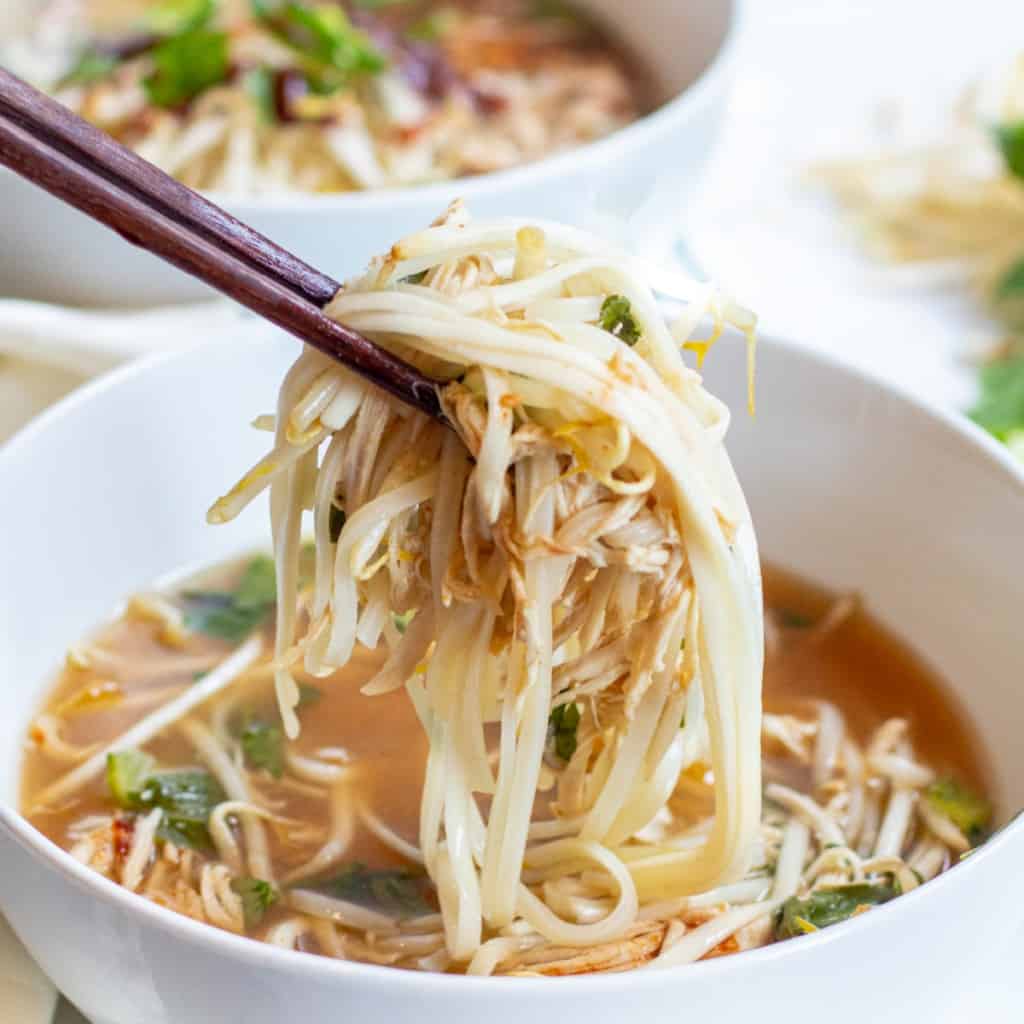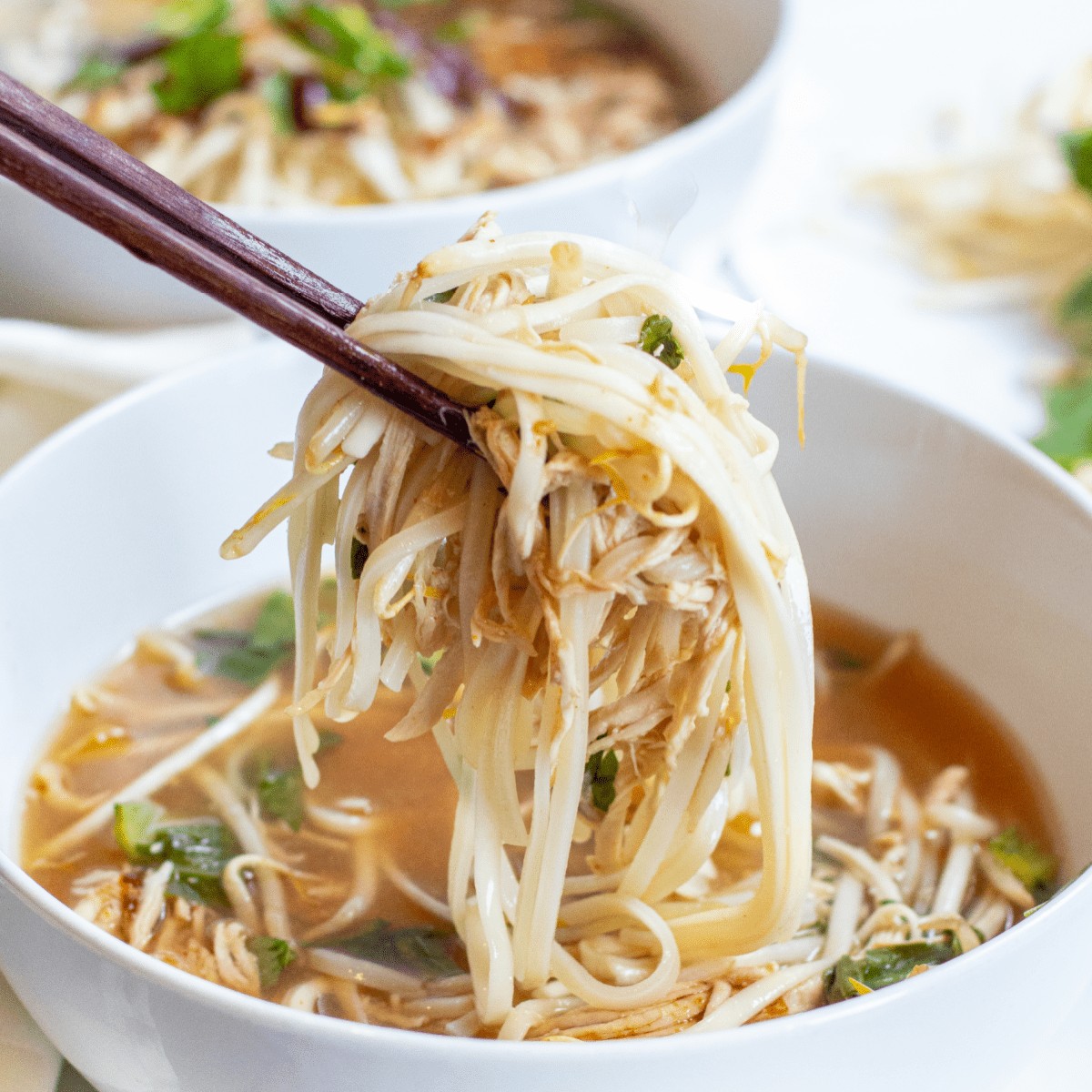 I will repeat, Crock Pot Chicken Pho. I know. And you're welcome. Hands down, this is one of our favorite soups to make. While I'm not claiming that this Vietnamese noodle soup is 100% authentic, (Hi, Korean Pollack over here), its flavorful broth definitely fulfills that pho craving, plus it wouldn't be a SFS recipe if we didn't sneak in a little added nutrition!
Recipe Video
Ingredients Needed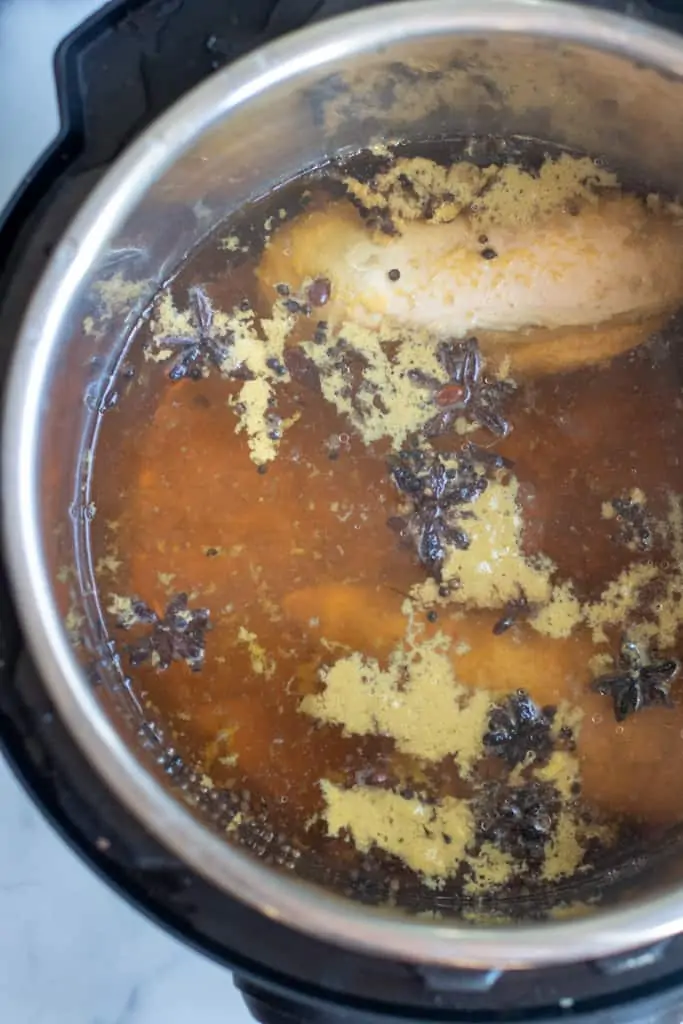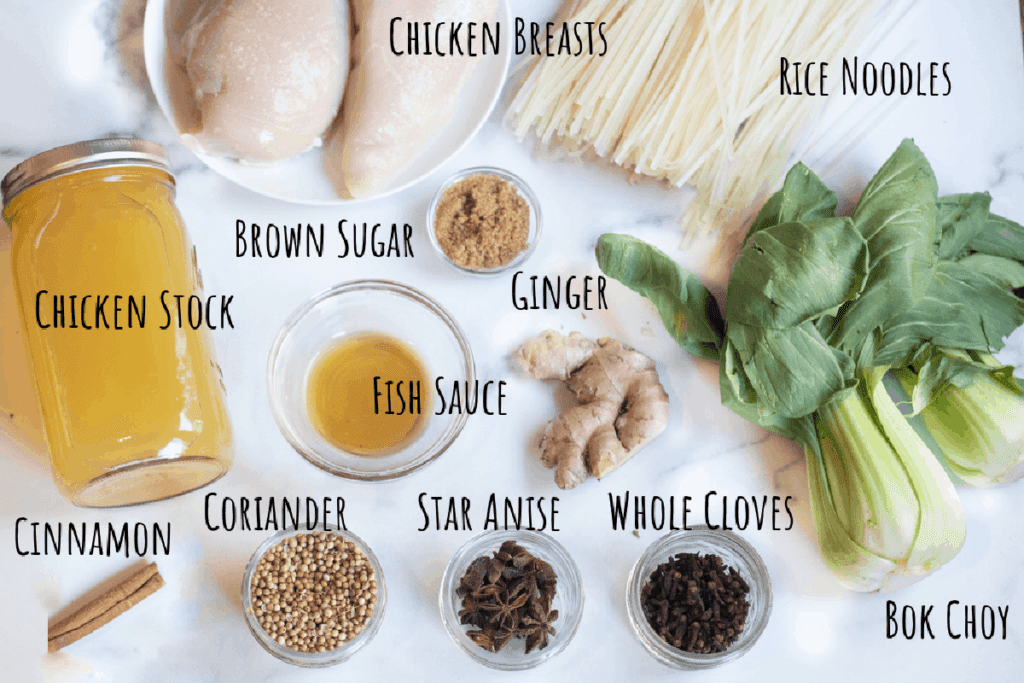 Simple ingredients, but that add SO much flavor for the broth, which all pho lovers know, is truly the key!
Chicken Breasts - Boneless or bone-in, we've use both. We've made it with boneless chicken thighs before too, but the white meat of chicken breasts is definitely our favorite.
Bok Choy - We prefer baby bok choy because the leaves are more tender and have a slightly sweeter flavor than that of full sized, but both are delicious. You could also use spinach, too! Yes, I know, traditional pho does not add a green, but adding a little extra greeny is how we roll around here!
Chicken Stock - Have you made your own, yet?
Rice Noodles - There are a lot of rice noodle / rice stick options. Your local Asian market is going to be the best place to find them as they sell Pho Noodles or you could buy Banh Pho noodles. Your favorite rice noodle will work, just keep an eye on the package instructions for how long to allow them to cook in your crock pot.
Brown Sugar - Light brown sugar is best - and if you don't have any, did you know you can make your own?
Fish Sauce - This salty savory sauce adds a great umami flavor to the broth.
Fresh Ginger - Sliced big enough to be able to easily remove from broth.
Broth Flavoring - Whole cloves, star anise, a whole cinnamon stick, whole coriander.
You can also buy pre-made pho spice packs. Most Asian markets sell them, or you can find them here on Amazon.
While this is all the base of the pho, you can't forget the accompaniments, too!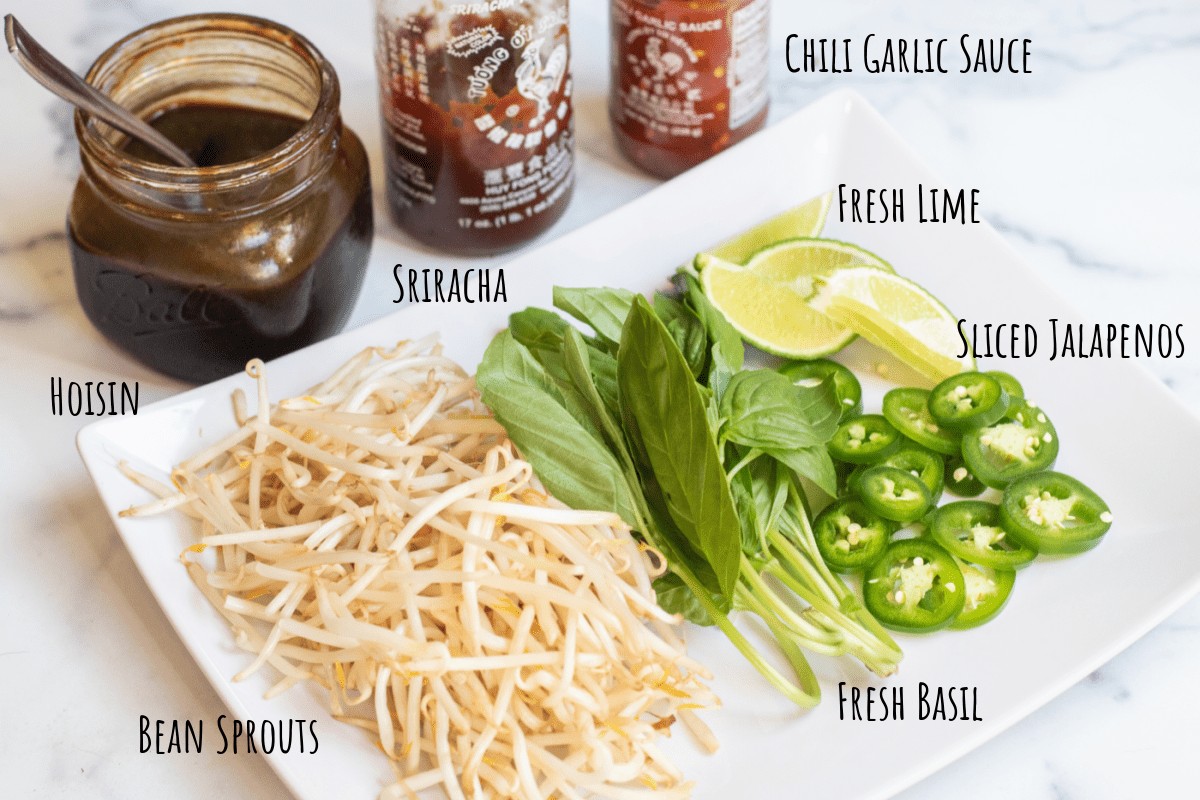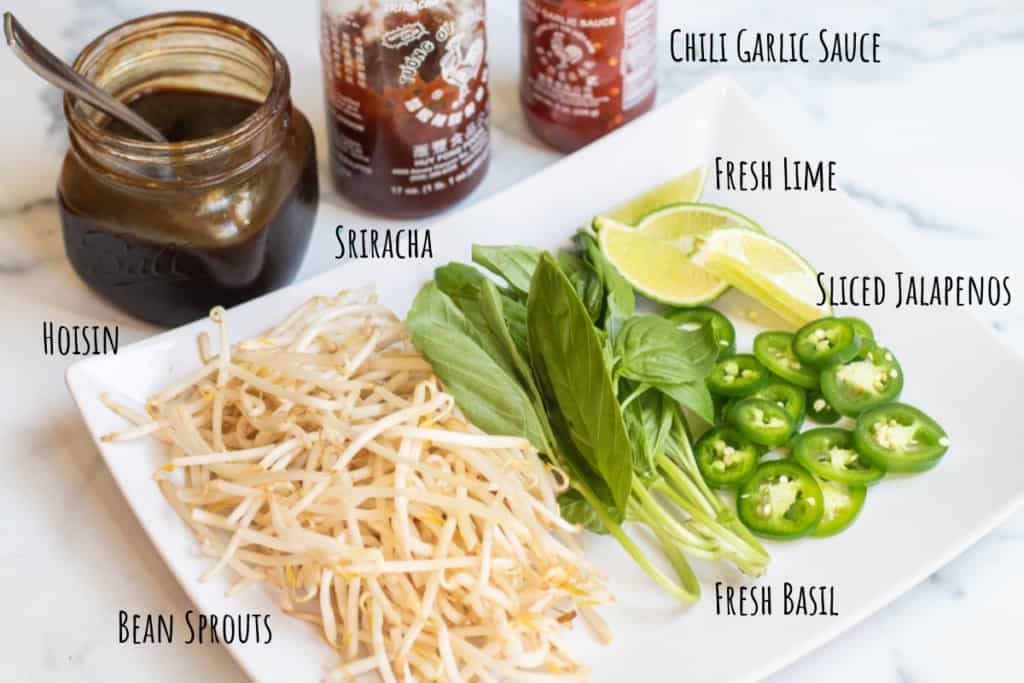 Our favorite add-ons are:
Hoisin - Did you know you can make your own?
Sriracha - For some heat.
Chili Garlic Sauce - For some garlicky kick.
Bean Sprouts - Fresh may be hard to find in your local grocery store, but you can usually find them in your local Asian market. Note: not they are not recommended to eat raw while pregnant.
Basil - The perfect herbal touch.
Sliced Jalapenos - For even more flavorful heat.
Fresh Lime - A final squeeze over the top of it all adds just the right amount of acidity to tie it all together!
Step-by-Step Instructions
As with all of our Crock Pot meals, this one is no exception, it is EASY.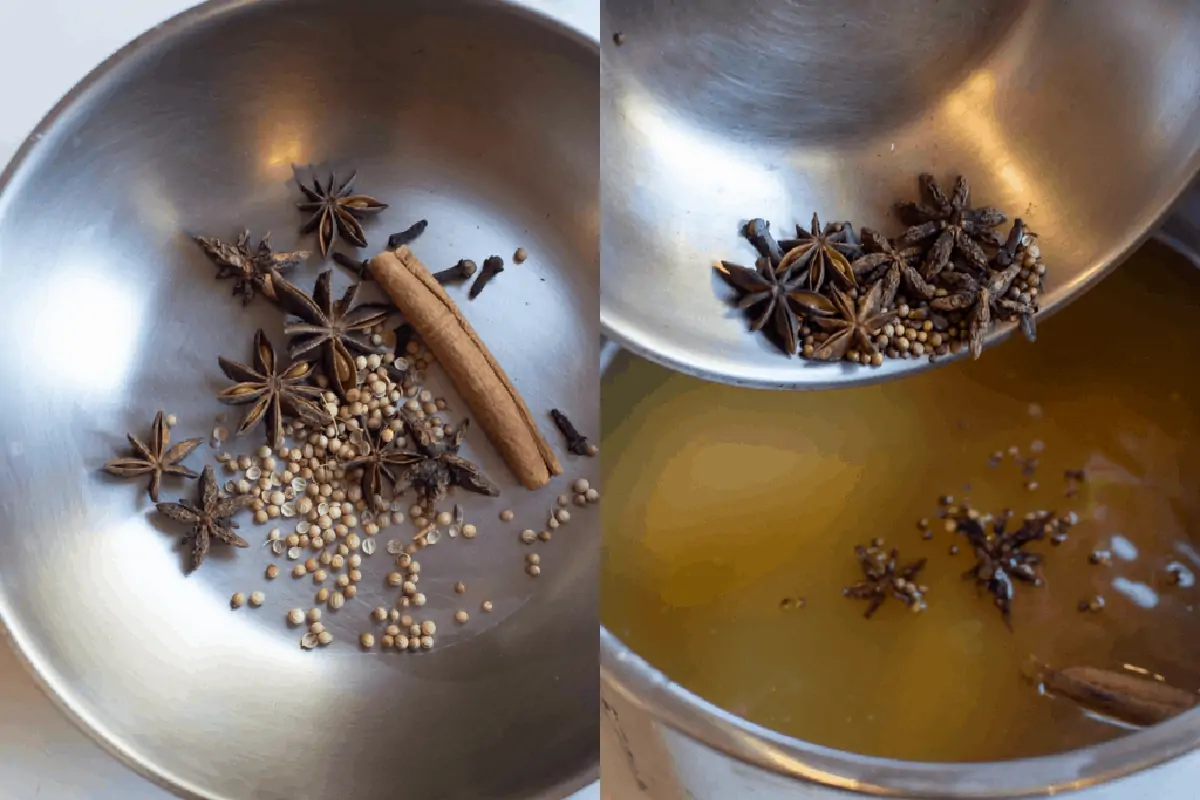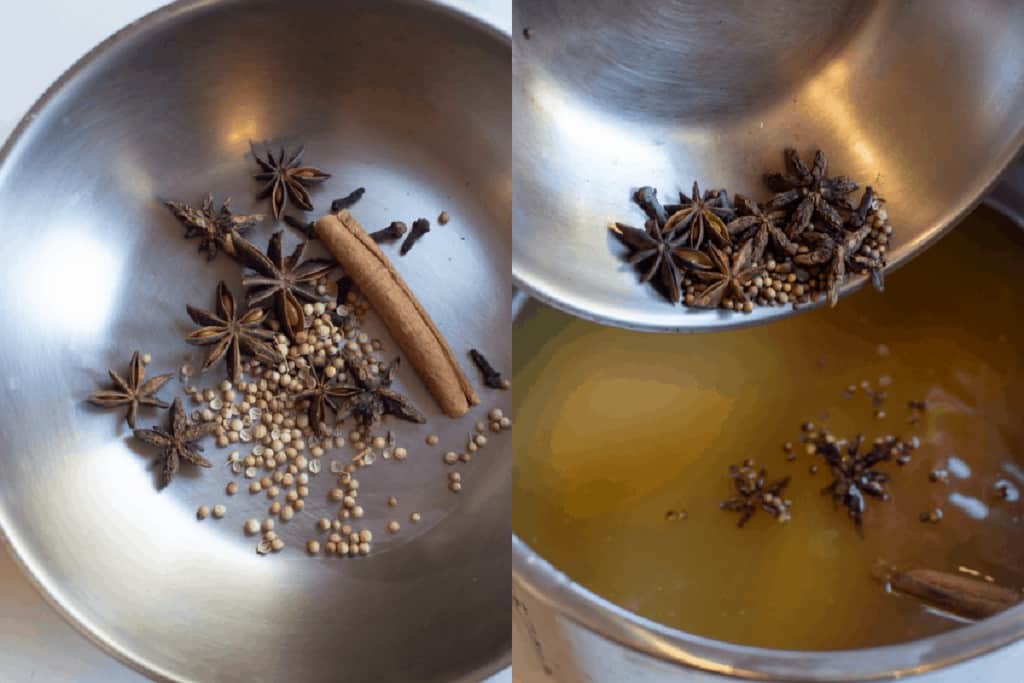 Step 1: Toast your spices. This really helps enhance their flavors.
Step 2: Add salted chicken breasts to pot with broth, sliced ginger, sugar, fish sauce, and toasted spices.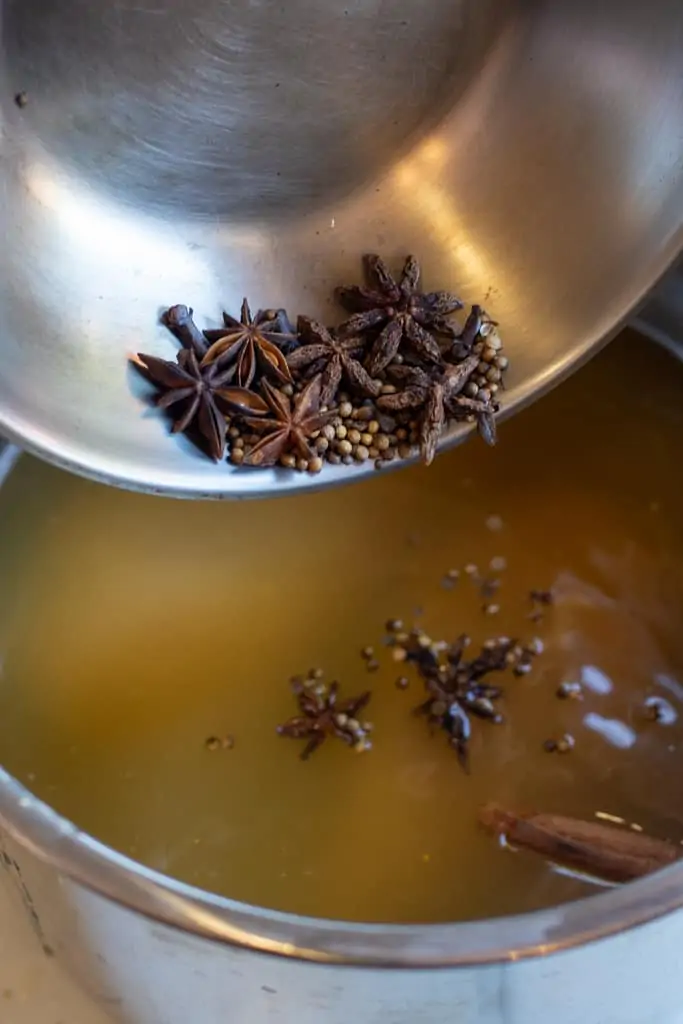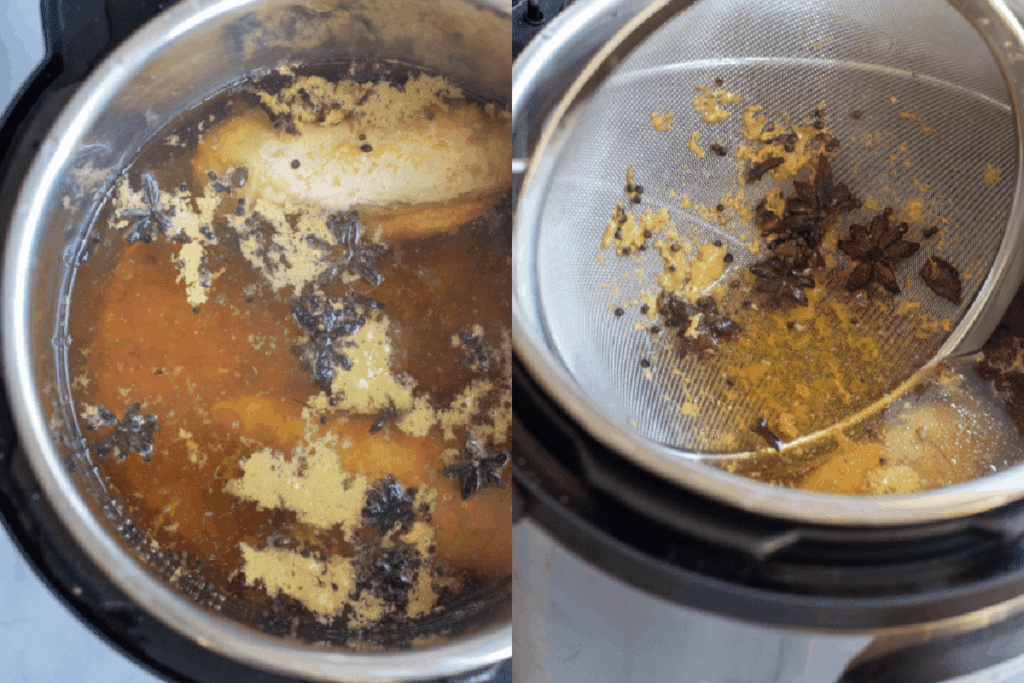 Step 3: Let your slow cooker do the rest of the work developing all of the flavors of the broth.
Once done, you'll want to remove all of the ginger and the whole spices. We use a fine-mesh sieve for that, like this one.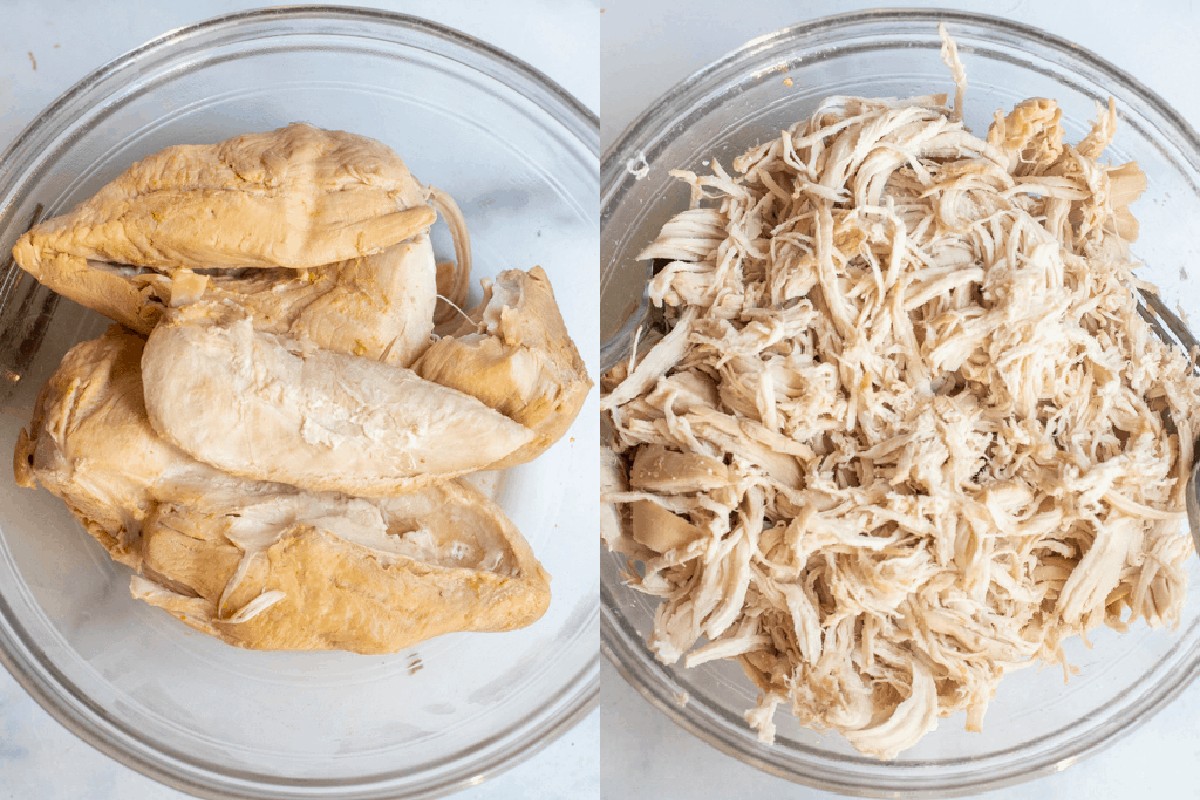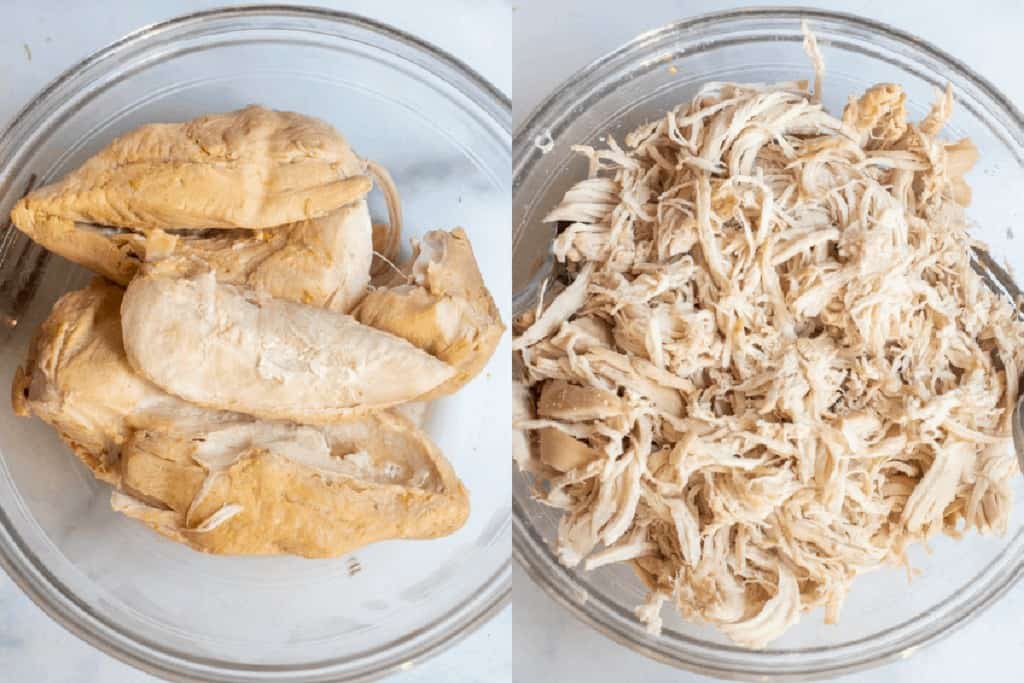 Step 4: Remove the chicken and give it a good shred.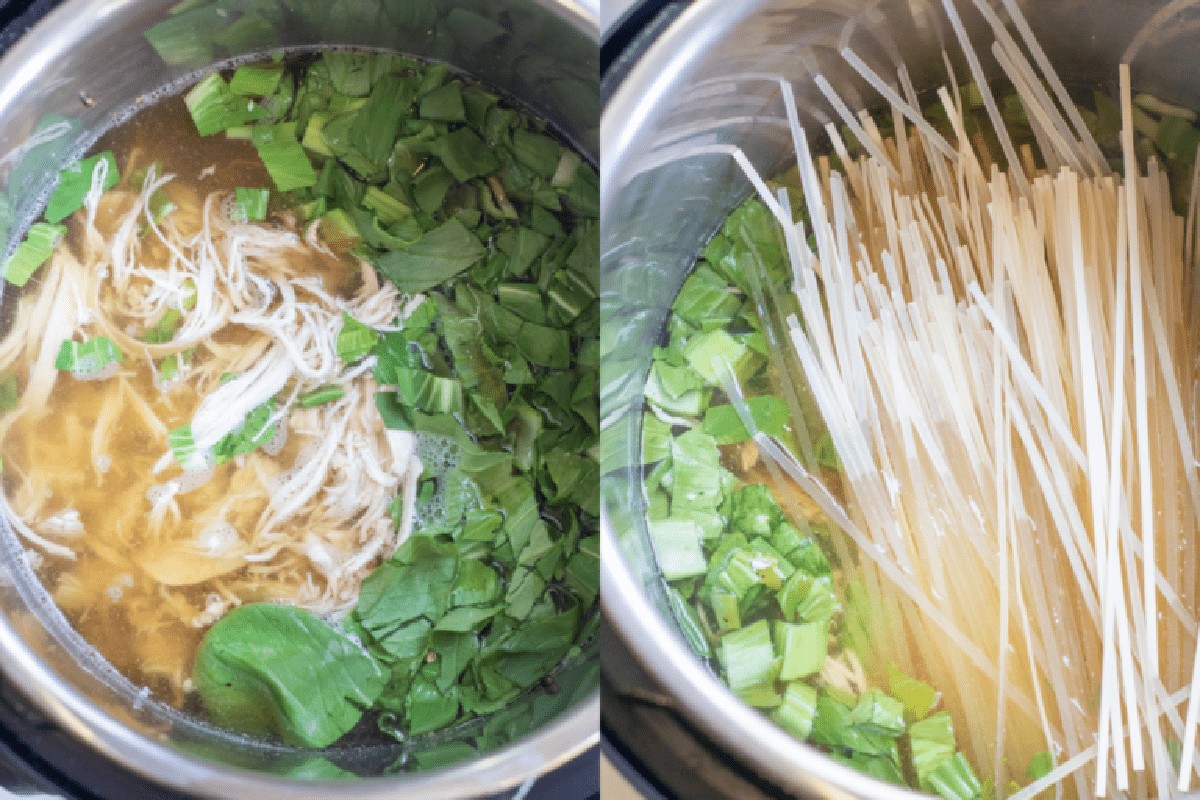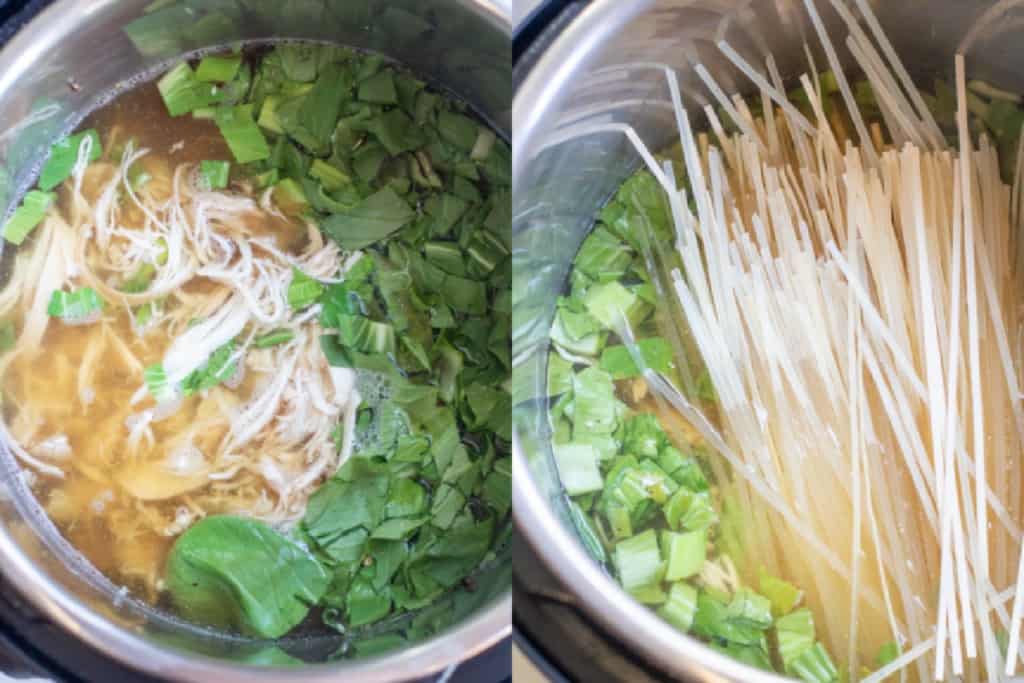 Step 5: Return the chicken to the pot and then add your chopped bok choy. Cook on high for 20 minutes then add your rice noodles.
Be sure to keep an eye on the noodles and only add them for the cooking time noted on the package.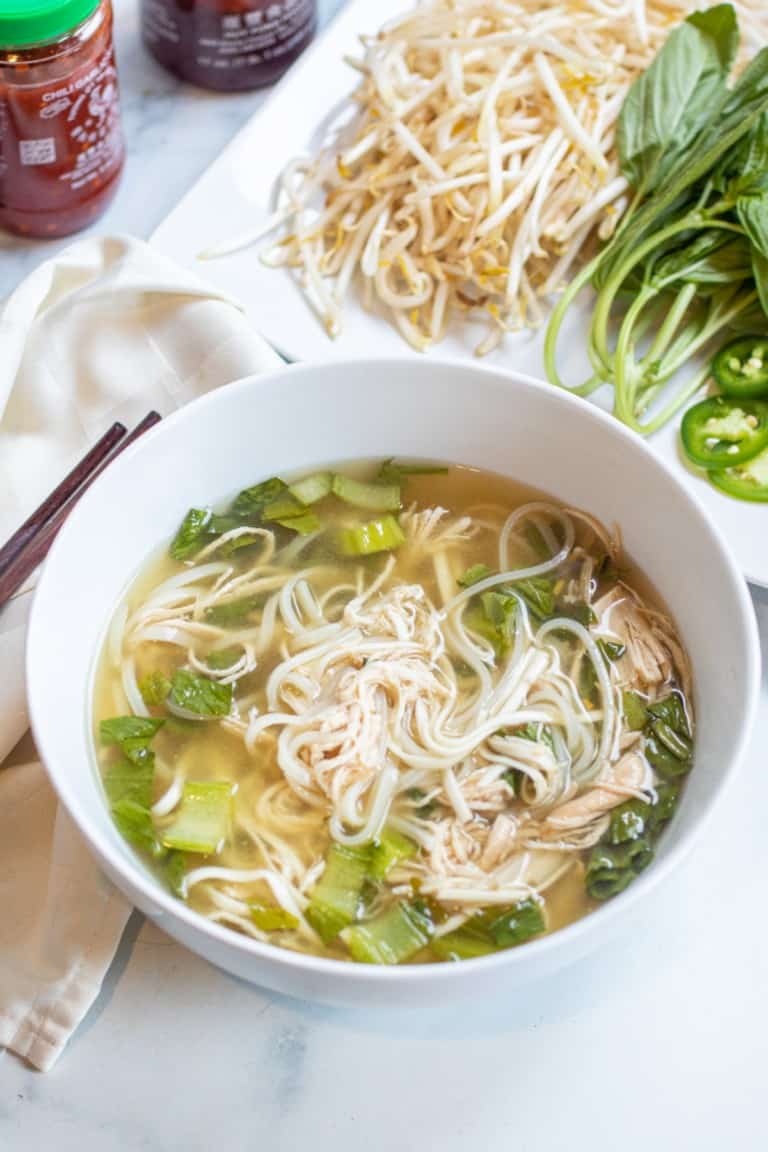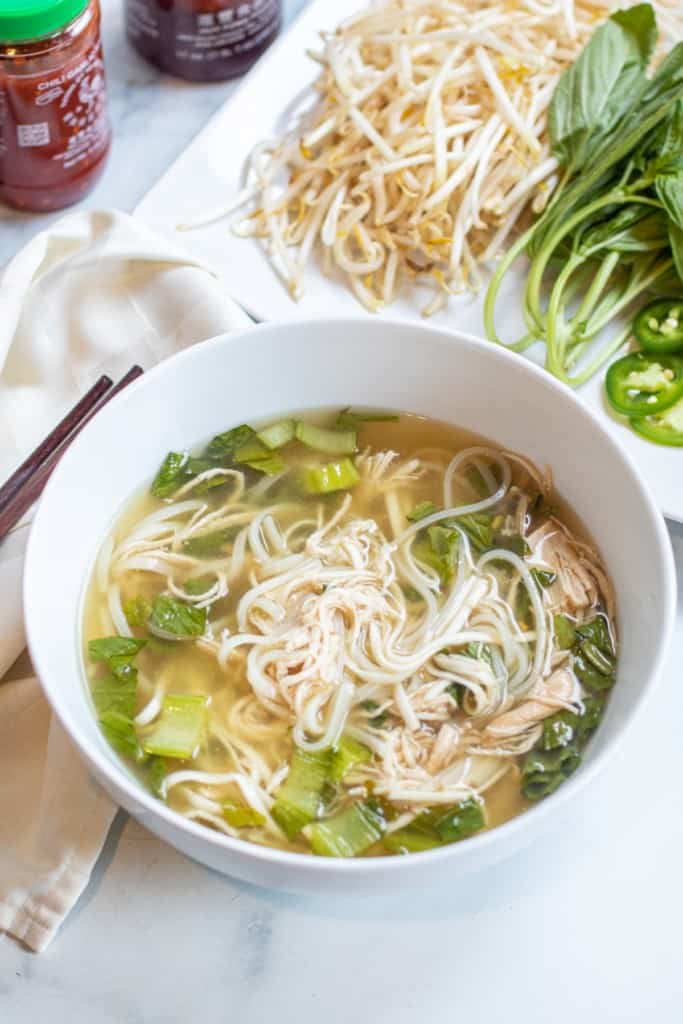 And done! Crock Pot Chicken Pho ready for a large bowl and to be topped with your favorite add-ons!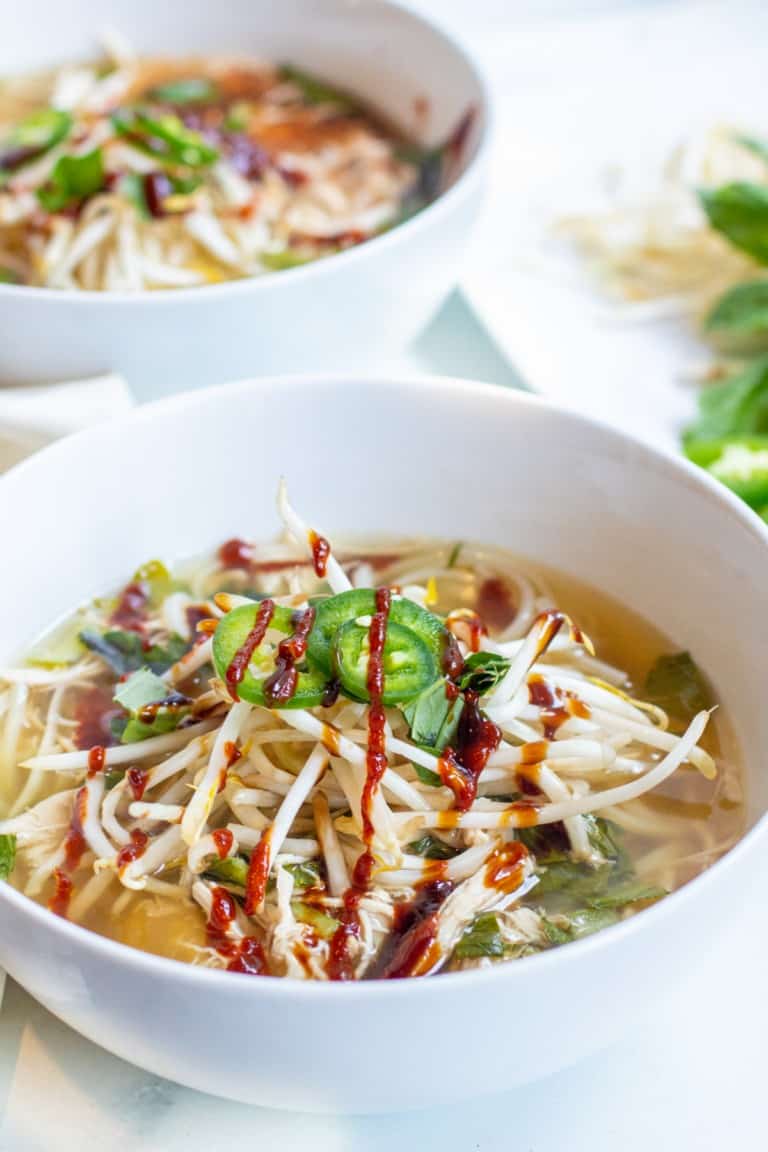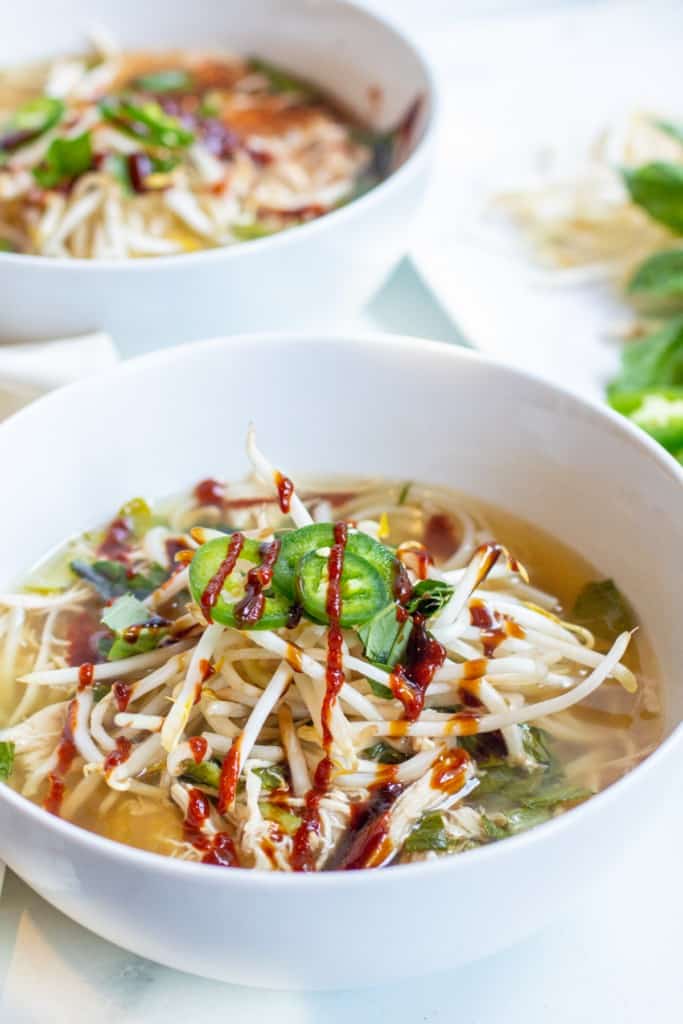 Serve With
This is totally up to you, but here are our favorites!
A heaping pile of fresh bean sprouts.
Ripped fresh basil.
Sliced jalapenos
A dollop of chili garlic sauce.
A little homemade Hoisin.
Drizzled Sriracha.
Finished with a squeeze of fresh lime!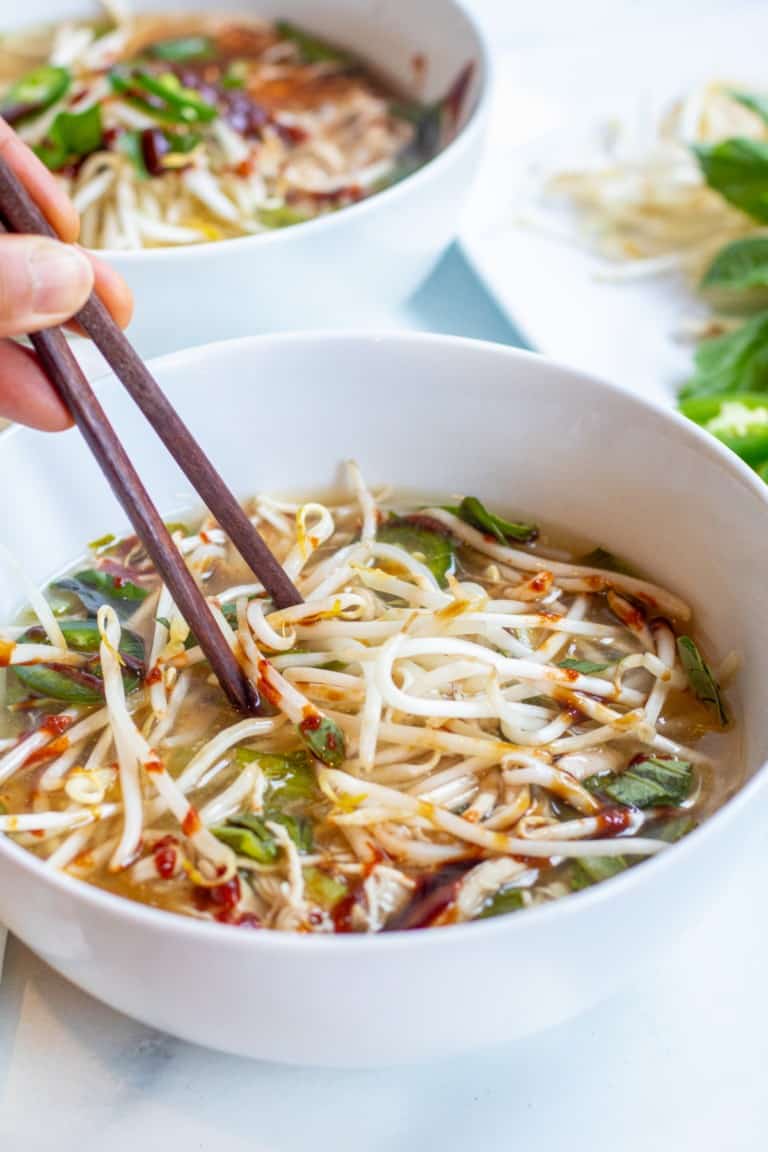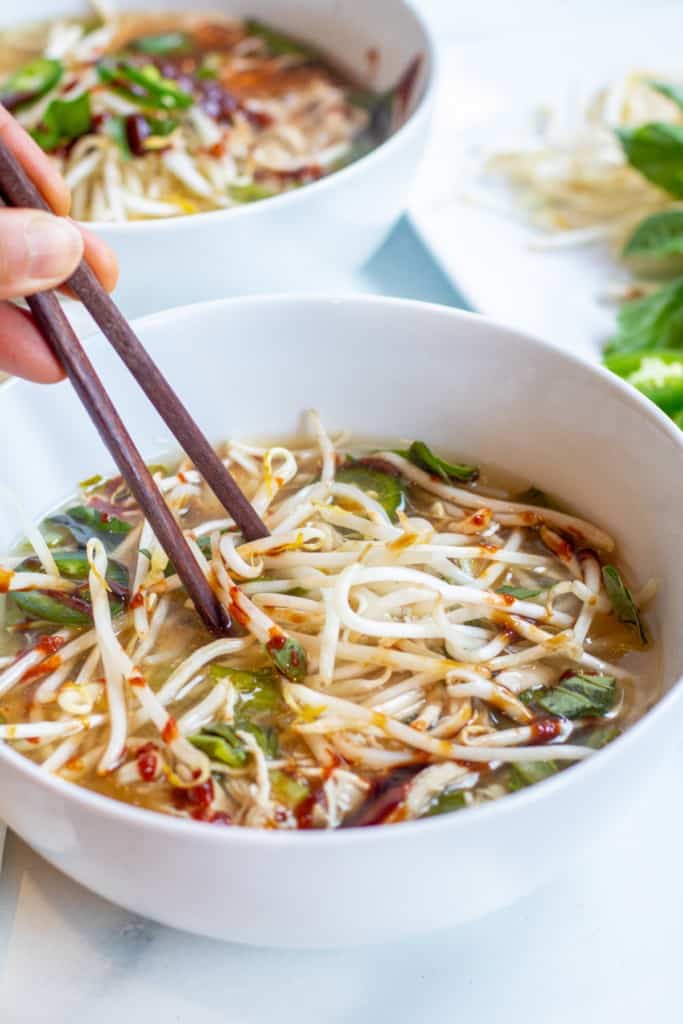 Once added, then of course we give all of that Vietnamese noodle soup goodness a solid mix with chopsticks...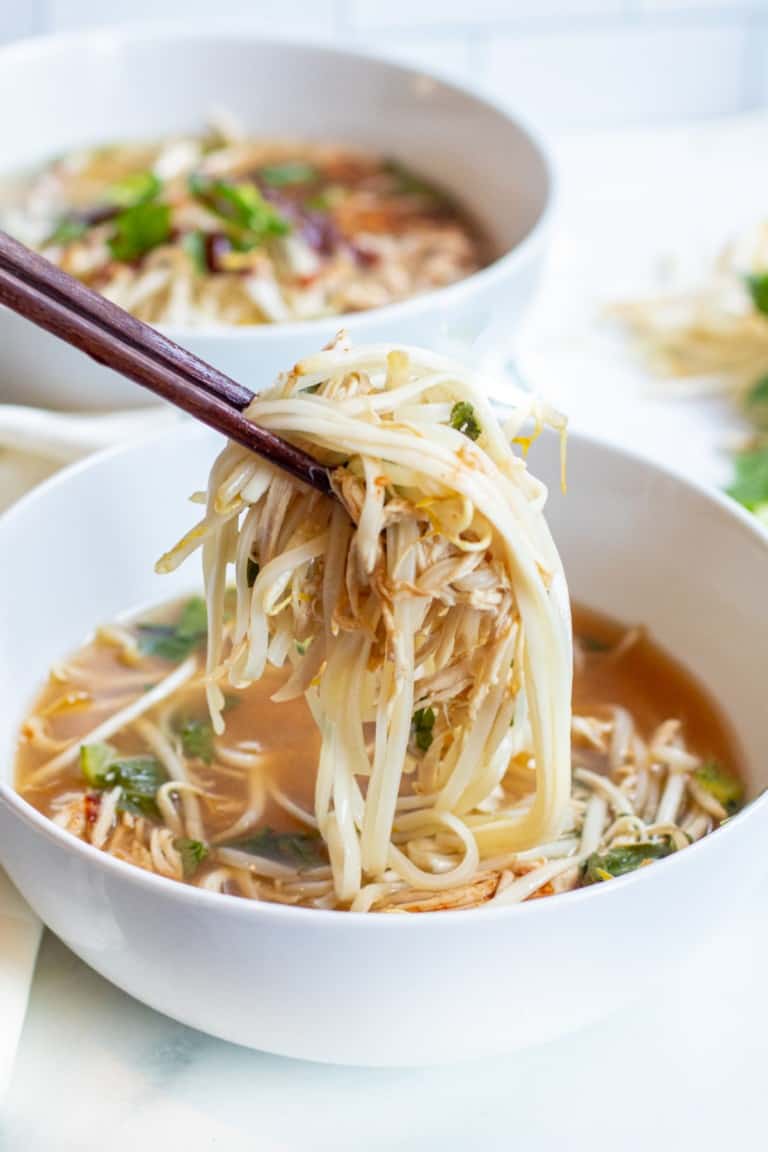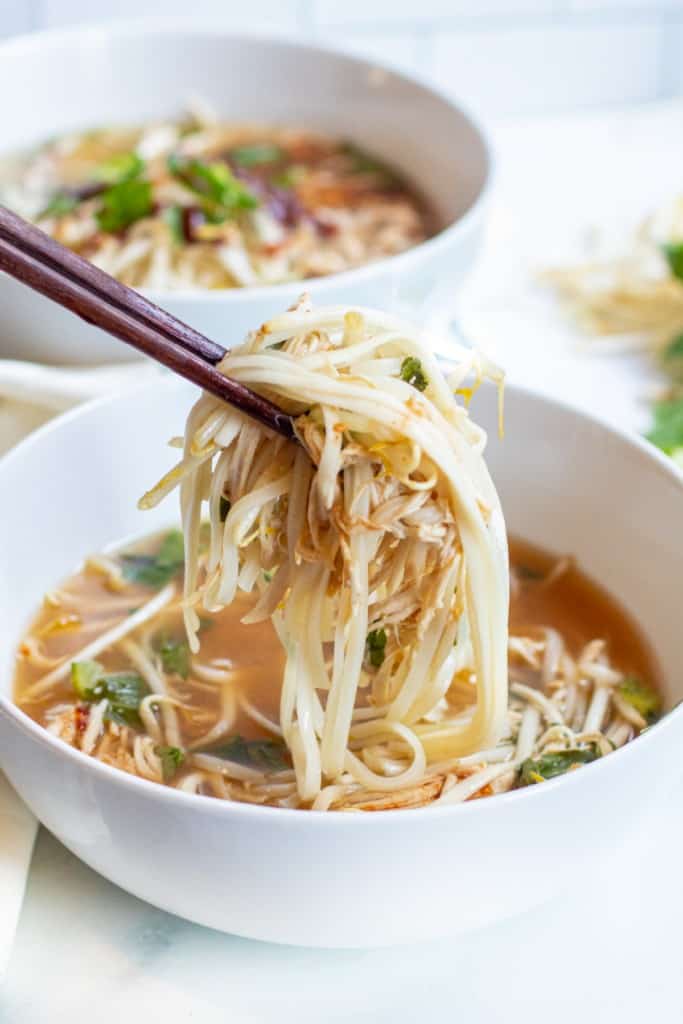 ...to be ready for the perfect Crock Pot Chicken Pho bite!
How can you not love a chicken noodle soup? And this Vietnamese version is ridiculously easy and so flavorful, which makes it even more loveable.
Other Asian Inspired Soups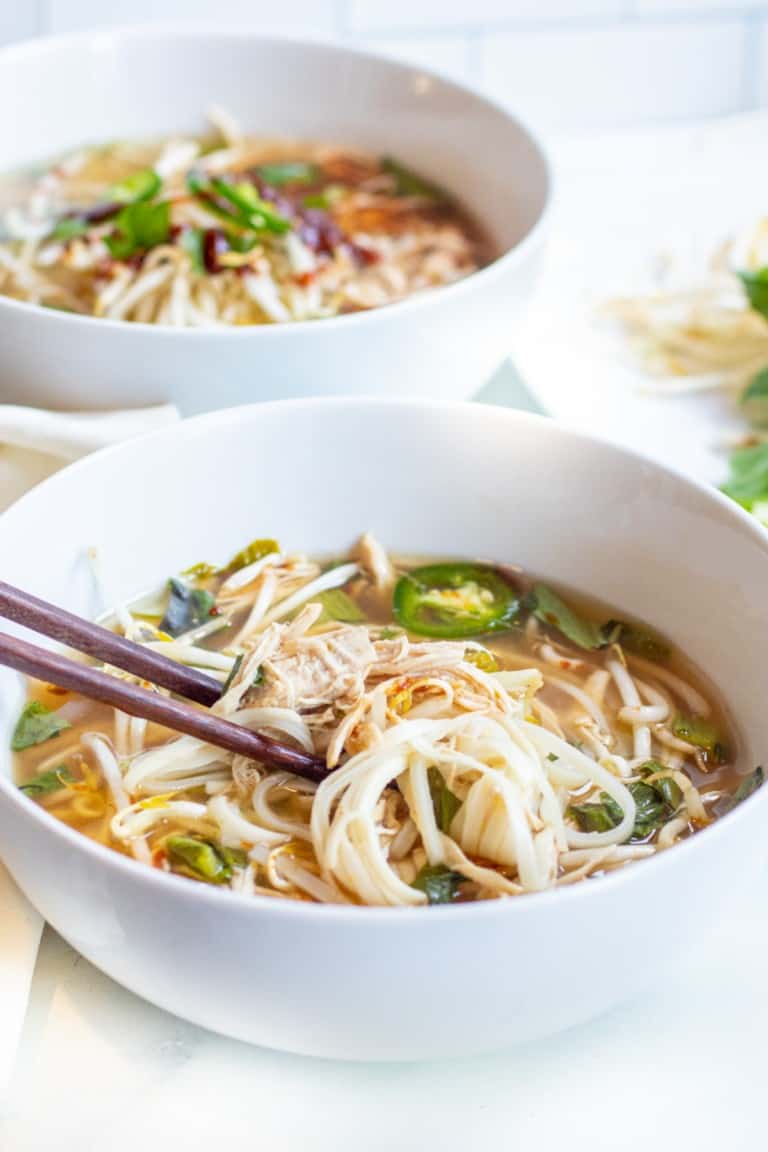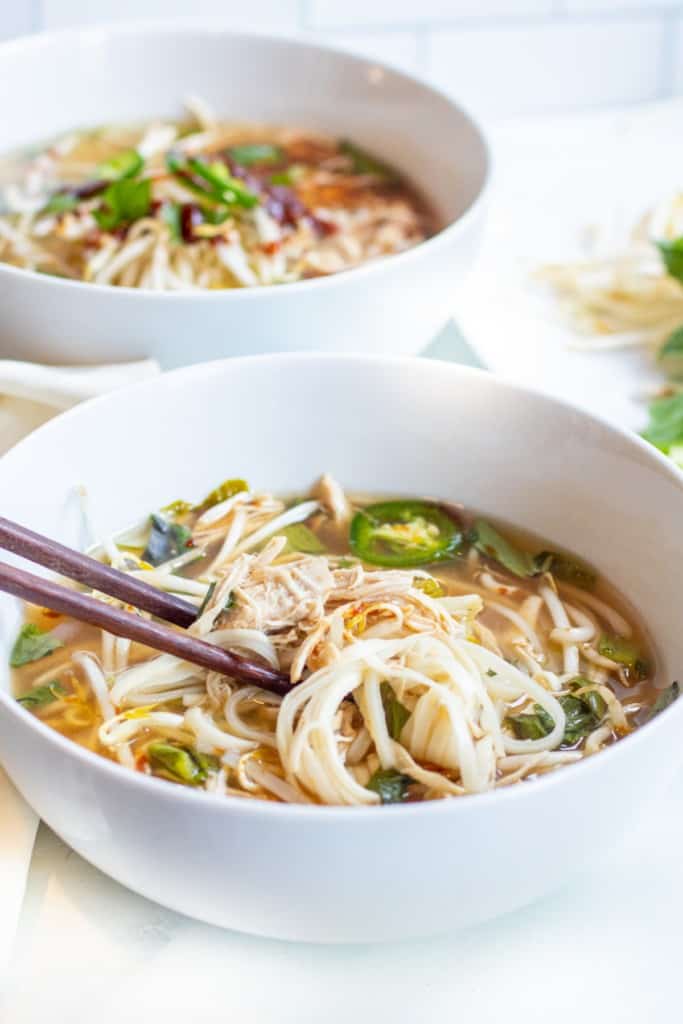 FAQs
Can I use another cut of chicken?
Of course! We prefer chicken breasts for this recipe and have used boneless or bone-in but thighs would also work.
Can I use beef in this?
We don't recommend it for this recipe, but try our Crock Pot Beef Pho!
Do I have to toast the spices?
You don't have to, but it does make a difference in the flavor.
Can I use any kind of noodle?
Definitely. Rice noodles are the most authentic for pho, but you can use whatever noodle you would like at whatever thickness. Just keep in mind the kind of noodle and their individual cooking time.
Can I freeze the pho?
You can definitely freeze the broth and chicken, but I wouldn't recommend freezing the cooked noodles as they do not thaw well after freezing. To freeze, prepare the pho up until adding the noodles and then cook the noodles in the pho prior to serving after reheating.
Enjoy! As always, if you make this recipe or any of my others, I love to hear what you think! Leave a comment below, email me, or you can find me on Facebook, Instagram, and Pinterest!
If you want to see more, be sure to sign up for my 5 Easy Ways to Start Cooking From Scratch!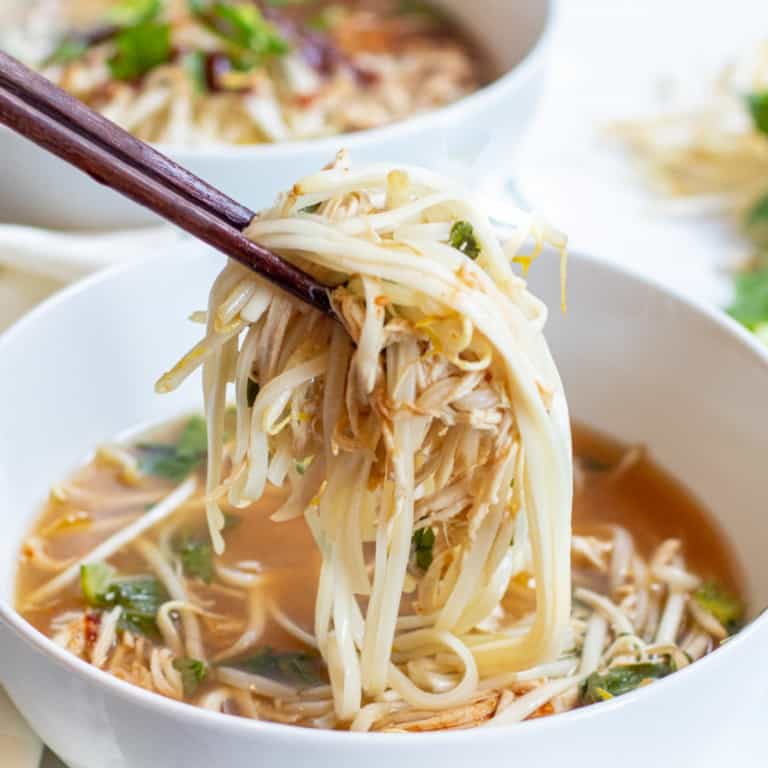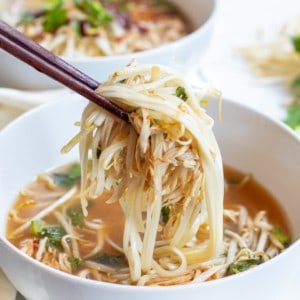 Crock Pot Chicken Pho
Chicken Pho made easily at home in your Crock Pot!
Print
Pin
Rate
Ingredients
8

cups

chicken stock

2 lbs

boneless chicken breasts

or bone-in would work too

1 1/2

tablespoons

light brown sugar

2

inch

piece fresh ginger

peeled and thinly sliced

2

tablespoons

fish sauce

1

cinnamon stick

8

star anise

2

teaspoons

whole coriander

8

whole

cloves

6-8

oz

of pho rice noodles, banh pho

1/16 inch is the best, but whatever you can find will work!

3-4

cups

baby bok choy chopped

1-2

teaspoons

kosher salt

bean sprouts

fresh basil leaves

sliced jalapeños

lime wedges

Sriracha

chili garlic sauce
Instructions
Heat a small pan on medium heat and add cinnamon stick, cloves, coriander, star anise, and cloves. Toast, stirring oftne, for about 2 minutes or until fragrant.

Salt chicken breasts and add to a crock pot. Add chicken stock, fish sauce, and sliced ginger. Add brown sugar and give a little stir so it dissolves. Add toasted spices.

Set to slow cook on low for 6-8 hrs on or on high for 3-4 hrs.

Remove chicken from crock pot and shred. While chicken is removed, use a sieve to remove ginger and whole spices.

Return shredded chicken to crock pot and add chopped bok choy. Turn crock pot to high, cover, and let cook for another 15 minutes.

While bok choy cooks, prep your accompaniments by slicing jalapeños, lime wedges, and add basil and sprouts to a plate. Gather hoisin, sriracha, and chili garlic sauce.

After the bok choy has cooked for 15 minutes, open lid and add dried rice noodles. Let cook submerged in the broth for 5-6 minutes, or whatever the cooking time on the package.

Ladle pho into large bowls. Top with your choice of bean sprouts, jalapeños, basil. Top with sriracha, chili paste, and/or hoisin to taste and finish with a squeeze of fresh lime juice.
Nutrition
Calories:
325
kcal
|
Carbohydrates:
43
g
|
Protein:
19
g
|
Fat:
8
g
|
Saturated Fat:
2
g
|
Polyunsaturated Fat:
2
g
|
Monounsaturated Fat:
4
g
|
Trans Fat:
1
g
|
Cholesterol:
34
mg
|
Sodium:
1474
mg
|
Potassium:
502
mg
|
Fiber:
3
g
|
Sugar:
9
g
|
Vitamin A:
5314
IU
|
Vitamin C:
54
mg
|
Calcium:
182
mg
|
Iron:
3
mg