Sometimes called Fireman's BBQ Sauce, this Cornell Chicken is a deliciously salty, tangy grilled chicken made with an incredibly easy marinade!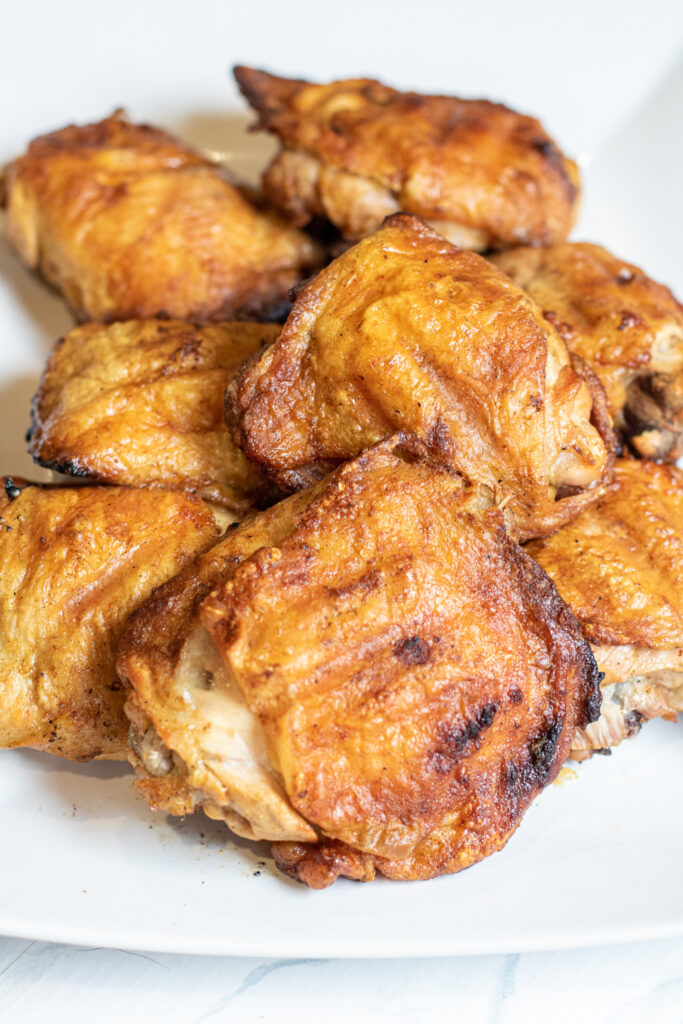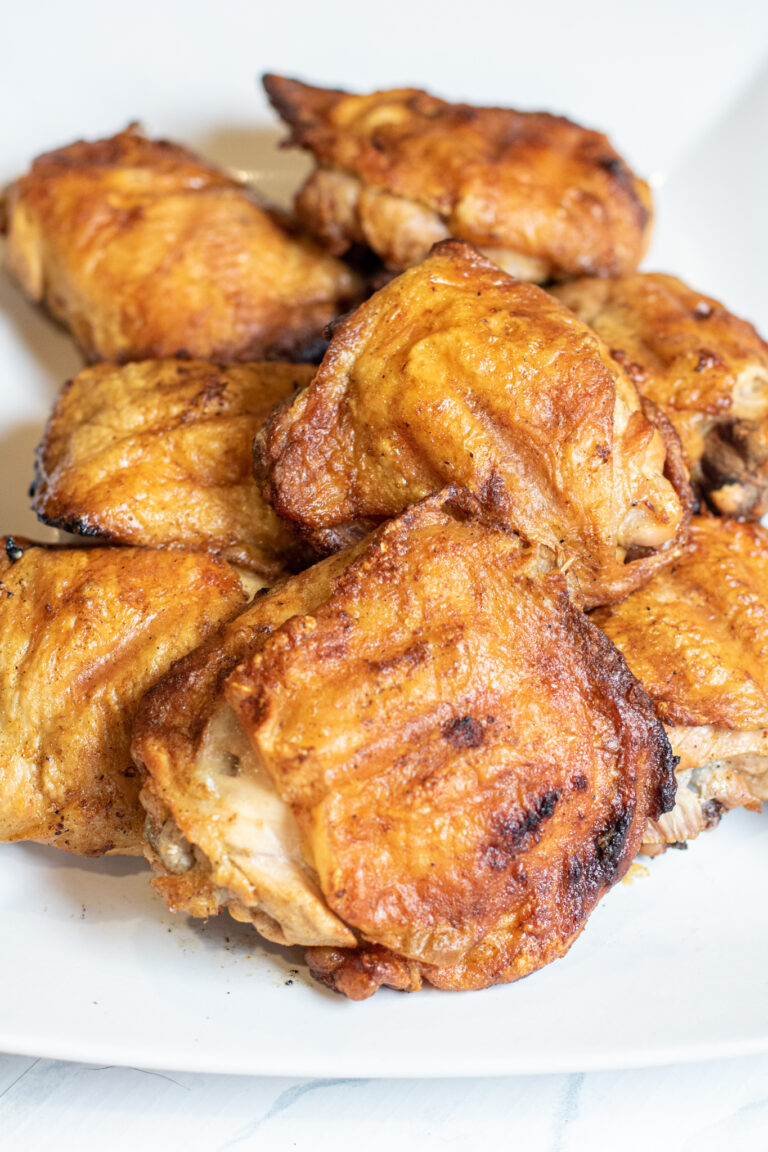 One of our hands-down favorite ways to eat chicken is this grilled Cornell Chicken! It's a recipe that's been in my husband's family for decades and one that we've made hundreds of times. For BBQs, for family dinners, parties, and even just when we don't know what we want to make, this recipe is a go-to that we know we'll always enjoy. I think everybody in our lives who has been to a BBQ or party we've hosted at our house has at some point had this chicken! And it's always a crowd favorite that goes with any side dish!
Recipe Video
Ingredients Needed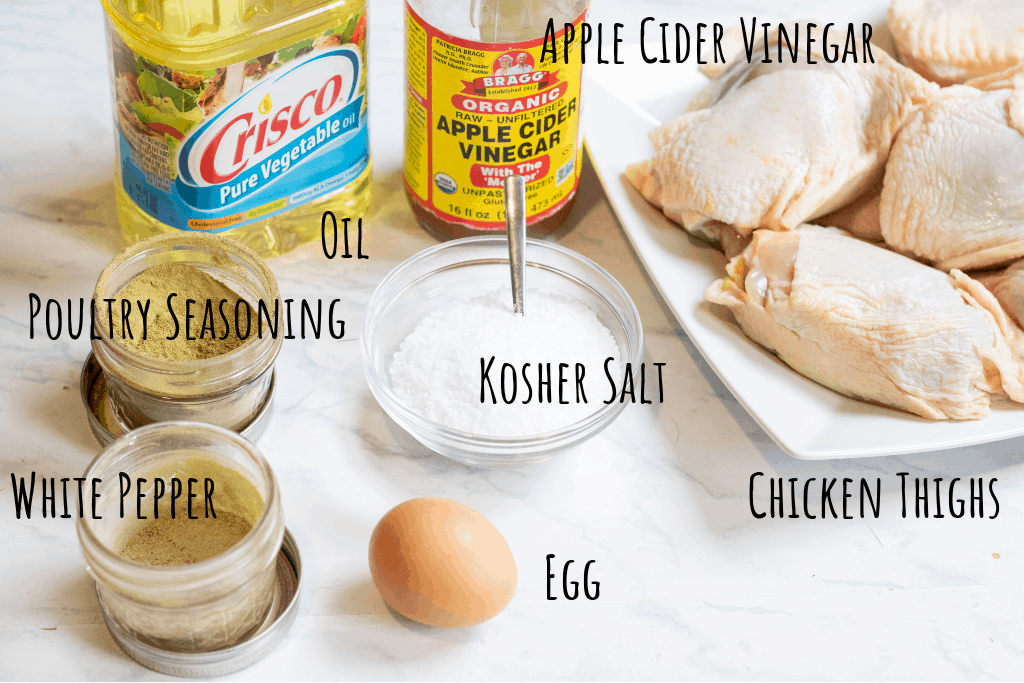 It's one of the simplest marinades we make.
Chicken - You can use any cut for this. It will of course adjust cooking times, but we've made it with all cuts of chicken an absolutely love it. Our favorites are bone-in chicken thighs and boneless chicken thighs. Bone-in cuts I recommend parboiling the chicken and boneless grill nice and fast!
Apple Cider Vinegar - The base of this marinade is this tangy vinegar.
Oil - A neutral flavor, high flash point oil like Vegetable or Canola is best for this recipe. We've used olive oil before and it imparts a flavor that's not quite right for this recipe, plus it changes the flash point of the cooking.
Egg - The alkaline in the egg white helps tenderize the meat.
Kosher Salt - The recipe amount is not a typo, it does have a lot of salt, but that's part of the flavor!
Poultry Seasoning - This may be not be a staple on you pantry spice rack, but it should be! Then you can also make our Cream of Chicken Soup From Scratch, too!
White Pepper - Another you may not have, but be sure to NOT substitute it for black! White Pepper has it's own distinguishing flavor that's more earthy, bright, and herbaceous than black pepper.
Other favorite grilled chickens: Mediterranean Grilled Chicken Breasts and Grilled Cilantro Lime Chicken.
Easy to Make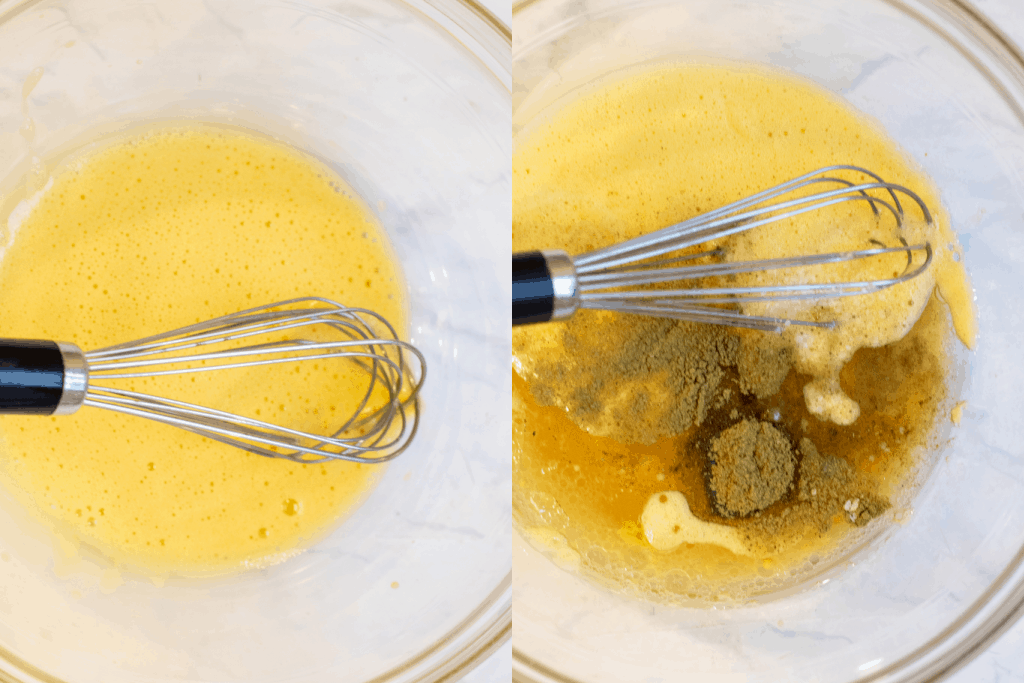 One of the best things about marinades is that they are so easy to throw together. They're only marginally longer to make than opening a bottle of the pre-made stuff - but you know exactly what's in them!
Key for this recipe: Whisk the egg! Grab your favorite whisk or fork and get that egg frothy. This helps with the emulsification of the egg, oil, and vinegar.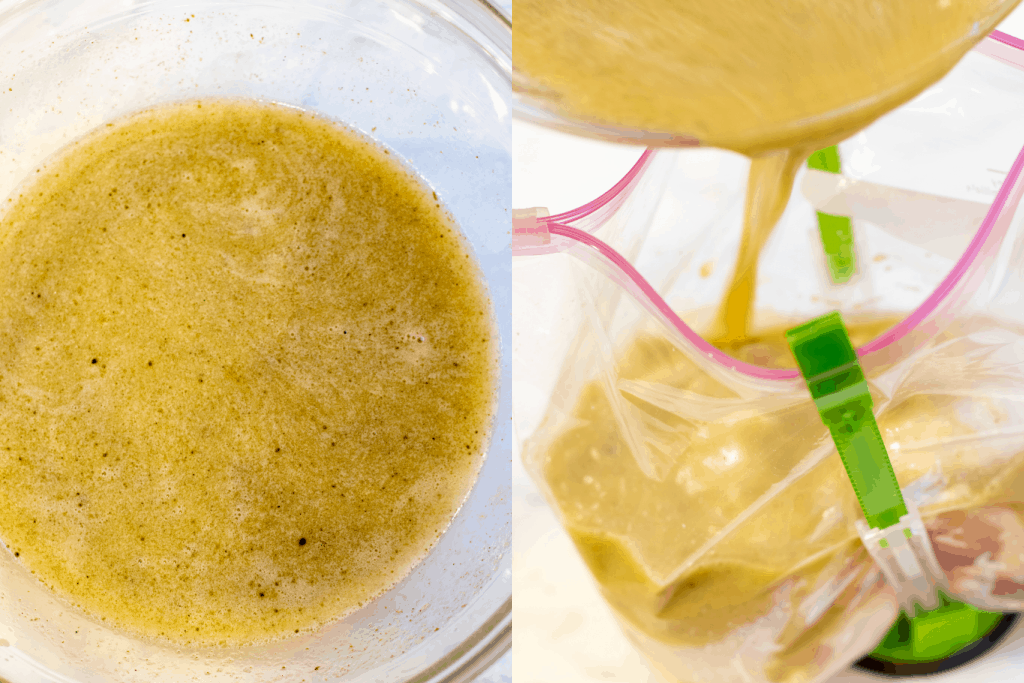 Trust me, don't skip the egg whisking, it will allow for the whole marinade to mix well.
Parboiling Chicken: This is totally optional but it will cut down on cooking time. Any time we use a bone-in cut, we parboil to cut down the grilling time. Definitely not necessary, you can just marinate raw chicken, it will just take longer to grill. Most important piece of parboiling - make sure the chicken has completely cooled before adding marinade. Find more information and parboiling times here.
Then it's just a matter of adding it to your chicken! We add it all to a large ziplock bag, and this handy dandy little tool is a must to make your pouring-liquid-into-a-bag life easier!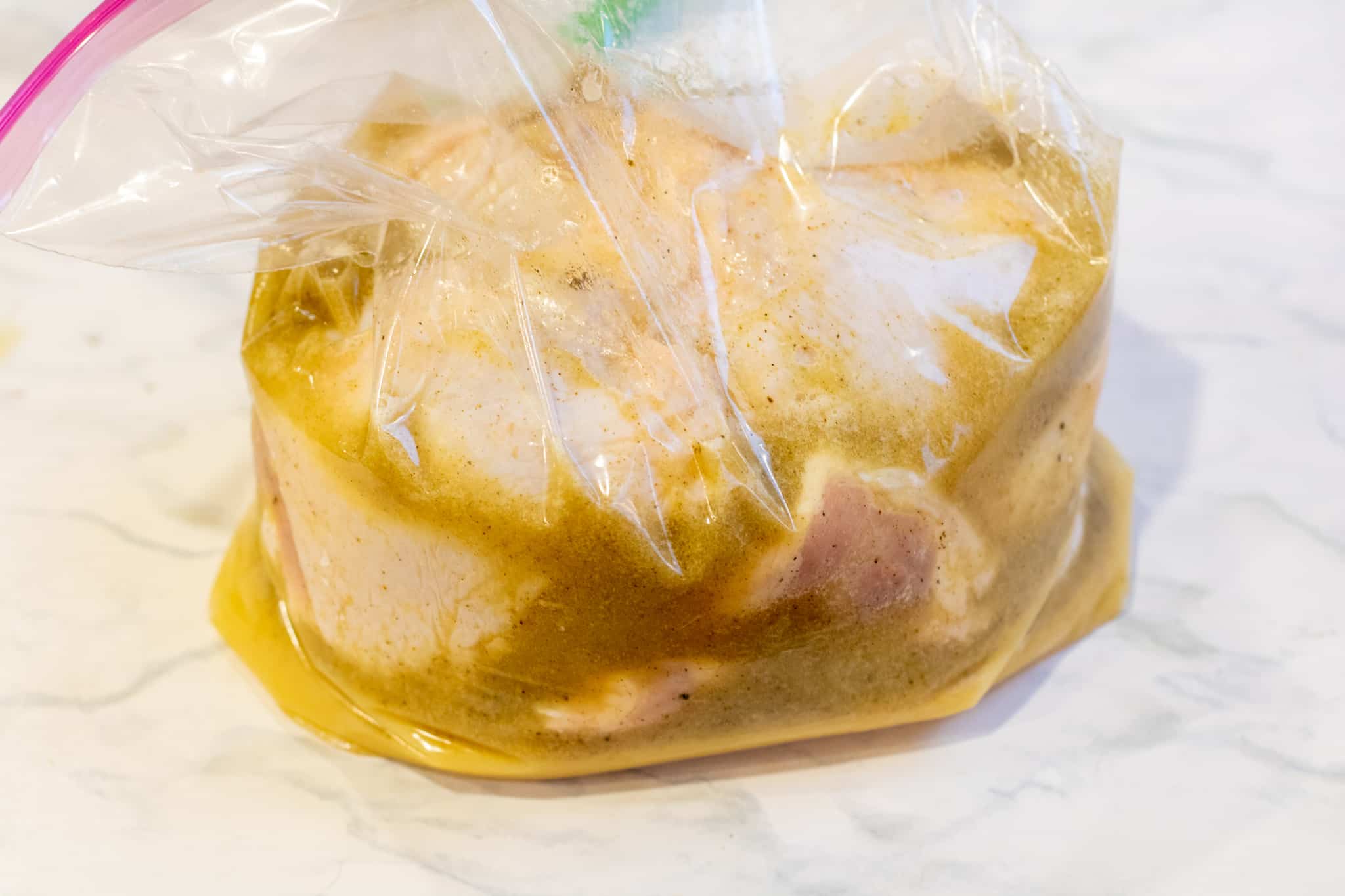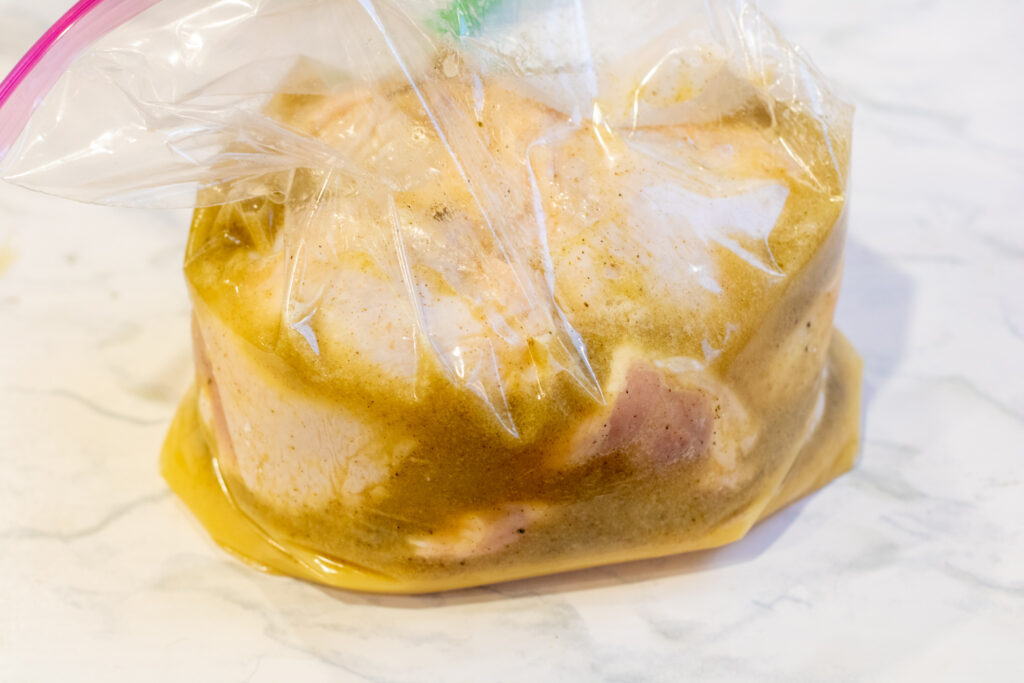 As with most marinades, the longer the better to impart flavor. We usually prep this the night before for the follow day's dinner. But if you don't have that kind of time, no problem. Give it at least an hour though but 12-24 is amazing.
Grill It
Once the meat has marinated, it's time to go on the Grill! Grilled is our preferred way to cook the chicken (although it's our preferred way for most meats), and the key is low and slow using indirect heat. This means turning the grill on and setting all burners to low. Place the meat (skin side or smooth side up) on the grill grates, but not directly above the burners, but instead the space in between the burners - that way, the meat is not receiving direct heat.
If using parboiled chicken, grill on one side for about 15 minutes (until it's nicely browned) and then flip. Try to avoid constantly flipping! While it's cooking, baste baste baste with that leftover marinade!
Once the first side is browned, flip to finish cooking, again basting away!
It's done when the internal temperature of the chicken reaches at least 165 degrees. If you're ever concerned about whether your chicken (or any meat) is done, I highly recommend an instant read thermometer. It's one of my favorite kitchen tools!
Grilling FAQs
Why indirect heat?
Because as the fat renders out of the chicken, when it drips on the burner directly, it will flare up and this will cause your chicken to burn.
Why Low and Slow?
To be able to continually baste the chicken, which just adds more and more flavor! Plus, it reduces any risk of burning or drying out the chicken.
How Often do you Turn?
As little as possible! Leave the chicken on one side until it is browned. That can take as little as 15 minutes for parboiled thighs or as much as 30 for raw chicken. THEN flip to the other side and finish cooking and continue to baste and cook for another 15-30 minutes.
What if my Grill is running too hot?
Turn off one burner and move the meat away from the active burners.
Why should I not flip the meat a lot?
You should really only flip your meat once. Doing it more often will not only increase your over all cooking time, but it will also prevent you from getting a nice crispy skin and can risk you drying out the meat.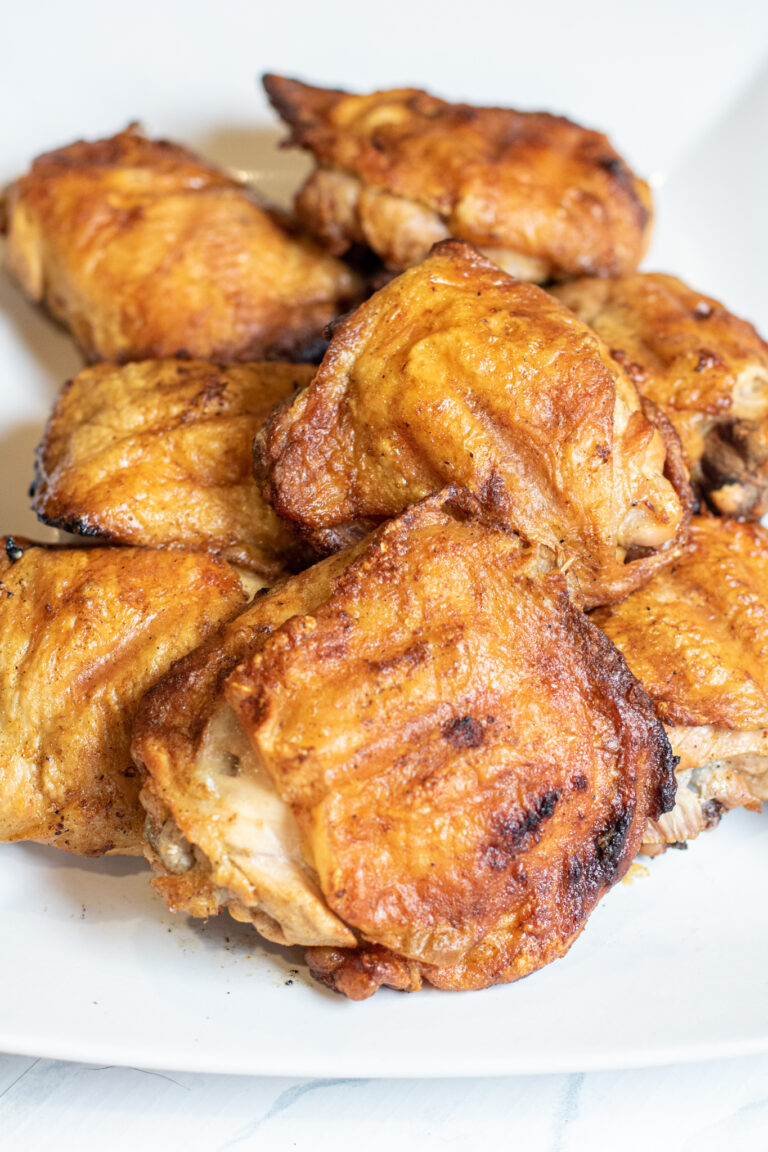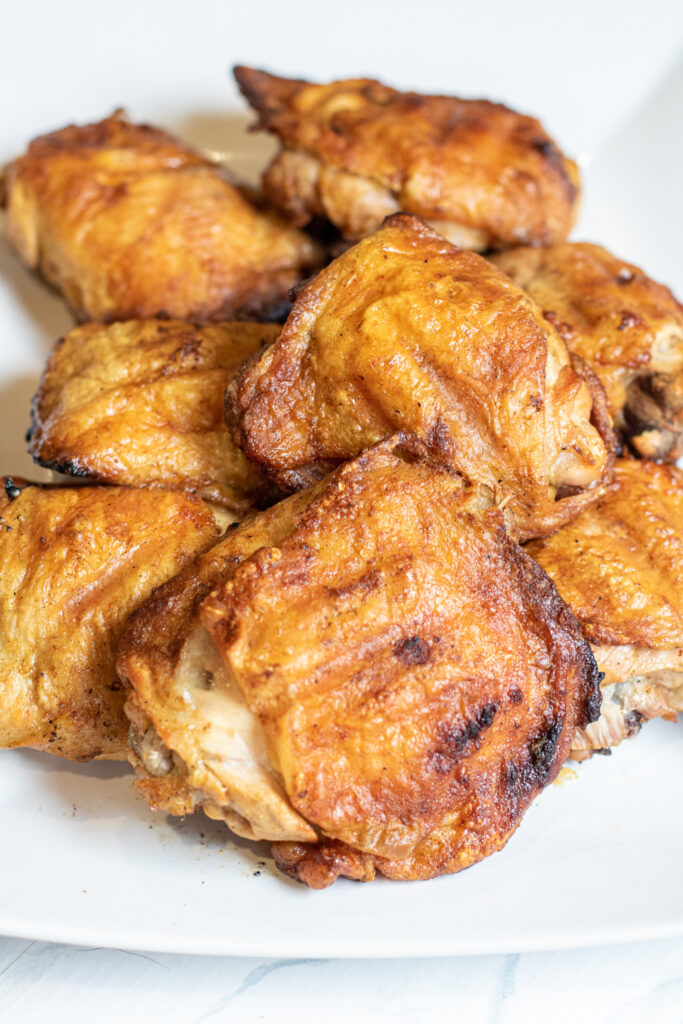 Grilled to perfect! Grilling gets that perfectly crispy skin with that tangy and salty chicken absolutely bursting with flavor.
Other Ways / Cuts to Cook:
Skin on, bone-in chicken thighs are our favorite to grill. But you can of course use any other cut of chicken but also you can cook them tons of other ways, too!
Oven and Skillet will be the other ways to keep a crispy skin.
Crock Pot is great but best for a skinless cut.
Instant Pot also great for a skinless cut because the skin will not get crispy.
As always, no matter the cut or cooking method, be sure that your chicken is fully cooked and internal temperature reaches 165 degrees.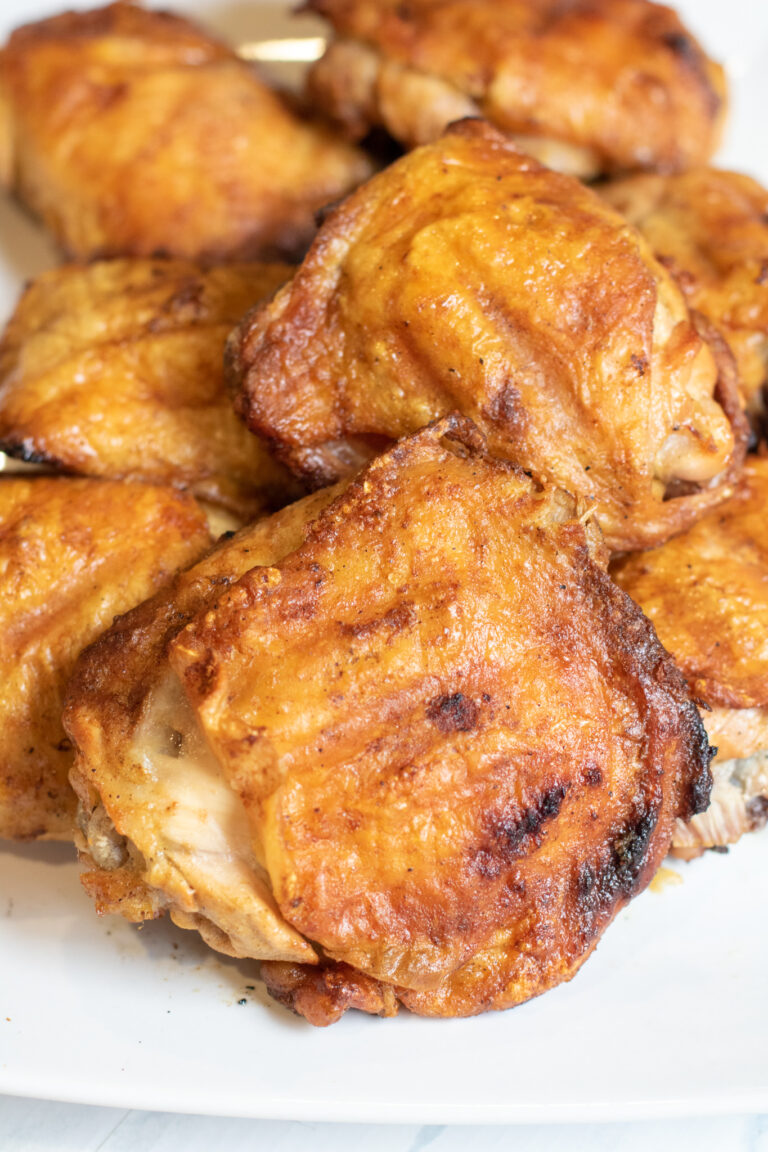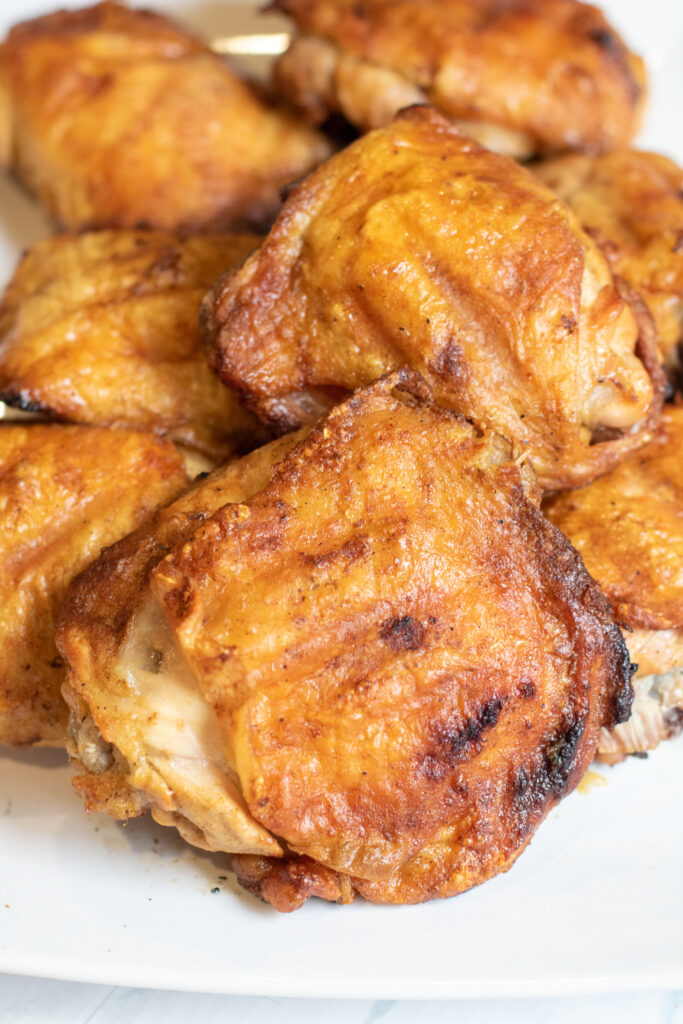 No matter what cut of meat you use or what cooking method you use, you have to try this marinade. Trust me, you wont be disappointed!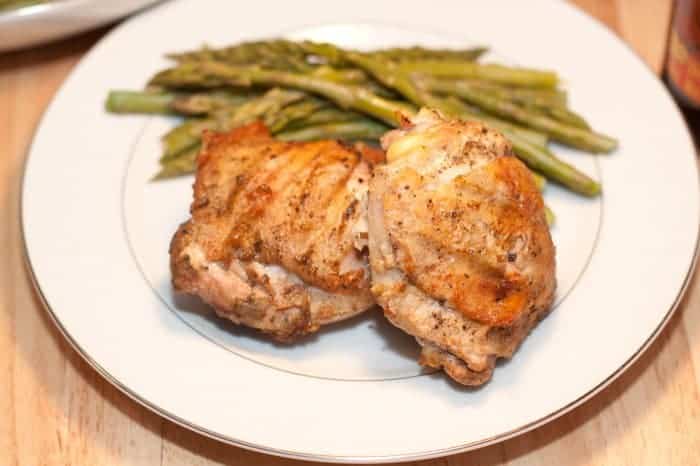 Enjoy! As always, if you make this recipe or any of my others, I love to hear what you think! Leave a comment below, email me, or you can find me on Facebook, Instagram, and Pinterest!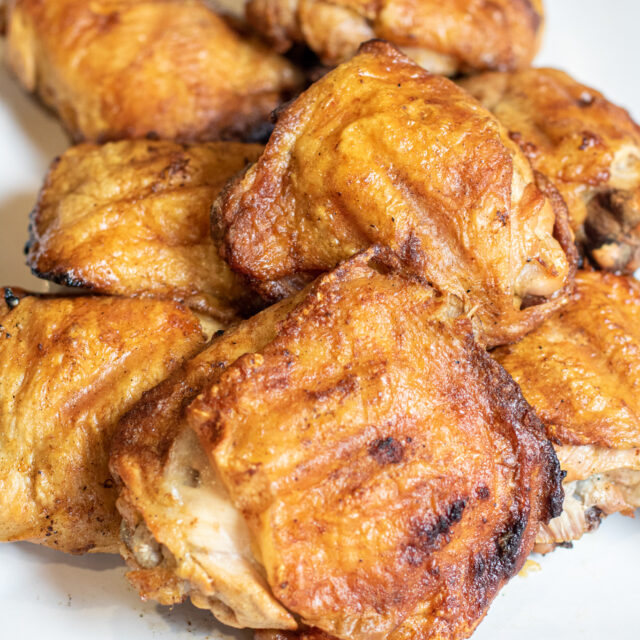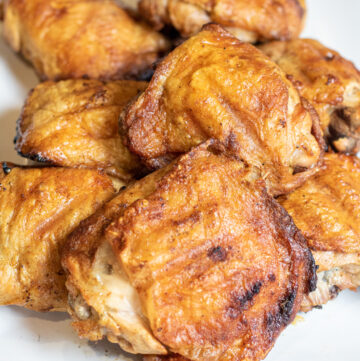 Cornell Chicken
Sometimes called Fireman's BBQ Sauce, this Cornell Chicken is a salty, tangy grilled chicken made with a super easy marinade!


Print
Pin
Rate
Servings:
8
Chicken Thighs
Ingredients
8

bone-in, skin on chicken thighs

1

large

egg

1/2

cup

oil

vegetable or canola

1

cup

apple cider vinegar

2

tablespoons

kosher salt

1 1/2

teaspoons

poultry seasoning

1/4

teaspoon

white pepper
Instructions
Parboil chicken: Heat large pot of water until water boils. Add chicken and boil for 5 minutes. Remove from water and let cool completely.

In a large bowl, add egg. Whisk vigorously with a fork or whisk until frothy.

Add remaining ingredients to the bowl and whisk again until all is incorporated.

Add marinade to chicken and let marinate for ideally 12 - 24 hrs.

Heat grill to low and grill on low, indirect heat for 15 minutes on one side, basting every 5 minutes with remaining marinade and then flip and cook on other side for another 15 minutes, basting every 5 minutes. If chicken is not parboiled, it will take about 30 minutes on each side.

Cook chicken until skin is crispy and internal temperature reaches at least 165 degrees.
Notes
Substitutions: White vinegar and black pepper will work as substitutions. But it will not tasty as good! Other ways to cook: Oven: Place chicken in baking dish and bake at 350 degrees. For on the bone chicken thighs, for about 35 minutes. Crock Pot: Add the chicken and enough of the marinade to at least mostly cover the chicken and cook on low for 6-8 hours or on high for 3-4 hours. Instant Pot: Set the Instant Pot to pressure cook for 12 minutes with about 6-8 thighs in there. Skillet: This option is best for thin chicken tenderloins or chicken thighs.
Nutrition
Calories:
457
kcal
|
Carbohydrates:
1
g
|
Protein:
24
g
|
Fat:
39
g
|
Saturated Fat:
8
g
|
Cholesterol:
165
mg
|
Sodium:
1866
mg
|
Potassium:
327
mg
|
Fiber:
1
g
|
Sugar:
1
g
|
Vitamin A:
156
IU
|
Calcium:
21
mg
|
Iron:
1
mg