15 Minute Garlic Fried Noodles: In only 15 minutes, and a lot of garlic, you can make this delicious Asian inspired side dish!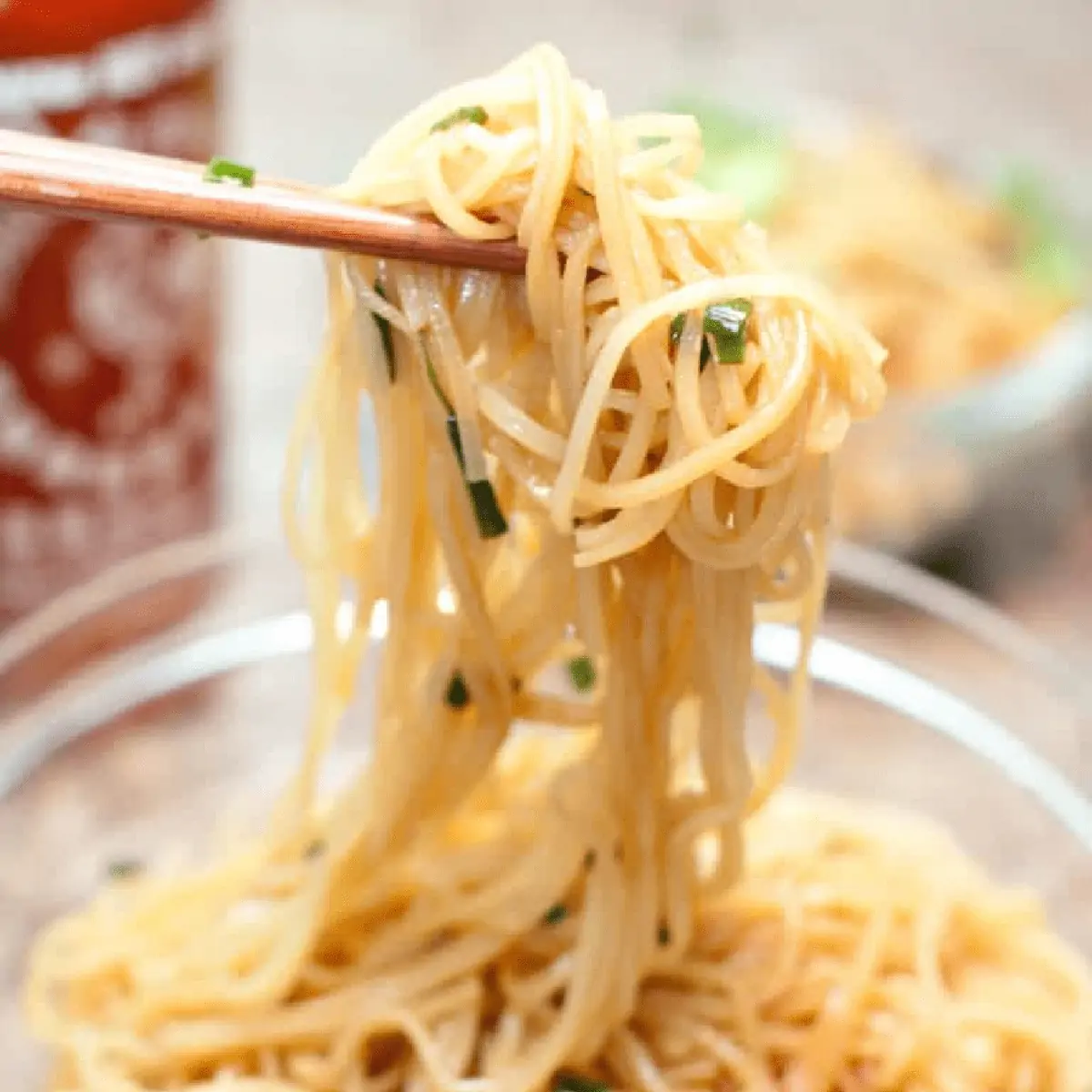 I repeat. 15 minute Garlic Fried Noodles. Also known as The Easiest Rice Noodle Recipe Eveerrrr. As a garlic-loving and rice noodle-loving family, this recipe is a staple in our house. make it all of the time. When we don't have time. When we're out of ideas. When we just want something we know we all will love.
Not only is it made in just minutes, but this easy rice noodle recipe can be customized in so many ways! Add a protein. Add a veggie. Add both! The possibilities with these garlic noodles are endless!
Ingredients Needed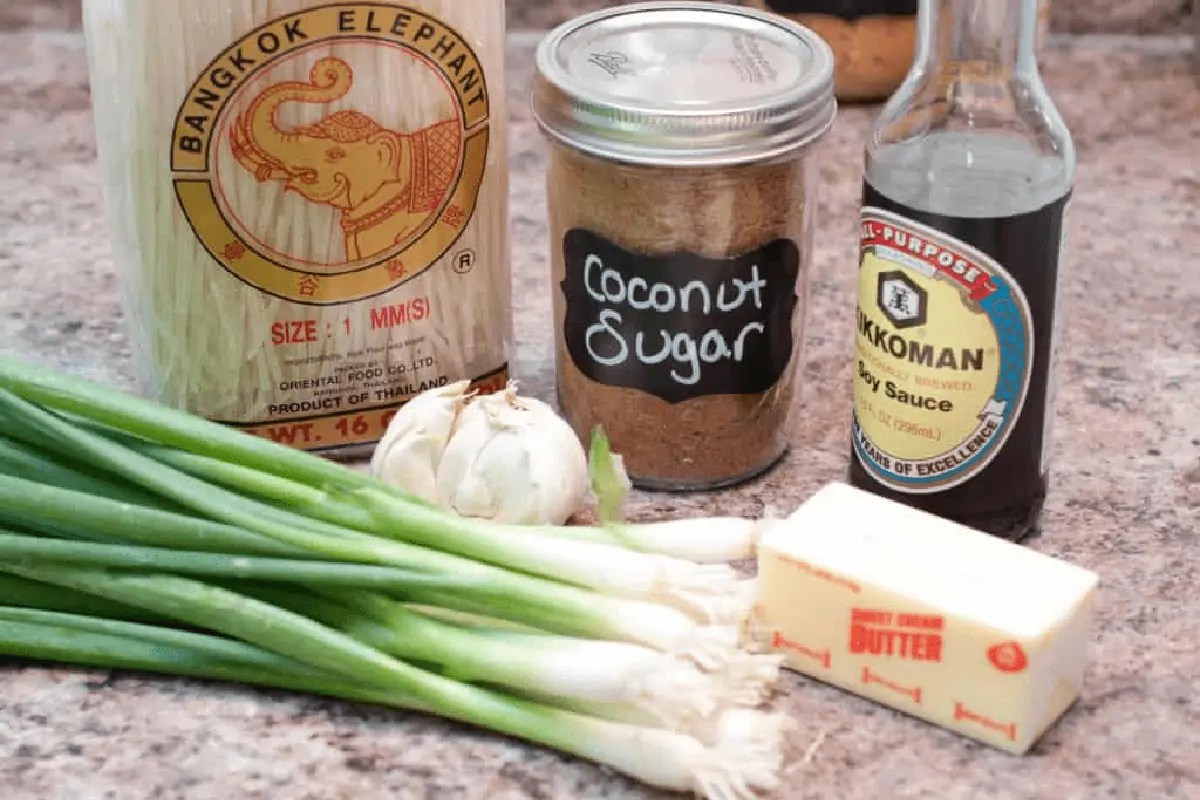 AND these garlic noodles are made with only 6 ingredients!
Rice Noodles - This will make the recipe gluten-free and is what keeps it ready in just 15 minutes.
Garlic - Duh
Butter - We always use salted for this recipe but if you only have unsalted, no problem.
Soy Sauce - Regular soy sauce is best. We've made it with low sodium but then we end up adding salt...
Coconut Sugar - You could also use light brown sugar, no problem, or even maple syrup or honey.
Green Onions - Because what's garlic without onions?
Which Rice Noodles to Use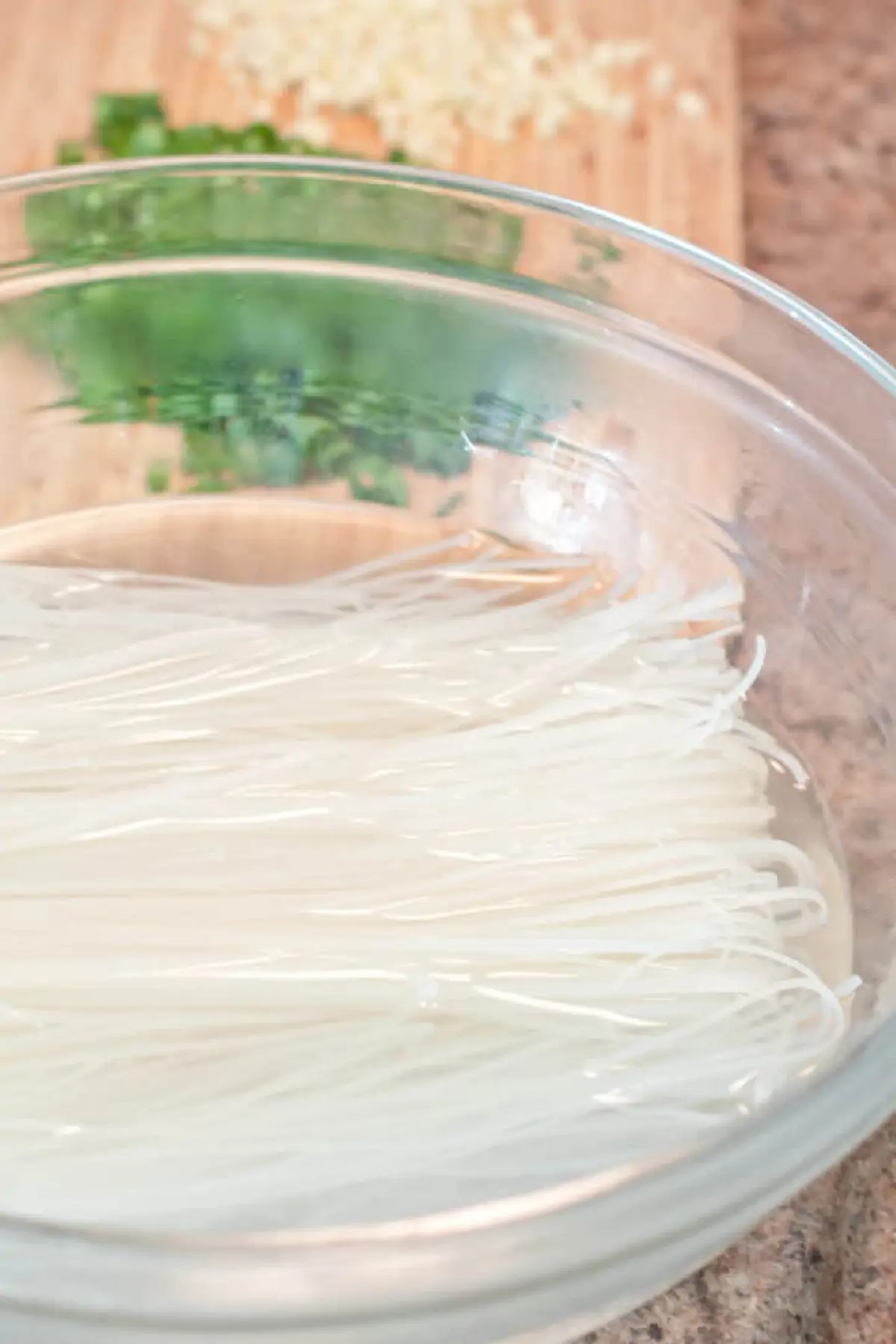 All rice noodles are not the same! And your local grocery store may only carry one brand/size so be sure to check what it is because it will affect your cooking time. We always love to go to our local Asian market to get our rice stick noodles and for this recipe, we prefer to use a thin one, size 1, or Small (S). The wider they are, the longer they will take to cook.
We love to use these noodles for these garlic noodles.
Rice noodles are not like pasta noodles - you don't boil them and they cook quickly so the hardest part of this recipe is just making sure that you don't overcook your noodles.
To Cook Rice Noodles: Just heat about 6 cups of water to almost boiling (I use our stovetop kettle), then pour the water over the noodles, making sure they're completely submerged. Then let them soak for about 3 to 4 minutes until they're al dente. Remember, they still have to go in your hot pan and there's nothing worse than a mushy noodle! Once al dente, drain the water and then rinse the noodles in cold water so they don't keep cooking.
Quick and Easy to Make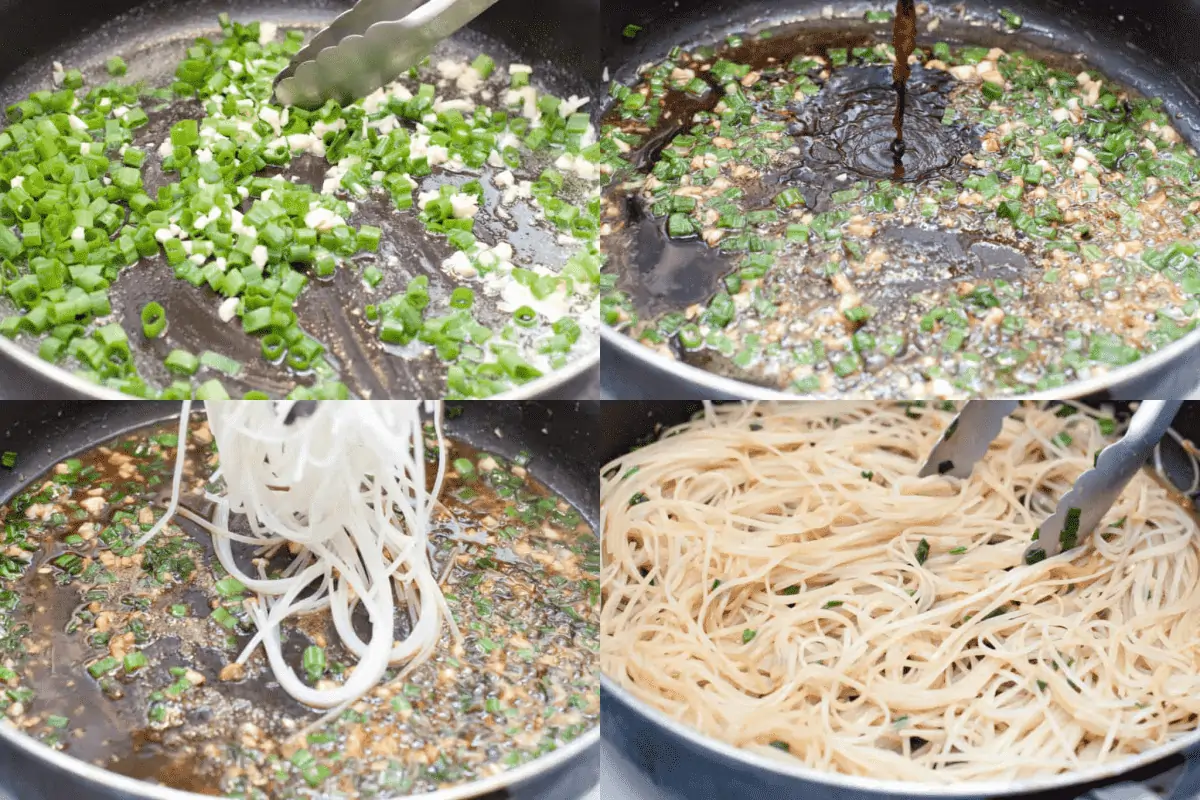 Saute garlic and onion in butter. While you're waiting for your water to boil, mince the garlic, dice the onions, and then sauté them in butter for about 2 minutes, then add your coconut sugar and mix until it's all incorporated.
Add soy sauce and let it all simmer for another minute.
Drain noodles and add to the pan. Add the noodles a tong full at a time, not all at once. This will make the mixing and even incorporation of the sauce and garlic easier for this rice noodle recipe.
Stir. Let the garlic noodles fry and soak up all the deliciousness!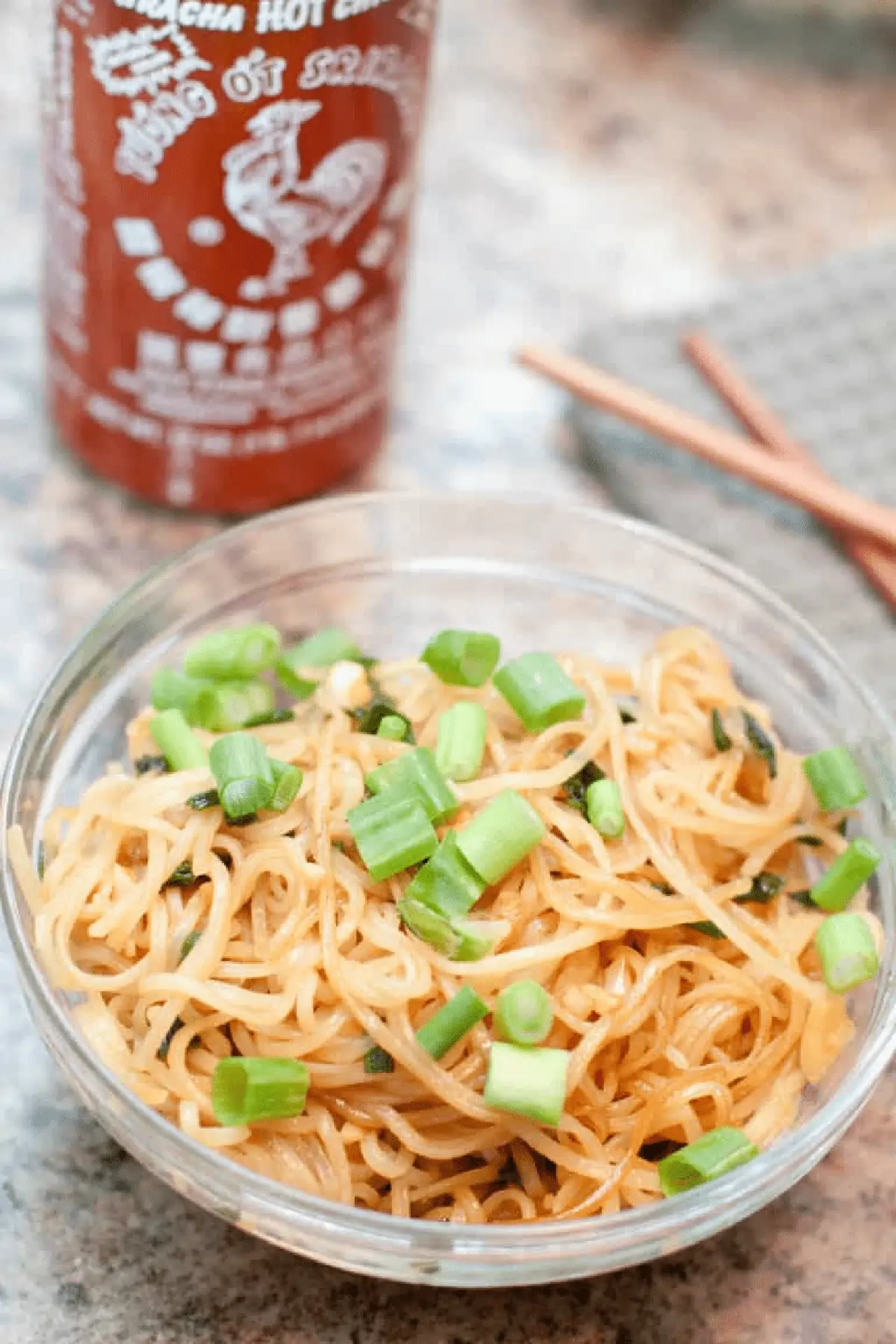 Top with some more fresh green onions, add your favorite hot sauce or garlic chili paste if you want, and you're done! 15 Minute Garlic Fried Noodles for the win!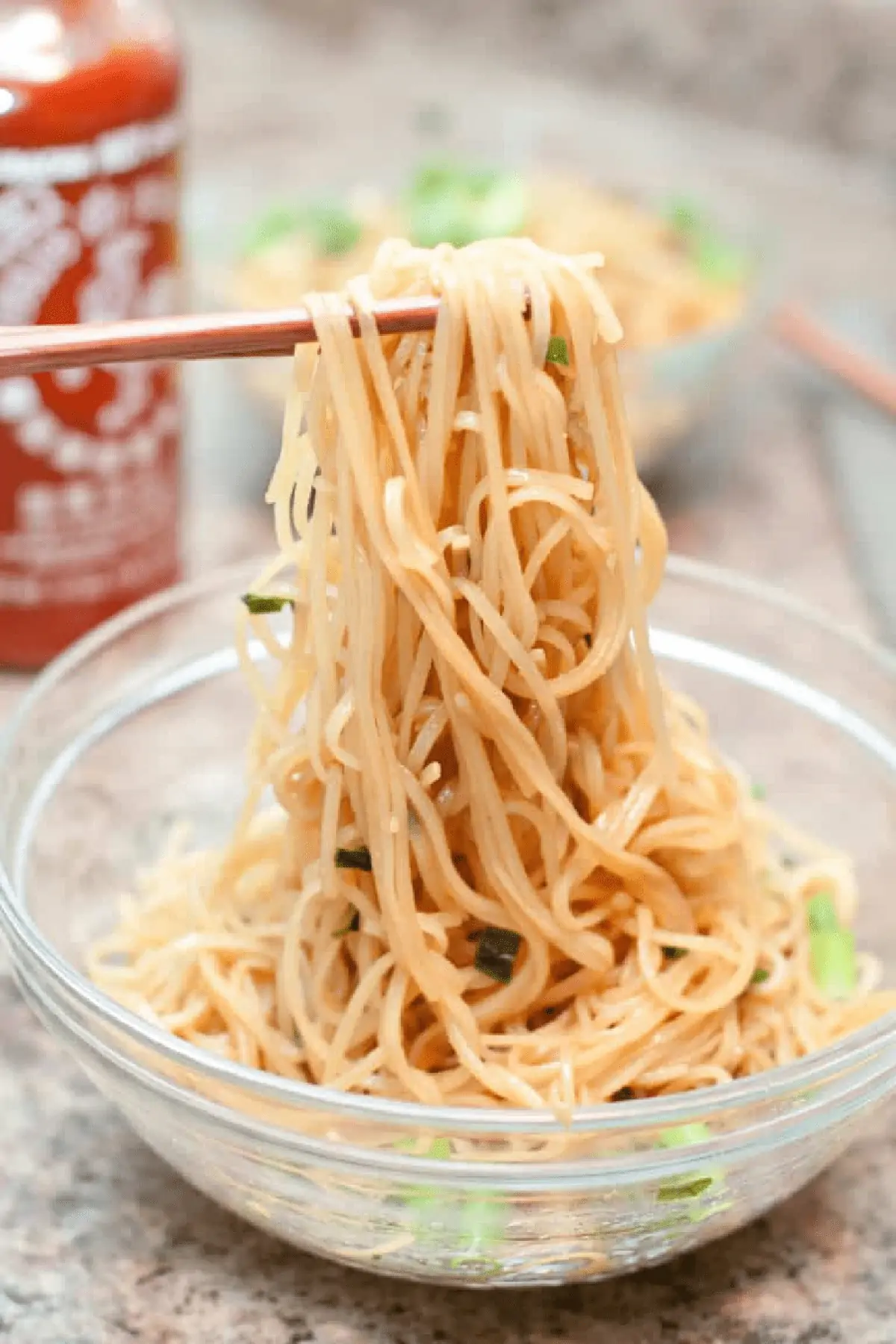 So much flavor. So much garlic! This made the perfect side dish for our Maple Soy Glazed Chicken Thighs! Although really, I would totally whip a batch of these noodles up for a quick lunch or a side for nearly any dish.
Customizable
Add a protein like chicken, shrimp, or pork!
Add more veggies like mushrooms, cabbage, or carrots.
Add some crunch from some peanuts!
Swap out the butter and add some additional flavor with Peanut Oil or Sesame Oil.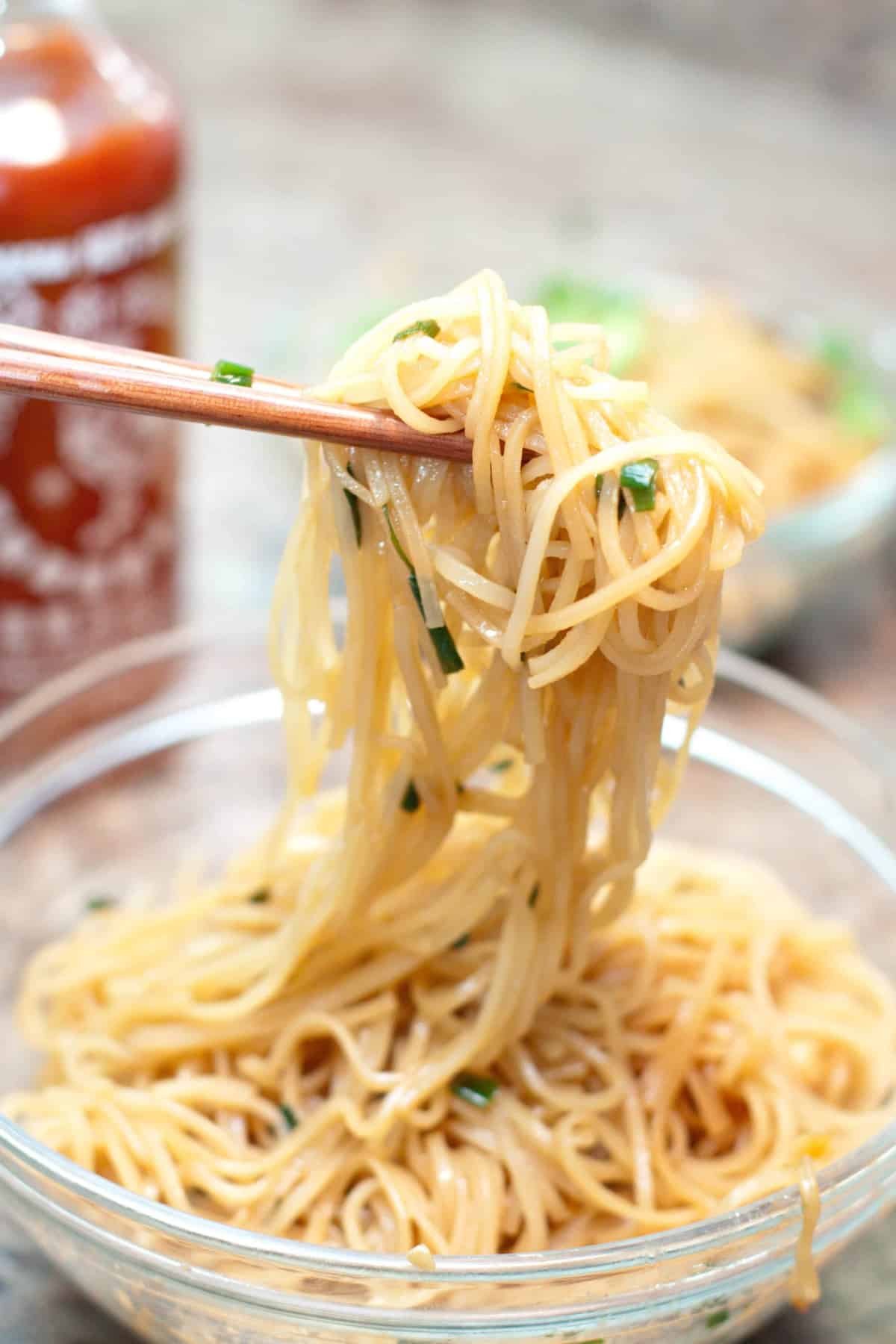 You Also Might Like
20-Minute Sweet and Spicy Noodles
Chicken and Broccoli Sesame Noodles
Crock Pot Beef Pho From Scratch
Miso Spinach and Mushroom Soba Noodles
FAQs
I couldn't find thin rice noodles.
No problem - you will just need to let your noodles soak longer to ensure they're cooked.
Can I use pasta?
Sure can. Follow the cooking instructions for the pasta and then add to the pan.
I can't find coconut sugar.
No problem - you can use light brown, maple syrup, or even honey.
I can't find thin rice noodles at the store.
No problem - you can buy them here on Amazon.
Enjoy! As always, if you make this recipe or any of my others, I love to hear what you think! Leave a comment below, email me, or you can find me on Facebook, Instagram, and Pinterest!
If you want to see more, be sure to sign up for my 5 Easy Ways to Start Cooking From Scratch!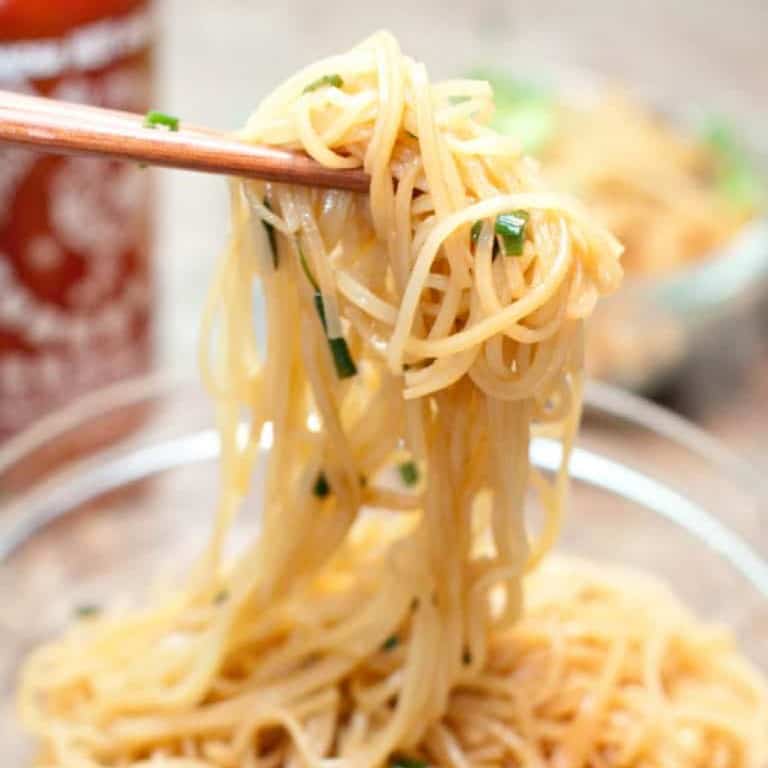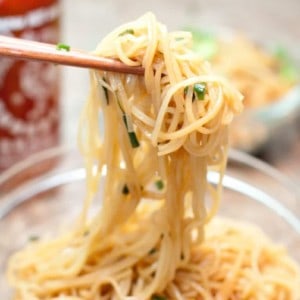 15 Minute Garlic Fried Noodles
Just 15 minutes and 6 ingredients is all you need for this super easy, flavorful, rice noodle side dish!
Print
Pin
Rate
Ingredients
8

oz

thin rice noodles

1 MM or S

3

tablespoons

salted butter

1

cup

green onions, diced and divided.

about 2 bunches

6-8

cloves

garlic

minced

1-2

tablespoons

sugar

coconut or light brown sugar. Or you could use hoisin.

3

tablespoons

soy sauce

or tamari, or a gluten free soy sauce
Instructions
Soak rice noodles in almost boiling water for 4 minutes until al dente. Drain then rinse with cold water to stop cooking and set aside.

Meanwhile, melt butter in a large skillet on medium to high heat. Add about 3/4 cup of the scallions and all of the garlic and sauté for 1-2 minutes until garlic is fragrant.

Add sugar and mix in until it's all incorporated. Add soy sauce and let simmer together for 1 minute.

Add noodles and continue to cook for 5-7 minutes until noodles have fried and absorbed the sauce.

Plate, top with more green onions, your favorite hot sauce or chili garlic sauce and enjoy!
Notes
Adjust the sweetness to your choice! 1 - 2 tablespoons, 1 to just a touch and 2 for a more pronounced sweetness.
Substitute light brown sugar, hoisin, or honey for the coconut sugar.
Add additional flavor by using Peanut Oil or Sesame Oil instead of butter.
Add in a protein like shrimp, chicken, or pork!
Nutrition
Calories:
325
kcal
|
Carbohydrates:
57
g
|
Protein:
4
g
|
Fat:
9
g
|
Saturated Fat:
5
g
|
Cholesterol:
23
mg
|
Sodium:
949
mg
|
Potassium:
133
mg
|
Fiber:
2
g
|
Sugar:
5
g
|
Vitamin A:
512
IU
|
Vitamin C:
6
mg
|
Calcium:
42
mg
|
Iron:
1
mg