Inspired by one of our favorite side dishes and our love for tacos, these Mexican Street Corn Chicken Tacos have flavorfully spiced chicken, corn salad, and a creamy avocado sauce, all wrapped up in a homemade corn tortilla!
Try Out Elote Skillet Pasta, next!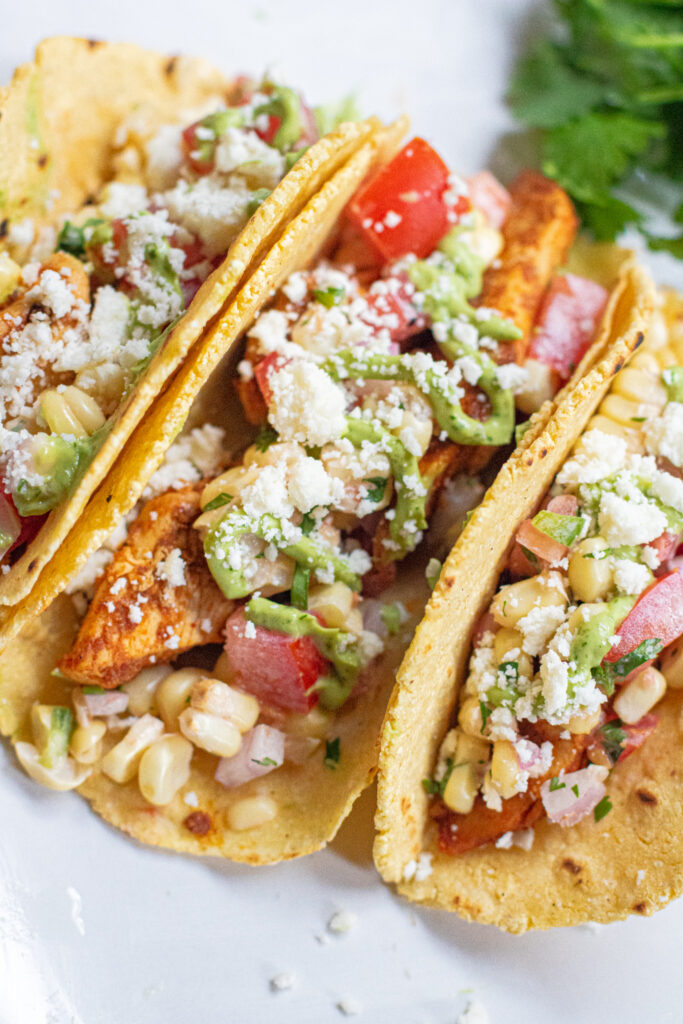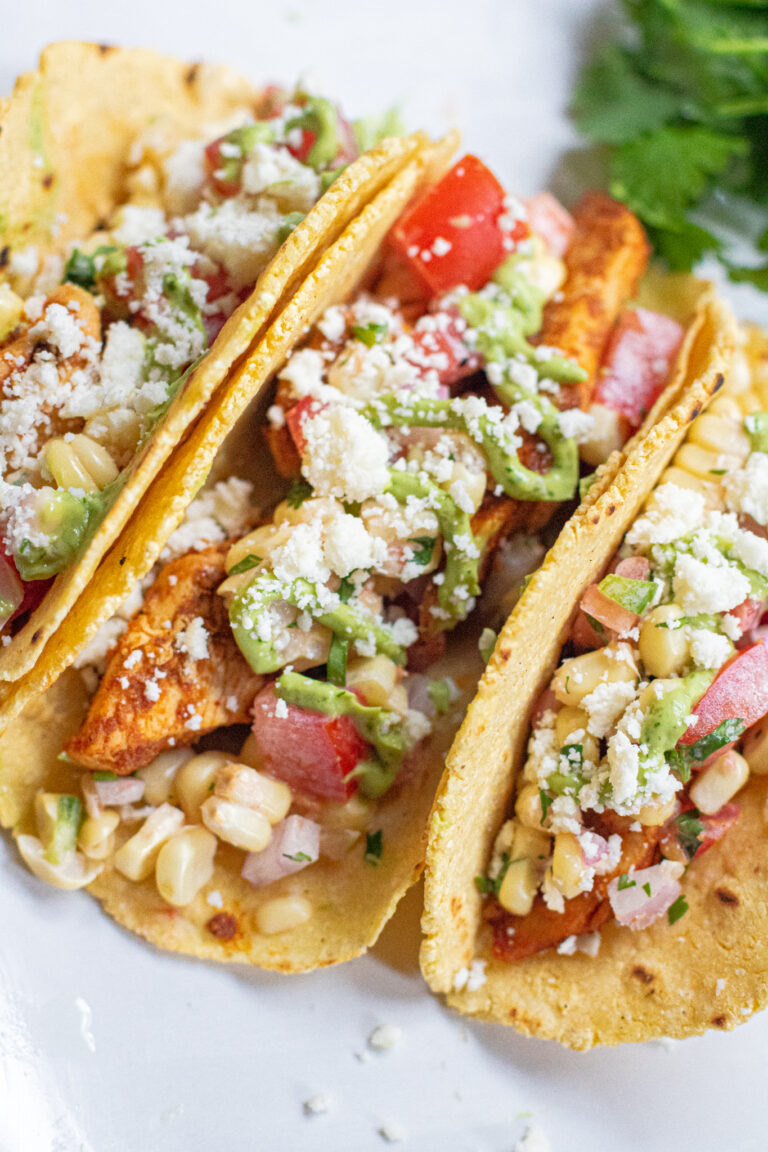 Ahhhh homemade tacos. Is there anything better? How about a chicken taco with a Mexican street corn inspired topping and an avocado cream sauce? Hellllooo Mexican Street Corn Chicken Tacos! They've become a favorite, a staple, and the most requested taco in our house!
One of the best things about tacos is how incredibly versatile they are. You can literally put whatever you want and whatever you're in the mood for in them. In all of the years (decades), we've been making tacos, these chicken tacos and Mexican street corn love child rank top in our favorites!
Ingredients Needed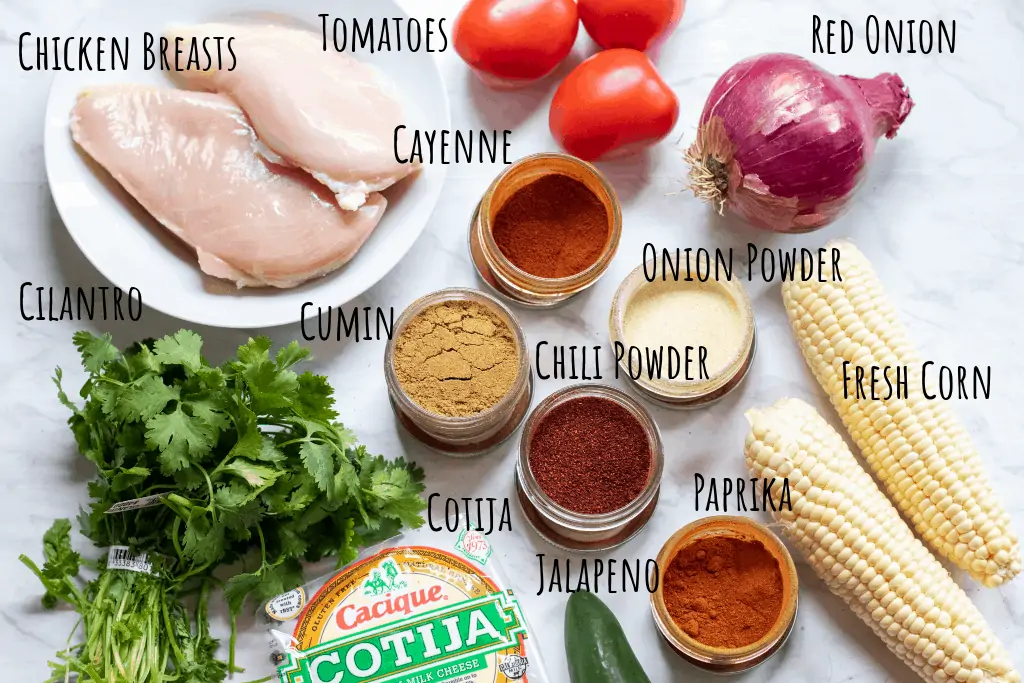 Chicken - We prefer chicken breasts for this recipe but you can also use boneless chicken thighs.
Corn - Fresh on the cob is our favorite during the summer, but you can absolutely use frozen or canned, too.
Tomatoes - Romas are our go-to for any kind of taco because they have low moisture and fewer seeds.
Red Onion - You could use another kind of onion for this too, but red is our favorite because of its milder raw flavor compared to yellow and white.
Jalapeno - For some heat! To keep it milder you could also use an Anaheim or Serrano and of course, add more or less dependent upon your heat preference.
Cilantro - Fresh is always best but if dried is all you have, see the recipe notes.
Cotija Cheese - This Mexican cheese is perfect for tacos, but if you don't have unseasoned feta (by the way, have you

made your own

yet?) or a Parmesan would work well, too!
Homemade Taco Seasoning - Made up of cumin, cayenne, paprika, chili powder, onion powder, garlic powder, and salt.
Corn Tortillas - Homemade is of course our preferred, or you could use

flour tortillas

, but it's really whatever you have/prefer. Either way, if you haven't made your own yet, add that to your list of things you won't regret making from scratch!
Mayonnaise - For the Mexican street corn salad-inspired topping (we love to

make our own

), but you could also use just sour cream.
Avocado and Sour Cream - For the avocado cream
Fresh Lime Juice - To bring together the corn salad and for the avocado cream sauce, and of course bottled is totally fine.
While As with most of our recipes, fresh is key!
Step-by-Step Instructions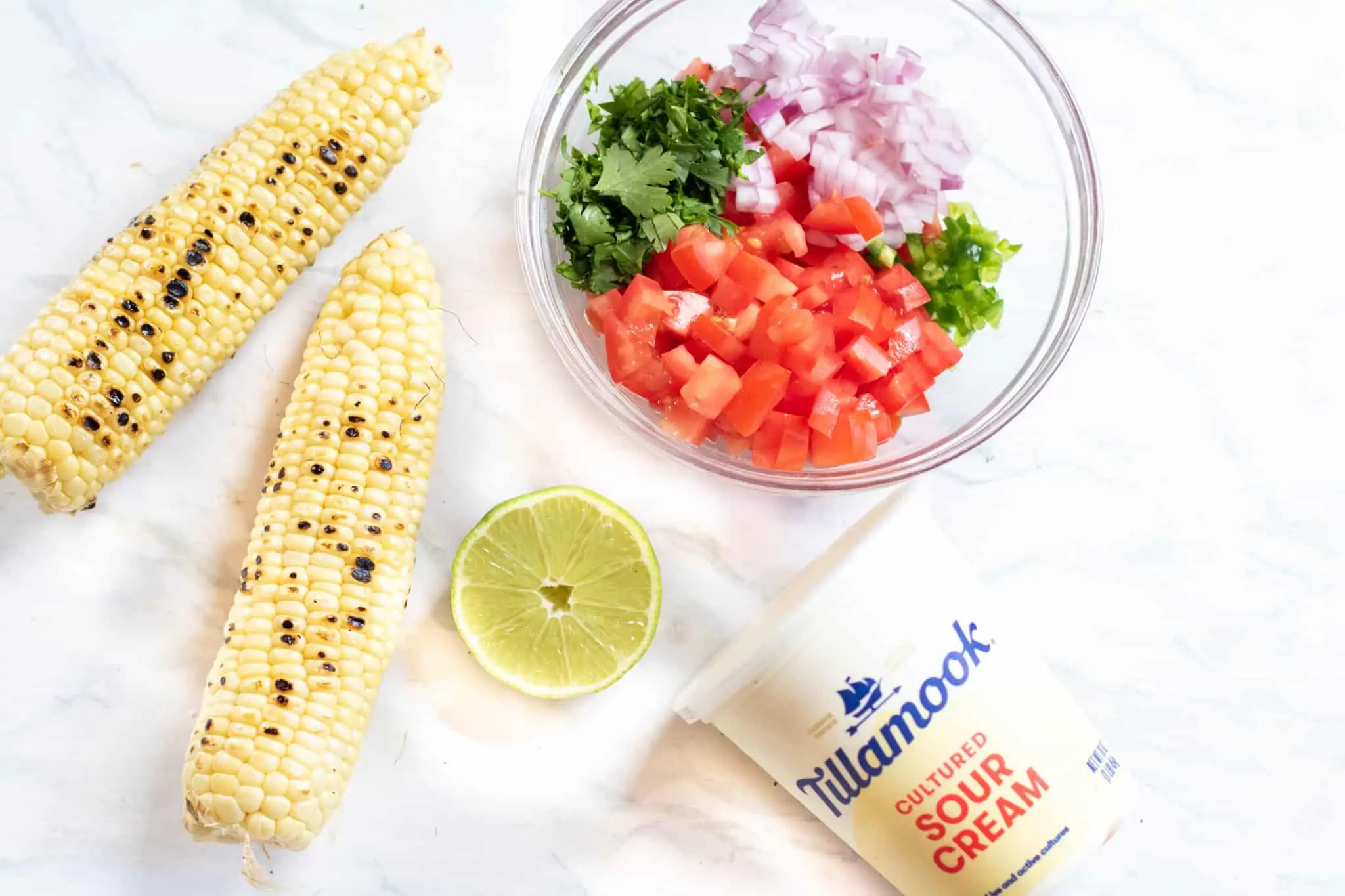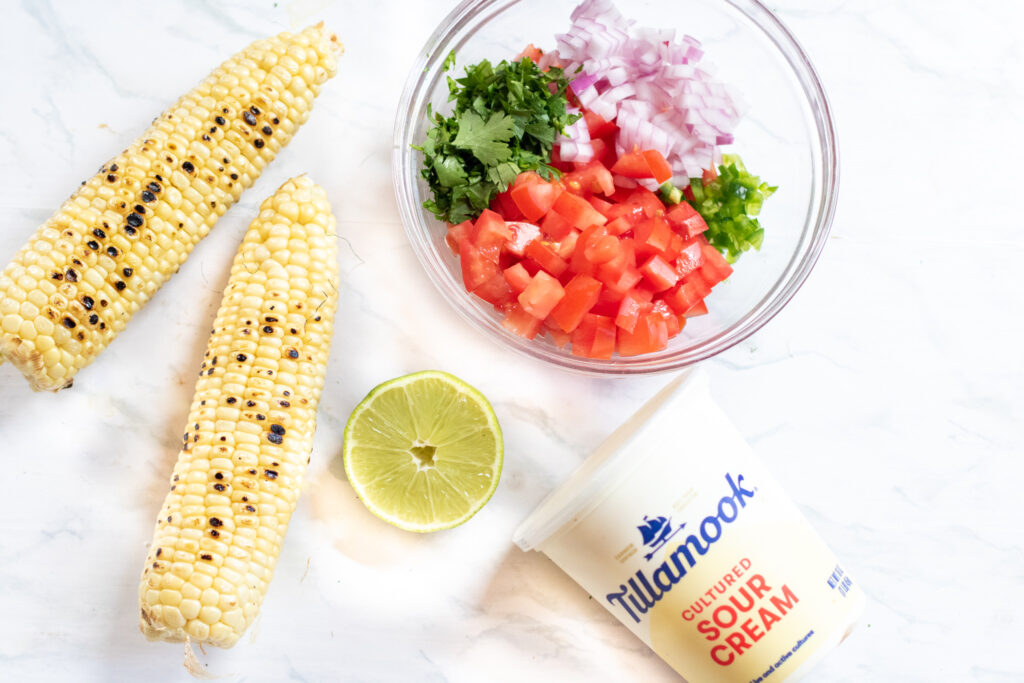 Step 1: Make the Mexican Street Corn part of the tacos!
Now if you have some of our Mexican Street Corn Salad leftover, totally use that! Or whip up a whole batch to go on these tacos and as a side with these chicken tacos and do double duty on some Esquites!
Otherwise, making this salad is super quick. Just give a couple of ears of corn a quick grill (or cut corn off from the cob and then give a quick pan-fry), before adding it to a bowl with some fresh tomatoes, cilantro, jalapeno, red onion, lime juice, and mayonnaise or sour cream.
The grilling of the corn is also totally optional. While we love the flavor that it adds to these chicken tacos, they are just as delicious if made with frozen or canned corned that hasn't been grilled or pan-fried.
Tip: Make this part up to a day in advance!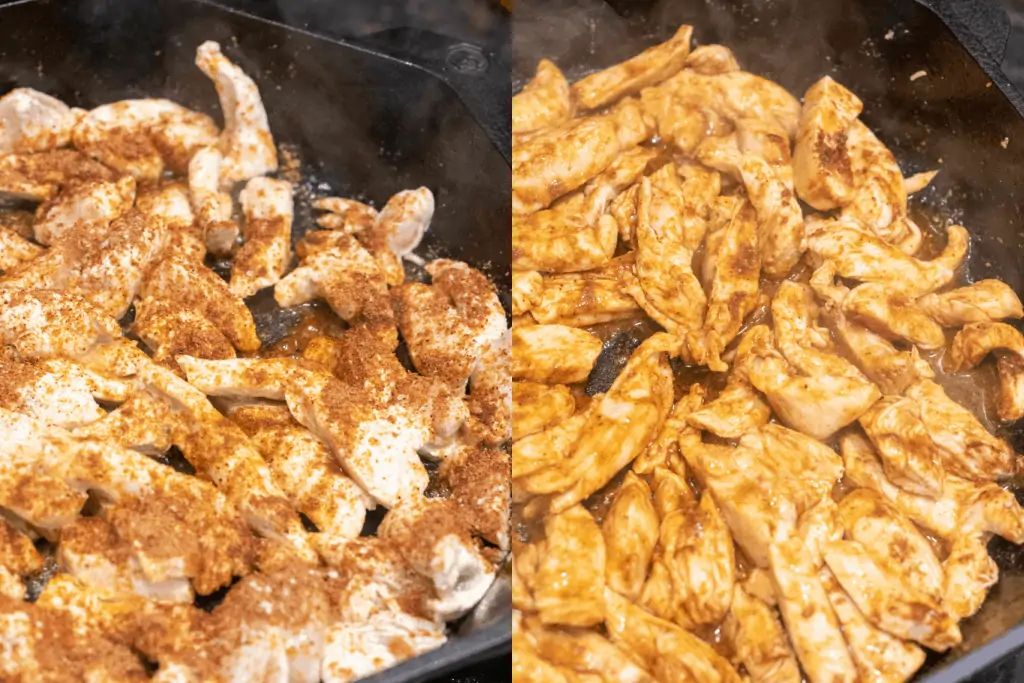 Step 2: Cook the chicken in the taco seasoning in your favorite pan. Personally, our favorite is our Finex cast iron!
You can cook this a few ways. We prefer to cut them into strips and cook because I think that it creates the most flavor, but you could also cube, too! Another option is that you could marinate the chicken and then grill it before cutting it into strips. See recipe notes for this method.
Tip: You can also use some leftover chicken, like a rotisserie chicken, for these homemade tacos too. Just reheat in a pan with the taco seasoning.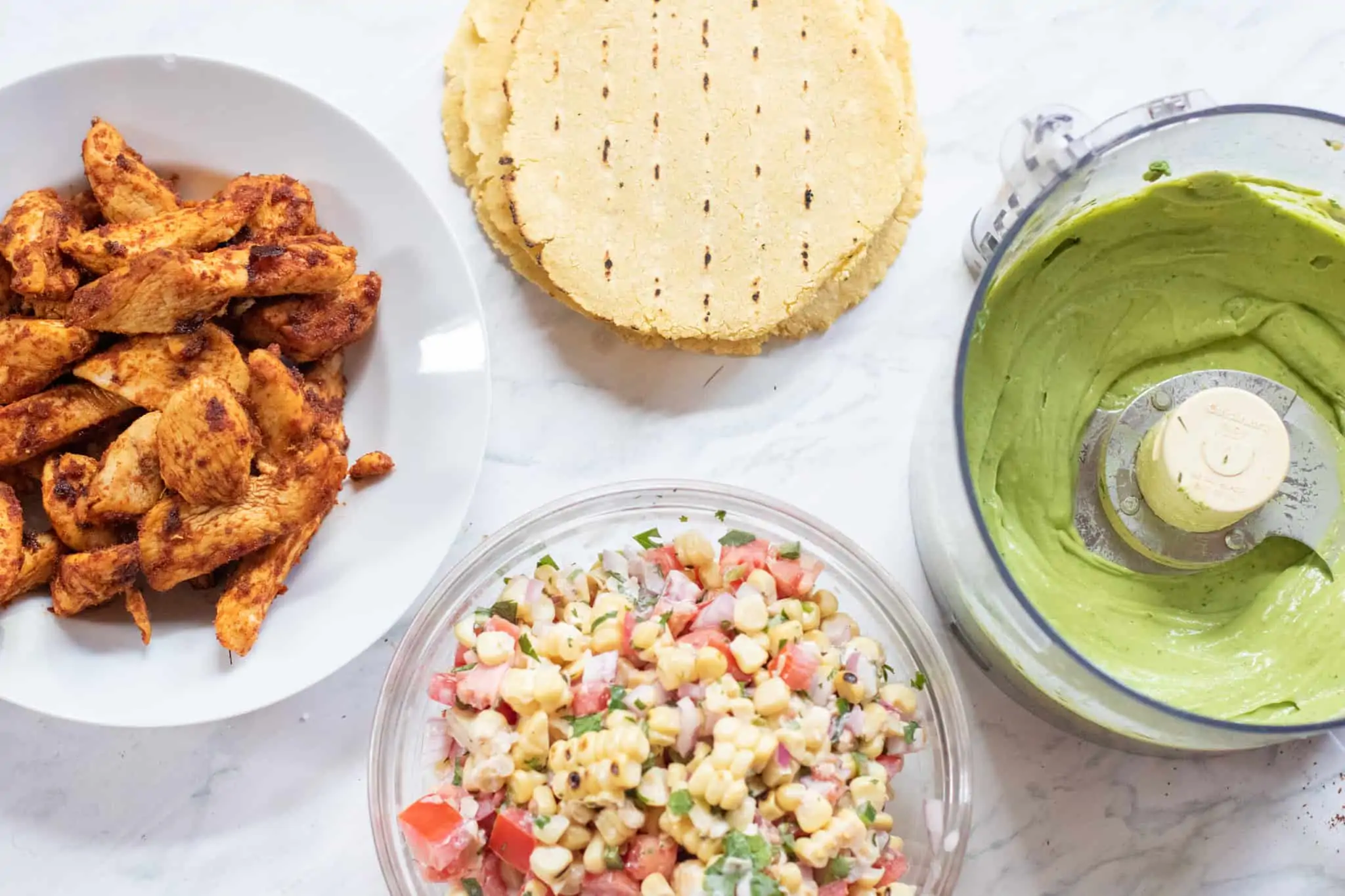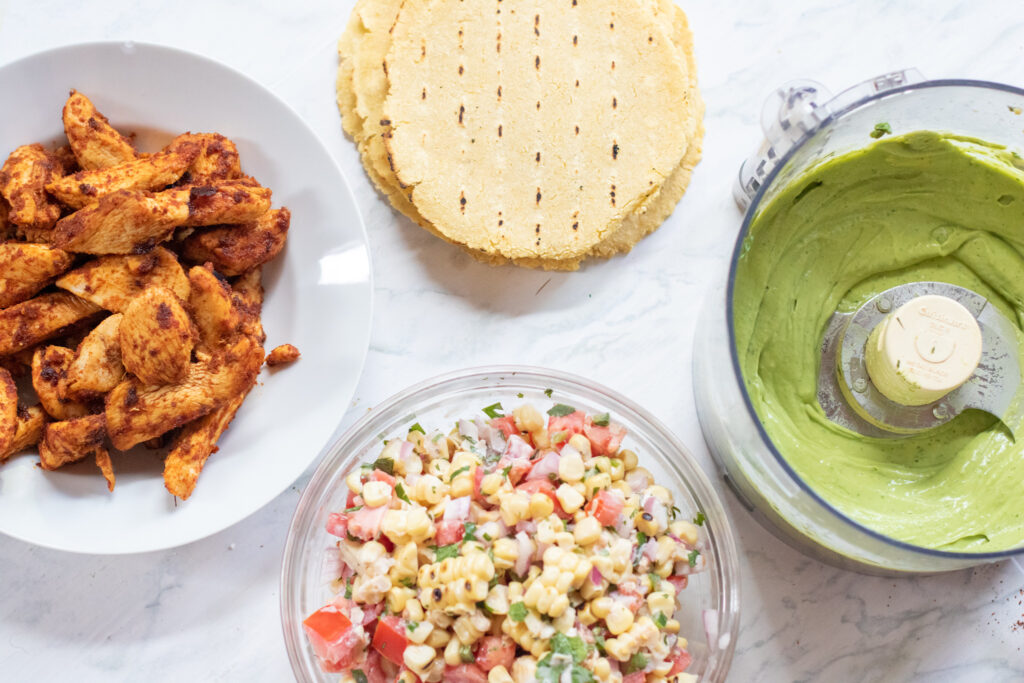 Step 3: Make your avocado cream sauce with just a quick blend in your trusty food processor.
No food processor? No problem. You could also use a blender, or just add it all to a bowl a give it a good mash with a fork.
Now you're ready take out some of your homemade Corn Tortillas From Scratch (or whip up a quick batch because they're actually ridiculously easy).
Of course use your favorite taco size tortilla, flour or corn, homemade or not. As with all of our recipes, feel free to add as much or as little from scratch flair as you'd like!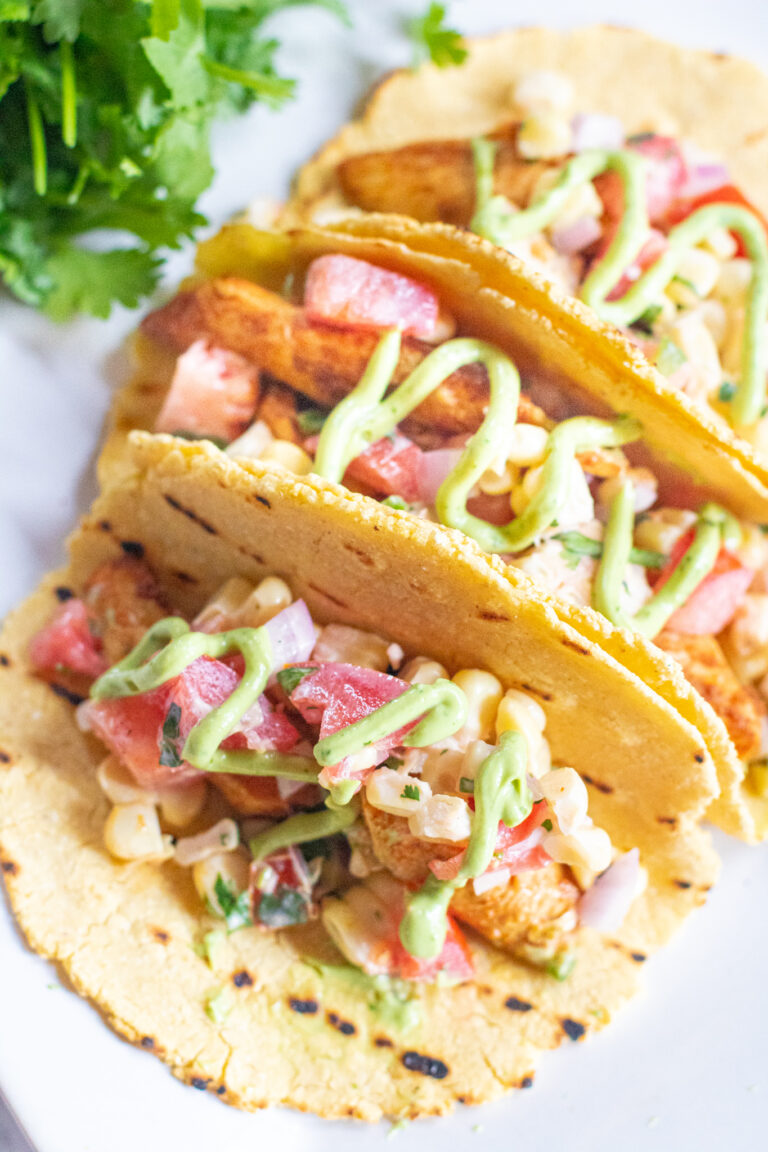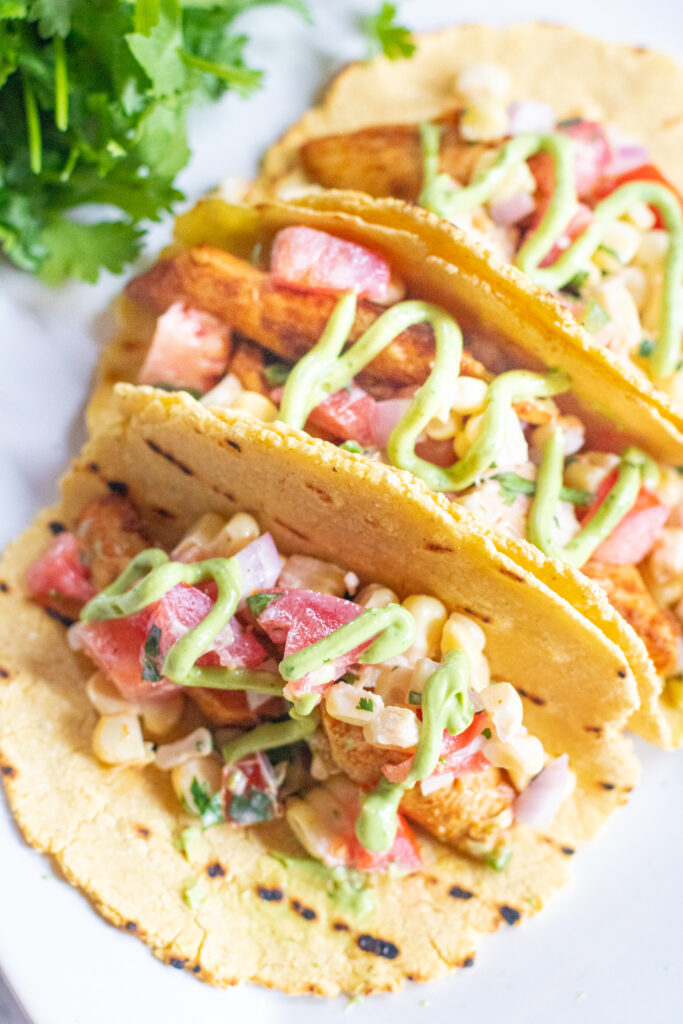 Step 4: Assemble!
Add some taco-seasoned chicken, plus some Mexican Street Corn Salad, with a drizzle of the avocado cream.
To get this nice drizzle, we always keep on hand (for avocado cream and for our Homemade BBQ Sauce) a squeeze bottle.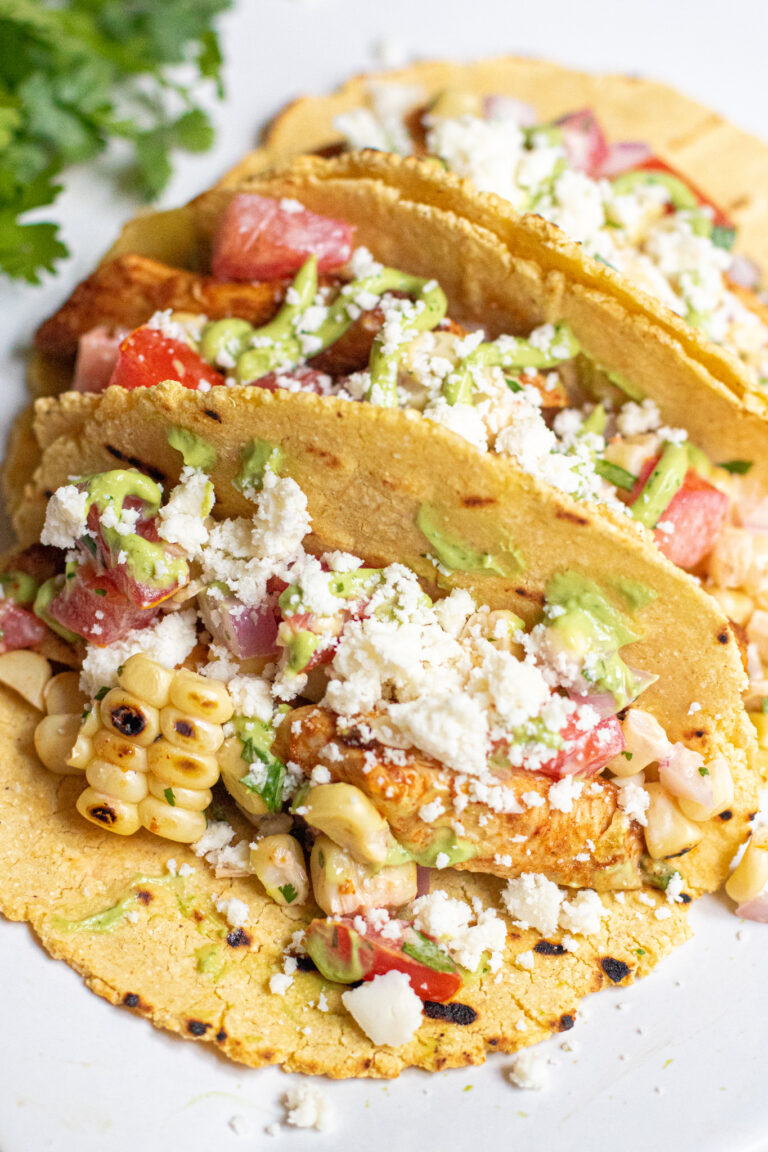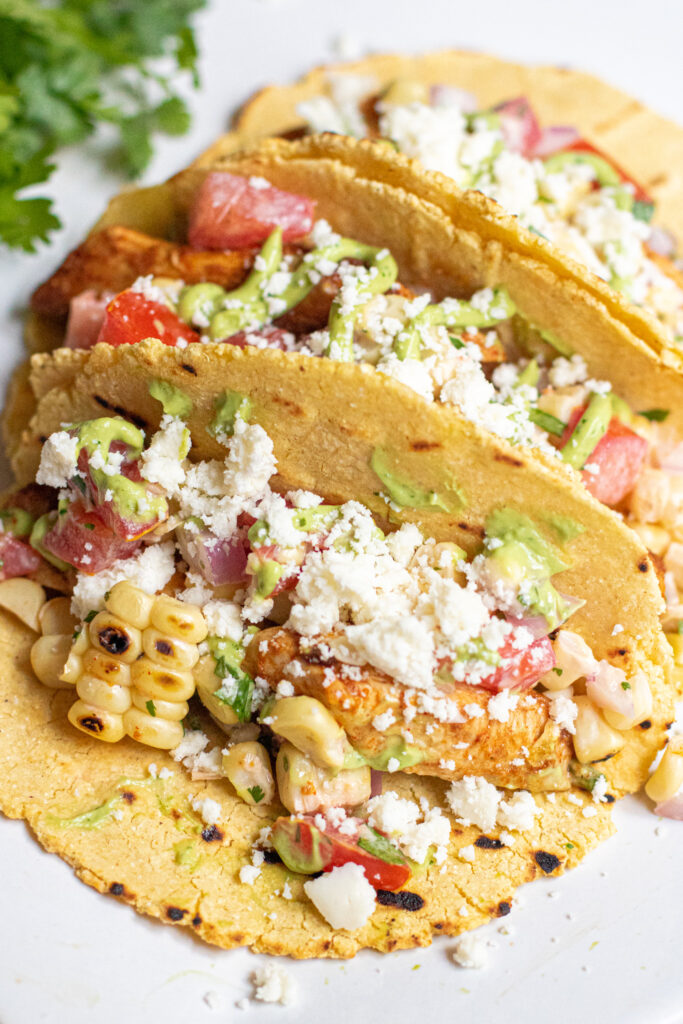 Top it all with some crumbled cotija cheese, and it's Mexican street tacos perfection.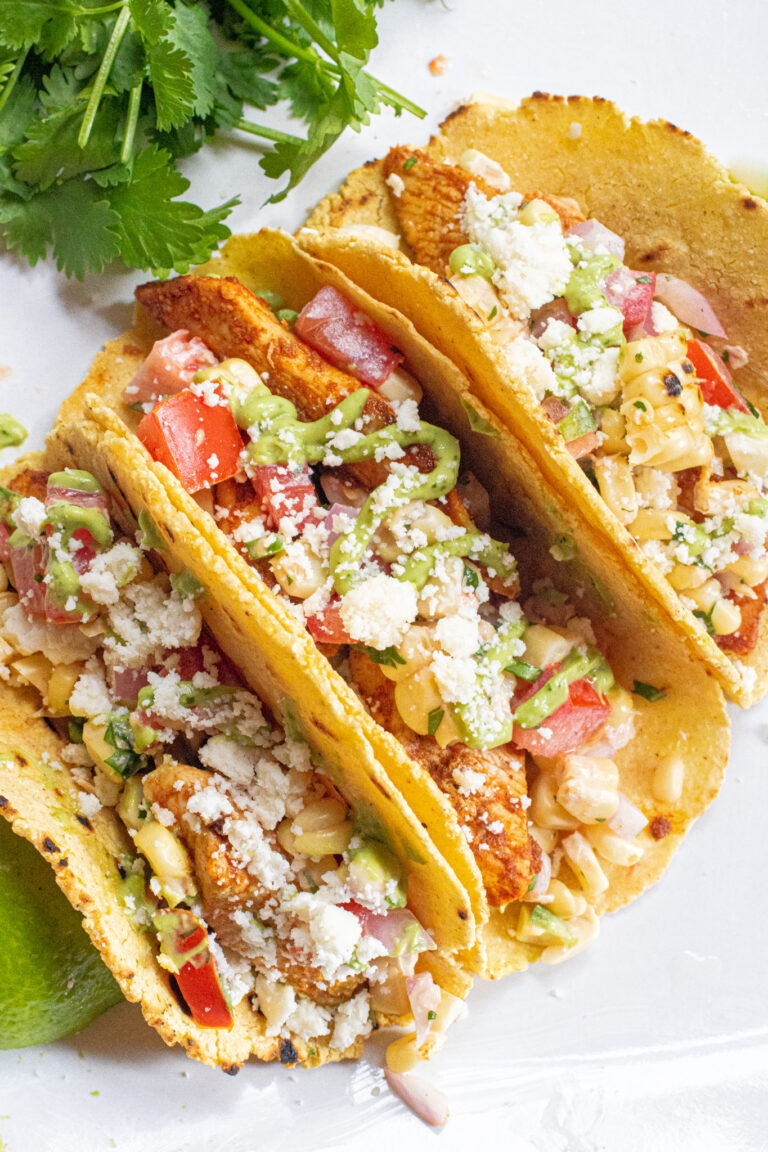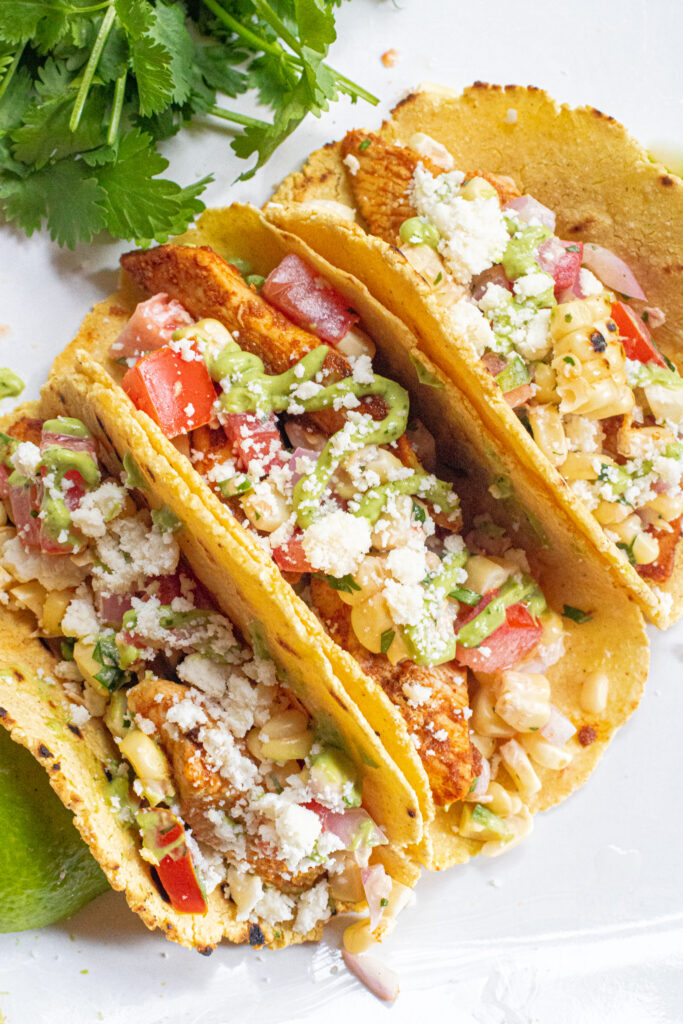 Perfection. Did I say that already?
As it is with all of our recipes, the true test is what my girls think. And both, (at 2 and 4) could not get enough. My 4-year-old actually said she wanted them every week. If that's not a win, I don't know what is!
Other Mexican Inspired Dishes
FAQs
Do I have to use fresh, grilled corn?
Nope! Use frozen or canned and pan-fry if desired, or just cooked your favorite way. It adds a little extra flavor that we love, but it's all still delicious without this step.
Can I use another protein?
Of course! Tofu is a delicious option too, as is beef, but hands down our favorite is chicken.
Can I use leftover chicken for this?
Definitely! We've even used some shredded rotisserie chicken by giving a quick sauté in a pan with the taco seasoning.
Can I make this in advance?
Yes! You can prep all of it in advance, and then just reheat the chicken and assemble the tacos right before serving, even the avocado cream sauce. There's enough lime in it to prevent the avocado from oxidizing.
How many tacos does it make?
The recipe makes about 10 taco-sized tacos, but this also makes great burritos, too.
Enjoy! As always, if you make this recipe or any of my others, I love to hear what you think! Leave a comment below, email me, or you can find me on Facebook, Instagram, and Pinterest!
If you want to see more, be sure to sign up for my 5 Easy Ways to Start Cooking From Scratch!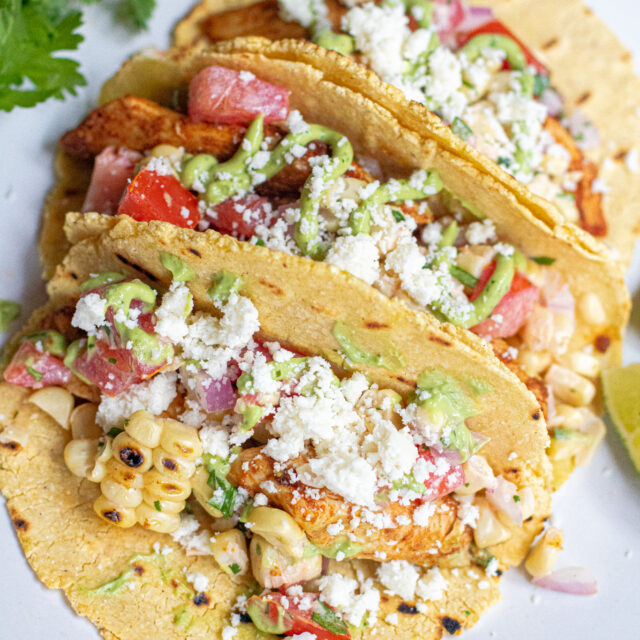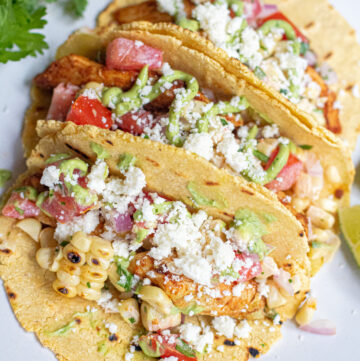 Mexican Street Corn Chicken Tacos
Inspired from one of our favorite side dishes these Mexican Street Corn Chicken Tacos have flavorfully spiced chicken, corn salad, & a creamy avocado sauce, all wrapped up in a homemade corn tortilla!
Print
Pin
Rate
Ingredients
Corn Salad
2

ears

corn

2

roma tomatoes

1/3-1/2 cup

1/2

cup

red onion, diced

1

tablespoon

jalapeno, minced

1

tablespoon

fresh cilantro, chopped

1/2

teaspoon

salt

1

tablespoon

mayonnaise

or sour cream

1

tablespoon

fresh lime juice
Avocado Cream
2

avocados

1/4

cup

sour cream

2

teaspoons

fresh lime juice

3

tablespoons

fresh cilantro

lightly packed

pinch

salt

pinch

cumin
Tacos
10

Corn or Flour Tortillas

1 - 1 1/2

cups

Cotija cheese

crumbled
Instructions
Avocado Cream Sauce
Add all ingredients for avocado cream sauce to a food processor and blend until creamy. Set aside.
Corn Salad
Grill corn. If grilling full corn, preheat grill (or grill pan) to high and heat for 10 minutes. Add corn and cook, turning often, until charred all over, about 10 minutes. See recipe notes for how to cook after removing corn from cobs.

Remove corn from cobs and add diced tomatoes, onion, jalapeno, mayonnaise (or sour cream), lime juice, and salt to a bowl and mix well.
Chicken
Mix taco seasoning (cumin, paprika, onion powder, chili powder, cayenne, and salt) in a small bowl.

Heat oil in cast iron or skillet over medium. Add strips of chicken to pan.

Cook for about 4 minutes on one side and then sprinkle on taco seasoning over all of the chicken. Give it all a good mix so all of the chicken is coated, and then finish cooking for another 3-4 minutes or until the internal temperature (of the biggest piece) reaches 165 degrees.
Assemble Tacos
With a taco sized corn or flour tortilla, add strips of chicken, top with the corn salad, a drizzle of avocado cream, and top with crumbled cotija cheese.
Notes
Substitutions
Taco Seasoning: Use your favorite, our Homemade Taco Seasoning is our absolute favorite!
Corn: Use full cobs or frozen or canned. Thaw or drain corn. Cooking corn off of the cob: Remove corn from husks (or use thawed or drained corn) and heat 1 (additional) tablespoon of olive oil in a sauté pan on medium high and add corn. Cook until slightly charred, approximately 7-10 minutes
Chicken: Use breasts or thighs, sliced or cubed. Or use beef or even tofu!
Cilantro: Use dried for fresh by using 1 teaspoon dried for every 1 tablespoon fresh.
Cotija Cheese: Use an unseasoned feta or Parmesan.
Mayonnaise: Use mayo or sour cream for the corn salad.
Cooking the Chicken
If you don't want to cut the chicken into strip or cubes and cook, you could marinate the whole breasts, instead. Do this by adding all of the taco seasoning plus an (additional) 2-3 tablespoons of olive oil to a bowl. Dredge chicken in it and add to a plastic ziplock bag. Marinate for at least 30 minutes and then grill or cook in a pan until the chicken's internal temp reaches 165 degrees. Slice for tacos.
Nutrition
Calories:
305
kcal
|
Carbohydrates:
16
g
|
Protein:
22
g
|
Fat:
17
g
|
Saturated Fat:
8
g
|
Trans Fat:
1
g
|
Cholesterol:
80
mg
|
Sodium:
760
mg
|
Potassium:
483
mg
|
Fiber:
3
g
|
Sugar:
3
g
|
Vitamin A:
529
IU
|
Vitamin C:
7
mg
|
Calcium:
226
mg
|
Iron:
1
mg