How can you beat a dish that takes just a few ingredients, 5 minutes of prep, and a Crock Pot! That's all you need for this delicious and easy Crock Pot Balsamic Chicken recipe!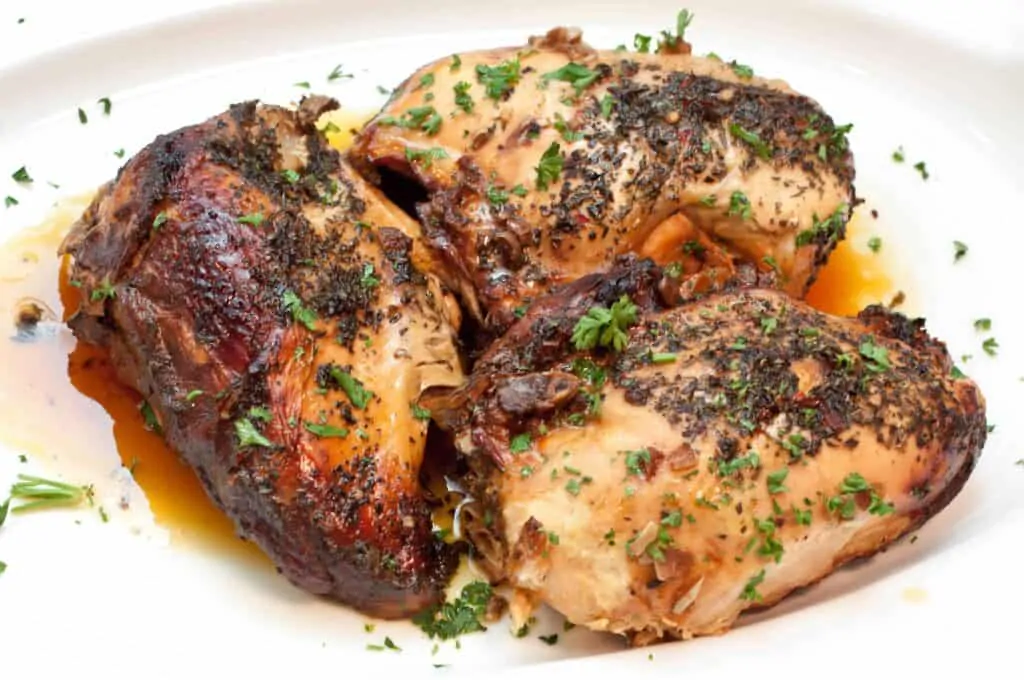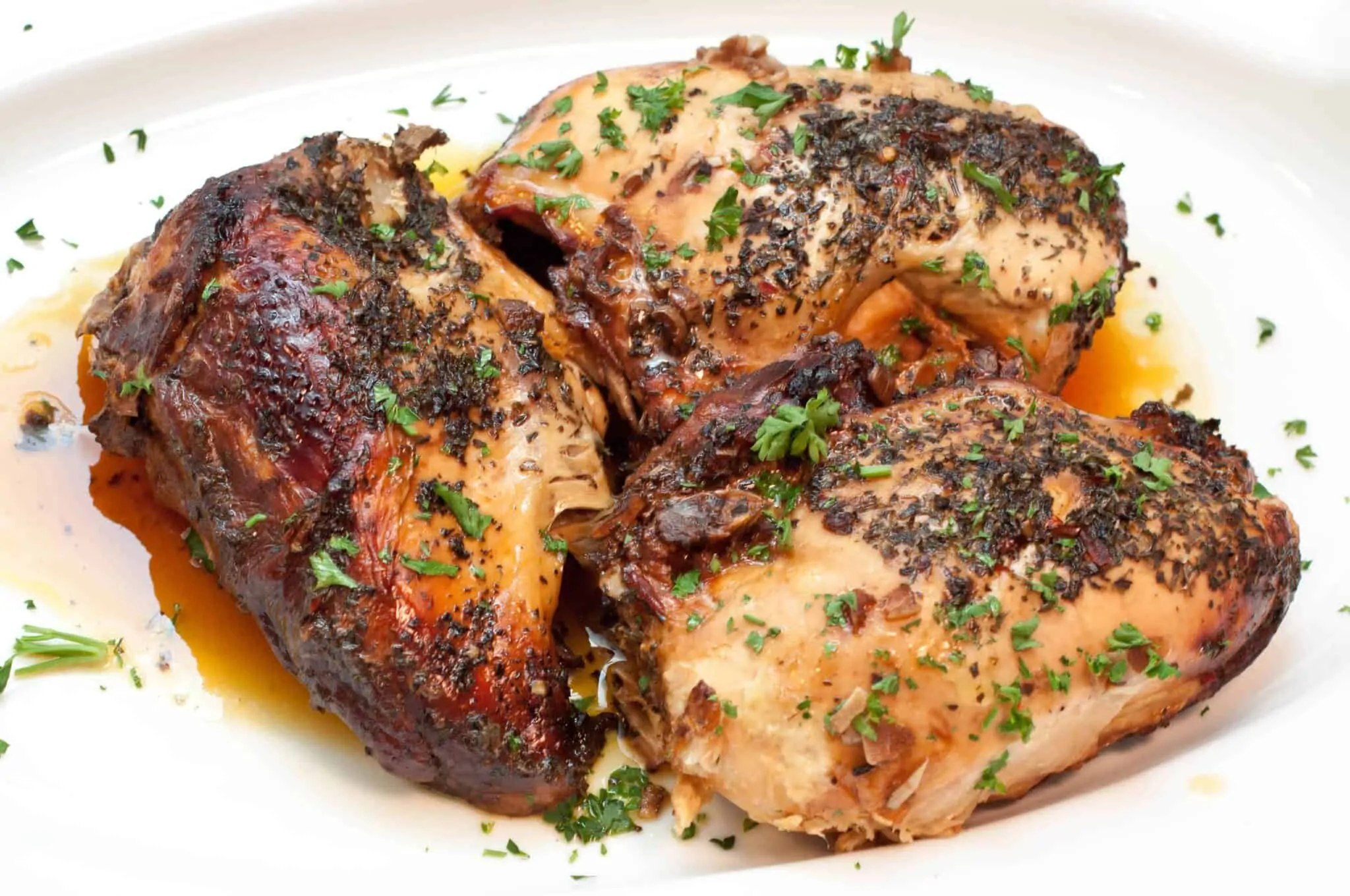 Do dinners get any better than when they take 5 minutes of prep and then cook all day in a crock pot? No. The answer is a definitive no. Hellloooooo Crock Pot Balsamic Chicken!
Raise your hand if you are crazy busy all of the time. Solidarity! But that's why this is one of our favorites. 5 minutes of prep - and super easy ingredients.
Recipe Video
Ingredients Needed: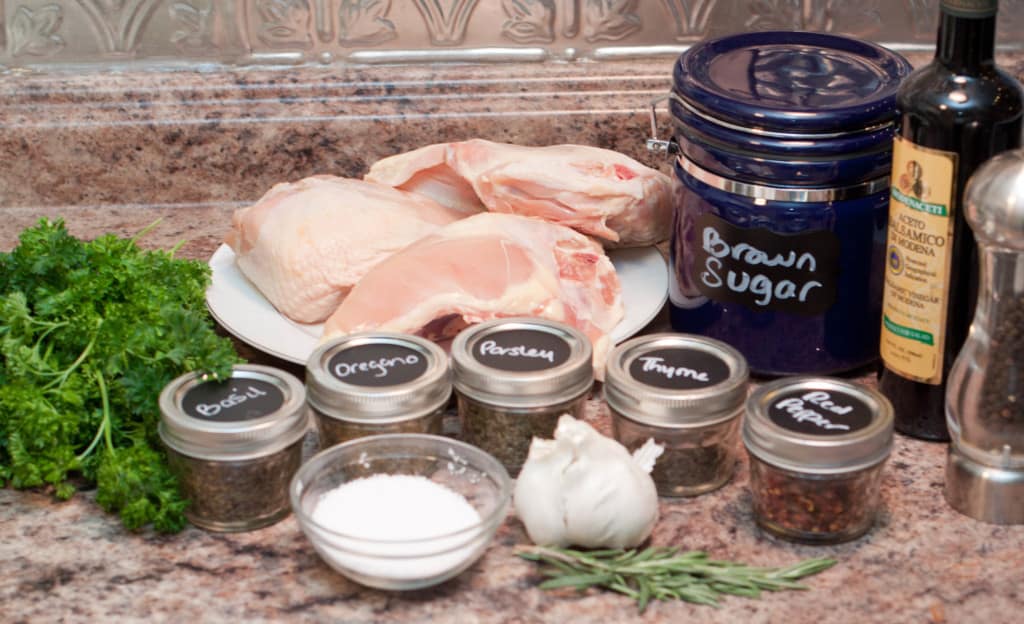 Bone in chicken breasts - Or really any cut that you'd like! We love this with boneless breasts and thighs, too!
Balsamic vinegar - What would a balsamic chicken be without balsamic?
Brown sugar - Did you know you can make your own?!
Chicken Stock - You can also

make your own

!
Fresh garlic - You can also use dried, see recipe notes.
Fresh rosemary - Dried works, too. See recipe notes.
Dried seasonings- basil, oregano, parsley, thyme, red pepper, salt, fresh also works, see recipe notes!
Butter - This is optional if using skinless chicken. If using a skinless chicken, this recipe doesn't have any added fat which can cause the chicken to dry out easier. Adding a little fat from butter will keep your chicken moist. If using skin on chicken, no need!
Easy. And super flavorful. And did I mention how easy it was?
What is Balsamic Vinegar?
The sweeter, thicker vinegar sister is Balsamic Vinegar. Made from grapes and created in Italy (the northern region of Emilia-Romagna, Italy), it is darker and is aged much longer than it's counterparts. This results in a vinegar that's syrupier and less acidic.
With that said, not all balsamic vinegars are created equal. While there are many varieties, there are 3 main varieties.
Balsamic Vinegar or "Aceto Balsamico" that you'll find your grocery store. While more expensive than other vinegars, these might not be made in Italy and may have added colorings, thickening agents, and flavorings.
Aceto Balsamico di Modena IGP is made only in Modena, Italy (the birthplace of balsamic vinegar) and it has particular guidelines surrounding the percentages of the additives.
Aceto Balsamico Tradizionale di Modena is the creme de la creme of balsamic vinegars. It also has to be made only from lambrusco and trebbiano and must age for a minimum of 12 years and up to 25 years. This balsamic must be made in the traditional method and is upheld to strict regulations.
Which balsamic to use for this recipe? Whatever you can find in your grocery store works great. You don't need a top end balsamic for this. And honestly, do not use Aceto Balsamico Tradizionale di Modena for this! That is a balsamic that you eat drizzled on fresh mozzarella cheese or a crusty baguette. Do not put that quality (and expensive!) a balsamic in a crock pot!
Step-by-Step Instructions:
Did I mention how easy this balsamic chicken recipe is?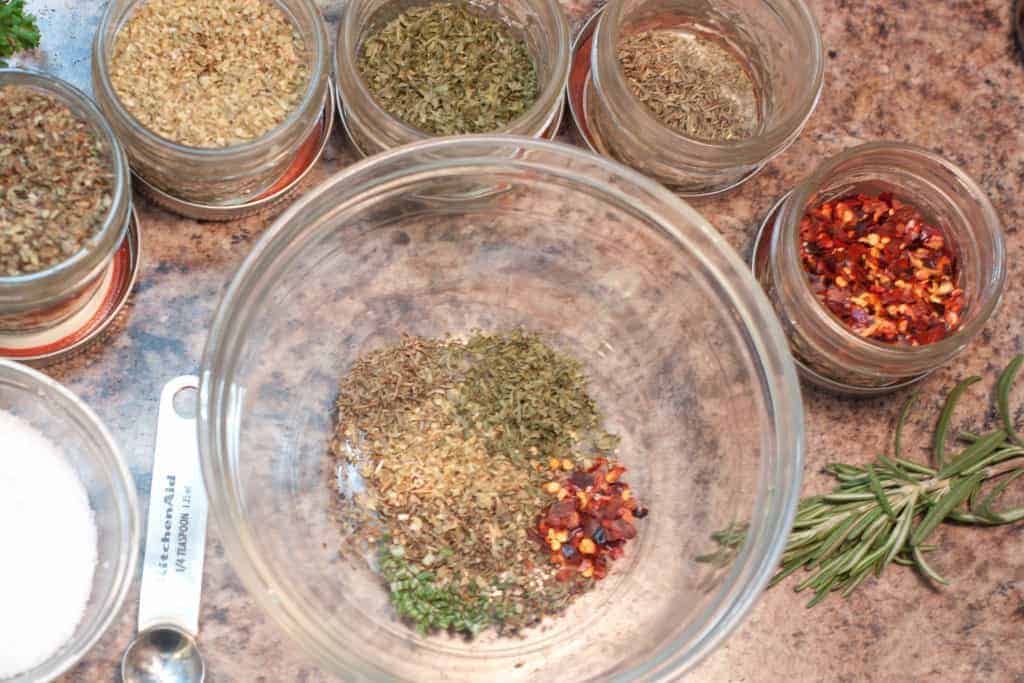 Step 1: Mix herbs with salt and pepper.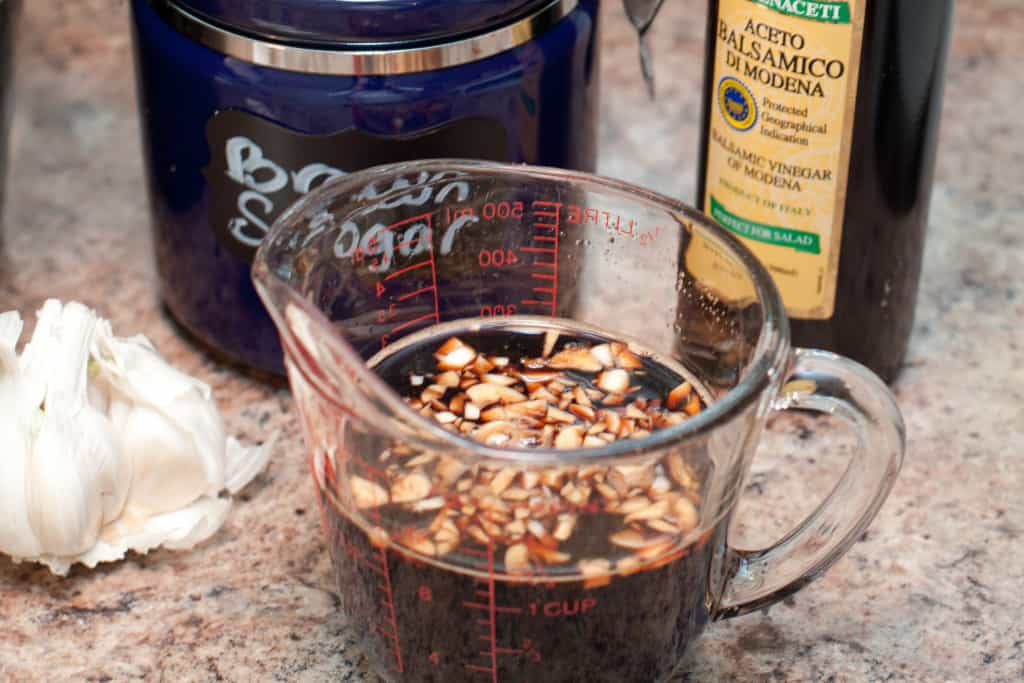 Step 2: Mix garlic, sugar, balsamic, and stock.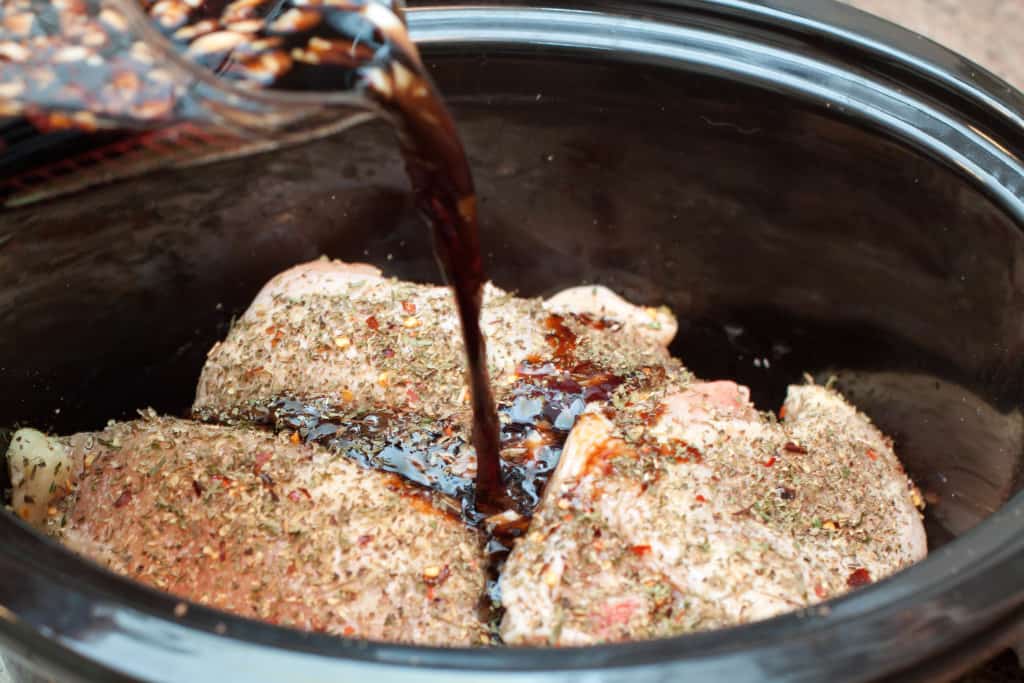 Step 3: Season chicken with herb mixture.
Step 4: Add to Crock Pot and then add balsamic mixture (and butter if using).
The liquid wont fully submerge the meat, which is ok. But because of this, we prefer to put our chicken breast side down.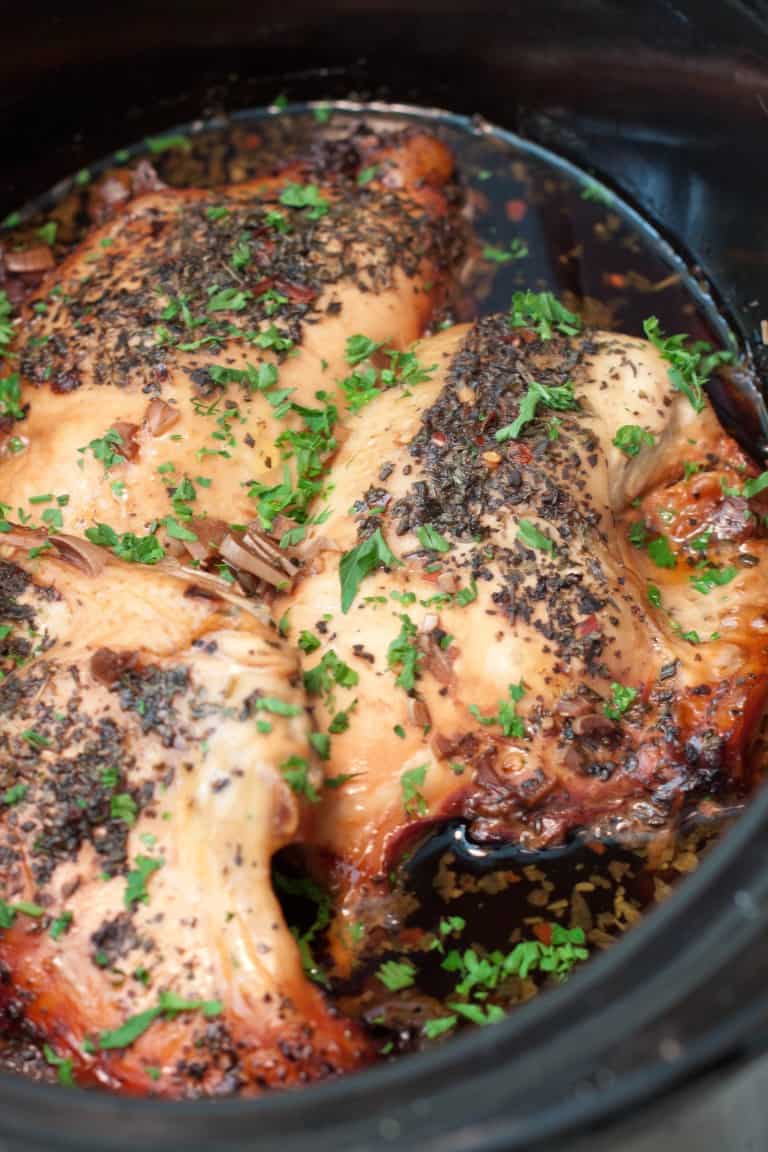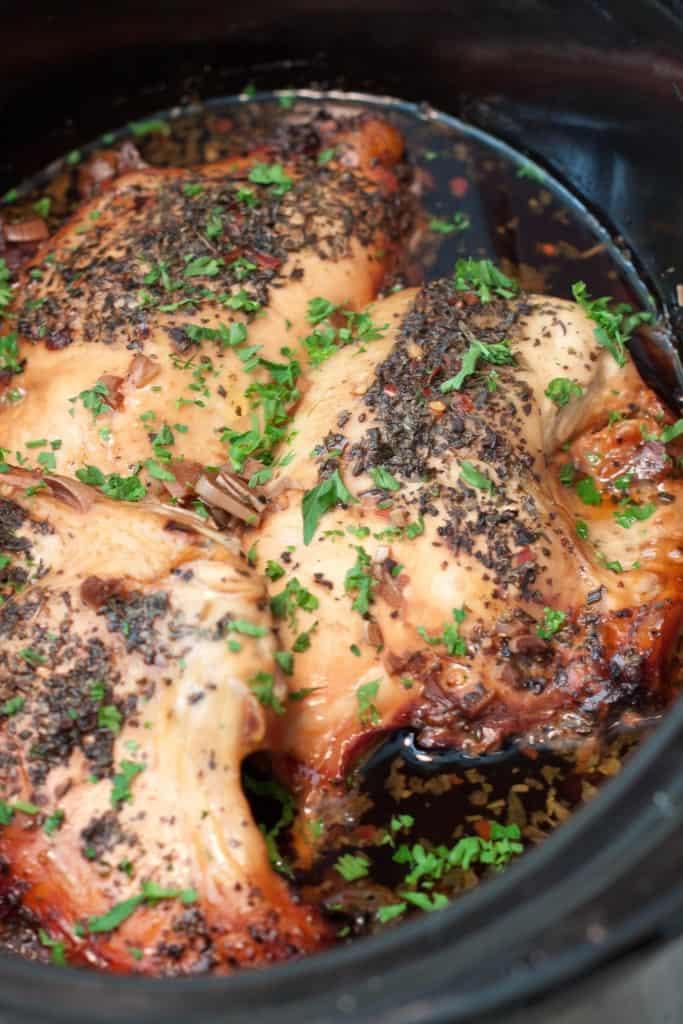 Step 5: Let the Crock Pot do all of the work while you go about your life!
And when you're ready, you have super flavorful balsamic chicken!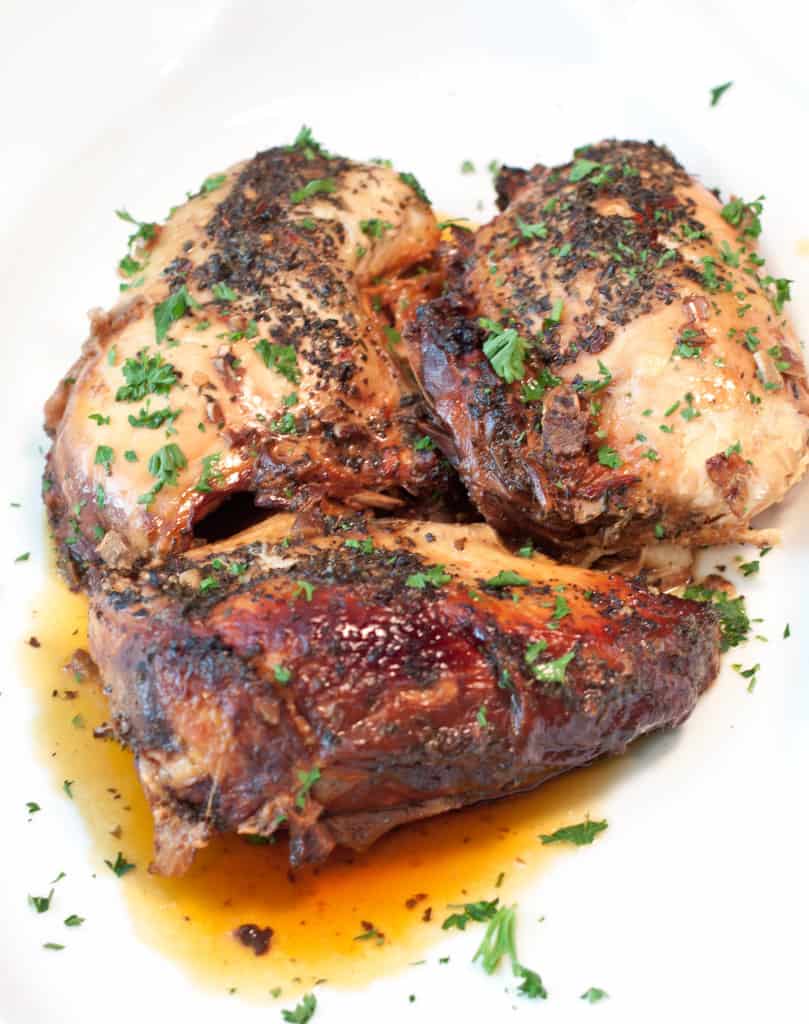 This balsamic chicken recipe is so tender and full of flavor!!
Serve it With:
Balsamic Spinach and Mushrooms
Garlic and Gruyere Roasted Asparagus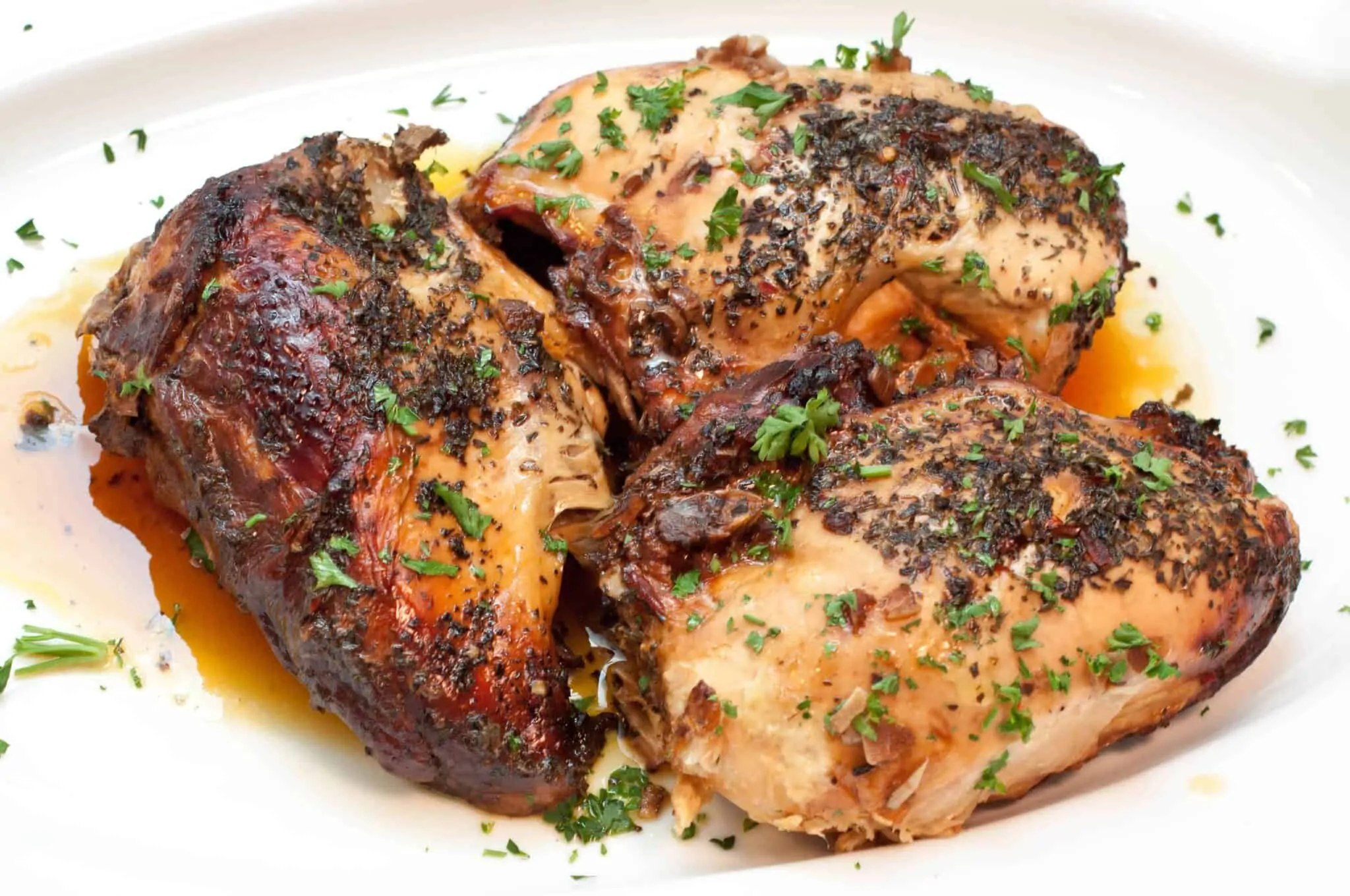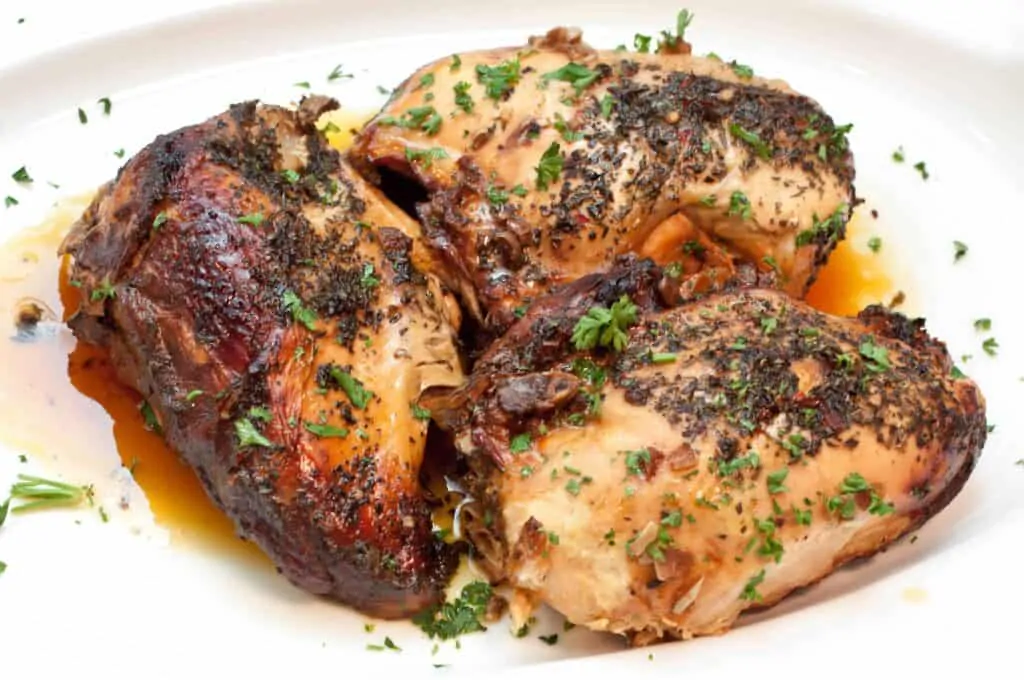 Other Crock Pot Chicken Recipes:
Crock Pot Enchilada Chicken Tacos
Crock Pot Chicken and Stuffing From Scratch
Crock Pot Honey Mustard Chicken
Crock Pot Chicken Carnitas Tacos
Crock Pot Chicken and Broccoli
FAQs
Can I use other pieces of chicken?
Totally! We've made it with boneless chicken breasts and thighs! Although if you're making them with boneless meats, 4-6 hrs will be plenty of time on high.
Can I sub fresh / dried herbs?
Yup! Just remember that dried herbs are more potent. So if you're going to use fresh instead of dried, then you need to 3X the amount of FRESH to dried, and 1/3 the amount of DRIED to fresh.
Can I use frozen chicken?
Yup! It may adjust your cooking time and always be sure to ensure that the internal temperature of the chicken is at least 165 degrees Fahrenheit.
Can I make this in the Instant Pot?
Definitely! See recipe notes.
Enjoy! As always, if you make this recipe or any of my others, I love to hear what you think! Leave a comment below, email me, or you can find me on Facebook, Instagram, and Pinterest!
If you want to see more, be sure to sign up for my 5 Easy Ways to Start Cooking From Scratch!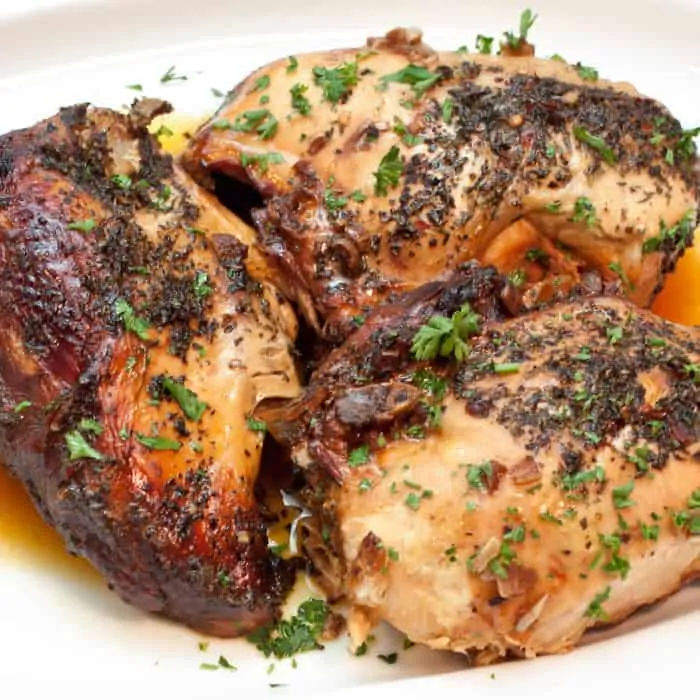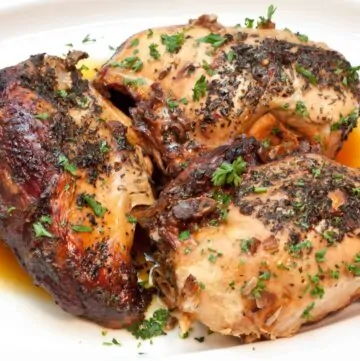 Crock Pot Balsamic Chicken
5 minutes of prep for a super easy weeknight Crock Pot Balsamic Chicken
Print
Pin
Rate
Ingredients
3-4

chicken breasts

bone in or boneless, skin on or skin off, or chicken thighs

1/2

cup

balsamic vinegar

1/2

cup

chicken stock

2

tablespoons

butter

1/4

cup

brown sugar

loosely packed

4

cloves

garlic

minced

1/2

teaspoon

dried basil

1

teaspoon

dried oregano

1/4

teaspoon

dried thyme

1

teaspoon

dried parsley

1/2

teaspoon

fresh rosemary, minced

or 1/4 teaspoon dried

1/8 - 1/4

teaspoon

crushed red pepper flakes

1

teaspoon

Kosher salt

1/2

teaspoon

fresh ground black pepper

2

tablespoons

fresh parsley, chopped

optional for garnish
Instructions
Add chicken breasts to a crock pot or Instant pot.

In a small bowl, mix together the basil, oregano, thyme, rosemary, parsley, and red pepper flakes, salt, and pepper. Season chicken breasts with half of the mixture. Flip chicken with tongs and season the other side.

In a small bowl, whisk together balsamic vinegar, chicken broth, brown sugar and garlic and then add to the chicken in the crock pot. Add butter to crock pot.

Cover and cook on low heat for 6-7 hours or high for 3-4 hours or until chicken is fully cooked when internal temperature is 165 degrees.

Garnish with fresh parsley and serve.
Notes
Make this with any of your favorite chicken cuts!
Sub fresh for dried herbs: If you're using fresh instead of dried, you need to 3x the amount and if you're using dried instead of fresh, you need to use 1/3 the amount.
Cook in Instant Pot: Set Instant Pot to pressure cook. Cook for 10 minutes.
Nutrition
Calories:
343
kcal
|
Carbohydrates:
22
g
|
Protein:
37
g
|
Fat:
11
g
|
Saturated Fat:
5
g
|
Polyunsaturated Fat:
1
g
|
Monounsaturated Fat:
3
g
|
Trans Fat:
0.3
g
|
Cholesterol:
124
mg
|
Sodium:
882
mg
|
Potassium:
755
mg
|
Fiber:
1
g
|
Sugar:
19
g
|
Vitamin A:
465
IU
|
Vitamin C:
6
mg
|
Calcium:
54
mg
|
Iron:
2
mg